WhatsApp bringing 'last seen' control and background gallery to Windows Phone; here's what they look like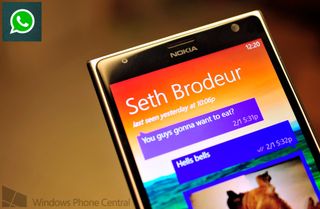 Although the public version of WhatsApp has not received a new update since early January, the WhatsApp team is churning out new beta features, ensuring a massive update is on the horizon.
Today, version 380 of the private beta landed and it brings with it, once again, some fantastic new features. A member of the beta program has given us the following screenshots, though we've been able to independently confirm their authenticity.
Privacy control
One of the big new additions is something that is new to Android and iOS too, namely privacy control. Remember how you can always see when the last time someone was online with WhatsApp? Pretty soon, users will be able to control that via the privacy settings. From there, you will be able to control:
Last seen – Everyone, My Contacts or Nobody
Profile Photo – Everyone, My Contacts or Nobody
Status – Everyone, My Contacts or Nobody
Admittedly, that's a very useful feature. What's neat though, as mentioned above, as that's a relatively new feature to iOS and Android too, meaning that Windows Phone is finally nearing parity with those platforms. In fact, by the time this release comes out, they may well very be matched.
Interestingly, it's not a one way street though. If you disable your status, the app – as of now – also hides your contact's status as well. So while you can protect your activity, you won't be able to see someone else's either. We're guessing that because WhatsApp just enabled this, users will have to opt-in to have their status shown, with the default being 'nobody'.
New background gallery
Background images were revealed the last time by us from the previous beta release. In today's version, the WhatsApp team has added a 'background gallery' replete with six well designed wallpapers. That's in addition to
Take a photo
Choose from Albums
Search Web
Delete
Background images do bring a little bit of life to the otherwise minimalist app, though users can still opt for the default black background should they choose.
Other forthcoming features already completed in the beta include Media Autodownload and Custom notification sounds.
No word on when the beta features will go to the public version, though we'll of course keep you posted.
Thanks, Nik N., for the tip
Note: WhatsApp beta is a private beta, so we are not sharing the link as it would not work for any non-listed members. There currently is no public way to sign up for the beta, so please don't ask.
Windows Central Newsletter
Get the best of Windows Central in in your inbox, every day!
Daniel Rubino is the Editor-in-chief of Windows Central, head reviewer, podcast co-host, and analyst. He has been covering Microsoft since 2007 when this site was called WMExperts (and later Windows Phone Central). His interests include Windows, laptops, next-gen computing, and for some reason, watches. Before all this tech stuff, he worked on a Ph.D. in linguistics, watched people sleep (for medical purposes!), and ran the projectors at movie theaters because it was fun.
Does Whatsapp do group chat and file sharing box for group?

WhatsApp has a group chat in it, but it doesn't have a file sharing box in a group.

You can share pictures, videos, audio, location, contact...everything in the group too...just like with individual people.

Careful there ... Nearly slipped do you :D

Please don't ask when.. Lol

I'd wait for this version! Finally :)

Nice...waiting for public version..

Just waiting the fix for that annoying crashes when seeing old messages, then wpp will be perfect for me.

+ the vibration if two contacts msg you while you are in the app!

True. Or when you have the app opened for a while and it closes.

Finally people will stfu with "Where is the whatsapp update?".. So sick of it :-)

Where IS that whatsapp update?? ;)

Where is the whatsapp update?

Where is the whatsapp update?

*Mortal Kombat voice* Flawless victory.

yeah, when is the update due? i want it already. So sick of watching the Beta version getting all the features and we waiting for it with our tongues out.

Cool... new features... hope they release public version soon...

I want backgrounds all over the OS, hope WP8.1 will fix that!

yeah,some nice minimalist backgounds for the entire os.it's not just about the start screen, but about every system app.put more color choices for the themes, not just black and white. add grey,blue,green maybe with gradients.it would breathe more life in the look of the os

Telegram and BBM for me once they come :)

Notifications don't work on Ngram
(i am using a 520)

it's a nice feature. perhaps my moron ex from 8 yrs ago who decided to msg me recently and then blocks me few days later w/o cause can use these privacy features.

Want audio attach feature.... As well... What's app is buggy as compared to we chat, hike... They should increase the speed of what's app..:)

1) Fix the issue of the app closing when reading chat history from few pages up
2) Color profile for individuals in Group Chat
3) Fix the issue of opening pic and video from chat history - sometimes it just won't open the media. Have to relaunch it to do that. Once they fix that, only you can say that it can match Android's or IOS' version finally.

1) It's a WP bug, a problem with Data Bases But I completly agree with u, they should fix that too.

not the WP bug, Hike doesn't have any problems at all with viewing thousands of chat history.

1&2 don't care that much. But for 3 you can also swipe down and load one more old page and come back to file you want open. Most of the time it works

Also COMPLETE audio and video attachment support. Right now it only allows small sized video to be attached. :( So annoying when it clips off videos

Oh, you're going to see this.. In beta's of whatsapp all over. Just never in the final version. All neat things, only in the closed beta. Then you have to wait for months, just getting more eta news, but never a new final with these features. :')

Seeing great things right in front of my eyes but can't use it. Arghhh... Soo looking forward for this huge updates!

Take a look at Group Me and implement their design. That is what a modern Ui should look like. Come on What's App you just got paid.

So, when?? Simple: April 2th. Microsoft will hold everything they can hold for that day:
- Whatsapp update;
- Facebook update;
- Instagram update;
- Path update;
- Foursquare update;
- Telegram;
- Flipboard;
- Snapchat;
- Facebook Messenger;
- Photoshop Express;
- Temple Run 2 update;
- Subway Surfers update;
- Candy Crush Saga;
- Another big games..

Huehueheueheueheu br
Sensational :)

Lol no flipboard needs at least another year...

Got inscribed as beta tester today =] Updated! Thanks a lot WPCentral.com!

Just sent them an e-mail asking if I could be a beta tester. Several weeks later, got an e-mail with the link to download de beta =]

Did getting the inscription hurt?

Nope... They just sent three e-mails. One saying that support recieved your mail. Other asking for your Microsoft Account and saying that in a near future you'll recieve the last e-mail with the link to the app. Simple as that.

Can anyone provide me the link to register as the beta app tester

They asked for my live id 4 days ago
next day i received an email from them which said that my id will be added to the system blah blah blah
....still waiting for the link...
maybe I'm gonna have to wait for a few weeks >_<

DarkLord12, Here is the link: http://www.windowsphone.com/s?appid=6b587088-a2bd-4597-8416-6c77f0a3ec6d You can try to install to see if you were added. PS: Uninstall WhatsApp first.

Thanks man!
got the Beta yaaaay!!!

y have lumia 1520 and not let me install whatsapp beta I uninstalled whatsapp officially does not work please help

You have been subscribed to be a beta tester? Only allowed Microsoft Accounts can install this.

Yes im subscribed to beta tester but don't let me install

Uninstall WhatsApp and then install the beta
it will work ;)

I uninstalled but it still doesn't let me install whatsapp beta

whom do i need to mail for subscription of beta tester

WhatsApp support =] support@whatsapp.com

Nuuuu. Don't let us take control over last seen. Everyone will simply turn it off.

Cool! The privacy features has not updated for Android too anyways, but is great to see it is coming for Windows Phone too!

It has come out for android but not in Play Store yet. U can go on their website to download the apk.

"We're guessing that because WhatsApp just enabled this, users will have to opt-in to have their status shown, with the default being 'nobody'." The default option for three of them is 'Everyone' for me. Edit: I just got to know from other beta testers that for some of them there was different default options selected.
Good thing I didn't say 'this is BS' before checking with others. :P

I hope they put last seen/online on contacts tile on start screen. I want it more than anything else. And of course the status, it's finally is coming

Sweet, can't wait for the upcoming update.

The most waited update :3

Is it faster? Posted via the WPC App for Android!

It still crashes after putting a background picture on my 520. Its more stable though... Crashes are reduced

Hey WhatsApp, u should not allow the Privacy settings for last seen , because this also one of the reason to having a constant Chatting on the application, since our friends already know that we have seen their message and we had to reply and inturn they had to reply as well. If u allow Privacy settings for this, communication will never be the same again. Common Facebook, you will gonna waste 18 B$.

Hey rakeshkumarbv!
u should not use the privacy setting if you don't want to
many of us want that feature
and btw ...its 19

Sweet! The control over the "last seen" feature will surely save many people a lot of trouble, including me.

Seems you got 99 problems and a bitch is one :P

So only media autodownload, no audio attachment possible yet?

The reason maybe they should not do because we use nokia music files mostly everyone and I dont want to share any quality files with android users.

You can't. They are DRM protected.

Well, what about begging? jk. I'm patient like that. I'll wait.

I like how they always remain true to Microsoft's design style. Now if they could just remove/increase the video upload limit..

I'm hoping the next update will include colour specific group chat members! Like android/ios

Only those cheaters will be afraid of the 'last seen' feature. It is a very good feature i must say unless used inappropriately... Btw, i like the "two-way-street" concept!

Facebook is nicely tinkering whatsapp regarding privacy , now i need this and wp 8.1 and i am completely satisfied with my mobile ;)

Does whatsapp have plans to releasing all these updates in d public whatsapp app??..they been releasing updates jst fr private beta..wat abt us??..

They're not planning to release it to anyone that doesn't know what a 'Beta' is. Guess you'll miss out.

The privacy options and changeable background sound good!, want these features to become available to all WP users soon!

I want whatsapp to integrate into the people hub, much like Skype does.

Bro its now fbs product u think they will. Ppl use many messengers like watsapp,bbm,we chat,Skype,line etc. Everyone will demand for integration to people hub. I know integrated watsapp will big free and freaking smooth but still

I want that feature. Why take forever from beta to official?

im just waiting for the feature to send music from your phone then whatsapp will finally be complete and up to date!

I think that the "last seen" hiding feature works that way even on iOS. I have enabled that on my iPhone and i cant see other people's last online timestamp.

Whatsapp in iOS can do some basic video cropping and it compresses the video, that feature is not available in WP8

Until yesterday i was cool with Whatsapp.But today i'm mad.Fuck all these features.First fix the damn crashing of the app.I tried to send photos ONE by ONE yet it crashed everytime.Getting sick of whatsapp.Hope they make the chat interface like Droid or IOS as well as browsing of chat history.Anyways nice going but it can be better.

Not sure when they will update it to public

@daniel http://www.youtube.com/watch?v=D23JH30ZMK0 :)

Another update! https://m.facebook.com/#!/662821277118393/photos/a.664232303643957.10737...

The current whatsapp destroys my battery. Hope they get that figured out

Last seem... Last seem... Last seem...

when the new update for whatsapp will come plz confirm..

Wen will this update roll out??

Eagerly waiting for this. Things are looking up for Windows Phone.

when will this rollout..... please don't tease users months earlier...

THANK GOD!
But tell me sth, why are the developers bringing these features NOW??? what was their problem with WP8? -_-

hi guys how can subscribe to be a beta tester?
Windows Central Newsletter
Thank you for signing up to Windows Central. You will receive a verification email shortly.
There was a problem. Please refresh the page and try again.