WhatsApp picks up improved search, in-app notification sounds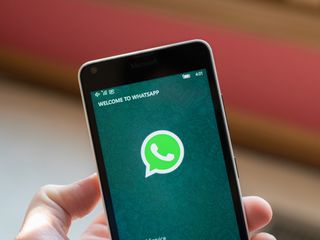 WhatsApp for Windows Phone has been updated to version 2.12.170.0, adding a few improvements and enhancements. In particular, this update improves the app's search functionality, letting you easily find messages, chats, and contacts, though this may take a few days to roll out to all users.
Here's the changelog for WhatsApp 2.12.170.0:
Improved search lets you instantly find messages, chats, and contacts. This may take a few days to show up after you update the app.
Support for in-app notification sounds
As always, you can grab the latest update to WhatsApp from the Windows Store.
Download WhatsApp from the Windows Store (opens in new tab)
Windows Central Newsletter
Get the best of Windows Central in in your inbox, every day!
There is also the option of 'select messages' in the personal chats options.

No promised Windows 10 mobile performance improvement?

Anyone knows why all these companies are coming out with windows phone apps when w10m is just around the corner after next? Are they expecting people to stay back on windows phone even after the free w10m upgrade rolls out? And for handsets that are not supported, I'm not sure how big a market share would that be to even consider continued support. Aren't companies just wasting resources here? Or are these same apps for windows phone going to function as good on W10m (or at least share all the same codes), coz that would then make sense. Posted via the Windows Central App for Android

"Or are these same apps for windows phone going to function as good on W10m" this. For example this app update is already available for w10m (downloading it now). Windows 10 is completely backward compatible. I have two apps on store for wp8.1 and they work on w10m almost with no problems (almost=I hope it is a problem in w10m, anyway little issues).

"Windows 10 is completely backward compatible" ...Yet Wunderlist, Gestures Beta, myAT&T apps don't work, with Wunderlist bluntly stating in the store when you try to download: This app is not compatible with this device. AT&T Lumia 1520, OS version: 10.0.10536.1004, Firmware version: 02540.00019.14484.37028. They also won't work on my AT&T Lumia 925, same OS version, Firmware version: 3051.50009.1425.2001. The end goal may be to have Windows 10 mobile be completely bacwkards compatible, but currently it is not.

Yeah that's the goal. Then again it is software so there will be always some little problem here and there. And apps completely unavailable are often locked by the owner from the store control panel since they want to test it on final w10m and then deploy them, if you are an enterprise you might have some quality procedures to follow!

The battery drain has decreased considerably. Been noticing it in the last beta builds.

*Improved search bug: If you search something (if it started working bit), it displays from the deleted chat history as well. e.g. I have search "Okay", it's showing me in one of my contact's chat history and when I am click on it, it's nowhere there. Will draw attention to WA about this.

Totally needed, let's hope they have a new desing ready for Windows 10 Mobile release (or in the works, at least).

Ability to search for messages . Finally ! Aaah!

It's not working for me. :/

Actually another change is that icons display in names or status are the normal icons, no the plain icons.

WhatsApp devs should be present on windows central. They would get a lot of feedback immediately

The status are has new WhatsApp phases you can choose from.

Right. But it should have ability to save the custom message! So if don't want to keep that "Pre-selected status", I can revert back easily.

They added new animation AND (and THIS is crazy!!! :D ) the middle finger emoji arrived!!!! :D :D

They should release a Windows 10 Universal App... Posted via the Windows Central App for Android

Just got it... And checking...

Yaaay whatsapp and vlc too....

Did anyone, other than me, recognize that there's the mid finger emoji? Go and check it!!

Finally the in app sounds feature...great...

1) Scroll emoji list up and down 2) Change emoji catagory 3) Repeat 1 and 2 Leads to a force close on WhatsApp for me.

Same here for few times.
UPDATE: Yeah, it's continuous.

Crashed once for me..while changing settings..working nice now....our status is also written in some bold letters now..check

Ya.. It's happening on my L730 as well.. Hope they fix this bug ASAP

Yes for me too WhatsApp devs can u hear us? Then fix it soon.

It`s happening with my 930 as well

I just tried it and boom. Force close is real

+ u r right. Checked it . Lumia 930

Guys the wallet app has also been updated. I think it loads faster now.

This existed in a previous update when windows 8 was new but they took it back. And it's here again

They should reinstate the ability to leave and block from being re added to groups...

Sad, after several updates we still can't choose custom ringtones into messages, only the ones that came with the OS.

About time it became a universal app

Been waiting for search forever (the one we had wasn't too useful

Can confirm. Doesn't work. Fuck this shit. X(

And about time it got Cortana integration. Is it actually not possible at all?
How cool would it be to say "WhatsApp to "USER" "MESSAGE" " and then cortana interprets the whole thing just as twitter does and then asks for a confirmation to send it.

It's a little bit laggy now.. Any one esle feel so?

In my L735 is faster than ever, the time the app needs to open it's almost none and everything is just smoother.

Its smoother now, but i noticed the lag when opening the list of emoji. maybe its the middle finger effect? Lmao

Middle finger finally available

Minecraft PE, messaging, excel, and wallet updated too!

We finally got the middle finger emoji

Nope, but at least you now can export your full chat history via mail, as a TXT file, instead of it being trimmed down trying to fit on the mail's body.

Also new on this version: Now we have a proper way to send chat's logs via mail :D

In the latest article they said working for phone which have less memory...so how about the latest update ?

Still not background suspension feature

Great work by Whatsapp developers! I wish other developers showed as much enthusiasm for Windows as WhatsApp development team.

The WhatsApp status can also be changed from the default one anyone noticed

There's another thing that you may have not noticed... When you play an audio note (The ones you send pressing the microphone icon), you can choose if you want to hear it via loud speaker or by the small speaker of the phone, and what's more, it remembers your choice for all audio files

The app footprint is 25 MB now. Crazy

Its sucks more in windows 8.1
Its lagging alot after update..and please introduce turn off feature of in app notification sound

There is an option in settings

I can't see this update. Why isn't it available to me? +L640XL

Search options still not working

Can confirm. "no results"..... Fuck this shit. X(

Apperance of home page of chats has changed.. Earlier if u assign a symbol for a grp name it comes in poor graphics. Now the pic comes as it is with gud graphics.. Secondly, middle finger emoji has come :)

The laggy part, whatsapp always update their app thrice for bug fixing. Lets keep watching.

Middle finger!!!!! Finally!!!! .!..

In built whatsapp statuses are now available with this update.

I HAVE BEEN WAITING FOR IN APP NOTIFICATION SOUNDS FOREVER. FINALLY!!!

They added the middle finger emoticon but it doesn't work!

Have to modify my complaint: Middle finger does work, but initially shows up as a rectangle. Only when it's been sent it will be displayed correctly. Strange because the other emoticons work flawlessly

Now waiting for the "message favourite" feature

Lumia 930, app is now sometimes crashing on resume and often sluggish when starting.

I hope this one drains less battery on W10M. And as they say, it wouldn't hurt at all for them to come up with the Universal App version, which I could also use in my desktop. Come on, it's almost 2016 already, step up to the game, WhatsApp.

Am I the only one who noticed the middle finger emoji?

WhatsApp now has all the features !!

search messages not working for me.....

Middle finger emoji has come in recent update..

#ThumbsUp for WhatsApp developers only app that is supporting Windows phone and keeping it on par with Android and Ios.

Also, the LIVE LONG AND PROSPER Spock emoji

Lock WhatsApp is back!
LOCK YOUR WHATSAPP NOW!
* Want to hide your chats?
* Want to chat secretly?
* Want to lock your WhatsApp?
https://www.windowscentral.com/e?link=https2F%2Fclick.linksynergy.co...

i have key press and all other app sound disabled and it's still making a noise when i type.
Windows Central Newsletter
Thank you for signing up to Windows Central. You will receive a verification email shortly.
There was a problem. Please refresh the page and try again.