Updated: WhatsApp removed from Windows Phone Store, will return after fixes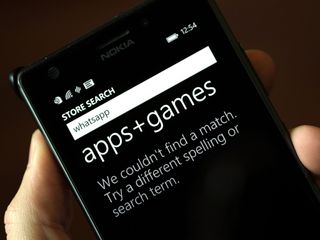 WhatsApp, broken on Windows Phone 8.1 and with no immediate fix promised, has vanished from the Windows Phone Store. Searches for the app on devices running both Windows Phone 8 and 8.1 turn up "We couldn't find a match. Try a different spelling or search term." WhatsApp tells us that the removal was intentional, though it should only be temporary.
Visiting the app on the Windows Phone Store website turns up the listing, but with the warning that "This app is no longer published", and thus no option to remotely install it.
We don't have a reason for why WhatsApp was pulled — while it was prone to malfunction in Windows Phone 8.1, the app was still fully functional on Windows Phone 8. It's possible, knowing that Windows Phone 8.1's release was imminent and that their app would offer a less than satisfactory experience as a result, WhatsApp opted to remove the app until they get it updated. It's better to not be there at all than to leave users with a sour taste in their mouths.
WhatsApp has informed us that the removal of their app from the Windows Phone Store was an intentional one, taken to address technical issues. Those that have downloaded the app should expect it to continue to work for now, but until WhatsApp has finished "working closely with Microsoft to resolve the issues", we wouldn't expect to see the app returned to the store for download. That WhatsApp chose to pull the app entirely is some indication that there was some serious showstopping bug or other issue that they couldn't allow to go on, though they've been unclear as to what exactly that might be:
We'll be keeping an eye on the Windows Phone Store and will let you know when WhatsApp makes its triumphant (and hopefully bug-free) return.
Thanks to everybody for the tips!
This post has been updated with information from WhatsApp regarding the removal of the app from the Windows Phone Store and its eventual return.
Get the Windows Central Newsletter
All the latest news, reviews, and guides for Windows and Xbox diehards.
Derek Kessler is Special Projects Manager for Mobile Nations. He's been writing about tech since 2009, has far more phones than is considered humane, still carries a torch for Palm, and got a Tesla because it was the biggest gadget he could find. You can follow him on Twitter at @derekakessler.
Err btw the amazing Spiderman 2 game is removed as well
And it is republished again. Version is still 1.0.0.0

would it be too much wishful thinking to ask for it to come back with Xbox branding?

No because it is owned by Facebook.

LOL. Yeah, the Amazing Spiderman 2 is owned by Facebook. And WhatsApp should get Xbox Live support.

I really would like to unlock all achievements on WhatsApp. LOL

Yeah and guess "background wallpaper unlock" achievement should be the hardest one, offering 20G. The game will be raised to a whole new level with addition of more levels in the form of emojis, making it difficult for player to remember their locations and use it when needed.

Sending 5K messages achievement

I'm already imagining zuckerberg as Peter Parker in Amazing Spiderman 3 :D

somebody tweet Joe Belfiore abt it? i think he may be having good connections with WhatsApp top guys

i am still not seeing this on store. When was this game republished. I bought the game and did not have the time to complete the download. I tried the next day and it was gone. I dont want to loose my money.

No official word yet? Nothing new on this story?

Works on my 8.1 1520 as well, don't know what all the fuss is about.

Same here, mine works without problems. 8.1 1020

No problems on my 1020 either... this seems... rash...

You do realize its removed from the "store" and NOT your "phone" !!! And its servers are working fine till now. Meaning, those who've it on their phones can still use it normally.

You do realize the article says that Whatsapp is broken on Windows Phone 8.1 !!! He was answering to that statement.

I know and the first statement of the article is misleading, referencing nothing to the title itself. Its NOT broken on WP8.1 or any other version. Its removed from the store for all Windows Phone X.X not just 8.1

The point is that the article says it wasn't working before it was removed, and there was another entire article about how it wasn't working, but we're saying it was working fine for us. We'd like to know for whom it wasn't working.

WhatsApp is broken for 8.1, the notification system. Try opening WhatsApp from the live tile, the notification center does not clear up. There are instances when you are not notified until you open app and no I wasn't in battery saver mode.

I haven't experienced those issues, seems to be working fine. But one app that definitely not working properly is Navigon... If you're playing music and using navigon the voice instructions stop working after a max of 5 minutes. If you're not playing music the voice instructions stop randomly, today after about 2 hours and 3 hours. They really need to sort it out!

I do think it was removed for its performance. Maybe you really didn't notice much:some lag before you get notifications, not properly integrated with action /notification center, recently wouldn't work or get notifications until you open the app itself. I think it should be fixed, Facebook messenger works better.

WhatsApp back its working fine without crash, history can be seen without crash

Yaa same here on 520 working fine just crashes sometimes when you load older chat history in group still it was worth.

Its been an issue since the begining.

that's an issue before 8.1... people in beta says it's fixed, but that beta is like waiting for 8.1, an eternal wait

my friend's 620 with 8.1 never gets a notification. But messages sent to her show 2 check marks.. It works for sometime after a restart.. So yeah, it's broken..

Check data sense. If limit is reached, notifications don't appear. I made limit to unlimited and started receiving messages

You are my hero!!!!! Thanks so much for that tip. Whatsapp notifications now work like a charm for me!!!

ofcourse it will work if you have installed it already. the app is removed from the store, so no new user can install it now.

is there any external way or third party source to downoad it.. just like apk fie for androids :( plz hep

removing the app doesnt make sense...if it was broken so what , release the fix when availaable...work just fine on my 920/925

So you have your brand new Lumia 630, you're new to WP, you download WhatsApp and it crashes. How do you feel about WP now?

If you install a new accessory in your brand new car and that accessory doesnt work the way it was supposed to....what you gonna do?

Whack it with a hammer til it works

... and if it still doesn't work then it needed replacing anyway!!!

Torch that car and take a taxi / cab into an iCar Store?

Much better than knowing there is no Whatsapp on this platform

Really? If I were WhatsApp I know which I'd prefer.

How do you feel about WhatsApp now? WP itself works just fine shop he or she should be feeling just fine. How do you feel about being a troll always looking to bash competitors?

It'll receive loads of negative feedback, so they probably want a nice version to be the only version

Yup, works just fine on my 720 & 925.

Not working , Lumia 720......
Don't get push notification by WhatsApp...!!!

Same here i have no idea what problems everyone else is having

On my 8.1 1520, the incoming msgs lagged few hours. I just removed it last night.

Works just fine for me too, 720.

Me too, didn't know it was broken

Iran killed I cuz zuckerburgs a Jew lol

it still works for me on both android and WP!

Works perfect for me too. Lumia 720 . 8.1

Get problem to push notification.......

Whatsapp has been a problem since I first got my 920, 2 years ago. Notifications and crashes. Not sure whether its the app or OS or just my ISP. Well just hope that Whatsapp make a new one that doesn't give to many problems.

I don't know why all I'd these complaints as everyone who down loaded 8.1 should know it might have glitches as its the developers preview. Guess most people have short no memories already

Works perfectly on my 920 with 8.1. Notifications are instantaneous.

Works fine for me on my Icon with 8.1 as well.

Works fine on my 925 when after the update. And just earlier today I was wondering when we would get the God damn update already to have the latest features...

yes it works fine on my 8.1, the same as in did when on 8.

Font uninstall period of watsapp this means

Yeah, work on my 520- 8.1 too..

yeap using wp8.1 and works fine on mine as well.. only sometimes has bugs with the notifications that filters through the notification centre. like they need to implement a function to automatically remove notifications on the start screen tile when u remove notifications in the notification centre. +920

It's completely fine for me

+for me too in India .. I have no problem with watsapp even in notifications...

not only works but notifications arriving much faster. sometimes on wp8 ( and first couple of days on wp8.1) it just gave a toast notif but live tile stayed dead but now it works like a clock!

It will work if it was installed but if u remove it you will not able to download it again ,try and check if you are able to see whatsapp in the store

How rude of them to remove it!

OMG i was going to install it a week later after my last exam !! OMG my phone is going to be humiliated when my friends as me why i still haven't installed it !! :-O
And here i was thinking I'd finally be chatting with all my friends soon.. Sad sad sad bad bad bad !!
Come on i need an update within a week or its gonna be really shameful for me and my phone ! Besides, no one would buy a new windows phone till this is fixed ! How the hell could they let this happen ?? (i know. This is among the first time I'm losing my cool, but cant help it)

Great life you live if this humiliates you lol, its an app... Relax, & good luck on those exams

Hey.. I haven't yet installed it, got the most important admission test of my life.. I was finally going to get a life after that exam gets over, and WhatsApp suddenly makes the future days look a little less fun...

JEE ADVANCE ? Best of luck for that !!!

All the best bro.. I'm from iith :D

And instead of studying for them, you're wasting time here. It's just as well as wasting time on WhatsApp. :D and isn't JEE over already?

Lol ! Studied a lot already, 3 years to be honest.. Anyway, this was my break time.. :) brain's messed up due to studying..
This one is JEE advanced, for admission to IITs..

Study and get hired by MS, they pick people from IITs, then change the face of windows phone forever lol

I have that planned.. Really !

Gosh I would kill to work there haha

Ahhh.. That's great. What was your AIR in JEE..?? best luck nonetheless. :)

Only the marks have been declared for mains (erstwhile AIEEE) at present. I'm among the top 20 probably, most institutes have their lists online. Hoping to be among top 50 in advanced (erstwhile IIT-JEE)..
(sorry all for off-topic)

It was actually quite motivating. I'm going to practice my programming thanks to this off-topic conversation. And I wish you well on your exams!

Oh good ! And thanks ! :)

Use a patched version of it..... If you have a unlocked WP....

Chill its just humiliation Let them be, but don't be like them ;)

You sound like an idiot. BBM will be out for Windows Phone soon anyway, which is Much more stable.

Yaa I am eagerly waiting for bbm hope it will come soon some say may end some say June end hope it come in may end.

Same here...lol
By the way which exams you have?

Best of luck...hope WhatsApp returns aftr exams with latest update. I am giving IPCC(CA).

Best of luck to you too..

How much did you score in jee mains.... I got 244.....

You dont want to hear.. :-P they were quite a lot, just 3 marks shy of 340.. Anyway, 244 is nice ! You'd get a great college !

Best of luck... am giving CA finals.... And I agree.. Break time is a must...

Ohh and i thought i was alone! Me too preparing for IPCC.

Dam!! I am CA Final student.May 2015 attempt! Great to see you all..

Wow! So many of us CA students with windows phone. I am not only one out here. :)

Im giving my IPCC exams too.. Jus 5 more days left.. Bad news s tat i've uninstalled WhatsApp until exams n now its no more on store.. Waiting for it to b back on store. All the best to all dose who r appearing for various exams!!

You know, seppuku os always an option.

Use viber and Skype. They are better...

What's "best" is where your people are. I have a few Skyp, but none on Viber.

the opposite here, everyone on viber , none on skype!!

m here wasting time...m comp.engg student frm MU...tmrw is my advance microprocessors exm...

Work's fine for me on 8.1

It will definitely work u just can't install it again I you uninstall it :)

Referring to the article stating that it is broken on 8.1, it's not.

Agree, never had an issue since installing 8.1.

Same as flappy bird. People who have it installed can play it by can't install it again

So we can expect an update soon........ I guess so.......:)

Hey i got a really nice idea..
What if they removed it due to the bad ratings, and now would republish it with all the updated things so that they can start afresh, with most people giving them 4-5 stars as it would have all the requested features ?
Seems good, it had just 2.5 stars i think.. They'd want to start afresh, and get good ratings.. Lets hope this means the new update comes within 2-3 days..

Well ratings can still be submitted even if an app is no longer published, so if they republish it it'll still have all the old reviews.

What if they republish it as a new app ?

I suppose that is possible then

I don't think a large company like this would do that. I would give it one star just for that reason if this is the case

Why ? That's really troublesome to have thousands of bad reviews about features no longer lacking.. I think they deserve to be allowed to do that..

Because thats neglecting user reviews, even if it's about features that are now present. And it's not like people aren't gonna download whatsapp anyway, its way to popular for that... Also you can up- or downvote reviews so that should straighten out + alot of people edit their old reviews when apps get updated with the requested functions.

(Assuming WhatsApp is updated with most of the things fixed) User reviews are made to help others know what people are saying about the app (obviously, the present app). What's the use of those invalid user reviews (with majority of negative ones) which has no meaning? Up / Down vote is now available but its not technically possible to down vote all those negative reviews that easily. Even if their reviews are down voted, their rating shall still be counted and cumulative rating would be shown. Which would NOT be fair.

Works on my 920 with 8.1 just fine. Whats broken exactly?

Indeed, I've been using it and while I can't call it the ideal user experience I wouldn't call it broken neither

I don't really care about extra features, but I want to be noticed immediately, which is not the case for me on 8.1 1520. They used to update the app quite frequently, after acquired by facebook.....

Well it really never worked on wp. Messages are always delayed and announcements sometimes never come. But I guess thats more down to windows phone system rather whatsapp itself. Lets see if they come back... Posted via Windows Phone Central App

The download is broken moron,read the article!

I wouldn't exactly call it broken, but its been loading and resuming terribly slow for me (Lumia 920 with 8.1) and when I click on a push notification it takes me to the previous chat I had open, and not the one I got the notification for

What exactly is supposed to be broken in Whatsapp when running on WP 8.1? I'm using it all the time on 8.1 and some late notifications weeks ago aside it's running fine and without issues.

It works fine. Case of isolated non working or just an out and out lie.

Still waiting on BlackBerry Messenger. I prefer that over WhatsApp anyhow

I had completely forgotten about it. Thanks for reminding.

Haha blackberry messenger... Who uses that other than kids in the slums of Brixton!?

Whatsapp is for Third World users. GTFU.... You sound like a douche!

LOL you sound like a douche just for saying that.. :D oh and yes, no one uses BlackBerry anymore. Even people having BlackBerrys download WhatsApp. :P

I don't use Whatsapp. I have serious issues with the fact that it stores your contact lists on a foreign server. I also don't like the fact that cellphone numbers get recycled so your contact can change to a different person without you realizing it. Posted via the WPC App for Android! on BlackBerry Z30

That's a fair point really. The contact changing deal is a big issue. But if people are careful enough to delete their existing account before changing their number, they could prevent such things from happening. :)

How can you have an Android app on a BlackBerry?

BB10 can run Android apps. Not all running well though.

I'm sure you would realize if you change your number, lol. I'm fairly sure when you first log in on your new number it deletes your old one, but doesn't actually use your number to deliver messages, but instead uses it as a way for people to find you, but then routes the message to your username, so nobody should ever get your messages, is that not right?

I was referring to someone else changing their phone number or, they die, then that number gets recycled. I see that new person still on my contact list, but I know for a fact it's not the original person...either because the picture is different...or they passed away. Posted via the WPC App for Android! on BlackBerry Z30

Yes.. That happens. Dying is just one scenario. :P

Your number I'd your username. When you change your number and install WhatsApp with the new number without deleting your previous account manually, it creates a new account while keeping the old one in the database. So should someone use your old sim card or somehow get a hang of your number, they could use your account. Of course the person has to be nefarious enough to do such trickery just to get your account, probably, must probably with ulterior motives. :D about WhatsApp deleting your old account, I'm pretty sure it doesn't. Cuz it didn't delete mine. The only saving grace it's that it sends you a confirmation code that you must enter to access the account with your new number. That should prevent misuse in my opinion.

You both are really dense to be saying all this .. Here is how it will go . Lets say u (dumbo1) changed ur SIM card . N he (dumbo2) . Decided to use ur card . In that case the only thing that will remain will be ur name and ur DP ., contacts won't come because it will scan Dumbo2's phone for contacts... I hope this cleared the air.

Dumbo 3 really misunderstood. Lets say Dumbo 3 has Dumbo 1's contact saved in his phone. And Dumbo 3 decides to text Dumbo 1 only to find that he really is Dumbo 2. So for someone like Dumbo 3 who messages only once in a while, it's a problem cuz Dumbo 3 might share some thing dumb but important for him with Dumbo 2 instead of Dumbo 1 as intended. I hope that cleared the air. :) :P

Besides anyone could easily "hack" into your account, read your messages and everything. So your only option would be deleting your account. It's sad that hacking into WhatsApp is just that easy. They should increase the security level.

WhatsApp had serious problems on 8.1 messages arriving late lags slow startup, I don't use bb messenger but even the Nokia x has it and where's flipboard that was announced almost a year ago.

BBM is the only app I miss on my wp

Yeah, I saw the previous article. But it works just fine on my Lumia 920. And I communicate with my friend on a 1020, and we tested it out in person, and the messages were essentially instant. And we are bothing using the developer preview. So, its not broken for me!

I'm sure they will publish it in the next two days

What on middle earth is happening?!

Sauron removed WhatsApp from the Windows Phone store. Quick, someone give him his Ring back!

Whatsapp works fine on my Lumia 920 on 8.1 too and my housemates 925. Not sure what the issue is...

couldn't stop my self from writing.....THIS^^^

According to ttsoldier on the forums, an update should be available soon. But who knows for sure?

Lol, He was just .. saying stuff.

I had problems at first but it seems to be working fine on my 8.1 now

I don't get this "it's broken on 8.1". WhatsApp works fine on both my 920 and 1020 running 8.1...

Notifications are broken completely

My notifications work fine on 1020.

Not to me, they are not. Not on neither my 920 nor my 1020. Everything works normally.

Yh..broken on my 925. I have to open the app from time to time to check for new msgs

Check data sense settings. Make it unlimited. Even I had problem until I changed settings

Not mine. It's not running perfectly, sure. But it running well enough. Notifications on my 520 nearly received on time. If it was delayed, it just within minutes count.

Hope an update is coming. It's pretty terrible compared to the experience on other platforms (I'm not talking about the backgrounds) and it drains the battery like no tomorrow.

Glad its not just me. Kills the battery on my 925. No other issues though..

kills the battery and heats the phone... can iron my clothes with the phone...

Not available for download on wp7 as well!
Lumia 800 user...(sad I know)

Really? That sounds really bad. Hope this isnt an attempt to undermine WP. Because without whatsapp the platform is dead.

Really? If a platform deppends so much on one single app then it's already dead... WP will survive without WhatsApp perfectly, even because WhatsApp will die soon. Facebook released their messenger as a separated app and then bought WhatsApp. Of course to kill it.

Messenger cant do half the things WhatsApp can

Yeah, and you think it will always be like that. Just give it some time. WhatsApp is condemned, live with it.

...I'm lost for words because what you said makes absolutely no sense. I imagine I don't have to tell you that each app has a different value. And in the world of apps, WhatsApp is king. It's importance cannot be overstated. Ask a group of casual smartphone owners how many apsp they use and how frequently they use it. On average they will only use a handful of apps and WhatApp takes up the majority of their time. The fact that WP lacks a few other important apps no doubt plays a role in its slow growth. But without WhatsApp it wouldn't be growing at all. If iPhone were to lose WhatsApp than they too would experience a decline. Although iPhone has enough die hard fans to promote a replacement app that their Android friends soon have to adopt to continue communicating what their apple friends. Perhaps Facebook hopes to replace WhatsApp in time, perhaps they'll integrate Facebook messager into WhatsApp or perhaps they're content letting them live side by side. It doesn't matter in this particular discussion. Because if this is an intentional attempt to undermine WP then Facebook would also remove facebook messenger. Note: I dont believe this is the case.

ICQ was the king of the messengers once, until MSN dethrone it. Then, MSN was the new king, until Facebook come and take everyone. Why do you think Facebook will keep people using WhatsApp when they could make everyone use their messenger? That would be better for their business. A large users base doesn't make an app immortal.

You really need to start making sense. You compleetly ignored what I said and put words in my mouth. I havent made any claims concerning what I expect facebook will do with whatsapp. In fact I made it clear that it didnt matter to the opinion piece you commented to. I'm well aware nothing is immortal. But at the moment WhatsApp is the must-have app on phones. Until facebook has brought its userbase over from whatsapp to facebook messenger the disappearance of whatsapp will give WP a terrible disadvantage. Given how WP is small and doesnt have many die hard fans. The disappearance of WhatsApp at this time would kill the platform.

...kill the platform? We hear this "sky is falling" prediction about everything that people want. WinPhone wasn't supposed to survive the "official" instagram route...or the lack of a file manager...or Tinder...or separate volume. A missing WhatsApp is inconvenient and sucks, but I'm not throwing my phone in the garbage because of it and I don't think enough people will to "kill the platform".

Instagram and Tinder arent nearly as popular as WhatsApp. But the lack of those kind of apps could explain why WP hasnt been able to grow the last year. And competition doesnt have a file manager either. And just like seperate volume control its a poweruser wish, not something that helps sell WP to the mainstream consumer. What sells a platform is easy access to the content that they need. WhatsApp provides much of that content. Their friends, sportclub, job, etc all comunicate via whatsapp groups. Missing WhatsApp isnt just an inconvenience. Its a reason not to buy a phone. Maybe you personally dont use it that much. But obviously this isnt the case for most consumers. It is certainly enough to kill a platform. Especially one that finds most of its succes in affordable phones. These are the phones owned by people who only use a handful of apps and of those apps WhatsApp enjoys the majority of usage. Not having WhatsApp is like having a phone that didnt do text messages 7 years ago.

"What sells a platform" changes with whatever the person lecturing about the platform, wants. I'm also not sure what you mean by "most consumers". I think WhatsApp is more popular in certain markets. I'm not saying that it is not popular, but lets be clear, it is NOT like not missing the text message feature. At least in the US, texting (SMS & MMS) are included in most people's plans. We just send texts most of the time. The irony here in my disagreement with you is that I **try** to get people to use WhatsApp more, but they tend to resort back to plain texting. None of these things are going to "kill the platform". If the platform fails it will be because of numerous issues, not because one app (regardless of popularity) temporarily pulls out to fix their errors.

I think you missed the point. I wasnt talking about a temporary pull. Naturally that wouldnt hurt the platform. Only create some pissed off buyers who recently got a new smartphone and find out their favorite app isnt availale on it. But thats only for buyers of a day or two, not a lot of buyers when it comes to WP.

Exactly. When an app dies people replace the app not the phone. I understand it would be one less app in the app store and a reason which might be a deal breaker for some. But that wouldn't mean the OS will become obsolete. With WhatsApp out of wpstore other IM apps would have a chance to be at the top of IM apps(at least in wpstore). Ironically, this could also be a good chance for BBM to rule in wpstore. Soon Facebook will kill WhatsApp, (either literally or by making it an app that is nothing more than a portal to fb messaging). All the WhatsApp users (irrespective of OS) would move to another app. And it wouldn't be a problem, as wp already has most of the IM apps, like Line, WeChat, Kik.,etc. These guys are just getting paranoid about losing an app.

If it were to only disappear on WP than people on other platforms wouldnt switch. It would only be one person in their sportclub or their friendcircle that loses access to their groupchats. So yes on WP another app would replace it but the world is much bigger than WP. And WP wouldnt be able to grow in it because WHatsApp would remain a key app. Not just 'óne less app in the app store'. Eventually WHatsApp will lose its market position but that it not today. If whatsapp were to disappear today than WP would have a massive problem.

Yeah,I'm talking when Facebook ruins WhatsApp for everyone. Not just wp. Anyways it is now official that this no conspiracy, but rather a good news. So lets all be happy.... For now.

I didn't put any words in your mouth. I just think it's not smart to predict the future of an amazing work like Microsoft is doing with WP based on a single app. A lot of people use it? Yes, but it doesn't means WP is doomed if WhatsApp leaves the platform for some reason. There's plenty of alternatives in the store. And no, I don't believe WhatsApp is leaving the platform. I'm pretty sure it's just temporary, but I insist: Give out some time. I believe WhatsApp will be replaced for Facebook Messenger. Am I right? Only Facebook itself will tell. But that's my opinion.

Well you did say ''Why do you think Facebook will keep people using WhatsApp when they could make everyone use their messenger? '' making it sound as if I claimed such a claim. I repeat: I too dont believe WhatsApp will leave the platform. I made only one proposition: if WhatsApp were to leave the platform than its over for WP. And I do believe this is the case. I've provided arguments in my first reaction to you. You have yet to respond to that. Instead we've been running in circles with you repeating that in time WhatsApp will be replaced. Which is entirely irrelevant because right now WhatsApp is a key app.

Just like I said: WP will not die if WhatsApp leaves because there is plenty of alternatives out there. I know it will probably influence some people enough so then will not buy a phone in wich they can't use WhatsApp, but I will again talk about the good work Microsoft is doing with WP. The platform is growing. It's not an easy market, Android and iOS are powerful players, but WP have what it needs to fight both. The marketing around Windows Phone and the arrival of new companies making WP devices (some with a better price) is something to keep an eye on. Developers may look with better eyes to the platform. Long story short, Windows Phone still have so much potential that WhatsApp by itself isn't enough to kill it. But again, that's my opinion.

Yes because everyone in your family, sportclub, group of friends and school project will switch to another app because of that one guy/girl with a Windows Phone. This is the argument I've made before and you keep on ignoring in. WhatsApp isnt just 'one app' and there are no alternatives until the masses switch. Besides the good work MS is doing is an order winner but has no meaning when WP loses its order qualifier. WhatsApp is needed for people to even consider a Windows Phone. If WhatsApp doesnt return than I'm forced to switch to another platform and I love WP. Yes in time WHatsApp will be replaced by something that may or not be on WP but I need access to the go-to service today, not tomorrow.

I think you over-estimate the overall importance of WhatsApp to the masses, based on your own personal experience/wants. WhatsApp is great, but it is not the end all, be all...no app is. Most of the people that I know that use it have multiple apps like this. They have Skype & Viber & Facebook Messenger and plain old text. We'll still be able to communicate just fine whjilst WhatsApp fixes itself. The constant predictions of "this is going to kill the platform" just get old. I think the hammering of doom and gloom by people is more of a turn off to potential users who find their way here, researching their next purchase.

Its certainly not my wants, because I hate whatsapp (it sucks on WP). Perhaps my experience plays a role but its mostly the user figures and the daily traffic whatsapp handles. Clearly is mch bigger than Viber and Skype in the chat market. Facebook messenger is still stuck on PCs for the most part. WhatsApp is the go to messaging app while Skype/Viber are it for video/voice. And most people prefer the ease of chatting and so WHatsApp remains a key app. I made a simple proposition, not based on reality since I never feared it wouldnt return. But if it hadnt than yes I think it would have killed WP. For many people its the first app they install and one of few they actually use.

People don't need to switch to another app because, just like daylose said, most people don't have only WhatsApp installed (it's the alternatives I told you earlier, remember?). And really, if you are the kind of person who switch platforms because of one app, I don't have anything else to say.

Looking at the whatsapp user figures and the overall traffic figures its obviously not just one of many. Its the key communication app, especially for group chats. I hate whatsapp on WP. I am forced to use it because al of my social circles use it daily. If WhatsApp was not to return to WP then I would be forced to switch.

Wtf!!
I do not use facebook, but I use whatsapp every time!
Mark! If you are trying to pull up whatsapp, I will cut your balls out!

If you use WhatsApp then you ARE using a Facebook product.

My most fav phone as of today is Nokia N900...that phone is a beast...but i could never make it my main phone as there was no whats app on it... then i loved palm pre...again no whats app never bought it... Whats app is the king... at least here in india when a person buys a smartphone... the first app he/she installs is whats app... from college kids to businessmen to corporate guys... every one uses whats app... its a handicap here if you dont use whatsapp...

App is already available as a xap on wp8 to install it seems...it didn't work initially but now it is...i tried it twice on the 720, it was available...
Still not there on the store though...

Guys it is working if it is already downloaded.

Nobody panic! I smell an update.

At what time did delisting an app mean an update is nigh? That makes no sense whatsoever.

What's your take on this Daniel? Do you expect a completely revamped WhatsApp for windows phone or something else?

At what time did delisting such a high-profile app make any sense at all? :P

App is available via XAP installation it seems...my dad jst installed it on his 720 half an hour back...still not showing up on the store though...

What does make sense is that there is a known working, updated beta that had been worked on for quite some time. Maybe this is a glitch in the upgrade process. I can't name them, but I think other apps have delisted because of problems and then released an update shortly after.

What is the point in removing an app you still support and are planning to update? Why would they keep advertising it in their official website if they were to not support WP aymore? Why would whatsapp be present in every single platform EXCEPT Windows Phone? I guess this is a temporary issue. The app won't disappear.

I am so ready for any huge update and changes! *cross fingers* owh btw, its works charming on my device. Never use any other chat app more than whatsapp. Works fine now, but really looking forward for updates! Hope changes in UI too!

Open a chat and then hold the phone speaker to your ear. That's one of the bugs. Plus immense battery drain...

Wtf if you keep listening to it you will get an headache

Just tap on the voice record button really quickly (so it doesn't start recording) then it should be silent

Works on my Lumia 920 with 8.1. Even though it is not ideal in any way, with delayed messages and crashing of the app sometimes. Still functional. I'll be screwed if it won't return, everyone I know uses WhatsApp exclusively.

Broken? I have no problem with the app in 8.1! Good thing I have it installed. No way im updating my phone to the New Version of 8.1 knowing it will make me reinstall whatsapp..

Me too, it was working fine, notification is like delay 1-2 seconds compared to iPhone but its working.

Works fine for me Lumia 720

Works fine on my L1020 WP8.1 DP :-)

You can't download. Uninstall yours and try, I dare ya :)

no .. it is not available in the store :(

Notifications are broken (for me, at least) in 8.1, plus it continually plays a queit, but audible static noise from the main speakers. It is also the source of battery drain for a lot of users. Not disputing that some people perhaps don't have an issue, but if you look at the forums, loads obviously do.

I never had an issue with it on my WP8.1. It works like a charm. I'm not going to uninstall just to see of it works tho. Glad I have it still installed. And no, itz not the beta. So maybe it was just a select few that are experiencing issues. I have the HTC 8X and my wife has the Nokia Lumia 925, and the app still works for both of us.

Works fine on 8.1 why remove it?

What's wrong with WhatsApp on WP8.1? It sucks as much as it does on WP8 but it's not broken.

That's odd. I've started to get notifications again the past few days on WP8.1. I figured it was fixed.

But its not broken. Works for me on 8.1

Working perfectly on my WP8.1 o.O

I am using windows 8.1 on my Nokia Lumia 1320 and I am not facing any problem with Whatsapp. Its running as smoothly as it was on windows 8. I hope to see it soon again on windows app store.

Good thy removed thy dnt deserve to be on our os . Thu nvr update n keep is behind all othr os . Thu r ashamed so thy pulled . It wrks but thy nvr care for update . Shame on whatsapp

It's there in the store, atleast for me

Nooooooooo. My 920 got wiped, and I am waiting on delivery of a 1520. This is awful timing.

http://www.windowsphone.com/en-us/store/app/whatsapp/218a0ebb-1585-4c7e-... Get here and click download and install manually. U can still install app via SD card..!!

That's awesome. Thanks man; I was worried there for a while.

Thank god that disgusting piece of app is gone. May it never come back till it can be better than anything else termed "chat app" on this earth

Probably been removed so that facebook can get adds into it ...

If that was the case.... We would have already seen it on Android and ios first

Lol. Of course, Android and iOS first, right?

Working great on my Lumia 720 with 8.1...

Works on my 8.1 too - what's supposed to be the issue?

Correction: it's been broken since its first release! Read the reviews on the Store. Hopefully this is a sign that they are prepping for a major upgrade (publishing the private beta, maybe?)

Same as the new Spiderman game.

It's available for me in the store...

It's still working on my 1520

Still listed unnder Nokia Collections.

from an hour i searched for it on the store .. this msg appears .. i tl thought that it's the bad connection of mobile cellular data !

WhatsApp n facebook has become quite an imp part of people's lifestyle... Bring it back folks, new Lumia buyers may start dislike it soon enough

No broken at all. Lumia 920 here, even my friend using 620 also working nicely as perfect as ever before.

WhatsApp should consider removing their app from the store. Bloody lags a lot!!

Guess someone didn't or cannot read :p. That's what this article is all about lol.

Showing in the store..I just checked

Weird story, really weird, there must be something behind the scenes that we don't k know. I refuse to believe that they are in a such mess like this.

Wow this is bad news for Windows phone. Think about all the people who buy a new WP now and discover they can't install WhatsApp. For many people this is equal to buying a useless phone! Everyone I know uses it as their main messaging. I bet lots of people will return the phone and trade it for an android if this continuous to be the situation for several days.

Mine works fine on 8.1 It's just ugly and lacks features found in other platforms

India, Bangalore..L520 no WhatsApp in Store,for,me :(

I never used it since WP was second citizen for them. Since FB bought them I was definitely sure I would never install it even with improved support. Telegram for me!!

I have the BETA and it's much better. Too bad they aren't taking in any more BETA testers.

Minutes ago i chckd n it was there...n now gone !! :D
Btw update will come out soon !! #Relief

Its showing up in store again!!its up guys but not updated, same like before! :|

it work just fine at my lumia 520 with wp 8.1 preview program and notifications are fine

This is freaking ridiculous, I wish they'd at least warn us. I recently bought a 1520 as a gift that I'm supposed to set up for a family member tomorrow who uses WhatsApp religiously. Now they'll have to keep using their old phone instead. Worst timing.

I feel you! You think you are doing something good for them, but once they discover WhatsApp ain't there, you'll be their biggest enemy. Good luck surviving this man!

Ouch!, I recently set up a mates 1520 and I remember the first question he asked me when I was setting it up - Is Whatsapp working okay? I sent a message from mine to show him it was fine lol. Glad I dragged his lazy behind out and got him to buy it last weekend.

Ive been using Viber since the Facebook rumours so ive haven't used Whatsapp in ages

I just downloaded theapp few hours ago, and it was, and still is, working as it should. I have 8.1...

Everything is working for me on my ativ

WTH! WhatsApp gone nuts? Holy cow!

And someone said that they had thoroughly assessed private beta that had no bugs known to mankind . Whom will we say seems faster........ now . Please bring it at least considering the number of trolls we make on it.

Finally some GOOD news !!

Haven't noticed any issues with it on my 1020 running WP 8.1 (other then the usual embarrassments compared to other platforms) yet my girlfriends 820, her sisters 520 and my friends 720 all running WP 8 don't get push notifications and no matter what I try it just can't get the push notifications to come through! Has anyone else had this problem? It is annoying and useless to have to open the app and wait for it to update to see if you have msgs.... This problem alone has made me stop recommending windows phones to people and has scared alot of people I know away from our beloved platform as whatsapp and bbm is by far the most used and needed apps here in South Africa.....PATHETIC!!! :(

Same for me on my Lumia 720

Its back...:D
Without any update :(

One more reason to sway away from WP ecosystem.

Its in the store again, it was removed but its up again! Relax!!!!! :D

What a drag... Hate that kind of things... Whatsapp was working great on my L520

Works for me but if I remove this app there goes my subscription...

Is working fine on my 1520 8.1 all the time

Wow amazed to find I'm not the only one WhatsApp worked fine for on 8.1 on my 1520 and 1020. Never understood all the hype about WhatsApp being broken on 8.1, been using it every day. I hope it returns very soon.

Can still see it some how. Don't know what it is.
Aaaand Now its gone.

This is an ill omen for WP ecosystem

Nope. No WhatsApp is like having no SMS function here in europe.

Work fine on my 620 with 8.1

How many stupid messaging apps do the little kids use today? Jesus Christ just pick one and stick with it. Thank God when I was a kid everyone just used AIM and I didn't have to install 15 apps to chat with friends.

By the way you can still review it by giving it one start in the store.

Now available on the store. But sadly no update :/

Are they high on something this weekend?

If they are going to give an update then they would put a new updated WhatsApp within 2days! I don't think they are fools to remove the app for many days, they would lose customers, people have many other messengers! I'm Waiting for a BIG new super WhatsApp app!

I love how this article gets escalated quickly until the app is up again.

Nice news.. Now it is better I remove it so I can finish to study "Industrial automation" without any distraction :D

People who can still see it in the store are just looking at the screenshot they had taken when it was available in the store .

Update is being uploded right now, happy Saturday

I guess you are working on the app and are involved in the uploading process.

Don't believe anyone guys unless they have concrete info! Trust me..im telling this out of experience

It always makes a static noise
Its such a shitty app

It's back in store I guess!! No updates! Same app as before!

On my ativ s running 8.1 works ok, no big problems, sometimes gives a few errors on notifications, but that's all...

http://i.imgur.com/6R2SEtl.jpg
It says: "the application is not available for your device" :O

Hey I removed mine just now

Thank god its back... What it looks to me is that an employee must have accidentally pressed the delete button like we do it with our files :D hahahaaaa

Finally, US store Recent changes: 3.00: * Windows Phone 8.1 ready
* Completely new user interface
* New Backgrounds
* General bug fixes
* Performance improvements
* Battery improvements
* New privacy functions
* New file system handler capabilities (send documents, music etc.)
* New voip calling function
* New languages
* Stickers store
* New Premium membership with unlimited voip calls and exclusive stickers
* More to come soon

For a second a thought it was true.

Yeah I have the odd minor problem other than that works perfect.

Come on, Zuck. It's an $8-billion app.

Hey why removed what's app i can't download on wp8 plz update to support to wp8

Honestly iam really mad because what's up in windows phone sucks. No updates no nothing.

Absence makes the heart grow fonder

Been working fine on my Icon

finally, i hope ms ban this thing once and for all so my dumb friends stop asking me to install that crap, now lets wait for a proper update to skype

Dream on. Skype is a joke....jack of all trades, master of none

Okay where is Rudy Hyun when we need him?

with $16 billion dollars, whatsapp can buy a country full of developers. instead, they panic because it was marginally buggy and totally remove it from the store. $16/hr could of beought proper management to the damn whatsapp team

It's funny cause ever since the release of the Lumia 920 Nokia has been saying that they have been working with WhatsApp to bring the best experience to the platform almost 2 years later and its still crap.

Exactly! They are full of crap honestly. In my opinion, Microsoft should invest in Rudy Hyun 6studios and let him be their in house developer for apps that Windows Phone needs.

I have an theory why it was removed. It has with the dev center to do. Once you publish an WP8.1 app (appx or xap, doesnt matter) you can not remove it! You have then both "apps" the 8.0 version and the 8.1. so 8.09 ures will get 8.0 version and 8.1 users get the 8.1 one. We can remove the 8.0 version because new users will get the 8.1 later when they get 8.1 on their phones, but we are not able to remove the 8.1 version because this would break the circle of the app updates for the people that already have it. Its just an theory and whatsapp maybe have published an 8.1 version and later they discovered an big bug, something that breaks something in the functionality of the core app and they have unpiblished it. The sollution is just to publish it again under an new store link.

I am getting impatient though convinced with you.

Wow Charles Darwin....U made my day...

grt move.was better to remove.as it was full of diseases

Works fine on my Ativ S 8.1 or 920 8.1 and 820 8.0

Waiting for their response.
Hope a fix comes out soon.

Works fine on my 520 with 8.1

Available, not available, available, not available. I guess they are trying to upload an update but failing to do so, instead they mis-uploaded old one :D

This us getting better and better by the day. I'm so happy with my WP I can't even put it in words.

Please go back to your Trojan Android. Thanks

Visit http://www.whatsapp.com/
From your phone it shows this app is not available for your device

How to download what's app on my wp8

http://www.windowsphone.com/en-us/store/app/whatsapp/218a0ebb-1585-4c7e-...
Also if you actually read the article you'll know that it's been removed from the store.

Just used it to communicate with someone 20 flight hours, and guess what; it works. Wish Skype would be reliable! As for BBM (if it ever arrives on WP8), well adding contacts is an issue for me. L625

Skype has become much more reliable lately. Conversations are syncing fine and no messages seem to be missed. Speed of the app, no picture messaging and groups are my issues right now.

i think this is the best time for blackberry to release their BBM app for windows phone

Nobody use or know what it is this anymore

BBM on all platforms has delayed notification

People put BBM pin in their WhatsApp status just show off that they have BBM. No one actually uses it , its like Google plus in front of Facebook.

This is a good news actually. It means an update is coming soon :) I hope they increase the performance... WhatsApp in my friend's 128mb ram android phone loads faster than my 520! Yikes! Sth to be really embarrassed about.

Could you please tell me what Android phone he has?

Please ignore him android lags with 3gb of ram imagine with 128 Mb. Duck you troll.

Hey please don't kill him.....its just a mistake from him by using the word "Android"

Best to bring it back with all fixes. Having too many issues on 1520. Hope they release the new version soon

Work fine on my 720 and 920

Hi DEREK KESSLER ! I want a official Mig33 app from windows phone platform ..can you please inform them ...!! (smile face)

was working fine on wp8.1... and i think its still working

The new Whatsapp is on it's way

Check here!
https://twitter.com/s1z33/status/467722813999022080

It lags a bit receiving messages. but the rest is fine on my 4 Lumia phones.

Typical, just before I have to do a factory reset, as well!

This is very bad for OS. Can't understand. MS needs to solve this with Fecebook/Whatsapp urgently. I know many People that Will simply abandon The OS if whatsapp is discontinued in WP.

Its not showing for me on Lumia 820.I am on 8 not 8.1

The app was removed from the Windows Phone Store. Doesn't matter which version of the OS you are running.

Update is incomming i think

I'm sure they are just working on an update, and likely upload a new version anytime now. Posted via the WPC App for Android! on BlackBerry Z30

It was remotely removed from my 8.1 device.

You keep telling yourself that.

Sorry about that....I just put it back for you ;-)

Omfg it got removed again! For fuck sake give us the update! :'(

It's getting folded into facebook messenger /trolling

Its not the matter of workin or not the news is all about removin the app from the store

Got realeases under a new name whatsbook!!! contains ads!

I think Microsoft stopped paying them.

With the 16 billion $ in their pocket from Facebook, one wonders why the company can't hire a team of 5 or whatever to keep the Windows app running...

16 Billions, exactly, that is the key. They are too busy drinking caipirinhas!

Actually they only got $3 Billion in cash. The other $16 Billion is stock.

Who cares about WhatsApp. Good riddance

Some 450+ million monthly users.

While we were so happy by the recent update of windows phone 8.1 that improved battery, the removal of whatsapp offseted this happiness. Let us all be realistic, whatsapp is very very very important app in the phone. If whatsapp is not going to arrive to windows phone, then Microsoft has a problem... As we all know, WP market share is less than 4%, and no one perhaps cares about us, android and ios they make the rest ( with small share to BB). I am a big fan and big believer of Microsoft Windows phone, bylut without apps that connects me to my family and friend, why I am supposed to stay on WP... So sad. I hope the removal was done for good, i.e: to release the next the "it" update.

I don't think there is a need to be so dramatic about removal of WhatsApp; it will definitely make a return soon. Since we haven't had basically any updates for it whatsoever in the past few months (?) I'm quite sure the team has been working on a new version of it, which most likely will be Facebook's vision of the apps's future.

That may be so - but all the new converts to WP are going to be instantly turned off when they see Whatsapp is unavailable!!
I guess we all knew what would happen when Zuckerberg got his claws into Whatsapp. Bloody Facebook!!

You are missing one key point here, the global market share is around 4%. But it has shown growth around the world year on year. In some countries the market share is bigger than IOS. Here some food for thought. http://m.softpedia.com/windows-phone-outperforms-apple-s-ios-in-24-count...

Here is the link to download :- http://www.windowsphone.com/s?appid=218a0ebb-1585-4c7e-a9ec-054cf4569a79. Just go to this link on ur computer and download it via clicking on the manual install and install it from there . Hope it will work :) let me know if its help .

There is no option for manual download or install... !! P.s they are not that much Dumb

A app removed from the store. The end of the happiness. The end of windows phone. The end of the world!

This is crazy
Its my most used app

Everything in windows phone is like this, a complete mess e.e like customers are shit, shitty buit apps and so on Posted via the WPC App for Android!

Oh is that so? I Wonder why it has grown YoY, while your degrading WP - chew on this :p. http://m.softpedia.com/windows-phone-outperforms-apple-s-ios-in-24-count...

$60 phones vs $600...
Apple are cornering the high end/high profit market. Developers follow the profit...

Then why the heck are you here?

Ain't their beta working all fine? Fuckers, really..

Working great as usual. On my 8.1 720. Used to crash while loading chat history nothing changed since wp8.

It isn't crashing while trying to load old comments since WP 8.1 here

I am using WP8.1 and Whatsapp is working great here

I don't know why developers don't take effort in making apps for windows phone, I have WhatsApp on my 925 yes it doesn't work as good like on my iPhone (which is amazing by the way). It's sad when you compare app quality to iPhone apps, as windows phone is really a breath of fresh air. You guys at wpcentral should advise developers to take more effort when making apps. And please the guys at WhatsApp.. Sort out your app..

We r tkn abt features tha r missn in whtsapp fr WP.

Xcpt ur tkn in txt spk. This isn't a SMS thread with your "BFF", it's a public comment thing. Use proper words like the rest of us maybe?

Is there a problem with your keyboard...or your mind?
Unlimited texts and free Whatsapp make abbreviations redundant. So please....stop butchering the English language!

Wake up man they didnt mentioned that the app broken in our phones... the download link or in store is broken....so sad ... for new Users !!!!

Is it April 1st? worked fine on my 1520, 925 and 620 with Windows Phone 8.1

Can't you read what's written
It's removed from Store. It has nothing to do with its functioning. It works like before because the app still exists.

He can read perfectly well. As the article says, the reason Whatsapp was removed from the store is because apparently it's broken on WP 8.1 devices. He's just saying that it works fine on his WP 8.1 devices. Maybe you can't read.

Broken here means "imperfectly written" so how does that relate ? Just pick a good dictionary and fix your basics.

You are one weird fellow... :-D I think you're a bit lost here and the only one who doesn't understand anything.

What the duck ! This is the darkest day in the history of Windows phone.

I am a proud beta tester.. Enjoying new features....

I wish that was a public beta like Instagram and Facebook

Nooooooooooo.............

what exactly is broken about whatsapp? works fine with me.

Works fine on 520 & 920 with 8.1

It is available in India.

Still not available in India

Ghanta app on windows phone

I think again we have to wait for several months to get what's up app back in to the store.

Same here, works like a charm on my WP8.1 Lumia 1020... Strange how it seems broken for some..

Windows phone need to do some serious work here because BlackBerry 10 also doing good in market providing very nice updates very quickly

Which market would that be?

Bring on the frickkin' update!!

Click on "Download and install manually" and you will get the xap file ... then you can install it .. ;) ;)

Wow, WhatsApp worked for fine for me on WP8.1.

Yup, 2 phones on WP 8.1 in the house, both have whatsapp working fine. No complaints at all. Hope it finds it's way back to the store soon.

Jongla anyone? ;) http://www.windowsphone.com/en-us/store/app/jongla/c586baa1-b5c2-4f06-83...

I want to download but have no friends

It work fine for me. I just downloaded it on my Lumia 630 ( wp 8.1 with Lumia Cyan firmware). My store location is set to US even if I'm from Romania.

BTW, How is WP 8.1 doing with orginal firmware ??

Btw. This kind of hiding& not telling is not so good way to handle public image

Oh c'mon give us the updated app already. I really need to turn off that auto photo download feature, my friends take advantage of this and keeps spamming me.

Get new friends. Real friends wouldn't spam you.

C'mon ppl it just has been removed from store. Doesn't mean it wont work for you now

I'm willing to pay , just give me a good app
Not free broken app

OH HELL FIRE!!! OH WRATH!! OH WOE IS ME!!!

If you try opening WhatsApp from their website link to the store, it shows this app isn't available for your phone

http://www.windowsphone.com/s?appid=218a0ebb-1585-4c7e-a9ec-054cf4569a79
It is gone.

I had some notification issue on my Lumia 625 WP 8.1.otherwise working nice.today onward I m getting notifications also.

I had no problems with the existing app. OK, it was a bit laggy sometimes and notifications didn't work properly, but hey, having a Windows Phone didn't make me being a hermit. Removing it because it don't works properly seems not an option to me. They should get it back soon, because no one I know would by a WP without WhatsApp.

What if it's removed FOREVER? :O

Works on mine this is bullshit

If you try opening WhatsApp from their website link to the store, it shows this app isn't available for your phone

Things like this make me want to DUMP Windows Phone! :( So tired of a sub par experience...

To be honest the point of the developer preview is to let developers develop their apps so that it is ready in time for the official release. Sadly with the developer preview now being available for noobs these apps are now receiving negative ratings which are affecting their overall rating in the store because the live app is designed for 8.0 and not 8.1. I'm sure WhatsApp will have their app ready in time for the official release of 8.1. Until then noobs be like noobs.

...it's been pulled from the WP8 store too.

Not really, they could put a warning, giving a reason...not just pull the app from the store...that's a noob attitude

Not really, they could put a warning, explain or else...
Pull the app with no explanation That's a noob attitude

Screw WindowsPhone. I used to nickname it WinPhone but now its LoserPhone. Go Android!

U sound like a retard . How old are you any way?? 5??

+2520 for first part. Age is but a number. I know a pre-teen who is better at coding than I am!

Still working for my Lumia 625...

Shame they've done this. My 1020 and 1520, both on wp8.1dp work fine. I did have a lack of notifications on a 625. I wiped and reinstalled the OS, then whatsapp and it began to work just fine. Still is. Maybe it's an optimisation issue, or a low memory problem. Either way, hope this is resolved and soon. Whether people like or use it it is the preeminent messaging solution. MS really need this to stay relevant. But then I imagine this to just be a short sojourn, just to patch things out.

No need to panic people. WhatsApp's Windows phone store account subscription has expired

Hahahaha. I will send them the link to make payment..

This is some big news. If WhatsApp is officially removing their app from WPstore then they wudv definitely informed it officially. No info as such is available. Hence this just must be some update process. Maybe a big overhaul to the lame existing app is on its way or something lik tat. So guys don worry. Most probably it must be back with some surprises.!

Or back with minor fixes to old crappy version. And again wait till official release for overhauled version :P

Btw the beta get update today

I love to see that the people here are extremely optimistic

It's crashes sometime... Why??

I think this is kinda hint that a new and better version is going to be there very very soon

Work on line with no problem, but there is a big bug with the pictures, you cannot save them. Or they don't show up on WhatsApp folder but they do in all photos

They show up in other photos

You don't have WhatsApp folder anymore its Other Pictures folder now (if you are on 8.1) and you cannot access that folder through WhatsApp

Really nice... my brother bought a Lumia 630 today and he doesn't have WhatsApp... and now he hates Windows Phone lol xD

It's not a funny thing...

i know... but well... we can't do anything

Just btw, WhatsApp works just fine for me on Windows phone 8.1

Works great on 8.1. The first few days there were problems but everyone had problems, not just 8.1. Haven't had any problems since.

This is unbelievable... Shame on you WhatsApp team!

Hum....glad i didn't pay for it. :) this is one of the reasons why

Probably something big is on its way

I'm sure they prepare it for the new update they did this not the first time

Everyone here should send a message over their twitter account @WhatsApp. I've send, and asked to my friends that uses WP to do the same. Shame to see a company running their business like that. Shame!

I did earlier too. I think this will help.

Btw... Works perfect in my WP 8.1!

working even better on 8.1 than on 8.920

*seems faster* hahahahahahahah

Everybody keeps saying that WhatsApp is broken on 8.1... :/ It works almost without any issues on my 620 with 8.1 installed. I say "almost" because it exhibits the usual array of sporadic glitches that have been with us since the dawn of the Windows Phone OS. On the side note, ADOBE READER became broken... Suddenly all my friends on Windows Phone are texting me, asking what happened to Adobe Reader. The app crashes each time you try to open PDF file. Happened almost simultaneously on four Lumias the other day.

Works fine... At first of WP 8.1 it was bad but now everything's ok.

Can WPCentral check before they publish garbage articles.. This is the second time they stated that Whatsapp is broken on 8.1 when for most users its working fine.. honestly it gives windows phone a bad name... Yes the app has been removed from the store. It will probably come back in a day or so. The app being removed from the store is the only news that they should be writing about.

Still no article on the updated music tile??? WP central where are you???

Works for me...
Lumia 820 with wp8.1

Whatsapp wil be back soon enough because this quiet a big stepback by them(to remove frm wp store) I m thinking why aren't they concerened about WP,whereas android app is getting updated almost each month.

WhatsApp on Windows Phone is just a hot mess in general. It doesn't look or feel native whatsoever and all the alignment is off in so many places. It just seems really half-ass (excuse my French)

No problems on my Lumia 920 - so also no problems with notifications - always instant. Both on the 1st 8.1 build, and with the update.

If notifications not working = broken app then Skype has been broken since virtually day 1.

On my opinion... Why change system from 8 to 8.1 ( much more unstable). When version 8 need to be polished.

Windows Phone 8.1 IS a polished version of 8 (A.K.A. 8.0). You say is "much more unstable", but let me remind you that the build we got through the Developer Preview Program is NOT the final version (Joe Belfiore said this) and we need the OEM firmware update to make it work at its fullest (Nokia Cyan if you're a Lumia user). Don't get involved in this kind of programs if you can't deal with these things.

I would like to be optimistic about this! Maybe since Facebook bought WhatsApp, they are making some changes and are planning to bring it to the WP store under their app list! Or maybe WhatsApp is making some awesome updates.

I have a feeling, they might be implementing it into the People Hub (like facebook & Twitter), as that would allow us to send a whatsapp directly from a contacts profile in the people hub, as well as iron out the bugs. Since they mentioned they are resolving this with MS, it must be that, cuz if it was a big of their own, I'm sure they could have solved it without the help of MS. Either that or I'm giving them too much credit =p

WhatsApp notifications did not work on my 620 with data plan and sometimes on wifi noti. Were like 5-10 mins late

Works just fine for me! 1520 (8.1) Glad I didn't uninstall it.

I would like to be optimistic about this! Since Facebook had bought WhatsApp, maybe they are making some changes to the app and are planning to bring it under their app list! Or maybe WhatsApp is being updated with some great changes n its been taken off to be reinstated with those changes!

Nothing new that apps leave the store and return. What's App probably has some security issues, broken or just removed to be replace by something better.

If you find WhatsApp.xap somewhere then you can install it now also

But the WhatsApp beta is still there! XD

Guys find the WhatsApp.xap and then manually install it as there is no problem to WhatsApp at all ... L520

Sometimes I have to open it to get new messages. Using 920

If u get a new phone u can't reinstall it....that sucks

I hope they push the new version soon cause they have been supposedly working on it for an eternity, how long does it have to take to release a new app ?

Reading reviews last 2 weeks its getting beaten up so I can see them pulling it. Pitty other than the weird other folder its been ok. Makes me wonder if whatsapp was part of the other storage problem

What exactly is broken on WhatsApp? I have it on my WP 8.1 device and it works.

Glad i have unlimited texts so lol

Works just fine on my 820 running 8.1

Also working perfectly on my 920, 8.1

beta app update received today in Brazil 2.11.468.0

No whatsapp, no wp (for europe)

Hey ppl, the beta version is again available for dowload http://www.windowsphone.com/en-gb/store/app/whatsapp/6b587088-a2bd-4597-...

It's available but can't install, says not authorized.

My whatsapp was and still is working on 8.1 nothing wrong with from what I can tell

It's not possible that we get without WhatsApp, in nu opinion this means that the update is almost ready to go and we will have it soon, and if they removed the app is because the update is huge to make a brand new app. Still doesn't justify the time we've been without this app in the market, wonder how many people is affected, but I have it installed and being using it a lot without a problem, as always

Work perfectly fine on my phone. Lumia 820
Window phone 8.1

It was broken on my 920, no notifications etc. But as of recently it went back to working as normal. Only issue I have is really the battery drain. Hopefully they fix that and also give us the full features that other phones have, like privacy etc.

WhatsApp still works fine on my L1520 with WP8.1. But when I wanted to install it on a L520 with Wp8 I really got frustrated this afternoon. no App in Store, if you search via web, go to the store, you just got the notice: Not available on your device ...

Can find it but says it isn't compatible with my device. Maybe this app is now the 8.0 app and they are going to release a 8.1 version of the app?

BEEEBEEEEE EEMMMMMMMM!!!!!!! PLEAAASEEE!!!!

Works so far for my Lumia 925

Works for me on 8.1. No problems at all

Better to pull an app from the store than leave a sour taste in the mouths of new WP owners?!
Sorry WPCentral, but what a load of rubbish! Whatsapp works on 8.1...it isn't great, but it works. I would sooner have a functioning and buggy app than no app at all!
Seriously...stop suggesting app developers are right in keeping apps from the store simply because they have some issues. It just leaves us with even more app gaps!

It's also gone from iTunes store. Millionen iPhone user burning the devices right now... and buying samsungs!

This is bad. MS invests in Facebook. Nokia makes whatsapp happen on WP. Facebook then buys whatsapp. WTF? Where's the love?

WhatsApp is available again.
Check out.

Think the 'But it works fine for meeeee' cries are starting to outnumber the 'Wheres the Update' posts.

Facebook wants all Windows Phone users to use Facebook Messenger for their communication needs.

Thank god I've almost fired up my Lumia 820 thanks to Whatsapp running in background with wp8.1 Now If I need the App I open it no more background till they don fix it .My phone now is cold and the battery last incredibly longer....

The only problem for me on 620 wp8.1 is it's loading time is much longer than when it was on wp 8.0, but I thought it's because I moved it to SD Card. Even it's not crash anymore when loading earlier msg.

This is embarrassing. We're now the only platform (temporarily) without a WhatsApp version. Even good old Symbian has the thing lol. Oh and it's been working perfectly on my L920 with WP8.1 too.

I notices some issues initially on 8.1, but not sure it was actually the app or something in their back end since the issues only lasted a few days after I updated to 8.1 Dev Preview (same day it was made available). The app and notifications have been working as it usually did on 8.0. Now, I do see at Battery Saver that it is consuming most of my 920's battery life.

What if they just dropped support for Windows phone

http://windowsphoneapps.es/2014/05/whatsapp-para-windows-phone-seria-lan... i found dis surfing through net.. Do take a look everyone. Myt answer some of ur questions as well.
(sorry i cudnt find a translated version of the site)

translation: This morning received notice of a close source that told me retired Whatsapp application for Windows Phone shop to be that the company is preparing the launch of a new update and that this would be imminent. The truth is, personally I do not think so, not so far. The image you see above was posted in closed Facebook group Windows Phone!, indicating the same as our source told us this morning: application will be published shortly in the store with the new update. The post was removed from the Group almost immediately, but we were able to capture the image before this happens. Information seems accurate, but of course this does not mean that we have the certainty of this, keep tuned to as everything evolves this. You think your?.

Reading the posts,I now understand the WP has about 85% of dummy's as owners,could be a good idea if you guys immigrate to android !

Well I got 8.1 and my whatsapp hasn't crash and its working properly .

Lumia 1020 8.1 all is well with WhatsApp. Maybe a sign of the update coming after all this waiting....

Happened before http://m.wpcentral.com/whatsapp-removed-windows-phone-marketplace-due-se...

i believe at that time it was pulled because it did not comply with canadian regulations on privacy.

So no point ordering a new phone until we know what'sh(app)ening and when this come back

yeah it has been gone for a while unfortunately. I love last.fm for keeping track of my library,

I'm checking store again and again, hoping for it tho get an update

Wow. WhatsApp is one popular app. Why is it gone!! Posted via Windows Phone Central App

I've been looking for this app all day as I've just bought a Nokia Lumia 900. Is Whatsapp being repaired?

I guess because of the bad ratings and reports. I've reported WhatsApp to Microsoft at least 5 times. LOL.

Hi,
Send email to support using the link, sent email to them some emails to them may help [url=http://www.whatsapp.com/contact/]WhatsApp :: Contact[/url] Tweeet to https://twitter.com/joebelfiore https://twitter.com/satyanadella https://twitter.com/finkd i just did.

this is crazy I have a windows 7 phone aand it got wiped today and now i cand reinstall the app this is some bull shit

It works fine on my Ativ S. Darn it I was planning on swapping my phone temporarily end of this month and this happened.

WhatsApp is removed form store because an update is coming within very soon.. Source : http://windowsphoneapps.es/2014/05/whatsapp-para-windows-phone-seria-lan...

An update is coming very soon . Source : http://windowsphoneapps.es/2014/05/whatsapp-para-windows-phone-seria-lan...

pls help me i have d same issue wuth lumia 510......

Been using it all night with UK to Spain and is working fine on L920 8.1. In other words google ate being their usual dickish self and say good by to another service WP can't now use

It still shows up when I search for it..

It still shows up when I search for it..

WhatsApp for Windows Phone has tons of bugs ! Keep on crashing when i send alot of pictures in once or scroll up to the chat history. BAD APP. WHAT IS THE COMPANY DOING. SUCH BIG COMPANY DON"T KNOW HOW TO FIX THIS LITTLE BUGS ?

Make Yourself good enough that people would use the app that you are using to communicate! Don't make yourself depended on any app so much that you'd feel butthurt for it being gone! (~_~)

Still unavailable in store

Here in Brazil, we made a campaign and denounce the application.
Many people here denounced OFFICIALLY in Store, as poor performance.
Maybe that's it.

Oh shoots! I recently reset my 1520 to send for repair. Hope whatsapp will be back when I get back my phone. Else I'll have no whatsapp.

MS is losing a lot if sales globally bcoz of this issue.A guy buys a 1520 checks whatsapp nothing comes up,ragequits and replaces the phone.DO SOMETHING MS!!

RIP TWO MTS OF SILENCE EVERYONE CHANGE UR START SCREEN TO BLACK IN MEMORY OF WHATSAPP

I am using whatsapp on 8.1. It is still working well....

It's about time we ditch this Facebook crap from windows and opt for something great. WhatsApp is still the same old UI and appearance.

I wish I had bought an android instead. It's not even a month I have bought wp and I get to see this??#Hatefacebook

WhatsApp isn't going anywhere. They just updated the beta although it looks like you have to be a beta tester to install it. (http://www.windowsphone.com/en-us/store/app/whatsapp/6b587088-a2bd-4597-8416-6c77f0a3ec6d). I'm surprised at the number of comments making a huge deal about it being temporarily gone. It's just a chat app and honestly I don't know anyone who uses it. I'm sure it will be back in the regular store very soon. Also whatsapp.com lists that they support Android, iPhone, Blackberry, Nokia S40, Symbian, and Windows Phone. Do you really think they would abruptly stop supporting Windows Phone yet continue to support dead platforms like Blackberry and Symbian?

this was the best whats app could have done for now to dodge the bullets fired at them by windows phone users. they were incapable to cope up with windows phone and they paid the price!! whereas we chat has become very cool with new updates regularly!!

I wish now was the time everyone switched to Skype lol that would really help MS

As long as Spkye is as horrible as it is on Windows Phone 8 (not to mention the horrible mess it is on WP 7.8 - unusable) this is never going to happen. Ironic that the Android and iOS versions of Skype work far better.

I dont use it, but was under the impression that Skype was actually not so bad anymore on WP

sending photos, videos or audio is not possible on Skype. Plus contacting friends that use WP 7.8 is not possible unless they are currently active in Skype (i.e. running the app in the foreground).

I uninstalled WhatsApp today morning by mistake and not knowing that it was removed from the store, i tried installing it but in vain.. :( when will they republish it?

Uninstall the app , you will see it appear in store :p /S

Any news of return of whatsapp

Will there ever be an update to this shit

Looks like sail are aware that what will happen now. I'm not going tell. Just see now.

This news just broke my heart

While installing the beta app of WhatsApp I got this message.
"You don't have permission to install this app".

Oh ! what a pitty ! hope you sleep at night without whatsapp...

So funny. In Europe WhatsApp is like SMS. Its like having a mobile phone without messaging function. So yes, no WhatsApp will kill Windows Phone in Europe (and Europe is a strong / the best market for WP atm).

Why don't switch to Viber, Line and Skype? These three are better in features and free. Don't forget to switch your buddies!

In what universe is sykpe better than whatsapp? Unless not being able to send pictures, videos or sound is considered "better" now this is simply not true. Why not viber, line or <random messenger here>? Because whatsapp, fb (and threema) is where the contacts are.


Just wait ... WPians!!!!! hope for a updated .. watsapp in few hours... P.s Just a hope... dont ask for a source .:P

Do any of you ass...le know the exists of "TELEGRAM and JONGLA" ? Wake up di.k heads!!

Do any of you ass..le know that there are better alternatives' like telegram and Jongla,or are you married with whatsapp? Wake up dickheads!

Tell that to the people in my contacts list. They're all on Whatsapp. Me shifting to another service will only make me the odd man out.

Well what is the problem ? they can get more than one message app and try them out,and some times it's better to be an odd man than an idiot running after other idiots,i left facebook several months ago and whats app after it was acquired by facebook,and i do have to say that i really feel better....got my closest friends on Jongla ore Telegram.....no problem if other ones continue to stick with whatsapp without trying other apps,means we have nothing to tell each other.:)

I suppose that when nature gave brains to mankind it didn't considered giving it to WP user's

First of all the app as stated on the Article is not available for downloading on the WP store,that does not mean that it does not function if you allready have it on your phone, so dear brainless idiots that post that it's working on there phones,please read before you post....when mother nature gave brains to the human race it forgot to give them to 85% of WP users,otherwise there is no other explanation for the posts that are here.

Whell anyway,are people aware that there are valid alternatives of SUCKERBERGS app,like Telegram and Jongla,and they work better ?!

Most people I know have realized this. Unfortunatelly their app of choice is Threema as they do not trust the (russian owned) telegram.


If this app doesn't list in the store within a month MS can kiss half of their market share goodbye.In India there's a lot of ppl buying WP and with no WhatsApp it will be a wasteland for WP here Posted via the WPC App for Android!

Seems this "broken theory" is off base. Comments prove it works fine. Works fine for me with 8.1 on my 920 as well. Maybe it was a mistake or business warfare

need whats app soon in store because every day a new user switch to windows phone.what is microsoft doing, every body use whats app more than facebook or phone msg.

Update underway http://ic.tweakimg.net/ext/i/imagenormal/1400409283.jpeg

We dont know wether it is true or fake mate .. lets wait and see !!!

As there is no official word from Whatsapp regarding the issue, it would be safe to assume any information given from other sites is fake, unless they can link back to a verifiable source. And there is no word from the official website. That particular image has been floating around since yesterday and has no verifiable sources that link back to Whatsapp's website, Facebook or Twitter feed.

Am I the only one who's confused by "whatsapp" not returning any results? Shoudn't there be tons of "me too" apps riding on the whatsapp name? Like sticker apps? Other messengers?


What does that answer have to do with my question? also: I treid wechat (i tried pretty much all the instant messaging apps) and none are necessarily better than whatsapp. The issue is that I still have to trust the owner of the app, I can not see if any other app is more secure or trustworthy. So I just go with what's pretty much equally trustworthy but has more features and most of my contacts: whatsapp.


This app has only 3.1 stars! It's an very important app and people give low stars! Give full 5 stars! Give stars for the app to be in this store! Give stars for developers for making such a good app! Give stars for having so many features! Developers are trying their best to give a good experiences for us! WhatsApp is the 1st messenger app to have video upload in windows phone, this tells that they are working harder than any other messenger app! Look at the positive side and rate full stars and comment if you have any problems!

Hey WhatsApp is still working on the phone but is vanished from the store, some time earlier I uninstalled Asphalt 8 and when I wanted to download it again it wasn't there in the store

This will not go well for Microsoft when it comes to sales of wp in India.I already saw one of my cousin who went to buy 1020 came back with HTC android device.Apparently someone in shop told him that whatsapp has been withdrawn for WP & is not likely to come back.I myself have a 520 on 8.1 & have been troubled with late notifications on whatsapp.But since everybody i know is on whatsapp i cannot switch to anything else.If the condition remains like i shall be forced to buy a new mobile probably Moto E but i love windows phone too much.Microsoft,Facebook should fix this prob asap otherwise they would lose already declining wp market in India.

On my 620 on 8.1, the app keeps producing a fuzzy noise. Or just never stops unless I close the app.

You just have to tap the record button in a chat once (so it doesn't start recording) then it should be silent again.

Good job, publish it again after the bug fixing

Will it come back with just bug fixes?

Hope it will be back with all the updates.

I knew they wud return to windows store....An app this big and platform with so much potential isn't gonna let users in dark.For all the WP haters....how many phones do u have to get KitKat (A phone older than a year gets no update in Android unlike Our WP)

Piss off, I'm so close to stop using this BS of a messenger. How come other apps don't have problems with 8.1 and what on hell is going on with the beta?

Any idea how much time it will take 15 days , 1 month or more. Hope first their concentrating on wp right now.

I got a link of WhatsApp beta version but when I tried to install that it shows you don't have permission do install this

Hopefully this update brings more function not just fixes

Fortunately it's working for me. Yes there some bugs that bother me. But, it's still tolerable. Hopefully the update don't take too long to publish.

Hopefully when it comes back.... Is have all the features that the beta has....n also is one of the only apps I've noticed to be slower than is ios n android counterparts.. So hopefully we'll get the full experience when it comes back

i'm using whatsapp normally on my wp 8.1 ? whats wrong ?

Now someone walk in the store and the sales say, oh Windows phone have no whatsapp, it is a nice phone, but no whatsapp.....

I convinced one of my friend to buy 525... That night he blamed me that whatsapp is not availble so he returned his device despite convincing him to wait for 24hrs... N now he bought a lagdroid... F u microsft

Works on my 625 8.1 just fine, what a stupid move removing it from the Marketplace, fools.

they have updated the post they removed the old one to put new one updated one !!!

okay this article got updated with the latest news related WhatsApp, but how much time, hours, days, weeks, months it gonna take to make return in Windows Phone Store again? :D
My guess is, they will return to the store by monday morning :)

Woking fine on my 625 with 8.1, remind me not to uninstall. EVERYONE I know used WhatsApp :/

Always been a few issues with what's app since day one not sure if its worse than Skype though

Didn't they say there were bringing a new improved version for 8.1 a little while back???? Because this could kill windows phone

Guys , can I register my WP 8.1 on a WP 8 registration tool?? Please answer if you know

if you mean the sdk for developer unlock, yes, you can

Thank goodness. But it will likely take 6 mo knowing these guys

Uninstalled it yesterday to take a break from college study groups in the app (finals week...super annoying). Good thing I didn't just mute conversations, perfect excuse. "Guys, my app disappeared, I'm sorry I can't help..." hehehe

For all you people having a hissy fit, I'd much rather see them pull it and make sure it's fixed right than be like some of these game publishers who just ignore all the negative feedback and leave their app up there for months without fixing it or even acknowledging the issue. At least they're being proactive. This is definitely the right move IMO - they're actually being transparent and communicating with users as well as working it to fix it. We should be grateful considering the way some other publishers push out a product for Windows Phone one time and then just let it rot.

Regarding the removal update: They are gonna blackmail Microsoft now as they want $$$. They are in a position to blackmail. There's no "serious bug". Pretty damn sure about this.

If the issue was something with WP 8.1 they could have easily put a disclaimer like "You may experience issues in WP8.1 Preview", they would have plenty of time to fix prior to the general public release. However, since most people on 8.2 are not experiencing an issue, they delisted the app that has been working on all other WP versions and they are being hush as to why then I suspect they may have found an underlying issue. My guess is it has something to do with security or personal info otherwise it makes no sense to delist the app. Any other issue like notifications not working or lagging could be fixed with an update.

Microsoft should put a placeholder in the store so that anyone new who looks for WhatsApp will be greeted with a message that the app Will return shortly!!

Why they didn't just update it :(

Story off the weekend. Haha.

Well I suppose it's better they have a full functioning, as bug free as possible app on the store - rather than something that may or may not work... Hope it makes it back soon, won't be good for prospective buyers, may sway their decision against purchasing WP.

Works perfectly for me on Lumia 1520 with Windows Phone 8.1. Only real issue I keep encountering is it is not a working option when sharing content. I have to go into the actual Whatsapp app to share content. I have issues sharing from certain albums.

Works just fine on my 1520 including action center, banners, sounds all...

Thank God we have Telegram as alternative... Oh! Wait a minute, we don't! Jajaja

'Showstopping bugs'
Bullsh*t!
I have it working fairly reliably on my phone. I sent a few dozen pictures and videos yesterday, and received timely notifications. I would certainly sooner have a fairly reliable app than no app at all.
Whatsapp should not have pulled the app. They should have just given us an update asap.

I mean idk if its broken of whatever cause when i open it, i can send messages and receive them, it never crashed so yeah that's a good app to me. idk what all this fuss is about anyways. Eternally unsatisfied, that's the human race i guess. ! Oh well !

They better bring WhatsApp back soon or Windows Phone will be dead in Europe, here literally NO ONE will buy a smartphone without WhatsApp, I will sell my own if this is the case, people are really underestimating the importance of WhatsApp, Microsoft has screwed up again, people are now buying the new Lumia 630 and without this they will return the phone, this is just sad.

Nothing to do with Microsoft. Moronic WhatsApp management decided that small, inept programming team is good enough to handle WhatsApp for Windows Phone.Tens of millions WP users mean almost nothing to them.

You have a point but it is Microsoft's platform, they should have been much more agressive with developers to have the Top 100 apps and with quality, things like this don't happen in Apple and Google Store, they are going so slow and with the new Motorolas E/G and situations like this this could mark the end of WP.

More agressive with developers? You mean point gun to their heads? Only thing they could do is to bribe them with millions of dollars. But recently WA got 19 billion dollars from FB and that didn't change a thing.

For all those who are saying that works fine on 8.1, pay more attention. If you use the app once in a while it'll seem like it works well, but just use the app more assiduously and you'll realize that it has several flaws.

hah!!...finally my so much of provoking n insulting reviews n comments on whatsapp paid of...they r ashamed n so pulled their app now..cool

I noticed that the download manually link is still active although the app is unpublished. For good measure, I tried the link and the XAP was downloaded successfully. I am not planning to install it though. Also noticed that messages are no longer going through. Not even to the server. I am not sure if this is a Whatsapp issue. Weird!

Now it will take another 4 month to get back in store

Waiting eagerly for WhatsApp update

Missing from the marketplace on my Nokia Lumia 710 WP7.8

It's tempting to skip QA but companies always end up paying for it in the end (with pissed off customers to boot).

I had the same problem almost one day ago. I removed it from my LUMIA 920, and tried to install it again but unfortunately it was already removed from WP store. It is a very important app nowadays, because i am in touch almost with all my famely and friend. I hope it will be back soon

it still works for my WP 8.1

I don't know the exact date but I wanted to say that might be whatsapp will be available on or before 19th may.

They should add the button where you can upload videos and songs nor only recorded audios

Next update coming.....next year, couse 4 months we're waiting.. Very boring this updates for WP.

update..asks for update on verify with whatsapp.

I think if it is just a matter of update, they would not remove it from the store unless the updated version is ready to be replaced ( one hour or less). Thus, something going wrong with this action almost related to business issues.

Wow an app as important as this has been pulled. Imagine new customers buying wp and not aware of this. They will think whatsapp is not available on wp and spread false rumors which will effect wp growth

Yeah. I still have my money on some kind of security vulnerability.

Beta version should be published for all users... Untill the official WhatsApp is published

Don't know why none of the developers never introduced a non official version of whatsapp.

Thank God I got fed up and left Windows Phone two weeks back. Why not use an already matured OS than this buggy OS which will take 2-3 years more to get stable. Something or the other keeps happening in Windows Phone which will annoy the users. Now whatsapp gone. Anyway it was buggy since inception. People here are still waiting for the stupid BBM haha. While Android and iOS users have moved on not even interested using this app which is available since months. Posted via Windows Phone Central App

i hope they sort the history bug, because i cannot understand why i cannot go back more than 8 pages in my previous conversations without the bloody app crashing.

hi guys, yesterday unfortunately i reset my phone (lumia 520) , before i am using whatsapp i face problems like ( please reboot your phone for push notifications) . later when i am trying to search for whatsapp in store it is showing the message ""We couldn't find a match. Try a different spelling or search term."" when we can expect whatsapp back

I just hope that whatsapp becomes faster and some background wallpaper customization in the chat !

I notice some bugs on notification centre when I received WA msgs n I open WhatsApp it didn't clear automatically. Second when I off data connection and bfore that I received any msg for ex. 8 msgs unread n after data connection off n m open WhatsApp app and check all msgs after that also live tile shows unread 8 msgs or how many msgs it.
Tost notification when multiple msgs received at a time means after data connection on if I read more than 10++ msgs in single group it also showing me tost notification which was already m read frm grp. Large text msg get time to open it an some time automatically crashes. So i have to clear first all msgs after that I can able to chat with that person. Cant see older msgs more than 100 text. This some bugs I have noticed.

what a sh*tty platform WP8 is. Nobody cares of its users

When WhatsApp is available in store

Okay Here is my Theory:- Recently Microsoft has advised Wp8.1 would use different push notification service which is more relebile then current method. So what has happened is Whatsapp cant implement it correctly or there are serious compatibilty issues with new service or so load issue. Whatsapp cant push update to latest release as it breaks WP8 push notifications , and if they leave it as it is all Wp8.1 users are not happy.

When WhatsApp beta gets released will it have option for disabling of auto save pictures?

beta is not public but its closed beta , i think it has option for disabling auto-download photos. we used to have the feature but i think it was removed.

We did... stupid decision to remove it if you ask me.

There is no official app for Facebook in WP from FB Inc. Now they pull out WhatsApp. Lets see what's the fate of Instagram Beta now on Windows platform.

i hate whatsapp and whatsapp team :@

It's such a shame this only happens with WP 8.1 to be quite honest! This only shows how bad the support for WP is :(

When will it return ?? I am curious to know about the new app.

WhatsApp is now one of the most important apps in the handheld devices. It is very weird to dissapear without any warning !!!! that perhaps means that something wrong in the relation between WhatsApp team and mirosoft WP because doing that shows disrespect to WP users. Anyway, i will not use WP anymore it seems that the giant company started actually its degradation.

If whatsapp doesn't return on WP store than they might as well shut down the windows phone franchise. The lynchpin in all communication is connection and whatsapp is the top dog in connecting millions of people quickly,easily,privately and most importantly cheaply. Facebook was threatened by whatsapp because of its immense reach to consumer's. A dusty village in southern Africa with gprs connection might have 0 regular Facebook users but you can bet they have a Nokia Asha phone with whatsapp on it . They can connect with anyone on any platform anywhere on the planet.WP might be on the podium ahead of BB etc but if WP is cut than they will be at the bottom of the barrel. Whatever platform you are from it would just be suicidal to cut whatsapp from your store permanently.

what the hell is this !!!! :0 i just took a windows phone thinking that it has whatsapp....but it doesnt...if whatsapp wont be there again then it will be a big loss for windows users who just took a cell !!!! and ..after this may be no one will take windows phone thinking that it does not have whatsapp !!! its gonna be a loss for them too !!! i hope it comes ...back..in a weekend..as i m waiting since last 4 days ..its ridiculous !!!! it should be there in a week !!!!

Have been worried after the change of the phones software,Lumia 520,I could not download and install whatsapp in the phone.Hope it will return very soon and I will be able to download and enjoy in my phone.May I be updated upon arrival so that I can enjoy this.

My WhatsApp usage is not so high and i don't face much problems... But the step that WhatsApp has taken of removing it from the store is not going to do justice to Windows phone as people buying Windows phone now will not find WhatsApp in the store and will storm, and they will hate Windows phone for it creating a negative image for windows phone

The problem is for the ones Who want to download again the application . "whatsapp" is No longer on the Windows app store and this is outrageous ! I'm looking forward to seeing the app again ...

So...one two....how many days more.....just cant believe that such an app is out of the store for this long time

Strangely disappeared from the store to coincide with the launch of the Lumia 630. Now who wanted to buy a new windows phone I'll think twice, given that the Android app is normally downloadable ...

Enthane ithinteyokke artham

Last weekend I get my new Nokia 520. No whatsapp available. Don´t buy WP OS, evolution don´t touch this OS yet.

Untrusted Application = Taking Subscription + Unpublished without any Notice + email to them no response at all + no social responsibility

Today whatsapp works really bad !! :/

Hello Team WP Central, I have purchased Lumai 925 last week. And now I am searching how to download what's app or eagerly waiting for any new updates on what's app.
How can this guys be so insensitive about removal of app from app store??
If there is any bug or so...how could what's ap continue to work on existing Lumia users??
As my messaging communication depends mainly on what's app, I can't move to lumia 925. If u get any update plz let us know.
Rgds, Posted via Windows Phone Central App

How about installing Whatsapp through SDcard (xap file installation)??? from where can i get a Whatsapp Xap file??

NO ITS WORKING I TRIED IT IT SHOWS XAP FILE UNSUPPORTED

i am very disappoint No whatsapp I must sale for nokia lumia 1020

I Like nokia lumia plz plz installing whatsapp plzzzzzzzzzzzzzzzz

Though it is temporary move, but can anyone post me its tentative date of pre-launch...

I bought my lumia 520 8.0 two weeks back and a tryed to download whatsapp since then untill when a googled using a pc and find out that it does no longer support it. And to tell the truth i wanted to take the phone back to the store because without whatsapp while having such phone it's bothering big time

Can you please tell me when exactly it'll be available on Nokia store??? And will it be paid version or will be free as before???....

Windows phone does not support many app. There market place is very. Outdated they don't update .. Whatsapp which is essential app nowdays can't download. This is why Samsung took nokias place and I will surely say that Nokia will never succeed.... Faltu ahet Aaighale.... Mc.bc.

Mr. Daniel...did you forget this topic? Have you tried to make any contact with someone from Microsoft or WhatsApp?

Whatsoever.. Does anybody knows when is whatsapp coming back?
I uninstalled it and yesterday i found that it wasn't there.. Please somebody tell me when is it going to come back?

Can anyone tell me when WhatsApp will be available in Store (of course with Updates)? Its getting bored without WhatsApp...? Please help...?

Any idea when is the the WhatsApp application going to be avilable for download ??? It is damm annoying to not have WhatsApp !!

i bought two Lumia yesterday, coz I like WP, my girl friend and I were surprised to see this. We didn't know this, I took my phone back to the chop and they said, there's ni return for phones. So, Imagine, I m just watching my phone without enjoying it. Firstly I thought they were not aware of this. i wrote a mail to whatsapp team but, they were sending me back to the FaQ. Please we need Whatsapp

when will the whatsapp update be on my Nokia Lumia, at the moment i can see none!! its frustrating and im so upset!! anyone knows anything?? Help me..

The team members of this website know

Would WhatsApp dare to keep the app offline on Android or iOS even for 1 hour?
That shows you how insignificant Windows Phone is.

And since it has been almost 2 weeks, WP certainly has zero priority with major App developers like WhatsApp. Sad to see!

Why why why why,???? I was working fine, accidently i uninstalled the my working WhatsApp... Now there is no other option than keep crying... Very very sad Microsoft... Sorry to say but, "Windows phone is not up to the mark to compete with Android and iOS" Feeling regreted by purchasing windows phone ... :'(

Are we going to have whatsapp back soon? This is embarrassing among android and iphone users....hurry up or at least make the old available, it was working fine with windows 8.1 no bugs, I has to reset due to faulty handset and now repaired but can't install anymore!!!!

Somebody tell whatsapp we getting impatient. 5days is way too long[-_-]

At least tell ruff sketch when it will be back to store????

Plzz reply..still how many days it will take?

I would sugest to get another spare phone. Coz Whatsapp is not coming back soon. Or use viber, wechat....

I am using a lumia 520.. m not able to download whatsapp from nokia stores.. as its not available der.! so from can i access whatsapp again.? any specific date.? :/

My WhatsApp was tripin,so i deleted it. When i visited the market place to re-install it ,i found out that it had been removed. This is my second week without WhatsApp. Wondering when it is coming back. My phone is nothing without that app,it was my source of communication...... PLEASE BRING WHATSAPP BACK,PLEASSSSEEEEEEEEEEEEE

I don't understand one thing that why it has been removed from store? If they want to fix the bugs that they can do. However its working good in the phone in which its already installed. Then why they removed? can anyone give the source?

What the hell???
When will whatsapp be available in market place

will it eva come bk ?!?! bn 2 weeks mann now and it is so frustrating !! i hv just moved to australia and was th e only way to kp in tch .. some time pass for me and that is also gone !! bring it bk please !! such a mistake of buying the windows phone !!! im regretting getting this phone !!!! would the idiots ever do this to android or iphone !! never .. so why windows !!! .. please give us whatsapp bk !! .. such a waste mann !! .. :(

for that maatter is the WhatsApp Team even reading all this or is it just the WP Team whose reading it who cannot do anything !! .. probably are not doing anything !! :( ..

where is whatsapp in window store...wt the hell is that?

The question here is how can we install WhatsApp on our Lumias alternativelly ??!!!! is there any any possple methode

How long do we have to wait for it?

Mine is not working nd I can't find it in de market place.please what's going on?

Hey I uninstall the WhatsApp then no WhatsApp I store ...
But in website the stor open and this device not supported WhatsApp..

buying nokia lumia was the biggest mistake of my life even cheapest android phone is loaded with all basic apps.

bhe#### tum log 25000 ke mobile me hatsapp nahi de sakte to company bandh kar do yaar

First Check Windows os 8.1 then first removed whatapp. then after i install on store but store can not get whatsapp. i download xps file then install again but they said do not support this app for your device. How install WhatsApp in My Nokia Lumia 525?

I was so stupid, I have just uninstall my whatsapp thinking that reinstall will work fast, that was most unlukiest decision of mine. I run my business, do all social activities on whatsapp only. Now its very tough to buy new cell just becoz of whatsapp :( life is tough without whatsapp, belive me

Same thing with me. I was looking for a faster one.but nothing

barbad hai window phone apps hi gayab kar diya market se isse acche toh android phone hai kam se kam apps other website par toh mil jate hai

is there any external way or third party source to downoad it.. just like apk fie for androids :( plz hep btw f**k Nokia

I bought new phone on monday but I'm very angry i didt c the WhatsApp. In store ,when WhatsApp will come in the store pls tell me ......pls my frds r waiting to chat in the WhatsApp........

I like windows phone. Plz save ur reputation!!! People are crying

Jami T. (WhatsApp Support) May 30 08:40 Hi, Thanks for your message. Sorry for the delay! We have received many emails recently, and we do our best to answer them all. Thank you for your patience. Unfortunately due to technical issues, we have chosen to unpublish temporarily WhatsApp Messenger on the Windows platform.
We are working closely with Microsoft to resolve the issues and hope to return to the store shortly. We apologize for the temporary inconvenience Unfortunately we cannot comment on any future timelines, sorry. Thank you for your continued patience and support of WhatsApp. Jami T. WhatsApp Support Team

Just downloaded from market place w8.1. It's BACK!!!

Whatsapp is back on the store. I just downloaded it a few minutes ago.

WhatsApp is back and its working fine, no crash while viewing chat history, lots of setting added

Hey enjoy now, you were talking alot, now whatsapp is released you have to thanks both whatsapp team and windows phone team. This version is amazing. I like it.

U see now, you people are enjoying then you don't comment again.

In lumia 630 not working properly

My WhatsApp has scaling issues on my Nokia Lumia 1520, where wverything looks ginormous not to mention delayed incoming messages as well as unresponsive preview window to disappear after I tapped it to go away.

My Nokia 520 windows 8.1, when i am trying to connect wi9th Wi fi is working but when i am try to work with mobile internet is not working