WhatsApp Video Optimizer update allows you to fine-tune settings for video conversion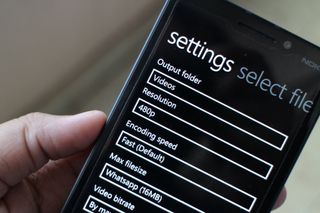 Third-party conversion app WhatsApp Video Optimizer offers a quick way for users to convert videos to conform to WhatsApp's 16MB threshold for videos. The app picked up an update that gives users the ability to select the output folder as well as the resolution, audio and video bitrate.
Here is the full changelog for version 1.2.0.0:
Send music through Whatsapp
Added option to choose output folder
Added option to choose resolution
Added option to choose max filesize (WeChat/Viber/Custom)
Added option to choose video bitrate
Added option to choose audio bitrate
Bug fix (Crash when selecting videos)
If you're looking to share your local videos on WeChat and Viber, you can set the maximum file size to 20MB, which is the size limit for the messaging platforms. The addition of new features, such as the ability to choose the output folder, resolution and bitrate means that you have more control over the conversion process. Let us know how you're liking the additions in the comments!
Thanks Charlie, Abhishek and Aman!
Browse `How To' section inside the app menu. It is same as the trick that we are following, means renaming .mp3 to .mp4 and sending it as video, which is time-consuming and cumbersome. The app just made it easy, that's all.

Well, at least the app now does it for us, which is good.

Finally the app isn't crashing in windows 10 Tech preview on my 730.

Ya...The app is NOT crashing now in W10 Preview on my Lumia830.

Hey does background wallpaper shows on your startscreen in win 10 tech preview on 730???

You have to change some settings and revert back to activate the new start screen in Win10.

Can you explain in detail what settings?? N well has it either on your phone?? U can also reply me on twitter @imalayamohanty about settings if not here

Great to hear the app works on w10 now :D I wasn't able to test this during development because I don't have w10 yet.

If you have a video too long to send through WhatsApp, launch this app, click Select Video, select your video, wait for it to be optimized, then send the new video through WhatsApp. The size is reduced by reducing video resolution and audio bit rate. If seen in a large screen you would very easily notice the reduced quality, but for phones I believe it is perfect.
You can even launch WhatsApp from the app ready to share on an existing conversation, or on a new one.

Don't reply to idiots man if he can't be bothered figuring it out himself hes just wasting your time

Forums are for helping people out.

This is the best post I've seen all week.

I usd it hmmmm but it's crashing every time em selecting video fro saved folder. My phone is 1020 with denim update.

a lot of apps started crashing after the denim update on my lumia 1020

Yeah, I agree... But this app is still useful as I find Telegrams compression to be a bit harsh... I use this and set my video size to what I want to compress it to...

Which Telegram compression :D

When you select to send a large video file (not via the file option) it offers to compress it for you first. The compression it performs is honestly hideous...

No option because WA is on AMY Smartphone in europe (it is like SMS), telegram only on about 10%.

But telegram doesn't give you any options on video quality. And doesn't save the output file in your chosen folder. This app rocks.

It seems telegram's encryption is horrible.... Cortana suggested me an article in it today....a researcher found bits of messages directly being sent and stored in the phones cache without encryption

Feel like we dodged a bullet.......
.........
That could've just as easily read "WhatsApp to end support for WP"

Oh please... Not even close. And not funny either.

Not even close... You better open your eyes....
And, it wasn't meant to be funny.

No need to worry until Google buys it too..!!

Facebook already bought whatsapp, so Google can't buy it.

Smt shouldn't these features be build iin to the messaging app?

I don't even think the iDroid app has those options..

You are funny, why should it be inbuilt? It's better when independent

Hey why fight over these features..? Can't WhatsApp allow transfer of files bigger than 16 MB..?

Whatsapp should do away with this limit, what I didn't understand is you saying whatsapp should be able to do what this app does

Complete idiot you are..!!
Read it again..I said they should allow transfer of bigger files--Which means to do away with the limit only..

I have understood you idiot, you are an idiot from which country!?

Why does country matter..? There are idiots all over the world..!!
And if ye would have understood then you wouldn't've commented again and that too incorrectly..!!

No ill intention ...just replace the word 'idiot' with 'friend'

Yes they should. Whatsapp on android has got video compression and mp3. iOS only has video compression.

Why doesn't everyone up their file size limit like Telegram does? Seems like in this day and age we have moved a little past single and double digit movie file sizes.

Please add a Telegram option with 1,5 GB compression. :D
Though seriously, 4K video can get extremely large.

You can choose the maximum filesize in the app. Just set it to 1500MB :p

Video compressor is good not this one.

Apparently, they are planning to bring audio sharing as well

how to send mp3 files on WhatsApp

Please use forums for off topic questions.

@palm..... How is his question is off-topic ?
@windy.... When u open the app tap the option (3 dots) at the bottom right corner and choose "Send music" choose ur song from the file manager and then after the process u can send it as a video from what's app.

Music tru whatsapp!? Yay!

And i thought WhatsApp updated

How this app made it to WCentral is beyond me

Any particular reason for your comment?

Cause it fulfills the features lacking in WhatsApp that's why..If you don't use/like an app it doesn't mean the others also don't use/like it..!!
How you made it to WCentral is beyond me....

I don't know either because it's such a simple app but i'm glad it did. I've always wanted to have one of my apps featured on Windows Central. Dream come true :D

how to send mp3 files?? i dont see any option :|

Press the 3 dots in the right corner of the screen and select send music.

Can't able to download the latest version!!

Hey Harish ... I m also from India ... When will windows 10 for phones release for nokia Lumia 520

http://windowscentral.com/commenting-guidelines

All you should know is, not now. Not in the near future.

According to my deep sources in Microsoft, it will release in the near future (a week, month or year)

Next half of this year...win 10 is still in testing..

Y author not mentioning about the video compressor app.its also a good app found it better than this

Can you tell me what you don't like about this app so I can improve it?

Nice and keen dev..!! Glad I tipped about this app..!! Kudos Virgil

Is this a generic file size reducer or just for whatsapp? I.e. can it be for other stuff too, e.g. email, Facebook?

You can specify the maximum filesize for your videos.
Windows Central Newsletter
Get the best of Windows Central in in your inbox, every day!
Thank you for signing up to Windows Central. You will receive a verification email shortly.
There was a problem. Please refresh the page and try again.