Voice services coming to WhatsApp this spring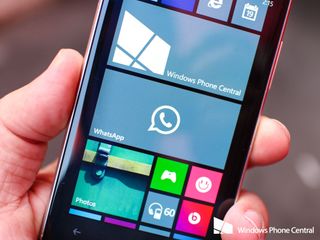 The popular instant messaging client WhatsApp, recently acquired by social network giant Facebook, is to add voice services to its feature list this spring. Not only will WhatsApp users be able to send and receive IMs as they have enjoyed doing so for years already, but friends and family will be able to hold voice chats through the clients too.
WhatsApp CEO Jan Koum made the announcement at Mobile World Congress. Voice services will be deployed on both Android and iOS first, with Nokia and BlackBerry phones to follow suit. This shouldn't come as much of a surprise to Windows Phone owners. That said, there is quite the variety of VoIP apps already available on the platform – including Microsoft's own Skype.
We'll keep you posted on any updates.
Source: TechCrunch
Get the Windows Central Newsletter
All the latest news, reviews, and guides for Windows and Xbox diehards.
Rich Edmonds was formerly a Senior Editor of PC hardware at Windows Central, covering everything related to PC components and NAS. He's been involved in technology for more than a decade and knows a thing or two about the magic inside a PC chassis. You can follow him on Twitter at @RichEdmonds.
Skype is master in hurting itself...whtappz cant do that!!

now the logo will seem what it was meant for

Now I just realise that. LOL

hahhaa, nice catch! i noticed it now :D :D

In fact it seems to be competing with Viber more than Skype, Skype is out of it already.

True exactly Microsoft should improve already make group chat free they haven't learned from oovoo....

ehmm... do you really know what you are talking about? group call IS FREE in skype, the one that isnt free its the group VIDEO call, which not many use anyway. lol how do you think people chat when they are videogaming? alot of people use skype because its the fastest thing, and YES, they do group calls. next time please, use the software before talking.

Well said Emi. Well said.

Well said Jazmac. Well said.

group video call is free for me :D ...well for a year, thanks to promotional premium features they handed out a few weeks (months?) ago..

exactly...ideally there should be just one perfect app to do all the work...IM, voice call, video call, voice message, video message, file sending, etc.. Skype still doesn't share files.

Add BBM to fuel the fire.

Forget Skype. For desktop/laptops it's not bad. For smartphones you'll be better off tying a string between two yoghurt cans.

I still find it good. Especially with 4g.

I'm happy for you. Unfortunately many of Microsoft services (in Portugal) suck. Starting with Bing search and ending with Xbox video (which is not available) or the Xbox one which is set to launch in October. I still prefer windows phone over any other mobile OS, for the time being.

And what instead? Whatsapp still can't be used across devices, can't store messages remotely, can't send videos over 12 Mb (several seconds on PV Lumias)... Even Telegram which is only some months old is better that ways. Whatsapp is stuck in stagnation, wish fb kicks it forward to earn back their billions. Because MS started working on Skype immediately.
Ps. Skype works with even EDGE. I mean voice calls. I stopped paying my operator for voice calls long ago, now only Skype.

Great News. You can Download Whatsapp for Windows Phone 8 here

They're pushing hard for the top spot. Bbm has this feature already, but the whatsapp install and user base make this a huge win for whatsapp.

Skype really needs to step up before they get pushed out.

By Nokia, you mean Windows Phone, right?

I'm afraid they mean the Nokia X platform...

It will still be probably the most used video chat program for desktops/laptops

Yeah ur right. Its dead only on wp8. Not on pcs and surfaces and apple craps. They still prefer skype

It doesn't say: videocalling.

ehmm there are many services that already offer this feature..
I dont know why you are so ignorant to think it will make people use whatsapp more, you know, it doesnt even offer windows or windows 8 app for example. and others IMs with video call and all offers it, and Skype is still used alot.

Article title should read "Voice services coming to WP whatsapp summer 2016"

NOOOOO!
DON'T SAY THAT IT'S WRONG
they will release Whatsapp BETA* in summer 2016.
The full official one will launch in 2030.

This is excellent news. Looking at the way Whatsapp is going forwards adding several new features to the WP version, I think by spring Windows Phone users will have a full fleged Whatsapp with fetures in par with the Andriod and iOS app.

Where is the latest Whatsapp update! Why does it take them so many days to release the updates to public on WP?

When is the background update ?

Voices will appear to be faster with subsequent updates!

Ahhh I used to wonder why my buddies started talking like chip&dale, now I see, voice calls came faster :)

Ok, I gotta ask: what's with all these "seems faster!" comments all over the place? Is there a joke or meme I missed?

I believe the joke arose as a result of all the extremely minor updates to many official apps (mainly Facebook I believe) that appeared to do very little, even after promising 'performance improvements.' Note: Don't quote me on this, my grasp of these things is usually limited at best :P

Ah cool. Thanks for the info! I felt so left out!!

Yeh....where is the update,that currently running in WhatsApp beta?

I was expecting to see it over the weekend......he waits!

That said, there is quite the variety of VoIP apps already available on the platform – including Microsoft's own Skype

Oh yeah, because Skype is just such a fantastic app.

Skype fucking sucks. WeChat >>>>

Exactly my thoughts! Skype is so crappy, doesnt have file transfer and 9 out of 10 times i try to use its voice calling feature, it fails. Skype team seriously need to step up here. We were promised Skype embedded on WP8, now on the verge of the 8.1 launch, still nothing.

As VoIP apps go, Skype is solid. For calling that is.

Not solid here for calls, 9 times out of 10 it fails to connect. Its so bad i don't bother with it any more.

Not at all, Viber is better.

WeChat deserves more love!! :c

When ll background wallpapers feature update comes!!?

And android is getting Privacy settings already

So FB can record everthing you say also?

Omg, Cut it already they don't care whatever you say or do it's just a service.

Voice chat and video chat have long been available on QQ and WeChat. Whatsapp is really very slow in adding features

Spring starts here in Ireland February 1st, where's the app lol !!!

Lol! +1020, I'm in the UK but I get it.

Not really. It's the coldest month of the year statistically. So March is when Spring starts. I live in Dublin.

What's spring. I only understand summer and winter, and when it rains. +1520 anyways :D

Still waiting for the recent update available to the beta users

Nahh, I already have line and viber! No a big deal!

Another slap on MS face... Now what ballmer would have said"we ran out of time"...

Fuck Skype they deserve to die a horrible slow user base of 0. They had years to use and combine MSN, Lync, and Skype knowledge. But they just don't get it. Skype needs to go by phone number like whatsapp. People don't want to add each other anymore. Also the Skype app is freaking slow it is beyond insane. It is like it has no cache at all. And why are all history messages always hidden under stupid links like 2 days ago and 1 month ago, it is annoying as shit. It is just one huge mess and now they are doomed to be forgotten. They already lost. Own fault.

Seems a lot is going to happen in summer

Now only thing it'll be missing is a windows 8 app.

MS its easy for u to provide a decent update for Skype. I know updates on wp aren't easy like ios and now watsapp will be in hands of FB.

Can you guys plz use calender months.. I have to search for when is the summer and spring for US everytime I read news here... There's a life outside US..

J/k that's actually a pretty reasonable suggestion, but perhaps the company didn't give them a certain month. Perhaps the whatsapp people just said "spring" and didn't get any more specific.

you are so right..! but yeah, perhaps WhatsApp didnt give them specific dates.

They will monetize it too though...why do you think Facebook acquired??

the whatsapp people still claim to not indulge in ads :-/ but they are now owned by FB, hope it doesn't change that.

Let the voice service come later.tell them to update official app with beta app features.

Our group just moved to Telegram. I had no choice but to follow. Whatsapp needs to increase the max people to 200. Btw, it is a lot faster than whatsapp i must say. Just tried Telegram since an hour ago.

See, I hope WhatsApp never releases a desktop app. I've always thought that ruins the point of a mobile text app. And yes, I did get annoyed when Line released their Windows 8 app for this reason.

So Nokia x will get this feature before Lumia....hmmm

Don't try to make Whatsapp something it was never supposed to be. It will do more damage than good.

Dumped whatsapp as soon as it was bought by Facebook what a shame.

I know no one that uses whatsapp

How do you manage to live away from 465 million users?? :O

I don't know everyone uses Normal SMS in my area.

For people who send hundreds of messages, photos, and videos to their relatives/friends in other countries everyday...SMS is not the option. Almost everyone has a data plan or WiFi these days, and such IM apps help those people to keep in touch.

Still want them to sort out the push notification problems that seems to be on most Windows Phones, any idea if this will finally be fixed in the next update?

fucking wasap, ms should've bought and killed it already

No idea how this got popular where everyone has been doing this for years.
Non tech people ruin technology

I don't know why but everything is so slow for windows phone. From patience to frustration now. No new features for what's app, BBM in July-Sept and now what's app voice feature too will come on ios and android first then on wp. Wait wait wait wait and waitttt. Seriously we are at no. 3 with a huge gap. This app gap will never be over. Feel frustrated now that we don't get new apps and features.

Developers who got access to windows phone 8.1 sdk can u people tell how WiFi direct works in wp8 and post a video relating to it? And if we can at least share videos using WiFi direct with android.

Well we might not have too long a wait, the Whatsapp team are pretty good about their WP App...unlike Viber..and especially the Skype team, who've done diddly squat so far.

The Whatsapp Servier is really great, they should no come up with video calls and new messages of Urdu for Eid Mubarak, Eid Mubarak Wishes and new Eid Mubarak Greetings are also supportable so over all great service.