WhatsApp for Windows Phone updated with UI tweaks to the pivot menu and more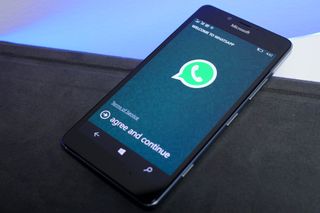 (Image credit: Windows Central)
WhatsApp users are in for a slightly more modernized experience after the app's latest update (emphasis on slightly). Included in version 2.17.52 of the app is a small tweak to the main pivot menu, transitioning it from its Windows Phone 8.1 roots to more of a Windows 10 Mobile aesthetic.
If you're familiar with the People app, then WhatsApp's new look may be very familiar to you. The text is smaller than the older menu and there is now a line underneath whatever section you're currently viewing. There are other minor UI tweaks all around, including some slightly rearranged settings in the Privacy menu, but the pivot menu is the biggest noticeable change.
Other than those changes, it appears that WhatsApp has increased the media sharing limit from 10 to 30, meaning you can select and share 30 photos and videos at once. That should be a welcome change to anyone who regularly shares dozens of photos with family members and the like.
If you want to check out all of what's new, you should be able to grab WhatsApp version 2.17.52 from the Windows Store now. Also be sure to give us a shout if you notice anything else new in this update.
Thanks to everyone for the tips!
Download WhatsApp from the Windows Store (opens in new tab)
Dan Thorp-Lancaster is the former Editor-in-Chief of Windows Central. He began working with Windows Central, Android Central, and iMore as a news writer in 2014 and is obsessed with tech of all sorts. You can follow Dan on Twitter @DthorpL and Instagram @heyitsdtl.
Nice! I wonder if this change appears on Windows 10 Mobile only or if it will also appear on 8.1 too. My dad is still on 8.1 so I'm wondering if he can have a bite of this.

it's still the old silverlight app, so probably yes.

Actually the title says the Windows Phone app, so yes, it also applies for Windows Phone 8.1.

WP 8.1 user here. Updated

Wasn't the old design as per 8.1 windows text design?

I'm not sure if it was an actual bug, but the text scaling issue seems to be fixed. Where if you went over a sentence, in the preview box, the bottom line was slightly cut off from view.

ya it was scaling issue & they rectified it after very long time... I sent them more than 5 emails to fix it. Atlast it done...

Yeah, noticed that too. Used to bug me silly.

I like the new UI and it atlast solved the app scaling issue. The black space bar at the bottom is vanished now and app is scaled to full phone size when you hide notification bar.

I'm still hoping for gif support. At the moment I can only see gifs a friend sent me from iOS. Does anybody know if it's available on the beta?

Open WhatsApp emoji keyboard and you will see the GIF button

Lumia 950 with build 14393.693 and the version of WhatsApp in the article and there is no option to send gifs. The emoji keyboard has only the different categories of emoji. Maybe they're rolling it out for some users at first.

L950xl in germany: Gif support and new gif button available with many animated gifs from giffy (or whatever that service is called)

Emoji keyboard will not have the GIFs. There will be a button in the bottom bar of the emoji keyboard, through which you can add GIFs. You chose Whatsapp's emoji and tested right? And not the emoji offered by the Windows 10 Mobile right?

Maybe it'll be available later for all users

The beta definitely has gif support. Sure this too.

So that's where they copied it from 😛

Whoopsie! But man, what hate! Downvoted because I accidentally posted multiple copies??

No action notifications. I can't believe they can-t do a small little thing. P.s. Performance sux!!!

That's because its an 8.1 app. No need to be rude

Am sure the feature is coming.

Of course, if it wasn't coming, it wasn't the future...😉 just kidding... I hope they eventually make a uwp app that also works on desktop... The desktop program isn't that good imho.

Very small chance, given how few W10M users are

But there are a lot of PC users. May be..

The 8.1 whatsapp has become quite slow after this update.

I had a bad time with this version just when I updated it. It crashed a lot! I decided to reinstall it and got a 8103010d error that made me to hard reset my phone. It was a shame. I lost a few apps because those aren't available in the store anymore. Oh well, Whatsapp is ok now on my phone so, woohoo? At least I learned something about that specific error so I'll make a thread in the forums for someone who could need assistance in the future. ;)

Nice and New ui its better than old version.

They should make a UWP for the purpose of targeting desktop, tablet & mobile users. Then we'll stop seeing the godawful "Loading" and "Resuming".

I dont really have that... There is a small little bit of that but it is really at max 1sec. That i see that... An uwp would be great, but it is very useable.

What phone you have? On my Lumia 950 resuming is not too long but on my 636 it takes ages.
EDIT
it sucks on my Lumia 950 too. Waiting for a proper UWP application. Will solve all of the problems.

UWP would be great but privacy on WhatsApp has become more and more doubtful these days. I for one awaiting (Edward Snowden recommended) Signal messenger app on W10M.

Old pivot looks ugly as hell. Happy that WhatsApp redesigned it.

Appreciate the new UI tweaks. Also having fun with sharing GIFs 😄.

This app needs redesign, it's ugly as hell.

Can't the 8.1 version get dumped already the app is slow and sucks without action centre replying

If it's for windows 8/8.1 action centre will not reply. Not whatsapp fault ...
Ur right.

WhatsApp was flawless on my 950 XL. Get better phones people

Ah, so much for the app that's (knowingly or unknowingly) trying to endanger our privacy with sub par end to end encryption.

I know in your country most of you use WhatsApp but why you to try Viber here in Greece no one use WhatsApp and all use Viber.... It's way better and I don't know why WhatsApp in America is so popular but Viber no!

Yes Viber is nice and I use it with some friends because they just use it more. The only thing I don't like about Viber is you can't set your own background photo. I also use Telegram and WeChat is pretty cool. I don't really use WhatsApp much.

WhatsApp is lighter. I agree Viber has become lighter too, but they took their own long time

Now they need to fix the annoying bug that makes the app to start and resume very slowly when the sim card is inserted. If you don't believe me try to remove it and start the app a couple of times, you'll see that the app resumes instantly.

Nice to know this has finally made it into the release version

Is it me or is WhatsApp getting slower and slower? Been using Viber as of late, and it performs almost flawlessly . I can record longer videos and the UI is very clean. I have been getting a lot of loading and resuming screen with WhatsApp.

Viber: UWP. Whatsapp: Silverlight 8.1. I'd guess it gets slower because they keep adding features to the app. Something has to give eventually. Get a faster phone.

Because it is still a Windows 8.1 app!

Is anyone else's WhatsApp experience horrendously slow like mine? Startup & resume speed, overall usability and transitions take way too long to happen. Not sure if it has to do with my backup chats?

Whatsapp has gotten progressively slow over many updates in the last one year, the slowness and lagginess is clearly evident now.

Yea it's the same. Might as well switch to Droid, it's so slick and none of the resuming screens forever

I know it is not a UWP app, but why they never change those icons on that action bar?

This update includes two-factor authentication which has been added across all platforms. Found under Settings > Security

Please assist. I am running win10 latest non insider build. New what's app not working. Got error code 0x80070019 from the app store. What's app won't launch....what can I do to remedy this

Bottom dead space gone.. Finally!!

Loading,resuming on lumia550, pleeeeease fix that...

Whatsapp app is not a UW it is a WP 8/8.1 app so get used to the loading and resuming screen,

+550 it's really bad! and not it's not short loading Or resuming! :|

In lumia 830 W10 Chats are disappearing every time I close the app. its irritating to know who are texting. I have to open favorites every time to start a new chat plzz fix dis error

The performance is preety bit improved....not tge loading and resuming part though.
Windows Central Newsletter
Thank you for signing up to Windows Central. You will receive a verification email shortly.
There was a problem. Please refresh the page and try again.