WhatWay, test your reaction time in this challenging and addictive game for Windows Phone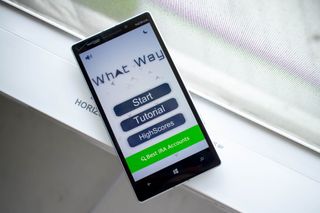 Sometimes, simple is best. We love games that we can simply pick up, play for a few minutes, and then move on to whatever we need to do. WhatWay is one of those games, but you might get addicted to it. This game is about visual and spatial processing and how fast you can react. Want to see how it looks? Head past the break to watch some gameplay with the Nokia Lumia Icon.
The best way to tackle this game is to start with the tutorial. You need to swipe the direction of the appearing arrow or swipe the direction of the odd one. For example, if there are 5 arrows pointing up and 1 arrow pointing down, you have to swipe down. The idea is really easy, but you have probably heard of an old saying, "easier said than done." Don't worry about touching the arrows. You can swipe from anywhere on the screen
There's a countdown timer for a minute and 30 seconds, but it's immediately game over if you swipe the wrong way. The faster you are, the more points you earn. You don't earn points for being too slow.
At the end of a round, you see your score, average reaction time, number of arrows cleared, and the maximum streak. Our current best score is 695 points. Can you do better?
Even though we enjoy playing this game, we think the visuals need improvement. The buttons do not look very pleasing and there's something about the typography that just seems off.
WhatWay is a free download from the Windows Phone Store. It is ad-supported, so you'll see advertising in the game. If you want to remove the ads, you can get the pro version for $1.29. Have some free time? Check out Whatway and let us know you think in the comments!
Saw it from reddit, tried it it's meh :\
However didn't understand what to do when there is 3 arrow....
(now i get it)

Not available here in the Brazilian WP Store. Come on developers, I can help you all.

Yeah, I wanted launch it in Brazil, but I need a submit it for rating first. So that's why I can't publish there yet. - Snellingen.

You can use PEGI or ESRB certificates to make your games avaialble here. Just upload one of them in the place of the brazilian one (DJCTQ), select one age rate that matches your certificate and its done. You can instantly get one ESRB certificate here: https://autoratingtool.esrb.org/ARTclient/Windows8Metro.aspx And instantly get one PEGI certificate here: https://wp-rating.pegi.eu/Games/Submit

Thank you, I have the certificate now will submit it with the new update in a few hours. So I hope it will go through! :)

Great! Thanks!!
Just to record: you don't need to wait for an update to add a certificate and a country in a game. Just upload the certificates and send the same .xap for your game. :)

Good to know! It should now be available in Brazil now. Just takes some time before it's pushed to the actual store ( about 1 - 2 hours ).
Thank you for the help, and I hope you enjoy the app!

not, free on Android AFAIK

Everything is free on android. How else do you think it became so popular so quickly?

Free version is ad supported. And pro is also there.

It's currently only availble for Windows Phone because that's the phone I own :) - Snellingen

proud of you!
I know how easy it is to port someting to ios and android with unity.

Hi!
I'm the developer of this game and I'm really happy that my first game have recived so much attention!
Thank you all for trying it out! If you have any feedback for me, I would appriciate it. I'm still updating this game frequently and improving it based on input I've recived. The buttons and typography is on my to-do list now!
Thank you for your feedbak! - Snellingen
Windows Central Newsletter
Get the best of Windows Central in in your inbox, every day!
Thank you for signing up to Windows Central. You will receive a verification email shortly.
There was a problem. Please refresh the page and try again.