When is the best time to leave the Windows Insider Program?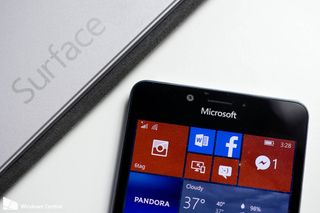 These days, knowing what build of Windows 10 is the "final" build that goes out to the public is becoming increasingly difficult, thanks to the nature of Windows as a Service (WaaS). As an Insider, you're likely familiar with this term, but if not here's a quick and simple explanation: WaaS means Microsoft no longer releases a new major version of Windows every 3 years. Instead, the company releases a new version of Windows 10 every half-year or year.
In short, with Windows 10 there aren't any final builds. Instead, a build is selected as "good enough" to be promoted to the "production ring" which is the ring the public get new builds from, outside the Insider Program. Build 14393 is that build for Redstone 1, and build 10586 was that for Threshold 2. Regardless of this, I continuously get asked when the best time to jump out of the Insider Program is, because cumulative updates and build revisions are always being released.
It has come to my attention that the cumulative updates are causing some confusion among Insiders as to which build is the "final" or "stable" build that they can safely jump off the Insider Program on, especially for Mobile. I thought it would be a good idea to quickly explain what cumulative updates are, and how they don't affect what build is considered "final".
When to leave the Insider Program
When it comes to Redstone 1 (Anniversary Update), build 14393 is considered the final build. This is the build that the public receive via Windows Update and so on. Specifically, build 14393.0 is the build that is considered final. However, there are cumulative updates that are released after this that are applied to this build, which as a result increases it's minor revision every time. For example, a recent cumulative update released for the Anniversary Update brought the build number up to 14393.91. The .91 part is the builds revision. Does this mean 14393.91 is the final build now? No.
Build 14393 is still the final build, regardless of what cumulative updates are applied to it. This applies to Mobile too. Once you're on build 14393, you can jump off the Insider Program whenever you like, whether you're running build 14393.0 or 14393.52. It doesn't matter, as you're running the main final build that Microsoft is now servicing to the public.
This is the same for Mobile. If you're on the Release Preview ring waiting to jump to the production ring once Microsoft releases the "final" build, you're waiting for something that has already passed by. 14393, regardless of the .xx revision that comes after it, is the final build.
Admittedly, Microsoft isn't immediately clear when they release a final build to insiders for testing, likely because they don't even know themselves if the build insiders are testing will be promoted to the production ring. Here's an easy way of telling if a build is good enough to jump onto the production ring; If a build is promoted to the Release Preview ring, you're good to leave the Insider Program and begin running that build as your main driver.
This is what happened with build 14393. It was the first full build to ever be pushed to that ring, and low and behold, that build is now in the production ring, being served by Microsoft to millions of Windows 10 users outside the Insider Program.
When to not leave the Insider Program
If you're running a build that's in the fast or slow rings, it is highly recommended that you do not leave the insider program unless you're planning to wipe your device and manually reinstall a production build. Builds in the fast and slow rings are usually not ready for prime time, only builds in the Release Preview ring are safe to leave the Insider Program on.
So there you have it, Insiders who are looking to drop out of the Insider Program can do so on build 14393, regardless of what build revision is currently applied. You will be supported and serviced by Microsoft regardless. Happy days.
Get the Windows Central Newsletter
All the latest news, reviews, and guides for Windows and Xbox diehards.