The best place to buy Oculus Rift
Where can you buy an Oculus Rift?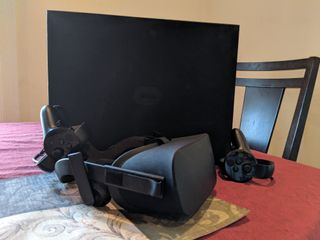 With its arsenal of incredible VR games and experiences there's no shortage of reasons to want an Oculus Rift. Oculus has worked hard to make sure this is a great experience that only gets better with time, making right now the perfect time to get a Rift for yourself. All you need to get started is a VR-ready PC and the Oculus Rift kit. If you're not sure where to pick up an Oculus Rift, we've got what you need!
Let's also not forget the options you have for adding more sensors to your gaming set up!
Oculus
If you want your Rift straight from Oculus, its website is ready to take your order and ships within two business days. It's everything you need to get started! You can get this amazing VR equipment for $399.00.
Microsoft
If you're lucky enough to have a Microsoft Store nearby, you can walk in and try the headset before buying If not, the Microsoft Store has a great selection of Oculus-ready PCs to go with your Rift purchase. Grab it quick though because the Microsoft Store seems to sell out online rather quickly. That might have something to do with the $249.00 price tag on the Rift right now!
Amazon
If you're shopping online and want your Oculus Rift as soon as possible, Amazon is where you need to go. As an Amazon Prime product, you can get it delivered to most places next day and jump immediately into VR. For about $381.00 you can have the Oculus Rift on your doorstep!
Best Buy
This is another chain store you can find to go buy in-person. If you prefer not buying online but don't have a Microsoft Store, just about everyone has a Best Buy nearby! Of course, if you already know this is what you want you can order from the website and rack up rewards points! The Oculus Rift sells here for about $399.00.
Buying your third and fourth sensor
Oculus has the option to add more sensors to your gaming experience to make the fun that much more immersive. Here are the easiest (and cheapest) options you have to buy extra sensors to improve your gaming with the Oculus Rift! After you've got everything bought and set up, go ahead and check out this article to keep up with how to maintain your devices!
If you're buying through the Oculus Store they have added a super cool option at the bottom of checkout to just add more sensors to your cart for $59.99 a piece. Every other buying option I have listed above offers the same price for an extra sensor. Remember, you can get up to four of them to make your experience top notch!
Where did you buy yours?
Tell us the sweet deal that you got! Then show us your battle stations of your VR gaming set up in the comments below!
Get the Windows Central Newsletter
All the latest news, reviews, and guides for Windows and Xbox diehards.
Essa Kidwell is an expert in all things VR and mobile devices who can always be found with an Oculus Go, a Pixel 2, and an iPhone 7+. They've been taking things apart just to put them back together for quite some time. If you've got a troubleshooting issue with any of your tech, they're the one you want to go to! Find them on Twitter @OriginalSluggo or Instagram @CosmeticChronus.