Why Windows 11 will run better than Windows 10 on many PCs
Windows 11 brings better battery life and app performance, thanks to under the hood improvements.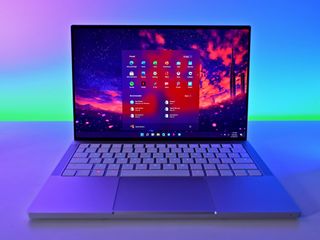 (Image credit: Daniel Rubino / Windows Central)
What you need to know
Microsoft explains several under the hood performance improvements in Windows 11.
Windows 11 will have better battery life and app performance than Windows 10.
The new OS also resumes from sleep quicker than its predecessor.
Windows 11 includes several new features, such as improved snapping, Dynamic Refresh Rate, and Direct Storage, but the biggest change the operating system brings could be something that people never see. A recent Microsoft Mechanics video breaks down the performance improvements included in Windows 11. Compared to devices running Windows 10 on the same hardware, PCs running Windows 11 should have better app performance, improved battery life, and quicker resume from sleep times.
Microsoft vice president of enterprise management, Steve Dispensa, explains the under the hood improvements in Windows 11. The new OS prioritizes apps in the foreground, giving them access to more CPU power and system resources. This makes apps more responsive. Programs should also load more quickly on Windows 11 under load.
Dispensa also highlights the Sleeping Tabs feature in Microsoft Edge. This is already available on Windows 10 but is on by default in Windows 11. The feature puts tabs to sleep after a set amount of time, reducing the amount of system resources a PC uses. Microsoft saw an average savings of 32% for memory usage and 37% for CPU usage when using Sleeping Tabs (note that Microsoft's blog post that includes these figures referred to improvements seen on Windows 10).
Because the changes to Windows 11 allow the OS to use fewer system resources, PCs running the operating system should get better battery life, according to Dispensa.
Windows 11 also resumes from sleep quicker than Windows 10. Dispensa explains that the OS has an "optimized instant-on experience." While asleep, Windows 11 PCs keep the RAM "energized" while many other components are powered down. Microsoft optimized how Windows 11 calls to hardware components and reduced starvation across processing threads. This speeds up resume from sleep by up to 25%.
Code optimizations by Microsoft also improve the speed of Windows Hello for Business logins by up to 30%.
Dispensa also breaks down how Microsoft reduced the disk footprint of Windows 11, including using more compression technologies.
If you'd like to try out Windows 11, you can grab the latest Insider build from Microsoft.
Windows Central Newsletter
Get the best of Windows Central in in your inbox, every day!
News Writer and apps editor
Sean Endicott brings nearly a decade of experience covering Microsoft and Windows news to Windows Central. He joined our team in 2017 as an app reviewer and now heads up our day-to-day news coverage. If you have a news tip or an app to review, hit him up at sean.endicott@futurenet.com (opens in new tab).
Have you noticed performance improvements when trying out Windows 11? Does your experience line up with what Microsoft describes in its video?

Everything is smooth, without hiccups. Everything except File Explorer. It has a significant performance drop when quickly navigating folders and performing file operations in bulk.

Yes. The first several dev (then beta) builds of 11 were slower than 10 and my Geekbench and Cinebench scores were way off on my Surface Pro 7. With .168 and .176 my scores are nearly equal to what they were under 10 and I expect they will continue to improve. Every new version of an OS whether it is Windows or Mac brings plenty of naysayers who swear they're staying on the very version they disdained earlier. They don't bother me much.

My desktop is only a few months old, but I have seen some definite improvements over W10 - I have noticed that apps & my software programs load quicker with W11. Update downloads & installations as well as navigating apps & settings are noticeably quicker. The only hiccups I've experienced have been a little slower of a start-up time, indexing and searching was painfully slow for a couple of days, and the widgets icon on the taskbar didn't work properly. Given that I'm on the beta version though, those issues weren't really a big deal or unexpected - and they've all been resolved. Overall I am really pleased with the performance of W11 and think it'll be a pretty decent OS!

Are they only talking about compatible, Windows 10 hardware that can get Windows 11, or older hardware that won't get the update or be supported if manually updrading to Windows 11? I did try the preview on my old laptop and performance was quite laggy at times, and I downgraded back to Windows 10.

They don't mention that specifically from what I saw, but I imagine that they're referring to officially supported devices. The video talks about minimum requirements right after the under the hood stuff, so I'd assume the figures stated refer to supported machines.

Smooth overall but at different times file explorer is just chugging along for a few seconds before it turns smooth. I've seen this on my and others company PC's as well. Sure it'll be better at launch.

True story..... it doesn't!!!!

So if the coding is better and leads to better performance on existing computers then there is no reason to change the min specs from what win 10 needs!

It's like you didn't even watch the video ...

Ha ha, I'll wait for the book ...

At this point, seeing how Windows 11 is not the strict UWP-only, Win32-emulated environment with container-based sandbox apps, I would love to see Microsoft not scrapping those plans, but rather shove it into a "Microsoft Future Technology OS" and ship it in a dedicated "Future OS Insiders" (FOSI) channel or something. The idea would be to showcase what Windows could be in the future and get feedback from interested developers, intentionally avoiding the "Windows" branding. Just let it evolve slowly over time, in parallel with their profitable Windows development with all the backwards-compatible stuff from the 1800s. I am not naive: I know this would take resources away from Windows, but it would serve them in researching what the community of developers actually want the most, where there are no restrictions set for what you can do because of "x86 must work in this piece of code" or "this will break ARM32". Sort of like an OS Playground with low priority.

MS has been trying that for years. Windows 10X was the latest version of that. The problem is, everyone always says "it HAS to run all of my 30 year old Win32 stuff". So no progress is ever made. Personally, I wish MS would put Windows 10 into permanent maintenance mode (for businesses). No more ridiculous, twice yearly "updates". Just security fixes. Businesses would LOVE that. And businesses are - after all - the largest users of Windows. If you need to run 30 year old software, then here is our 30 year old OS. We will support you forever. Windows 11 (and 12 and 13, etc) should be the "new and modern" system. No Win32. No "backwards compatibility". Not running on Intel. ARM only on tablets with new apps. Maybe even a phone. THAT is the only way forward for MS. They will be forever stuck in Legacy Land if they keep dragging "backwards compatibility" along for another 30 years. "Backwards compatibility" has the word "backwards" right there. How much more obvious can this be? It is WAY past time for MS to think about "forwards compatibility". The "World's Largest Software Company" should have started on this path 10 years ago. Yet, here we are in fiscal 2022 and MS is STILL thrashing about, looking for a mobile/modern strategy. Trying (and failing) to sell an Android phone is NOT a valid mobile strategy. Apple managed this just fine. They didn't put full OS X and Mac apps on phones and tablets. iOS is a subset of OS X. It required new apps. Apple did not drag 30 years of "backwards compatibility" to the table. Google managed this just fine. They didn't put full Linux and Linux apps on phones and tablets. Android is a subset of Linux. It required new apps. Google did not drag 30 years of "backwards compatibility" to the table.

Microsoft couldn't charge the same amount for that so it will never happen. I'm not suggesting that that is evil but just a reality of the way business works.

When I tried the beta on my Surface Pro 6, I felt performance was about the same and worse when talking about un-hiding the taskbar and using the Start menu. I went back to 10 and will wait and see a while after 11 is released because I think the new OS needs more work and that October is too soon.

Yeah I think it's a good idea to wait a bit before upgrading if you're not comfortable with the beta - I was a little apprehensive about doing a beta myself because I'm very particular about how my machines & programs perform [ie they'd better be perfect or I'll have a fit! LOL] .. but so far the issues I've had haven't been deal breakers.

I find windows 11 works fine on my 10 year old desktop with no TPM, secure boot and i5 Gen 2 CPU. Works as well as Windows 10 but now I've been booted off the insider program I'll just leave it as is and buy a new PC in 2126 unless my current one dies.

Just the opposite for me. 11 is slow, makes pc run hot, and battery life is down probably 25%.

From my experience, my surface laptop 4 has significantly better performance with Windows 11 than it did on 10, both on and off the charger.

Even on old hardware, Windows 11 is running very smooth. I've installed it on a 12 years old machine and no problem at all.

I wish MS should transfer my w10 OEM key before getting a new laptop. OEM keys costs more if Windows future versions will depend on hardware.

The people who say that Windows 11 is just Windows 10 with rounded corners never even try to consider under-the-hood changes like this.

Do you think the same difference in boot /awake would really be seen in Arm PCs?

Run Windows 11 on i5 6th Gen.

You can, by enrolling Insiders.
Windows Central Newsletter
Thank you for signing up to Windows Central. You will receive a verification email shortly.
There was a problem. Please refresh the page and try again.