Wikipedia app updated to Windows Phone 8 with new features, improvements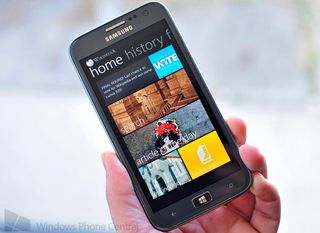 For those who love Wikipedia, we all know there is only one app for Windows Phone: Rudy Huyn's Wikipedia app, which is also dominating in the 'Next App Star' contest. That app was updated to version 2.0 today with a bunch of new features and additions. The main change is it's now a full Windows Phone 8 app.
The changelog for 2.0 is as follows:
WP8 support
live tile with the article of the day
Voice command, voice search
NFC sharing
Performance improvement
Indeed we can't help but notice that the app is faster now (not that it was ever slow before) but try using the voice search command and see how quickly it pulls up results. In addition, using the Share options users can now opt to use NFC for a tap-to-share experience (as well as the QR code generator or normal social networks).
Wikipedia has always been our go to app for Windows Phone and it just keeps getting better. Plus the app is free and ad-free, so what's not to like?
Pick up Wikipedia v2.0 here in the Windows Phone Store. Windows Phone 8 only (version 1.4 is still available for Windows Phone 7.x devices).
Windows Central Newsletter
Get the best of Windows Central in in your inbox, every day!
Daniel Rubino is the Editor-in-chief of Windows Central, head reviewer, podcast co-host, and analyst. He has been here covering Microsoft since 2007 when this site was called WMExperts (and later Windows Phone Central). His interests include Windows, Microsoft Surface, laptops, next-gen computing, and for some reason, watches. Before all this tech stuff, he worked on a Ph.D. in linguistics and ran the projectors at movie theaters, which has done absolutely nothing for his career.
Hope this beats ProShot when they are both in the finals.

When is Instagraph coming out Daniel? You tweeted about it over 24hrs ago.

Yeah any news about that Daniel?


Nope. My guess: they're stress testing their servers/preparing to have enough power on hand for the launch. As soon as we hear that it's published, we'll post on it. Nothing more to say otherwise.

Do you know if instagraph was the app that Belfiore tweeted about 1-2 weeks ago? You know, the "fun" app?

99% sure he was talking about Temple Run

No, that was Temple Run. Regardless, I don't think Microsoft would necessarily hype up or advertise an app like Instagraph

sweet. really like this app. quick feedback in case the devs around: 1. no option to just turn-off tile? that would be great. though the image of daily article makes a lot more sense than going through favourited ones. 2. minor bug, agent on/off slider looks on even when set to off.

1. Good idea, i will add an option for that 2. I check That !

Pixelated ugly looking double wide tile.

Does your app use downloaded maps to show maps? For showing articles on maps, it'll require internet, but for showing maps, does it use internet??? Please reply.

While we're reporting bugs, do you think it's possible to make it render math properly while using the dark theme? And also in articles with panorama shots or tables (for example, the article on Portland, OR, which has both), the width gets all messed up. Otherwise great job; the app is awesome!

Je ne trouve pas tous les apps bons que lire les pages de Wikipedia pour moi. J'aimerais juste mettre mon casque, ouvrir ce $ $ etAPP, et il va lire les articles pour moi. Je l'aime si il les lire automatiquement en fonction de votre emplacement. Exemple serait, si j'étais en tournée un parc, et je voulais savoir (sans lecture) l'histoire du bâtiment. Juste, j'ai pu écouter l'app de Wikipedia, lisez-le pour moi, tout en regardant autour de l'édifice et prenant de l'expérience. Au lieu de ma tête sont en baisse de lecture, il serait en appréciant tout autour. Veuillez ajouter cette option, je ne sais pas si elle serait difficilement. Même juste pour les lire, il n'y a pas de lecteurs bon wiki là-bas. Merci. Aussi, je ne peux pas envoyer des rapports de bogue sur site ne fonctionne pas. Eu à traquer cet email.

Just installed the update. That live tile is gonna be beautiful.

I want to like this app, I really do, but as long as it has that hideous colour-inverted puzzle-globe icon, I'm sticking with Wikipedia Reader.

Evidently you don't realize you can choose to have the 'W' icon for the Live Tile? That's always been there...

I meant in the app list. And surely the fact that it looks much better as a live tile is especially jarring!

I don't mean to be disrespectful, but if you're refusing to use the app purely because of how it looks on the -app-menu-, I'm sorry for you. if those 2 seconds of finding and hitting the logo is too much for you to bear, well.
(make it 1 second, even, considering how the logo is such a monstrosity it should be really easy to spot.) but above all, I can't believe you're turning down an app because of how the tile looks. but yes, your phone, your choice.

That's actually one of my favorite parts of this app: the black globe on a yellow field. I have the live tile front and center because of that.

Yes, I agree, The black globe on yellow background looks awesome.

Cool love this app. Nice to see NFC added. More apps should have this feature.

Just bought the tv show app made by Rudy. Great way to stay on track with game of thrones

Yeah, you love it? Vote for wikipedia for the next app star contest https://www.facebook.com/windowsphone?sk=app_289569661171794&app_data

Don't see how this app winning the contest will show anything good about the platform!?

Don't see how one of the most downloaded app in the store like Wikipedia can't win an "app star" contest! A free app which is using most of WP8 features and targets a huge amount of users is totally the definition of an "app star"!

What value does it bring to the platform? Whatsapp is even more downloaded on WP8 and has all the WP8 features AND connects two souls who lives seven seas apart, but so what? That doesn't make an app an "app star". It doesn't add value because it's free and being downloaded by x number of users. How ridiculous would a TV app look saying "We have live tiles, we have beautifully laid out apps, we have...taa..da... Wikipedia!" v/s "We have live tiles, we have beautifully laid out apps, we have apps that make your phone into a DSLR"

I agree. What does a Wikipedia app do that cannot be done by visiting the Wikipedia site via the browser? And who needs the mobile Wikipedia site? The desktop site works fine.

Everybody using wikipedia (the ones who want to know something about everything (knowledge)) are looking for a good app. This is one, and it's on WP (mango and 8), and it's free.

Does it have a substitute? Yes - a few Wiki apps and mobile Wiki! Does ProShot have a substitute? No. By rules of economics, which product is more valuable to the platform? ProShot.

Thanks for convincing me to vote for this app. Congrats!

It really doesn't matter which app wins the contest because end of the day both these guys have worked hard to produce what I wouldn't be able to produce in a decade! But it seems a little weird how an app should be voted because it's free v/s a bigger picture - I thought WP users were those elite lot that actually could make rational choices. But hey, whoever wins, there will be a party for end users ;)

Yes there is an alternative : the native client...
ProShot adds some features to the native experience
Wikipedia adds some features to the website
this is the same things (almost... cause wikipedia is free)
so, rockstarzzz, I know you like ProShot but be calm and respect all the wikipedia users.

Woah, don't go so defensive and emotional dude. Native client isn't a client. It "fixes" stuff on the software. A RSS reader, a web app or a news app doesn't "enhance" anything, no matter how we put it. Yes, surely a beautiful experience that brings that info to your phone. I'm calm as a 98 year old sitting on his sofa waiting for his brew and nothing I wrote disrespects any Wikipedia users or any WP users.

@rockstarzzz: Its quite clear that You are the one who is defensive and emotional over proshot losing this contest, everyone can see this by reading your comments on this article and your butthurt posts in the forum.

Agree with you , rockstarzzz.
It is really hard to imagine if Wikipedia highlight in WP commercial ads. Is this the best app in WP ?

No update in my region yet. Fair enough, I'll wait.

I don't see store says version 1.4 is latest on my Lumia 822

Same here on 920 in New York

Finally. Only issue is if the screen locks then when returning the app goes to the app home screen and not the article

This is one of my favorite apps on my Lumia 900 :-)

Thanks all ! As you know this app is totally free, so if you like it, don't forget to vote for it here: https://www.facebook.com/windowsphone?sk=app_289569661171794&app_data

Awesome app. Thanks Rudy!

Voted for you Rudy, best app to showcase our beautiful platform.

I don't see the update yet...

Nice app. The ui is still kinda fugly, though.

I've loved this app since the beginning. It's organized well and it's beautiful! :D

@rudyhuyn: when are we expecting the 9gag update? jst asking.

The update will be available Thurday, I worked hard to include a new mode "PANIC MODE" where the app will communicate with my own server when 9Gag data will not be available or changed like this week (for example, the author of an image has been removed), so no more blackout in the future

i see... i can wait though. thanks!
btw, do you have any future plans to create another app?

The voice feature isn't working on my 920. Error : HRESULT:0x800455BC.
Also app not shown in list of voice commands supported apps.

Voice command is only available for en-US, en-GB , fr-FR and it-IT, what is your culture ?

En-ind.
Pls add support for the same!

Add portuguese (pt-br) support. I can help you with this.

When I tried to update the app, it wasn't shown in the downloads section and it appears as the old version for me now, what happened ?

Thank you.


Someone ? Daniel ?

The app is great, even before this update. My only gripe is that I wish they can change the front facing live tile of the article of the day. It does not look good, and looks a little blurry.

Love the double wide tile. Well done Rudy!

You got my vote, Rudy. Had this since Day1 of getting my phone. Beats the actual pages.

No update. HTC 8x. Still waiting for 2.0

I just updated the app through the store link from this app and noticed the WP8 improvements, but then I saw the app wanted an update from the store app and updated it, but now its back to the low-res tile and its as if the app never updated

Just re-updated the app from WPCentral, problem fixed. :)

Same problem. Updated to 2.0. Then it wanted another update later and now I'm back to 1.4 and can't seem to "re-update" ... :( ... on a Lumia 920 on AT&T in the US.

Hmm ... just went back in and it updated again. Strangeness ...

What happened to the puzzle globe?! Its no longer an option as a tile display.

was wondering the same thing. bring back the yellow sexy globe tile!

When viewing Wikipeda articles on Maps, does it use Downloaded Offline Maps, or use internet.
I mean to pull articles on maps, itll use internet. BUT to show maps also, does it use internet? Or just Downloaded maps.

Please somebody confirm on this.

Rudy, en-ind = en-GB , so adding voice command feature is very easy for en-ind.

Hi buddy : Updated daily shoes : in order to thank everyone, characteristic, novel style, varieties, low price and good quality, and the low sale price Thank everyone http://fff.to/gh0 http://al.ly/3pN http://al.ly/3pN sdgwegwe

What about wp7x users??????????
We are very angry with Microsoft...........

Wikipedia app works awesome on WP7 too you troll.

Someone Please Ban this troll, just look at his past posts, each and every post is a trolling attempt.

Are you a beggar?....
how much money Microsoft gave you for said like this troll........

1 Million Dollar cash :) i can now buy 1000 beggars like you Visva.

Mr. Beggar etios, wp7x doesn't have notification centre, games like temple run, etc.......... limited language support, lot of bugs in this os, live tiles are not working..
Windows Central Newsletter
Thank you for signing up to Windows Central. You will receive a verification email shortly.
There was a problem. Please refresh the page and try again.