Final four voting winding down for the Next App Star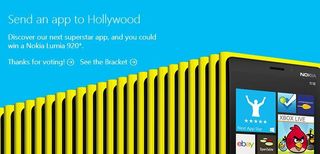 The Windows Phone "Next App Star" contest is winding down with voting for the final four apps ending tonight at 11:59pm PST. After which voting for the championship round will take place from April 6th to 8th.
While the WPCentral app (opens in new tab) made it to the elite eight, we fell short to ProShot, who is now facing (and leading) Amazing Weather HD. On the other side of the semi-finals you will find Wikipedia leading Voice Translator.
All four are heavy weight apps but the Amazing Weather HD/ProShot winner may be the odds on favorite to win it all.
The winning developer will have their app appear in a Windows Phone TV ad. Voters will have their chance to win a Nokia Lumia 920. Winners are chosen at random from all the votes cast per day with a total of 21 Lumia 920's being eligible for giveaway.
Just scan the QR Codes (Amazing Weather HD has a free and paid version) below to check out the final four apps and you can vote for your favorite here at the Windows Phone Facebook page (opens in new tab).
Source: Windows Phone Developer Blog (opens in new tab)
George is the Reviews Editor at Windows Central, concentrating on Windows 10 PC and Mobile apps. He's been a supporter of the platform since the days of Windows CE and uses his current Windows 10 Mobile phone daily to keep up with life and enjoy a game during down time.
Please vote for Amazing Weather HD.

Voted for you but i doubt its going to matter, Even the massive fanbase of WPcentral failed in front of Proshot, i doubt they are playing the system or some other trick, you can easily say that Proshot will win the finals too.

I don't even understand why Proshot is so popular. I mean seriously...

Did you use both Apps? I have used both and voted for Proshot!! Awesome stuff that you can do with it. Shutter open for 4 seconds on a mobile phones. I never thought I would get that on a mobile phone. and Its a killer feature when combined with Lumia 920's OIS.

Can I ask what you want on TV for Windows Phone? Do you really want a weather app to be headlining it? I definitely would prefer an advanced camera app over that, it's far more interesting as a TV spot and isn't as commoditised as weather.

I did, I don't think it mattered. :'(

I voted by buying it, there.

Cannot install amazing weather hd on my lumia 820 in the netherlands. Its saying that i have wrong device, or software version (i have the latest) or country not supported. I see other european countries so why not the netherlands?

I can't search weather I China. Fix this!

What is the best app among em'?

Amazing Weather HD, its simply rad

Proshit! Vote for Proshit!

I still can't vote in Central Europe... Will have to wait and vote in few hours... AmazingWeather all the way!

Hopping some updates are comming soon? :P

Yes Proshit!! Vote for Proshit!

Why haven't you been banned yet? You've been saying that on every article dealing with this competition.

I said it on two articles. Quit trippin dude.. Why does it bother you anyways?? I say it because Proshot is some professional shit! Lol!!

Where'd ju come frum rodn eye j-oe...

I come from Arlington, Texas.. Its cool because close to here is one of MS corporate offices. And a Nokia corporate office is right next door. They had a cool WP event there about a year ago. From my understanding some of the LTE development for the L900 was done here.. Dude, I have so much official WP gear from MS its a shame.. What about you? Where are you from??

He is from Pakistan, And a Global Terrorist office is right next door for him, so he lives at a far more exciting place than you.

That office is being run by those who are sitting nearly 1500 miles away from Texas :)

Really sad to see WPcentral lose, thought all the WPcentral readers will show some respect and vote, is this voting system cheat-proof?

We wanted to vote for WPC but we thought that some of the other apps would appeal to a larger audience. Seeing that there's a potential commercial involved us diehard WP fans would like to use this opportunity to show a very useful application that is exclusive to WP.. In other words.. Vote for Proshit!

Yeah, too bad it isn't in it yet. While it might not be the best app, it sure is the best of the list. Nice presentation, nice animations, up2date, lots of wp8 features and more.
I don't get why the Translator, Proshop and Amazing Weather made it to the list at all. The first two don't feel like "must have" apps to me and the Weather Flow beats Amazing Weather any day of the week.
I also wonder why Skype, theFacebook, Metrotube, Navigon, various Nokia apps like Nokia Drive and other apps aren't on the list and where are the cool games?
From those apps that are left i don't really recommend any of them but it doesn't really seem to matter anyways. I hope WPCentral is gonna do a similar poll soon (or perhaps do a "best app of the last quarter" poll), so we get some proper choices.

Amazing Weather is fantastic, but Pro Shot is something more... Looks like ProShot is going to win finally...

Hopefully pro shot will win. Microsoft likes to copy features, hopefully will get the camera app to be improved.

Is the only way to vote through FB? :/

Was not happy that any of these are the semifinalist.

Kinda sucks that I can't vote since I don't have a cheatbook account. Makes it kinda pointless to help any app dev. Microsoft might wanna make it available another way also.

It takes 2 seconds to sign up, no one is forcing you to use it beyond that

I'd like to see Wikipedia win, just to see the people who run Wikipedia (the website) shit themselves.

Vote for Proshit! Vote for Proshit! Vote for Proshit! Vote for Proshit! Vote for Proshit! Vote for Proshit! Vote for Proshit! Vote for Proshit! Vote for Proshit! Vote for Proshit! Vote for Proshit! Vote for Proshit! Vote for Proshit! Vote for Proshit! Vote for Proshit! Vote for Proshit! Vote for Proshit! Vote for Proshit! Vote for Proshit! Vote for Proshit!

the app is not shit. it really does give you so many control settings it's not even funny. Proshot deserves it.

Ignore him. Guy's been doing this on every article dealing with the competition. Surprised Daniel hasn't banned the guy yet considering how good he is at catching Hit the Lights.

Where's my apologie?? Lol!!

Lol.. I call it Proshit because the app is some Professional Shit!!! I want everyone to vote for it because the developer really supports the app with passion, and it shows. Proshot is one of the best apps on the platform and deserves to win the competition.
Ignore Snarkysnickerdoodle,, I guess he has something against me.. Poor little helpless me.. Lol

I'm cheap so i never, ever buy apps (free only). Proshot has so many features and constantly getting updated that I'm thinking about buying it. I'll actually buying it tonight just to prove a point. :)

Yeah, if you buy any app invest in Proshit,, oops, sorry, I meant Proshot.. Lol! It actually solves the sharpness issues with taking daytime photos on the 920.. Be sure to give the developer 5stars!!

Stop making a fool of yourself, i mean, are you even capable of creating an App better than any of the finalist? i don't think so.

I mean it in a good way!! But, I can see how it can be perceived in a negative way.. Actually Proshot is one of my favorite apps! But, you're right I am not capable of developing a app.. I just don't understand why you guys think I hate it so much if everytime I say to vote for it.. Stop thinking so negatively..

I'm sorry then, i thought you were trashing the app. :(

To me, proshit is a totally negative thing to call it dude!

Well, then you're a dumb ass because nobody here means for it to be negative, and nobody here hates the app.. You're on your own buddy... FYI it means "Professional Shit" which is a compliment.,, you know like "Its tha shit"??? You're a sad and negative dude man. Look at the glass half full for now on! Bite a hard one feller!! LOL!!

Dude, totally uncalled for

Will you relax?? Wow, you're in a mood today.. I'm going to help you adjust your attitude, OK??... Do you want red, green, yellow, or orange?

Relax? I'm saying uncalled for calling me a dumb ass. I'm as relaxed as can be, you need to take your own advice. Anyway, you ain't getting any more replies from me, move on. Have a nice day :)

Hey,, do you live in Dallas?

Vote for wikipedia, no one else Rudy help so much the dev community, and this app is really from a hobbyist :) .... (btw wpcentral is the one I use every day, and I find it too sexy :))

I voted against Amazing Weather not because it doesn't update the live tile, because it doesn't. But because they don't seem to know what "support" means.

Vote for Proshot. Actually I am kind of surprise Wikipedia can win over the other 1.

I honestly think MetroTube and WPC are the coolest apps.

Wow what one could do with that many Nokia Lumia 920s

Please vote for ProShot :) It would serve well in a commercial to highlight some of the best parts of Windows Phone, namely the camera. Many people buy phones because of their cameras, so I think this could be a great push for the platform! Plus, if ProShot wins, I'll definitely have Microsoft's attention. With their help, I can take this app to a whole new level ;)

You got my vote!!!!!!!!!!!!!

I also voted for it although I won't buy it nor do I find it perfect. As to not buying it I hope you'll do a couple of days of offering it for free when you win it and about the "not perfect": I miss the option to insert time stamps into my photos as I can on my DSLRs or other real cameras. I need this for the motor vehicle pictures I frequently take.



If you need this feature in the app so bad then why won't you support the developer by throwing him the change that he ask for to buy the app? Help him out please so that he can bring you the features that you need. BUY THE APP OR I'M COMING FOR YOU!!! LOL!

Also Vote for Lumia 920 in the smartphone madness finals against Blackberry: http://blog.laptopmag.com/smartphone-madness-2013-finals-nokia-lumia-920-vs-blackberry-z10

Proshot will definitely win. It'll interest a lot of potential buyers to see such a cool app on Windows Phone that exists nowhere else.
Wikipedia, while excellent, is just another app for searching an encyclopedia.

To be fair, the amount of incredibly good camera replacement apps on both iOS and Android is astounding!

I see no use for third-party camera apps *coughinstagramcough*.

You say you can't live without Instagram??

Hell no. I'm saying I can live without lenses. WP is for XBOX and nothing more.

Lol! I know.. Just joking.

WIKIPEDIA is great and wonderful ! I hope that you vote for this ! App free without ads. The developer is really a champion


Pro-Shot should win, the app which reveals the true worth of phone should win. I am surprised how wikipedia is winning against translator. Wikipedia is just a good app with nice presentation otherwise it is not exploiting real features of phone.

Wikipedia uses :

-live tiles

-background agents

-voice commands

- speech synthesizer

- speech recognition

- lockscreen (upcoming)

-geolocation



So, are you sure ?

Is this an unlocked or carrier branded lumia? If its unlocked, I'll have to kick myself for not voting. I hardly ever go on FB which is why I didn't.

There have been a host of app ideas from funny to quirky to serious ones which could actually act as a life saver. Which one do you think deserves to win the 1 million rupees cash prize? Watch the show on NDTV Profit, on April 06, at 8:00 PM

Cannot believe it, wikipedia is ahead in the final voting. Imagine a hollywood commercial with wikipedia, thats crazy

Wikipedia is one of the must downloaded App with 1,000,000 downloads and 190,000 Daily users, so be fairplay and be cool with guys that like culture and knowledge

After watching the video with you, Rudy, I see no reason why you cannot win.

I am pretty sure IOS / Android users will lol when they see Wikipedia in WP commercial ads. Is this the best app for WP ?
Proshot however can highlight camera for WP. Hopefully Proshot can win over Wikipedia.

Where do you go to see who's winning?

Here
https://www.facebook.com/windowsphone/app_289569661171794
The app with star on the top right corner is winning

Hi buddy : Updated daily shoes : in order to thank everyone, characteristic, novel style, varieties, low price and good quality, and the low sale price Thank everyone http://fff.to/gh0 http://al.ly/3pN http://al.ly/3pN sdgwegwegwe
Windows Central Newsletter
Get the best of Windows Central in in your inbox, every day!
Thank you for signing up to Windows Central. You will receive a verification email shortly.
There was a problem. Please refresh the page and try again.