Facebook official app v2.3 now live in the Marketplace [Images]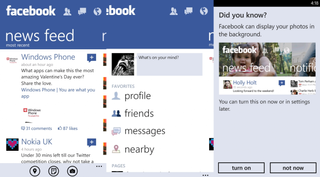 We mentioned how this morning version 2.3 of the official Facebook app should be going live today and true to their word, it has.
The new version brings a complete redesign of the UI as can be seen above in some new screenshots. The panorama look makes the app more Metro friendly and more importantly, it adds much more functionality like the ability to see and add "likes" to posts. There's also a refined tool bar at the bottom with quick access to Check in, Add (post) or quickly add/take a new photo.
In addition, you now have access to pages, groups, feed filters, privacy information and banner images. Speed of the app seems on par with before and we're hoping for more reliable notifications (always a tricky issue that is more Facebook than Windows Phone).
So far it looks to be a solid and respectable update, something many of you have been wanting for months now--so are you satisfied? Hit us up in comments...
Pick up the official Facebook app version 2.3 here in the Marketplace (and watch our video tutorial on how to force the update).
Windows Central Newsletter
Get the best of Windows Central in your inbox, every day!
Daniel Rubino is the Editor-in-chief of Windows Central, head reviewer, podcast co-host, and analyst. He has been covering Microsoft since 2007 when this site was called WMExperts (and later Windows Phone Central). His interests include Windows, laptops, next-gen computing, and for some reason, watches. Before all this tech stuff, he worked on a Ph.D. in linguistics, watched people sleep (for medical purposes!), and ran the projectors at movie theaters because it was fun.
Just updated to 2.3. Its really cool

agreed. but i still wish they would just improve the integrated facebook. missing is tagging a friend in a location and some posts dont show up in the people hub. good update, solves these problems, but the point of wp is integration and ease. this app was a waste of resources for ms.

I agree. I'm not against Marketplace apps, but MS should have put more effort into extending the features of their integrated social networking app(s).

I don't know why it took so long for this version to be released but now that it has I can feel 'proud' of WP7 w/Facebook - the shame has gone! :-D

This is a welcome update and seems to working well. A lot of features added; ones we've been looking for without a doubt. It's still weird to bounce between this app and the native OS for things related to FB but this update is great so far.

It is gorgeous and yet another reason to crow over my Android friends. :D
Good job, Facebook. What took you so long?

By gorgeous, I mean both asthetically and functionally pleasing ;)

The Facebook app is a product of Microsoft.

Can someone please tell me why everyone hates the Facebook app before this update? I never understood it.

It was just wonky and it redirected you to the web version (ie opening Internet Explorer or some such nonsense).

might have been a few things like scrolling. It lagged a little and felt weird. Notifications were slow compared to other OS versions. Stuff like that. I liked it overall but it fel like it was not completely done. This version seems to have a bit more polish so far.

I think it was annoying how you couldn't see who "Liked" something. You saw that it was liked but not by whom... (At least I thought that was an issue...unless it was the integrated version, always confused between the two).

Missing tons of features that i do not need to repeat as you can see them in all the comments.
Very buggy, clunky, and limited interface. So you never noticed when you are going through your news feed and you scroll down and as you keep scrolling down, it would take you forever to get to the feeds below because you are constantly being scrolled back up as the screen glitches?
I have a samsung focus s and i replaced my original one which was defective for a new device and this glitch existed on both devices, so this was an app issue.
Now after the update, the glitch is gone and now has more features.

Really nice update but where can i find the events, help

Aren't they on your Calendar hub/tile? If they don't show there, you can enable it in the settings (tap the ellipses). I can't find Events in the app either, maybe because it's already incorporated in Calendar, but then I could be wrong :)

Yes they are in my calendar which lacks a search option so i was asking about events in the app, thanks anyway

No, you are right. Events was one of the main menus. So was Videos. To see Events or Videos you now need to go to the News Feed, tap the three dots, tap filter, then Events or Videos, depending on what you want to see. Seems the developers figured Events and Videos didn't need to be "front and center."

It's great, the problem is the live tile, it's really terrible.
I wish they added a theme sensitive tile :)

Agreed. And that red notification-ball on the tile also need to go away, stick with the "metro-numbers"!

It looks good and seems to work well. Toast notifications are working okay for me so far. But if you consider how long it took for this update, I honestly think it fell a little short... for all this time, this update should've blown the doors off the last version. It is a good update, but not amazing.

Can somebody make out how to get into events whitouth a notification? This is really disturbing me, the WP7 built in version is just terrible.

That seems to be missing. I've always liked the calendar's event view better anyways but it does seem like a pretty major thing to leave out of the app.

Using the app, go to the News Feed, tap the three dots, tap filter, tap Events.

I tried that, but it seems to be only for news, not to get to the events themselves. I'm hosting an event soon and this is pretty much useless for me. Seems I have to use IE.

Love the new update. Much needed features and best of all pretty much like the site itself so navigation is nice.

Really weird, I never use this but I liked what the new additions were so I downloaded it today. Even though the app in the market said version 2.3 the app on my phone still says 2.2 and I really dont see any difference from when I had it before.

I for one prefer the older version. This update seems to clutter everything together and it's hard to figure out where everything is. The font and icons are too big. That big blue space on top is just glaring and is not put to good use; wasted space. I understand you have the option to put background pictures there, but they are random and distracting. Just my two cents.

100% agreed. This was more of a one step forward, two steps back update. The old version gave you two different ways to view the news feed and one of them used the whole screen, giving you more viewable posts. The new version you are stuck looking at a permanent banner that wastes 1/4 of your screen permanently.

Still no tagging of people in status? But getting there very slowly ;)

I still like the mobile website better than the app. The website is much faster to use. The app is so slowww. It's faster than it was, but still much slower than the website. And the notifications are always 30 minutes to an hour late. Also, the banner is too big!! So much space lost.

Can u guys like individual comments???

Super lame, Daniel. Frustrating, to say the least. What is the best way to give feedback to the Official Facebook WP App Developer Team?

It looks very nice and works great too! I will stick to the people hub though, it has everything I need and is so well integrated to the experience of the phone. This is a great companion app to it though! Great work MS

Very good update, but it's still missing a few things. Hopefully, they keep working on it and it won't be another 6 months before we get another update.


Its nice. I hope they add the ability to save pictures from other people through the app like on the iPhone though. Helps when want to set your own photo for contacts.

Love everything about it, EXCEPT the HUGE banner wasting all that space. Dear Facebook, please make it smaller. Seriously.

Agreed. WASTE OF SPACE. I want to view as many posts as possible on my news feed screen. The old version allowed this. HORRIBLE!

The ability to "like" posts has been available since the last version. Also, you can see who likes your posts in the "notifications" section. What I want is to be able to save images from within the app and receive a toast when I receive a "like".

What you STILL cannot do is "like" individual comments inside the post itself.

Wish they would just fix the people hub for updates, likes, comment likes & wall post and fix Facebook for everything else. It's sad you have two apps; one built-in and the other a downloadable app, which do nothing great but only do things at best average.

I agree.
Why do we have "two" facebook apps and both are incomplete.
Scrap the facebook-app, join the fb-team with people hub-team and lets get one "app" that does it all.

Events do not show up on this version 2.3, also notifications for events do not show up. Such a shame. Still have to use touch.facebook.com

It sucks that Events is not one of the main menus, but you can get to it by going to the News Feed, tapping the three dots, then filter, then Events.

That's not the same at all. All that does is filter event items in the news feed it doesn't actually show you a list of events you're invited to / created/

I've updated, and the application freezes. It's something wrong

I still can't like comments >.

HUGE banner wastes space that is better used for displaying more News Feed posts. Using this app on a small screen like the LG Quantum must be awful. Also, still cannot "like" an individual comment inside a post.
More eye candy, lesser experience. UNLIKE.

Whats up with the banner image??? could be the cover photo on the timeline in desktop version. Also no ability to share post and delete comments.

I agree, it should be your timeline image.
Overall I think it's an improvement but it's still not fast enough to get pinned to start.

On the news feed screen you can hit the words 'most recent' and quickly switch to events or videos that way.

Nice! Finally, now you can call it a legit fb app!

There's already a video posted by wmpoweruser.com

http://www.youtube.com/watch?feature=player_embedded&v=-jFwQYk2SFQ

awesome update look's great and works good.

It is a lot better. Thanks for the post.

The last album in my photo list is difficult to select, it doesn't become visible enough to easily select, it's not just me is it?

How can people say this is a goof update. Just as slow as the old version. Microsoft need to hand it over to Facebook and let them do the work. We need something that works like Android and iOS version. I'll still be using the People Hub.

Love it. I use native WP7 hub connects to use FB mostly because the app wasn't as great as it could have been. This update takes a huge stride in the right direction. My mother and sister are bound to love the update. Picture Banner = cool. Thanks!

In Australia I got my update, much better

I wish they'd improve the native Facebook elements instead of working on this App.

This is miles away from the app it used to be. I always wondered why I couldn't see notifications unless I went to the news feed. This solves that.

It's so much better now, and tbh, I like WP's integration with social networks but I like it that it doesn't integrate too much, if you know what I mean, don't want a Facebook phone.

And I prefer to have a separate app to do more in depth stuff.

Update is excellent!!.. On a separate note, I wish the wp7 integrated facebook app was not considered a third party app as not everyone's post, etc are visible on the integrated one.. Back to updated Facebook app...excellent!!.. :-)

Great update. A lot better then previous version. Keep up good work.

a bit meh to be honest. app seems to flow a bit better but pics in post still delay in showing up. and as everyone has said, banner way to big and why the heck can't we still not like individual comments on posts. rate it and add comments about this people and get them to release another update. hopefully this time a lot quicker than the last.

Finally had time to force this update. Very nice indeed!

Picture banner is cool. U dont like it then just disable it?

Great update - I might use the app regularly now.

Both integrated and this are nice. What should I use more?

Is anybody else locking up ad soon as they go to the notification page of the new app?

Actually this app is not needed at all. All I need is the integrated Facebook inside People Hub to have groups enabled. Then, it would be perfect. This app is slow and not user friendly. And the tile notification won't go away and it's irritating.

It still lags alot on my Omnia7! :(
The app looks awesome and I like everything except the lag and that photo-page requires two side-scrolls, this must be the stupidest feature in metro, same page having two sideswipes? Use vertical scroll!
I also want a nicer looking Live Tile and replace the hideous red notification ball with a stylish number.


Complaining about the live tile is sth I would love to do, but for me the app is not working at all. It shows only the top 4 or 5 feeds properly and freezes as soon as I swipe to notifications. Thank you very much.
It doesn't bother me too much, though, because I use the built-in functions only for 99% of the time and really like the integration into the people hub.

just so you all know you can also get to events but hitting the news feed wording in the banner and clink on events.


I no longer have an active FB account so I can't comment from experience, but looking at the video, you seem to be able to load the app faster and scroll between News, Notifications, etc faster. Also, I wonder - when the app is open, the top 3 icons get notifications "instantly?" But I assume toast is still the "up to 30 minutes lag and then they all come at once" variety?

The mailbox looks way better, too. In the old one, if I was the last person to say something, the messages all appeared "from me" in the app. You had to click in to see who you were talking to! It looks like the mailbox is properly split between inbox and sent now.

With the improvements in yesterday's 2.3 update, they also took away the birthday listing. Very disappointed. This was one of the first things I did every morning: see who's birthday it was and send them short messages. Very disappointed. Also note that the app screenshots in the marketplace are still for the previous version.

Where is my events page?!

What does this app has that the integrated facebook hasn't? I was looking for mesages but I didn't find it anywhere...

The integrated Facebook doesn't support Facebook groups.

Can someone please help me?! My Facebook chat in Messaging has stopped working, I don't know why. It worked two days ago, but then yesterday it didn't. I haven't made any changes, and the Facebook connection is not having any other problems, only the chat. And in the Settings in Messaging I have Facebook Chat set to ON.
I use a Dell Venue Pro. Is this a known error or what can it be? :/

Why did they get rid of the events page??? One step forward... Two steps back. Kinda disappointed here....

I like the update bigtime, kudos devs good revamp of the app

When I share a photo to Facebook on the Lumia 900, it created a "Mobile Upload" album. However, I am unable to set the audience level. How can I manage this? How can I select which facebook photo folder I want my photo to upload in?