Take control of your Facebook page with Page Manager for Windows Phone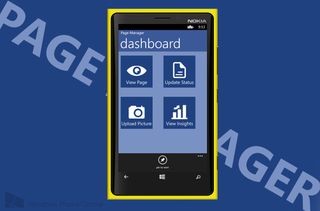 Look, we know the official Facebook app leaves a lot to be desired from most of you. But thankfully we've got a great community of developers willing to step up and fill a need. If you manage a Facebook page as either a hobby or a more serious role you'll want to check out Page Manager.
Facebook Pages are a great way for fans to interact with favorite brands, companies, and personalities through Facebook. If you manage one of those pages you'll have noticed by now the inability to do anything through that official Facebook app. Here are some of the main features of Page Manager:
Update Status messages or post links to your Facebook page(s)
Upload pictures
View insights
View page(s)
Pin tiles to home screen for quick access to features
Even though updating a status message or uploading a picture seems like a trivial task, the official app doesn't do that. Which is a shame if you're managing your brand on the road and want to share photos from an event.
The analytics are fairly straight forward. You get to see the number of new likes, unlikes, page views, 'people talking about this', total reach, organic reach, viral reach, total impressions, and more for your page. It's handy to see if the content you're pushing to your page is having the impact you want, unfortunately I didn't see any way to view more than the current day and previous day. Having the option to view longer periods of time would be a welcomed addition.
The app is still a work in progress and the developer is open to feedback and feature requests. You can hit him up on Twitter right at @SrikanthNairPro for any suggestions. Two things that are coming in a future version include the ability to manage comments and messages.
The app costs $0.99 for both Windows Phone 7.x and 8. There is a trial that limits you to accessing only one of your pages, so if you manage more than one page you'll want to part with the dollar. You can find it here in the Windows Phone Store, use the QR code below, or swipe to the right in our app. Update: The app is currently unavailable from the Store. You can read more about it here.
P.S. While we're on the topic of Facebook pages, why don't you go ahead on 'like' the Windows Phone Central page?
Get the Windows Central Newsletter
All the latest news, reviews, and guides for Windows and Xbox diehards.