Personalise your Facebook cover photo with Windows Phone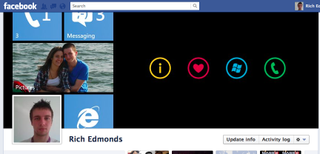 Chris Finlay, web developer at PokerStars, has created something special for those Windows Phone users who are avid Facebook fans. The Timeline cover photo is a perfect way to show off some interesting photos, but why don't we take it a step further with a personalised "I love Windows Phone" graphic?
Finlay has provided the tools and means to do just that, should you have the right software for the job of course. We've got a .PSD template, which will enable anyone (regardless of photo editing skills) to create an images similar to the above. So how do you go about achieving the above result?
Download the .PSD template (we'll use Photoshop as the software of choice for this walkthrough).
Edit the network placeholder text and add your own image for the "Pictures" tile, using the red rectangle as a guide for dimensions.
Change / personalise other aspects of the template as you see fit.
Hide the "Guides" group to remove Facebook template and disable the guide lines (View > Show > Guides).
Select "cover" from the Load Selection dialogue (Select > Load Selection).
"Copy Merged" (Edit > Copy Merged) and then paste into a new document.
Save and upload to Facebook.
Remember that this is just a template, only your imagination is the limit. Take the design and add your own touches. Do let us know in the comments should you take a few minutes to create your own cover photo to further promote Windows Phone. As for Chris Finlay, be sure to follow him on Twitter.
Thanks Chris for sending in the .PSD!
Windows Central Newsletter
Get the best of Windows Central in in your inbox, every day!
Rich Edmonds was formerly a Senior Editor of PC hardware at Windows Central, covering everything related to PC components and NAS. He's been involved in technology for more than a decade and knows a thing or two about the magic inside a PC chassis. You can follow him on Twitter at @RichEdmonds.
Did mine a few days ago. :)
https://www.facebook.com/IamDefiler

That's really cool. Could I get a photoshop template for this? I want to experiment between a few different designs.

I made something with tiles too some days ago.
https://www.facebook.com/marc.scholl On Twitter I made it a little bit more different. Looks like more the "Nokia Lumia theme".
http://twitter.com/#!/Mr_Maku_Jones


Update the IE icon to the ie9 one

Meh, Nokia uploaded a superior one a long time ago.

where?
edit: nvm found it on their Facebook page!

Care to share a link to Nokia's template? I can't seem to find it on their page.

https://www.facebook.com/media/set/?set=a.10150466554352397.363387.36922302396&type=3

I just did it :D
see at: http://www.facebook.com/pauloquicoli
PS.: You can edit the PSD template using Expression Design too.


Very good work, but what would make it even better would be to release a version in GIMP native file format for the photoshop hate... umm challenged among us :)

I reckon Paint.Net is better than GIMP. GIMP used to crash all the time so I gave up on it. The Windows version that is...

Agreed, need it for Gimp. Gimp on windows is awesome.

Hey, thanks for hosting it! And thanks guys for downloading it. I wasn't aware Nokia had made one too, I did this in the middle of the night. Just to clarify the instructions, you don't need to hide the guides (view > show/hide guides), rather the layer group called "guides" that contains the Facebook header and profile picture border etc.
Edit: if someone wants to make a format for other imaging software, feel free. I don't have GIMP etc on my machine, otherwise I would do it.
Edit #2: The font required is Segoe WP. It comes with Visual Studio 2010, or you can find it lurking about the internet if you don't have it.

The hiding guides part is a habit of mine :-)

Thanks for the tip. Just made mine, added my phone behind it as well! LOL
https://www.facebook.com/silver.doe

How about a .JPG version, so everyone can take advantage using whatever image editing tool they have on hand?

That's not how anything works.

Sweet template, thanks! I put it up on my facebook

Where can I find artwork for different tiles, like the people tile etc, and in different colours?
Great job BTW! Thanks!

Thanks for sharing! Absolutely love WP and Xbox so I figured I stay away from the blackness since really it doesn't look appealing to me, so here's mine to share back.http://i44.tinypic.com/2hh2g5c.png

I spent some time today to create mine https://skydrive.live.com/redir.aspx?cid=62db35aa002b880d&resid=62DB35AA002B880D!1293&parid=62DB35AA002B880D!1291

Also, it would help to know that you need to crop the PICTURES image you want to place to 272x134 pixels. Took me a while to do it, but worth it. Thanks!!!

It appears that Facebook has changed the size of the profile photo box on the timeline, so it doesn't line up as a tile anymore. Bugger. =/

the file dosnt exist ... its maybe removed from skydrive ... somebody help ! i need this psd tamplate/

please send it to >> a.bagheri70@yahoo.com

thank you so much .
Windows Central Newsletter
Thank you for signing up to Windows Central. You will receive a verification email shortly.
There was a problem. Please refresh the page and try again.