Fitbit gives explanation about lack of notifications on Windows Phone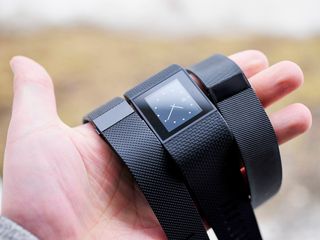 One of the more popular questions Windows Phone users have for Fitbit is "when will Fitbit support Windows Phone notifications?" Such support is in place for other platforms and according to Fitbit, support has been in the works for several years.
We have seen several updates, the most recent being pushed out today, to the Windows Phone app to improve performance and add features. However, Fitbit has uttered very little word beyond "we're working on it" on bringing notifications to Windows Phone.
This may have changed with a recent Fitbit community forums post that sheds a little light on the subject but may not be what Windows Phone users want to hear.
One of the many selling points of the Microsoft Band is that it supports Windows Phone notifications. When your Windows Phone rings, the Microsoft Band can vibrate. When you get a text message or new email, the Band can vibrate.
The current generation of Fitbit devices have the ability to offer similar support but for some reason the notification feature has yet to be extended to Windows Phone users. The problem appears to be that the Windows platform does not provide a GATT server. According to Tristan Rice, a Fitbit Product Manager for Windows Apps,
There are two parts to the GATT system, a client and server. The client portion of the puzzle has been implemented, now we just need the server piece to complete the picture. When this will happen is anyone's guess but according to everything we see, Fitbit continues to work on bringing this feature to Windows Phone users.
The bad news is currently Windows 10 does not support this feature either. Once again, Rice explains in the community forums:
Finally, Rice goes on to comment regarding why the Microsoft Band can do notifications:
Fitbit has an impressive fitness network and selection of devices, but is the lack of notification support a deal killer in your mind? Let us know what you think by sounding off in the comments below.
Source: Fitbit Community Forums
Windows Central Newsletter
Get the best of Windows Central in your inbox, every day!
George is the Reviews Editor at Windows Central, concentrating on Windows 10 PC and Mobile apps. He's been a supporter of the platform since the days of Windows CE and uses his current Windows 10 Mobile phone daily to keep up with life and enjoy a game during down time.
Notifications would be nice but not a deal breaker for me. Still love my fitbit hr.

Agreed. Fitbit has been good to windows phone. Certainly can't blame them.

Yes. I don't think anyone can argue that their commitment with Windows has been outstanding. I appreciate them for it

I was very close to getting the Surge but my Microsoft Band does everything I want and more.

I might replace my Fitbit with Band 2... Depends on tomorrow I guess. I just love the Fitbit ecosystem. I wish it could integrate with Microsoft Health as it was the original promise of the service.

Same here. I really hope that Health and Fitbit can connect in the future. I'm going to wait for tomorrow to decide what to buy next. My wife lost her Fitbit so I gave her mine. The MS presentation is here finally so I'll be replacing my Fitbit as soon as possible with another Fitbit or Band. I'm so excited for tomorrow.

From Lumia 950's specification page on MS's website:
Bluetooth profiles: Advanced Audio Distribution Profile (A2DP) 1.2, Audio/Video Remote Control Profile (AVRCP) 1.3, Generic Attribute Profile (GATT), Hands-free profile (HFP) 1.6, Human Interface Device Profile (HID), Object Push profile (OPP) 1.1, Personal Area Network Profile (PAN) 1.0, Phone Book Access Profile (PBAP) 1.1, HID over GATT profile (HOGP) 1.0, Message Access Profile (MAP) 1.1 All hope isn't lost yet. :)

The only reason I went with the surge is that its waterproof and was supposed to support notifications.... Last time I trust fitbit!

Not really their fault seeing as they are doing their best to find a workaround, however unless Microsoft implements the feature on their side then the expectation is that Fitbit has to devise a completely different system with which to send notifications solely to appease a 3% market share.

Agreed. MSFT have really got to step up and open up their apis and allow for these features or it's going to be more of the same...

Water resistant. Big difference between the two and the band can do the same.

No, the surge is fully waterproof. The only reason fitbit changed it to resistant is because they had poor product quality check.

So your argument is that it's waterproof, but it doesn't really work? If the company says right on their website that you shouldn't go swimming with it, it's NOT properly rated as waterproof. It's no different than me saying I just waterproofed a bunch of cases, but don't trust it.

Microsoft should just add this to Windows 10. What's stopping them? Fitbits are very popular, so I think they should be doing everything they can to make the devices work the same in windows as they do on ios/android.

Efficiency if it burn thru the battery why bother

I don't understand Microsoft, why they don't open the ability to the other brands to use GATT... It's always one step forward, two steps back with the possibility on WP/WM, it's boring...

But that is not the problem according to the article. MS does NOT use GATT for its Band, it uses something different entirely, therefore its notifications work. However, FitBit uses GATT which is not implemented in W10M, therefore FitBit notifications do not work.

But Fitbit is not the only one to use gatt for the notification, garmin use it too.

It's a give-take for me. I moved to Band for the great device functionality, but I definitely miss the community aspect of Fitbit. I'm hoping tomorrow won't just be a here's-another-Band unveil but also an introduction of more to the platform.

In other words, we can't be bothered to make it work with Windows 10.

They aren't saying that. I'm sure this is something they're working on, and will implement soon.

Why should they be forced to reinvent the wheel when there is a perfectly good system that was already available? The fact that they are still trying for a workaround is a testament to them seeing as its a very small subset of the mobile community they are catering to.

Because if they are going to bring their stuff to platform then they don't need to halfass it.

If Microsoft is going to make a successful platform, they need to be the ones to stop halfassing it

The isn't fitbits faults in the least. They don't develop the OS and therefore cannot control that part of its product functionality on Windows.

Honestly, you people believe developers that say they're "working on it" in regards to Windows phone and "it won't work on Windows phone"? Ever been hearing that from Snapchat for quite a while and it turned out to be BS.
Let's flip this for a second. Say it was the iPhone that supported a different system, do you honestly think for one second that Fitbit wouldn't do whatever it took to make it work?

iPhone has a double-digit market share.


Ok so, that shouldn't matter. Fitbit should have this done by now. Single digit market share or not with windows. Fitbit has had a year to get this working, and hasn't really done anything for us window users. They need to make sure the old is working befoer they work on the next modle of fitbits.

I think MS should just add the required functionality to the OS, I'm assuming it's not such a big deal to implement it!

Why would you assume that though? It could be something that currently breaks other notifications in the OS. Of course it's a reason to buy the band instead of the fitbit, so why do it.

Microsoft would do well to get all of this back end stuff in order. I know they've got a lot on their plate right now, but the mobile world is not about to stop just to let them catch up.

Precisely. They really need to amp up and get their feature set on par with the competition otherwise - will it's not competitive for a start!

Maybe in Windows 11? /s Classic Microsoft balls up though, not in the least bit surprised.

I'd rather Microsoft beef up the Health app to provide the information Fitbit does in their app. The fitness info is great. Now allow me to input my food intake and sync to my Aria.

Completely agree, beef up the Health App.

Ridiculous, mobile 10 still not going to support wearables other than THE fitness band

Microsoft should be glad a hugely popular company is supporting their not "that" popular mobile platform. Where is the red carpet ? Hope to see notifications soon, we have been waiting for a long time.

Microsoft shouldn't roll out a red carpet for them. Id take a band over fitbit

That's not the point. Not everyone will buy a band. For our platform to grow, they have to work with companies like FitBit, whether you like it or not.

Also the Fitbit is available everywhere, band isn't and fitness bands are a big thing nowadays it can be the make or break decision on a persons choice of mobile.

I love my fitbit HR and call notifications only work have the time for me on my GS6. So not a deal breaker for me. Posted via the Windows Central App for Android

Not language portuguese :|

I love my Fitbit app, and I've been very happy with the support they've shown for Windows (both phone and desktop). The Windows app is better than the one on my Nexus 7.

I have the Surge but when it could receive notifications, put it on a shelf and got the Band.

Everybody seems to be jumping at MS for not supporting this GATT system, but that system sounds fucking stupid. Your phone uploads notifications to the GATT server so that they can be pulled down by the app and pushed through Bluetooth? That sounds stupid beyond belief! The fitbit is already Bluetooth tethered/tetherable so why not just push the notification directly? Sounds like MS is spread using the less convoluted, more efficient method.

I don't see why Fitbit need to use GATT. Why not do it the same way as the MS Band does it. Fitbit say that they are working with Microsoft. .?

The GATT Server isn't a server somewhere on the network, it's just a piece of code that runs on the phone. The phone is the server, the watch is the client. I'm surprised the Band is using its own custom implementation to communicate notifications, that seems a waste and reinventing the wheel. GATT seems like it would be the better choice, as that's seemingly what all other devices are using. MS needs to get its finger out.

GATT is the preferred method that the creators of Bluetooth recommend and support. Hell from what I have read in order to utilise Bluetooth LE you are supposed to be on GATT, but that may have changed since what I read.

Learn something about what you're lashing out at before you do it, please... This has nothing to do with some sort of internet server.

My wife received a fit it charge hr from her boos who is a Dr. My wife never did adopt to the fitbit well, especially when I would show her all what I could do with my Band. I solved the issue with the deal at Bestbuy a couple weeks ago when they had the Band on sale for $100.00. She wears the Band constantly and loves looking at the stats.

Lol it's just impossibly difficult to land and configure a server....... As I stand in a server room configuring a rack. Lol lack of effort it sounds like.

Are you building a mobile OS from the ground up while you configure a server?

It's not even a physical server, just a service running on the phone.

Always the worst excuses with WP...

It's pitiful that Microsoft hadn't implemented this yet. The Fitbits with notifications have been out for about a year now. There's really no excuse. The leadership of Microsoft is just disappointing.

You're most likely correct...

Not a deal breaker but definitely pushes me closer to the Microsoft band 2 if I like what I see when it is officially announced.

I had the Microsoft Band 1, It was awesome on notifications and all aspects EXCEPT the Physical design..I then got a Surge, disappointing to say the least...Will be going to Band 2. And no more Fitbit promises....

I don't trust Fitbit either now because of them stringing us along about notifications.

From their continued support for WP with frequent updates to their excellent app, I seriously don't think they are holding back intentionally.

Is there a similar situation with the WP8.1 Twitter app? It claims to support notifications but they don't work.

Doesn't bother me all that much, however, my Fitbit simply doesn't sync to my Lumia 1320 running latest preview of Windows 10 Mobile. I have to use my Win 10 tablet instead.

As long as Fitbit does what it's supposed to do which is track my fitness goals I'm good. The other stuff is just a bonus as far as I'm concerned.

I bought a flex this morning. The notification thing I way overblown. Another feature that is so limited in its usefulness that I can't understand why it even matters.

This has nothing to do with the Fitbit Flex, as far as I know.

I do landscaping right now and when I'm working I can't feel or hear my phone due to using mowers/blowers/etc. so this feature would be really nice for me.

I like the Fitbit and notifications work well on my iPhone and LG G2 phones. What continues to be an issue for Windows Phone users is that Microsoft marches to their own drum, which no one else follows. In the last 25 years Microsoft has learned nothing.

I looked at the MS API and it appears MS may already support GATT. So is fitbit lying?
https://msdn.microsoft.com/en-us/library/windows/apps/windows.devices.bl...

Good find! hope someone in the know replies to you.

That looks like the client protocol. Looks like the class is for communicating with a GATT server, not for actually creating a GATT server.

I have both the Charge HR and the Band. I have them connected to my iPhone 6+ because the WinPhone Mobile 10 does not support Cortana on the Band, and I'm trying to stay loyal to MSFT Insiders program. Since I have both, and have used them for a long time, I mostly use the Band only because it is far superior with what it does. An HR, at best, will notify that there is an incoming phone call. The vibration in my pocket tells me that. I have full notifications from the Band. The only thing tracked by the HR not on the Band is the stair count, and that is often highly inflated. The app has info that might be more pleasing to the eye, but that is about it. Also, sleep detection on the HR usually, but not always, works and it's pretty generous. It might show a restless night as being quality sleep, but the morning tells me otherwise. I try using the HR because everyone else in the family is using one, but I always go back to the Band. So ... just because Fitbit has a marketing system for their devices certainly does not make them better.

Did people not read the part about MS and Fitbit working together yo make this happen. Obviously, this isn't a matter of simply implementing something on MS backend. Determining whether or not to make changes in software or hardware might be on the table. Either way, this has to work on all platforms and work the same on all platforms. I prefer the Band, but others will likely want Fitbit too.

I heard w10m has now a feature which allows third party apps to plant their own commands (like gatt) inside the os. MS could just assist fitbit to further unite the app and the os.

I'm pretty sure windows 10 does support GATT...
https://msdn.microsoft.com/en-us/library/windows/apps/windows.devices.bl...

According to the article, only the client side, not the server side.

@MikeSo. To be fair, the way the page is structured it does appear to be supported in W10. Unless it was deliberately omitted... I doubt that is the case as a)that would be completely against what Microsoft has been doing in the developer side I.e using the same tools as devs and not using the special tools for their own apps and b)imagine the out cry... Lol. However less than a few hours to go... So who knows.

Is it a deal killer? That's a per person answer. The logical answer is the Gen 1 band will do everything the fitbit surge will do plus provide the notifications, has Cortana support, is customizable, had a colored screen, can be argued that's it's more comfortable AND is $115 cheaper as of this post. All things considered....Yeah those are deal breakers for this guy.

Vote for GATT support here: Windows-Feedback:?contextid=375&feedbackid=bd1684e8-2da6-4e85-8875-365818c6ce51&form=2&src=2

So Microsoft is the slow one holding everything up. What a surprise /s

Can't blame FitBit for this. Most likely MS's fault here. For all its benefits, WP mobile is really a third class citizen with not much improvement on the horizon.

My notifications are so unreliable with the Microsoft band now, so not a deal breaker. They worked great for quite some time then all of the sudden they randomly work. I may get a notification hours later. Frustrating as it was the notification that initially sold me on the band.

Fitbits and bands are nice and all but I want a smartwatch for Windows. Not a fan of the physical appearance of the band or other similar devices. I am glad to hear Fitbit/Microsoft working on a solution together. Shows they care for their customers. I'm hoping Microsoft pleasantly surprises us with the unveiling of a smartwatch. But I won't hold my breath since nowadays we get to see leaks before the actual products are released and 'secrecy' just seems almost impossible. Posted via the Windows Central App for Android

Lack of GATT sounds very similar to the response I got from my inquiry to Kwikset about their Kevo smart lock not having a windows phone app over a year ago. (still doesn't) See Below: Maybe someone with more tech knowledge than me could confirm. If that is the case it's not just Fitbit they are missing out on, and need to get with the program on these types of features if they ever want to compete. Kevo: "The Windows OS still supports a ONLY central role, whereas the iPhone OS has supported BLE both centrally and peripherally since the 4s. The Kevo also supports BLE centrally. 2 centrals can't talk to each other. So until Android releases the software that allows their OS to support BLE peripherally, they can't communicate. (which android has since released) Central vs. peripheral. This applies to the BLE connection itself. The device in the central role scans, looking for advertisement, and the device in the peripheral role makes the advertisement. To understand the distinction, imagine that you have a Windows phone and an activity tracker that is a BLE device. The phone supports the central role; the activity tracker supports the peripheral role (to establish a BLE connection you need one of each. two things that only support peripheral couldn't talk to each other, nor could two things that only support central)."

That's actually 100% correct in fact BLE is GATT, Bluetooth LE uses it for connectivity.

Thanks! So there are multiple peripherals that use this type of connection. iPhone has had this since the 4s and Android since at least a year ago. It is unfathomable to me that MS expects to compete without it.

They know the reason but they won't solve it .... Thanks MS

Microsoft slow and late to the party? No way !

Another thing bothers me. Win10M does not have implemented technology already in place on other platforms. So it's the same as for win8. Again! :-(

It would be cool but no biggie. I dont use that feature on my G4. Posted via the Windows Central App for Android

Can't wait to own a Microsoft Band 2...it's freakin SLICK!!

Notifications are not a deal breaker for Fitbit since they are an established player. They are for W10M though since the users would be moving from Android or iOS, which already support notifications.

Deal breaker for me. It is so nerd-tastic that I can get a text on my MS Band and reply using my band. When I'm at work, I love seeing who's calling me. I also like how I can set an alarm and have my Band notify me when the alarm goes off. So useful!

A little more than a year later, and there was some movement on this issue. Apparently GATT Server support was announced for "a future update" of Windows 10 Mobile back in November 2016. Apparently it came to fruition in a recent Insider build. It seems likely that it might make its way to regular users with the Creators Update. With any luck, Fitbit will still be interested enough in the platform by then to be willing to adopt it.