Will Resident Evil 3 have first-person?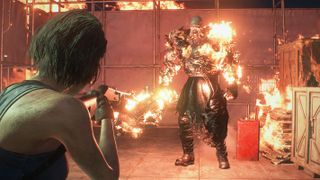 (Image credit: Capcom)
Will Resident Evil 3 have first-person?
Best answer: No. Resident Evil 3 is a third-person shooter similar to the classic version of the game. You'll be watching the action over Jill Valentine's shoulder for most of the adventure.Die zombies!: Resident Evil 3

(opens in new tab)

($60 at Best Buy)
How do we know it's third-person only?
It's understandable if you thought this game was going to have a first-person point of view. After all, during Sony's December State of Play, the teaser for the remake had you looking through Jill Valentine's eyes as she ran through a burning building and later had you view her bathroom sink from her perspective. This confused several people and had them wondering if the game would be in first-person rather than third-person.
It wouldn't be out of the realm of possibility either, since players had the option to play Resident Evil 7 in first-person and there are mods for the Resident Evil 2 remake that introduce this ability.
However, a little while later, during Capcom's Special Developer Message, it was confirmed that the game would only be using the classic over-the-shoulder third-person camera that's been used in many recent Resident Evil games. This is more in line with the classic version of the game, which also was in third-person. Additionally, this view will help you get a better view of Nemesis or the oncoming zombies whenever they grab Jill or throw her around.
What's the main story in RE3?
You play as Special Tactics and Rescue Service (S.T.A.R.S.) officer Jill Valentine, who must escape the zombie-filled Raccoon City. However, it's not going to be easy considering that The Umbrella Corporation has sent a powerful super-soldier known as Nemesis out to kill you and your fellow officers. He's fast, intelligent, has tentacles, and wields a large gun. As you play through the game, you'll encounter this biological weapon time and time again. You'll have to see if you and the others can escape the city safely despite Nemesis' attempts to take you down.
Die zombies!
Survive being hunted

A biological weapon known as Nemesis is out to get you and your fellow S.T.A.R.S. officers. Will you be able to evade him while attempting to make your escape from the zombie-ridden Raccoon City?
Windows Central Newsletter
Thank you for signing up to Windows Central. You will receive a verification email shortly.
There was a problem. Please refresh the page and try again.