Windows 10 10041 preview build gets bug fixes, rolling out to Slow ring members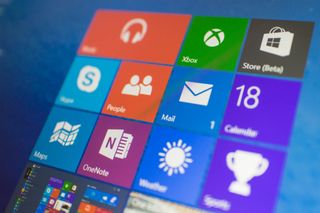 Microsoft is rolling out three updates to the recently released 10041 build of the Windows 10 Technical Preview. That same build should also be pushed out to Windows Insider members that are on the Slow update ring later today.
One of the three updates is designed to plug a security hole in Windows 10, specifically the one that "facilitates exploitation of the publicly disclosed FREAK technique." The other two updates are to fix some issues in the 10041 build. The bug fix list for the first patch, as outlined in the KB3050284 support page, is as follows:
This update resolves a problem that may result in a transparent Start screen and Task view, transparencies when snapping or dragging windows, and can cause desktop thumbnails to appear as black squares.
This update resolves a problem that results in severe graphical artifacts on screen when Magnifier is launched in docked or lens mode.
This update contains a reliability improvement to resolve a common system crash.
Here are the issues that have been fixed in the other patch, under the KB3050279 support page:
Sharing the desktop in a meeting causes remote users to see a black rectangle instead of the desktop in the Lync client.
On Microsoft Surface Hub, selecting the I'm Done button may cause the user interface to crash, thus making the Call, Whiteboard, and Connect buttons nonfunctional.
If the Connect app is closed via the task switcher and then restarted, it may crash
Source: Microsoft (1 (opens in new tab), 2 (opens in new tab), 3 (opens in new tab)); Via: Gabriel Aul (Twitter)
Windows Central Newsletter
Get the best of Windows Central in in your inbox, every day!
Windows Phone flagship owners continue to wait patiently

Gabriel Aul @GabeAul
@mrmhk97 No news to share on phone build yet.

I'd like more new and improved features aside from just bug fixes...release date is getting close...

5-6 months is not close unless Microsoft wasn't to surprise us

Just imagine none of us were involved in this. Not knowing anything til it was released.

WP users aren't alone. Compressed OS tablet users can't still update either. Not fixed.

They released the iso file, so you can use that to update to Windows 10 (they unblocked the compressed OS systems).

Can't. Won't have any drivers if I use iso right?

I was able to update my wife's hp stream 11 which has the compressed os but I had to clean install it and take the boot off uefi and use legacy. It was from WalMart so I got rid of the bloatware and freed up some space due to smaller os size win win imo

Did you have all drivers working when updating from ISO? Or did you have to use USB keyboard?

Yea drivers worked for keyboard had to dl the drivers for the touchpad though but that just took a quick DL from the HP site.

Believe me, you would not want the preview build on your main phone. I have it on my backup 635 and it is buggy and laggy. I am hoping an update will fix that, but even still. I will hold off uprading my main phone till release.

It works fine with my Lumia 635 and it IS MY MAIN phone. The only serious problem I see is when it sometimes doesn't respond to the power button sometimes. There are some minor ones but those don't bother me none guess I just have more patience towards bugs.

Wow, I am impressed, as to you taking the chance on running Windows 10 on your main phone. Good on you. People like you, are going to really help Microsoft move Windows 10 for Phone forward.

Coming months/years, like the unicorn new flagship hardware.

And they will have to continue to wait patiently for another month. Seeing as Microsoft BUILD conference is in late April, I wouldn't be surprised if they are going to hold on to their new update in order to be able to demonstrate some of the new features during the keynote :P.

What do we call for this update? Fast ring or slow ring?

This means .iso shuld be available soon?

What exactly are iso files??????Are they direct link to install the build

ISO files are disc images, allowing you to create discs easily they can also be digitally mounted to a digital drive, instead of burning to a disc.

Native ISO support is still one Windows 8's best features IMO. You can mount them which is very useful for installing builds.

"An ISO image is an archive file of an optical disc, a type of disk image composed of the data contents from every written sector on an optical disc, including the optical disc file system.[1] ISO image files usually have a file extension of .iso"
Thanks to Cortana and Wikipedia.
This ISO files can be burned on a CD or DVD.

Thanks @F3rzz and Elitewolverine

If you have an ISO you can right click on it and have an option to instantly burn it to DVD (assuming you have a DVD burner... and a blank DVD on hand). Or, if you are running win8/8.1 you can right click on the ISO and mount it to a virtual DVD drive and use it just as if you had a DVD in your system. For those wanting to do fresh installations rather than an upgrade, or installs on computers with no/limited/slow internet connectivity, ISOs are wonderful.

They are wonderful. But DVD's are old hat - USB is where it's at for ISOs these days :D

Yes, Gabe confirmed this on twitter.

My 1520 is tired of waiting for a build. Gabe said "later this week" for like 3 weeks now! Smh

You're right! Clearly there's no way that unfinished software could have unpredictable behavior on different hardware! I'm sure the whole company is totally ready to release the stuff on all the phones, and they'd rather just piss us off.

It's because of all of those jerkwads pissing Gabe Aul off on twitter with their whiny rude tweets

What about people and mail apps launch errors? Are they fixed now?

I was wondering the same thing. Seems odd that they would release this to the slow ring with such a glaring bug, but you would think they would mention it.

I just finished installing (I'm on show ring despite many folks here) and the problem was there. Fortunately the workaround was easier than I thought.

Still need to wait.​It is waitsoft.

I am still struck on build 9926. It is not updating to Build 10041 for me.. :-(

Had the same issue till this update when it finally had no errors and updated everything. :) Try a fee more times after a restart.

Windows search doesn't work for me in this build, hope this resolves it!

The day after I had trouble printing a project due the next day!

Why would you use an unfinished operating System to do something like that?

I'm pretty surprised they consider 10041 to be stable enough for the Slow ring, personally. That might be slightly colored by the fact that I can reproducibly crash the start menu just by scrolling down to F in 'all apps' though.

That is certainly annoying, but I doubt that is a common issue. For my laptop the 10041 build is much more stable, with far fewer WiFi issues (still having problems with my school's network), and my screen orientation works again! I imagine that even with problems it is a much better build for most people than the last one.

It's common enough that there's 5 or 6 Feedback posts about it, and a handful of posts on the Microsoft Insider forum. But yes, it's obviously not affecting everyone or they wouldn't have released this build.

Not even available on Fast Ring at the moment for lots of users due to some reason or other.

1) try doing any available normal Windows Updates first, there was one a few weeks ago that enables you to install the new build.
2) switch to the other right, reset, and then switch back. This seems to have helped my laptop get the update.
3) My desktop crashed while installing the update, and after resetting the device it reverted back to the old build (quite gracefully!), and then the new build would not show up for me any longer. I decided to attempt a Refresh in the Windows Recovery options to reinstall the old build and attempt the move to the new build again, and when the refresh was completed I found that it refreshed to the new 10041 build. Not sure any of those will help, but that is my 2 cents.

Thanks, I've tried many things but no joy. It's downloading now though, since the slow ring has been included today.

This preview has breathed new life into my older HP media center laptop and has actually improved its performance! Very nice even with the bugs!

Agreed! Hate to say it, but "It seems faster" and is also a lot nicer on battery life than the last build was.

Liking Windows 10 alot so far!

I liked the transparent Start menu. I'll be leaving feedback to ask for that to be an option.

I wonder when they'll bring back charms, dragging in apps from the side and removing the task bar in "tablet view".

They hardly have anything ready for tablet view.

Probably never. The "we want it to work like XP" crowd were very loud.

I think desktop view should work as expected by that crowd, and that is progress for the OS. But... that... on my Surface Pro 3 without keyboard attached???? Surely there needs to be something designed for "touch first" when using the OS with no mouse or keyboard.

I'm testing on a Vaio 2in1, can't see so much difficult yet.

Tablet Mode is what you are looking forward to. That feature is far from finished in the public builds they have available now. The foundation is there but it really doesn't do anything besides make all apps launch in full screen mode. There was a strong emphasis that this technical preview was going to be focused on desktop users heavily and that has been the case since October.

100% true. Lets not forget this is a "Technical Preview" not a consumer preview. You're right. I do home the build starts to show direction for tablet users, only a few months before the supposed release date, right?

Yeah theres a lot of questions I have lol, will they continue with the technical preview description after BUILD? or move forward and call it Consumer preview? idk so much things up in the air. It has been suggested that they might even leave out the full tablet mode feature until it goes to RTM. I think we'll know everything by Build (april 28)

Is this buggier than 9926?

Yes and No. But its Better.

In my opinion yes I have no start menu at all since doing this update and the updates today don't fix it.

Go to tweaking.com, download windows repair tool, and select only windows 8 store repairs (i think there are two), that worked for me.

Now I'm just waiting for a new phone build that supports the Lumia 1520.

Completely busted my Toshiba Satellite p845t trying to update to 10041. It was dual boot and when it did its first reboot, nothing. No boot menu, no display, nothing but 3 indicator lights on the front of my laptop. I'm worried because I can't remote to my office now. Not real sure about my recovery partition at this point.

It's entirely your own fault. Even dual-booting was not recommended by microsoft. Hence, spare machine.

Thanks Capt Obvious. No one is disputing it was me and I'm sure I'll fix it. My post is directed at technical professionals that visit here who might have seen this before and have suggestions. It is how technical types resolve issues. Not for wayward android lanyards like yourself.

Wayward android lanyards? What the heck are you even talking about? You certainly seemed to simply be complaining, not "directing" anything to anyone.

Ha. Sure as hell not talking to you. I said technical professionals, not professional judgmental mental cases.

For someone looking for technical professionals, you are in the wrong place. Forums are the way to go. Not front page discussions...

Maybe you're right about this blog. I've been here a long time and it used to be a place where tech types would show up and exchange ideas and information. Now its just a place to trade insults and degrade bloggers and developers alike. Almost 24/7 lately. Props rxc31

I'd be reaching for Hirens Boot CD (or your bootable recovery tool of choice) and seeing what state my partitions are in...

I have Hirens and another recovery CD in my tool kit. I'll get on this sometime today. Thanks hotphil.

On Microsoft Surface Hub, selecting the I'm Done button may cause the user interface to crash, thus making the Call, Whiteboard, and Connect buttons nonfunctional.

dang that's my issue...

Anyone else having WiFi problems on win 10? Or is that my hardware?

Problems. Can you please be more specific?

Intermittently dropping connection :/

I definitely have been. Different things, like being unable to connect to networks, or the 5GHz band intermittently not functioning on my wifi adapter (it's an older D-Link adapter, but a brand new Netgear router). Actually rolled back to 9926 because of it (and then some problems still persisted). Drivers had been working on 9926 prior to 10041. Still troubleshooting it, though :-\

Really thats it? What about fixing the search bar when using small taskbar icons?

Maybe it's not high on the "fix list"

Lovely OS... Windows ten is amazing

Huh? Transparent Start was a bug? I though it was a feature... I actually loved that

I believe it was that apps were showing in the transparency, instead of the wallpaper. I think they talked about it being an issue because certain apps (like a maximized one with large white space) was making text hard to read on a transparent start menu. So I think this fix is to make only the wallpaper show in the transparency, rather than apps.

Another bug was that it does not fit into the screen or on the bottom of the screen is unreadable

A litke fast for the slow ring...i can't even get the start menu to open

So what is the difference between slow and fast really? Are there any bugs fixed in the build for the slow ring or is it exactly the same, just later?

I'm still not getting warm with this build. Really, is this what we are supposed to get in summer? Please, only right-click desktop - personalize - colors - choose yellow, your task bar makes you vomit. Additionally, this setting doesn't exist on phones, while accent color is missing on the desktop (this is not the same!) So, where is UI convergence going? Where is something like a WYSIWYG theme-like personalization? Why are modern apps still rendered with a gray head? Where are transparent tiles? And why aren't we getting feedback on feedback? Lot's of UI headaches...

It doesn't make sense....
Why are they too slow to release builds for slow ring, but fast ring receives builds faster... Unfair
Windows Central Newsletter
Thank you for signing up to Windows Central. You will receive a verification email shortly.
There was a problem. Please refresh the page and try again.