Windows 10 Anniversary Update adds over 52,000 new emojis, including NinjaCat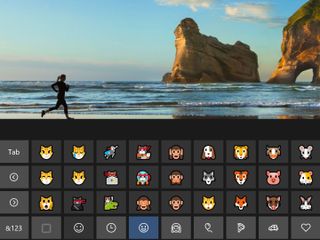 Microsoft's just launched Windows 10 Anniversary Update is a huge one for fans of emoji. A new report says that the company has added over 52,000 new emojis, along with other new features.
Emojipedia says this huge number of new emoji is due to the massive number of different family combinations that are now possible, including single parent family, interracial families, and couples and ones that have a baby:
All the emojis in the Anniversary Update have been redesigned for a new and crisper art look. In addition, it adds 72 new all-new emojis included as part of the Unicode 9.0 release.
Oh, and versions of Windows 10's (unofficial) mascot, NinjaCat, are included in the new Windows 10 Anniversary Update, along with some variants:
More Windows 10 resources
For more help articles, coverage, and answers on Windows 10, you can visit the following resources:
Windows Central Newsletter
Get the best of Windows Central in in your inbox, every day!
Still no flag emojis. Also, Edge is inconsistent with them; some sites show the old emojis while other sites show the new ones.

Probably because some sites use Google technology while others use standards. The latter works better.

Shame I'll never get them

Hope we get a consistent experience with the next update. Still missing the flags emoji set + some of the new emoji proposed by Apple, and certain apps such as MS Edge fail on rendering them all.

Why would Microsoft put emoji **proposed** by Apple and not standardized by the Unicode Consortium into the character set? Apple is now the sole decider of what is in the standard? And why has Apple not put the ninja cat emojis in iOS 10?

Well that's the funny part. I message my friends on iPhone and they see completely different emoji. Android typically has similar ones.

The design of how they appear is up to the company writing the code to render the codepoint. The Consortium just says what the general design should be - a smiley should look like a head smiling. There is also the PUA (Private Use Areas) in the Unicode standard that allows companies to define their own symbols that are not standardized. For example, Apple may use codepoint U+F0000 for the Apple character, Microsoft may use U+F0000 for the Windows flag, Google may use U+F0000 as the Android mascot. Just because Apple uses them it does not mean that all other companies should, too. In fact, other companies using them would cause problems for the Unicode standard, making some characters de-facto standards that will impede the use of those PUA codepoints by other manufacturers.

Right but the standard says it has to be something similar but they show up completely unrelated while on android they show up fine.

First off, while being a brand-specific emoji, ninja cat still renders on other devices in its separated form. In a perfect world every standard emoji would show up regardless of the platform. The ones Apple proposed aren't brand-specific so there's no reason at all not to support them. Also don't forget MSFT was the first one to support both Unicode 9 and (yet-to-be-approved) Unicode 10 emoji. ;-)

There are many Apple only emoji that only show up on Apple devices. I have iPhone, Android and Windows Phone... Emoji render different and in some cases do not render at all. Posted via the Windows Central App for Android.. But waiting for the HP Elite so I can get rid of this junkie Galaxy S5...

Is the middle finger emoji there? I can't seem to find it on mobile.. :(

Type "**** You" in the text window and it will show up.

Seriously? Who gives a sh*t about emojis

Me lol I did feedback on them a few months back. Lol

Me, also. An emoji speaks hundreds of words.

Only if they are clear and large enough to read. There are many I nuke and replace with their corresponding words because you can't see enough detail. Many of the smiley emoji look too much alike to bother with.

And let's face it, emojis on Windows are just hideous... And in general emojis are cool if you are idk, 15 years old tryin to get some... Lol

Actually, I like emojis, but I don't wanna use it too much ;)

I think it's large enough, except if you want them to be as large as WhatsApp emojis, and you can make it even larger by setting your phone's text size to L, or even XL.

I think that's hilarious -- we have an expression, "A picture is worth a thousand words." So if in emoji is only worth hundreds, that means it's not quite a picture. That sounds about right.

Kids I guess. Why do you even need emoji in Windows?

The family combinations are not available on the keyboard though.

Yeah, how do you even use them

You can't. Windows doesn't add the ZWJ characters between the people emoji to create these families. It does for the Ninja Cat ZWJ emoji, but not for families.

Then why did they even advertise them in the emojipedia post lol

Sending the ninja cat to iPhones and Androids come out weird.

They're combinations of other Emoji, just like the families are.

Dear Microsoft (Insert WGF emoji here)

The official logo? "Coming Soon™"

That is so old... What company doesn't have coming products?

The copy/paste complainers have no originality

For the slightly more rare/obscure emojis that you usually can't find in the native emoji board (or with typed out words/phrases), you can use an app like Emoji Viewer to view and copy them to the clipboard.

Over 52k emojis? Well that's it then. Windows as an operating system is 100% complete now.

Even complete if Continuum supports native x86 apps.

You will enjoy this update more if you have windows tablet and phone

waste of space, I would rather have the lock screen cover back instead

ios added 100 new emojis ,and apple fanboys happy with it ,what a joke

Maybe because Apple users aren't a bunch of kids that go around putting emoji's in every text they make.

First of all, thank you Windows central app for suddenly change the article i was and deleting the comment i was writing. Now... the title of this article should be "Windows 10 Anniversary Update redesigned and added uo to 52,000 emoji, including NinjaCat" Apple already got all of this, except ninjacat, and in it's more popular design. PS: This new design is GORGEOUS, good job Microsoft, especially considering the hideous old ones.

I'm so glad that we have so many new emoji's, that's much better than actually having Cortana available on my Xbox One. /s

Not useful. Still waiting on word flow keyboard for Windows.

Eagerly waiting for it, too. Has it even better since WP8.1? I missed so much since I left WP8.1 :/

Is this really necessary?

Still waiting on those damn flags. It's really not that hard. Posted via the Windows Central App for Symbian

Although this is great, flags Microsoft would be even perfect!

Cannot even post ninja cat on the comments, do to possible spam, witch you are not even told about in the app.. you get no errors.

How is it that just the family ones bring it to 52000? Are there either emojis like that besides the family ones? Posted via the Windows Central App for Android

Took me forever to figure out what cat was what.
Windows Central Newsletter
Thank you for signing up to Windows Central. You will receive a verification email shortly.
There was a problem. Please refresh the page and try again.