Microsoft is building a new app store for Windows 10 in major revitalization effort
Microsoft wants to bring life back to the Store app on Windows 10.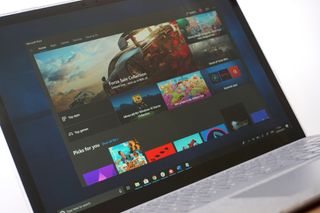 (Image credit: Windows Central)
What you need to know
Microsoft is working on a new Store app for Windows 10.
The new Store will feature a new UI and big policy changes for app developers.
It's part of a larger effort to revitalize the storefront on Windows.
Microsoft is working on a brand-new Store app for Windows 10 that will introduce a modern and fluid user interface, as well as bring changes to the policies that govern what kind of apps can be submitted to the store by developers. According to sources familiar with the matter, this new Store will pave the way to a revitalized storefront that's more open to both end users and developers.
It's fair to say that in the last couple of years, the Microsoft Store app on Windows 10 has fallen by the wayside. The app today is slow, unintuitive, and frankly kind of ugly. It's just not a great app store for users to navigate, but that's all going to change with the new Store that Microsoft is working on.
It should come as no surprise to hear that the new Store app will follow the same design refresh that the rest of Windows is following with Sun Valley, which is expected to ship towards the end of this year. Many in-box apps, including this new Store app, will be reinvigorated with new layouts, WinUI designs, iconography, and fluid animations.
The new Store will continue to be a UWP app, and will be updated on a monthly cadence with new features and improvements over time. It should also provide a more stable download and install experience for large apps and games. Furthermore, in addition to the new storefront, Microsoft is also planning to relax some of the policies around what kind of apps can be submitted to the Store by developers.
According to my sources, there are three big changes coming to the new Store that will benefit developers:
Allow developers to submit unpackaged Win32 apps to the Store
Allow developers to host apps and updates on their own content delivery network (CDN)
Alllow developers to use third-party commerce platforms in apps
These changes will allow developers to bring their Win32 apps to the new Store without any changes to their existing code. In the past, developers were required to package their Win32 apps as an MSIX, and were forced to use Microsoft's own store-driven update and commerce platforms. This will no longer be necessary with the new Store.
Breaking down the new policies
Microsoft will allow developers to submit raw .EXE or .MSI packages to the Store, and even allow those developers to host the app and push out updates via their own CDN. This change will benefit developers with apps that have a built-in auto update feature, such as Firefox or Zoom, giving them control over how and when app updates or other content types are pushed to their users.
Finally, Microsoft will allow developers to use their own in-app revenue streams, bypassing Microsoft's own commerce platform entirely. I'm told that Microsoft will not take a cut from app developers who do leverage their own in-app commerce channel, which I believe would be an industry first.
Microsoft wants to position the Store as an open platform that allows for the best apps on Windows to be easily discovered by users. Apps that were turned away in the past for using their own update or in-app purchasing systems will now be allowed. These changes should allow apps like Google Chrome or Adobe Creative Cloud to be discoverable in the Store, though time will tell if these developers actually come.
Interestingly, I'm hearing that with the introduction of the new Store and policies around it, Microsoft will finally bring many of its first-party apps to the Store, including Teams, Office, Edge, and even Visual Studio. This move will hopefully show end-users and developers that Microsoft is serious about its new Store platform, and that it's an important part of Windows.
I'm told that Microsoft will ship the new Store in the fall, likely alongside the Windows 10 Sun Valley update that's scheduled to launch around the same time, though I believe the new Store will be backported to older versions of Windows 10 too. Microsoft will likely announce its plans for the new Store at Build 2021, with a public preview following soon thereafter.
What are your thoughts on Microsoft's new Store plans? Let us know in the comments.
Get the Windows Central Newsletter
All the latest news, reviews, and guides for Windows and Xbox diehards.