Windows 10 build 16257 and Mobile build 15237 now available for Insiders
Two new Insider Preview builds are now available for Insiders in the Fast ring on PC and Mobile with new features and enhancements!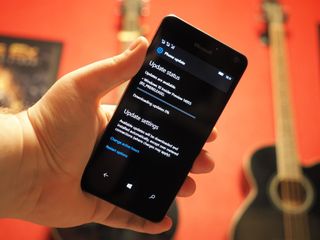 Microsoft is now rolling out two brand new preview builds for Insiders in the Fast ring on PC and Mobile that include a number of new bug fixes and enhancements, as well as a couple of additional new features. Today's builds are 16257 for PC and 15237 for Mobile!
What's new for PC?
Eye Control (beta): This experience requires a compatible eye tracker, like the Tobii Eye Tracker 4C, which unlocks access to the Windows operating system to be able to do the tasks one could previously accomplish with a physical mouse and keyboard. We are starting by supporting the EN-US keyboard layout, and we are looking to expand to more keyboard layouts in the future. We are excited to release this experience as a beta and would love your feedback!
Eye Control launchpad – When you turn on Eye Control, the launchpad will appear on the screen. This allows you to access the mouse, keyboard, text-to-speech, and to reposition the UI to the opposite side of the screen.
Eye Control interaction model – To interact with the UI for Eye Control, simply look at the UI with your eyes until the button activates. A visual affordance will appear around the UI that you are looking at.
Eye Control keyboard – To use the keyboard, select the keyboard from the launchpad, and dwell at the characters you want to type. You can type numbers and symbols on the &123 page and function keys on the Fn page. We currently support the EN-US keyboard layout.
Eye Control shape-writing – Type faster with your eyes by shape-writing on the Eye Control keyboard. To use shape writing, turn it on from the keyboard settings (found on the Fn page). Once it is on, you can form words by dwelling at the first and last character of the word, and simply glancing at letters in between. A hint of the word predicted will appear on the last key of the word. If the prediction was incorrect, you can simply select an alternative prediction provided.
Eye Control text-to-speech – Communicate with your family and friends in person by using text-to-speech. To use text-to-speech, select text-to-speech from the launchpad. From here, you can use the keyboard to type sentences and have it spoken aloud. At the top are phrases that are spoken aloud immediately and can be edited to say different words. This uses the default text-to-speech voices, which can be changed in Settings > Time & Language > Speech > Text-to-speech.
Eye Control settings – Access settings from the Fn keyboard page to adjust the dwell times, turn on/off shape-writing, and turn on/off the gaze cursor used to test hardware calibration.
We're giving Microsoft Edge a refreshed and more modern look in the browser frame, inspired by the Fluent Design System. The use of Acrylic material provides depth and transparency to the tab bar and other controls, and we've improved button animations to feel more responsive and delightful."
Based on your feedback we've adjusted the design of the address bar so now even if the address bar isn't in focus to start with when you click and drag the text it will remain under the cursor. Previously the text would shift as the "http://" appeared – this change will make it easier to quickly edit parts of the URL.
We fixed an issue where right-clicking on an image in Microsoft Edge and selecting copy then later pasting the clipboard content would result in the image URL being pasted rather than the image itself.
We fixed an issue where if a tab had been opened while Microsoft Edge was in full screen mode, using Ctrl + W to close that tab while still in full screen mode would close the content but leave the tab in the frame.
We fixed an issue where if you had two unrelated tabs in Microsoft Edge and opened a link from the first in a new tab, the new tab would appear to the right of the second tab rather than the first.
What's new for Mobile?
We made some improvements to the Field Medic Store app, where we fixed an issue with collecting Watson crash data, enabled spell checking when editing a report, and updated the PowerOn/PowerOff profiles to include additional battery info.
We fixed an issue where the screen would occasionally flash black after launching or rotating the Camera app.
We fixed an issue with the HP Elite X3 reporting that the SD card had been removed from the device when it had not.
We fixed an issue with Continuum where, after the attached monitor is unplugged, occasionally the mobile LCD does not power off and the mobile battery could be drained.
We fixed an issue with the Windows inbox NFC driver where occasionally the wrong card type data was reported.
We improved the Cortana resume-from-suspend behavior to enable a Cortana skill to be authenticated before the user interacts with the skill.
We fixed an issue with the behavior of the hardware search button in countries where Cortana is not available. In this case, the OEM provides the search app or URI.
You can check out the Windows Blog for the full changelog, including a list of known issues!
Get the Windows Central Newsletter
All the latest news, reviews, and guides for Windows and Xbox diehards.
Zac Bowden is a Senior Editor at Windows Central. Bringing you exclusive coverage into the world of Windows on PCs, tablets, phones, and more. Also an avid collector of rare Microsoft prototype devices! Keep in touch on Twitter: @zacbowden.
pc zzzzzzzzzzz unless you have eye control accessory. mobile zzzzzzzzzz

The PC will now start controlling your eyes. Scary.

No, it's the other way around. What you mean is tracking.

Giving paralyzed people the ability to use a computer is pretty darn exciting IMO.

"We've adjusted the design of the address bar so now even if the address bar isn't in focus to start with when you click and drag the text it will remain under the cursor."
Finally! Whoever came up with the original design deserves a good slap in the face.

I will sleep better tonight :P

Whenever I clicked that bar I would think 'fking sht they don't even use their own browser, this can't be happening!"

The Alcatel Idol 4S needs this mobile fix - "We fixed an issue with the HP Elite X3 reporting that the SD card had been removed from the device when it had not". Wondering if the new Alcatel Idol refresh version fixed this issue....

Stuck on PC at 77% for the last 2 hours.

It will appear to take a while but should go through. The update staging was changed recently so the majority of the upgrade is done prior to rebooting, in order for the pc to be offline for a shorter time.

That screws up RDC. Now you have to login to complete the update. RDC is inop until it is done. So, if you start the update via RDC, you have to wait tll you get home to complete it.

Anybody update their lumia 930 to creators update of later? How's the maps app performance. I downgrade mine to anniversary update because of the maps performance.

@nufcfanatic, Yes. I've been running the CU on my Icon (Verizon version of the 930) since it came out. Works great for me. First version of Windows 10 on my phone that I can say feels "finished" (still has some default zoom issues with mail, but very minor). Maps works great, at least in the US.

Seems that Fluent Design is missing on Edge for me. Anyone Else?

That eye stuff is SO exciting. Think of all the paraluyzed people being able to surf the web, watch youtube videos, download, play games, speak to their loved ones, stephen hawking it out etc - that's a gift that is beyond any earthly value. This is one of the reasons MSFT is such an amazing company - here it provides joy to those who cannot move, and with their eye scanning software on the pivothead (and I imagine eventually hololens type devices), it provides sight to the blind - enabling them to head, and see things. They are genuinely dedicated to using technology for good, and not just for profit. Its awe inspiring.

...sorry, Microsoft curing blindness with hololens? ...eh?

Blind doesn't necessarily mean you see nothing. It just means you don't see anything meaningful. Sometimes when someone can just barely make out something right in front of their eyes, putting a display there allows them to see by augmenting the person's field of view. It's actually ridiculously exciting that blind and partly sighted people can use Hololens in this way.

Blind doesn't necessarily mean you see nothing. It just means you don't see anything meaningful. Sometimes when someone can just barely make out something right in front of their eyes, putting a display there allows them to see by augmenting the person's field of view. It's actually ridiculously exciting that blind and partly sighted people can use Hololens in this way.

bub78, they have a tech they developed with "pivothead" that enables a blind person to use AI to describe what the camera can see, as well as read text. I imagine eventually this will be included in microsoft HMDs.

Agreed! Think of all of those with diminished hand coordination that can now be more connected, communicate easier. Imagine the frustration of those with fully capable minds with cumbersome communication. This could be huge! Also, all of the cheap, low-powered Windows 10 tablets now could be put to good use as communicators.

where is build 16XXX for mobile? Oh, forgot, mobile is on zombie life support, feature 2 branch, WP7.8-ish for fanboys to continue licking MS's @$$ :)))

You must be really fun at parties

They need to be invited to one first?

I'd love to see an episode of the walking dead with a zombie lying in a hospital bed on life support. It would be one of those weird double negative moments :P

featureless 2 you mean. Supposed fixes is all they get now...which i don't think fixes anything only the fanboys minds.

Wow! You showed us! Good one!! Also... what is "Zombie Life Support"?

Windows mobile.......for a "dead" os it sure gets a lot of support

Yes, both users will be thrilled to hear that.

I'm over the moon. Obviously I can't talk for the other guy ;)

That would be me. Personally, I'm upset that they still haven't given me an unlimited battery and 1 million more apps, and a zombie detector built into the OS.

Hey - count me in. That makes three! It's not fair though, that we don't get as much malware as Samsung owners (the only fork of Android that counts with more than 10% market share). Same for iOS. Only 11% global market share of mobile?

thats 10.99999999 % more market share than windohs mobile has....so that counts for something!

11% market share for the inventor of the modern smartphone ? Rather disappointing

Yours doesn't detect Zombies?? Are you on the latest insider build? Mine detects zombies and ware wolves. It's pretty cool and gonna get some serious use when next head to Transylvania :D

Yeah, but I'd kick his ass!!! Please don't tell him I said that.......

yes....I can see it's getting all kinds of new apps, features, etc coming to the platform....RT gets support too....so that means RT is not dead then?????

It's all good mate. W10M is getting updates, Dona Sarkar is hot, continuum still works, outlook has improved, Dona Sarkar is hot, Cortana keeps getting better, office apps are working fine and Dona Sarkar is hot. These are good times to be one of the 0.00000000000000000000000000000000000000000000000000000000000000000000000000000000000000000000000000000000000000000000000000000000000000000000000000000000000000000000000000000000001% Windows phone users. And did I mention that Dona Sarkar is hawt

Somebody PLEASE turn on the air conditioner for Dona....poor Dona...and Hansel...they are so hot right now. AC, 65 degrees, STAT!!!

Apple has a very big share of the troll crowd it seems

I'm VERY glad they fixed the screen goes black after using camera. It is so annoying. The only nag I have remaining now is Podcast app stability issues.

Which Podcast app are you using? I switched from the default app to the store app "Podcasts (beta)" by David Catuhe. It is obviously not an official MS app, but Catuhe is a Microsoft employee and he created the UWP Community Toolkit. The only complaint I have is that at times, duplicate episodes will queue in my playlist. However, this only happens with a few podcasts and may be a result of them republishing the episode. Give it a try!

Thanks for the tip! I tried it, but have decided to stick with the original Podcasts app. I wasn't happy with the audio quality and the buttons were too small.

This is a nice build for Windows 10 Mobile. Heat problem when using maps is gone now. And lock screen is much more faster. Camera flash fix is also important. Feature2 branch is like a background fixing zone. I think we need some speed improvements for app start times (Especially for Facebook and Messenger apps) Hope next builds includes some enterprise features like they mentioned before.

Update bug for apps on SD card not fixed...

Phone is in maintenance garage.

I'd call it life support.

Owning a Windows 10 mobile is a bit like owning a Mac. Very little marketshare, virtually no apps (you can't even find Netflix or Youtube! in the Mac App Store), you have to use the browser for everything, pretty much ignored by their owner but people still love them. Of course, Windows 10 mobile isn't as expensive as the Mac.

To me that's a good thing. I'm happy with the feature set. Fixing bugs is all I need. Stability to me is more important than new features at this point in mobile.

my windows phone is broken after the last build, cant update apps on SD card. annoying

I have the same problem! I have to move them to the internal memory, update them and then move them back to the SD.

Contarary to MS claim and the allowance by MS to install some apps on the SD card, they have not perfected the technology...Error free interface to the OS does not exist when app intalled on the SD card... My last three SD cards were bricked and useless because I used to install apps on my L640 which has limited ROM storage. I never install app on SD card since! And that forced me to buy L950 with 32 GB of ROM.

Finally! Since i use continuum every day, this issue made me super frustrated almost every time i took my phone from the dock. I hope this release will become an official update really soon, 'coz i'm kinda afraid of any new issues of the"insider" releases, so i only stick to the official updates

P.S. - i've just registered here and was unable to drop my comment thru WinCentral app on my hp elite x3, so i had to use Edge.Thought someone should know bout the issue with the app

WC app has been problematic for a while it seems (mobile too). Can't get the Send arrow at right to work, and on Edge I just get gibberish after hitting Comment. Need to do this in IE...??

Seems like a self destruction of WC app!? Or beginning of its retirement from Store!

You might be using the old app. The new one works fine for me. You can tell the new from the old because the new has a hamburger menu in the upper left and they have sorted article types in a ribbon at the top.

i wish they fix the following:
1) 5GHZ network connectivity sleep
2) flashlight
since they in no mood for new features they could and should fix this man too irritating

What is your flashlight doing (or not doing)?

on my 950 if screen is locked and do not enter pin, flashlight will turn off after 10 seconds when screen turns back off. that can be annoying.

Same problem on my Lumia 950 :(

WOW!!!! The camera bug that cause the camera to take about 30 seconds to launch or launch with a blank screen with the Idol 4S has been fixed!!!!!!!!!!!!!!!!!!!!!!!!!!!!!!!!!!I I missed so many moments when the camera would utterly fail! It opens almost instantly with the camera button from a locked screen. It feels like a new phone now! Thank you Microsoft! 100% serious!

If i enroll in insider does my windows activation is still there if i revert to the public version?

Yes, it doesn't affect activation at all.

Hey Microsoft, can you now fix the Bluetooth issues on W10Mobile? Music cuts out. Fitbit Blaze and Charge 2 have sketchy connections (at best). Two or more apps can't use Bluetooth at once without blocking the other (music + workout coaching). GPS turn by turn directions rarely work on any car's radio. Notification area Bluetooth toggle gets stuck,

The mobile build is AWFUL!! It broke the ability to update apps that are stored on the SD card. The workaround is to move the apps to the device, update, and move back, but I can't do that because I had to replace the SD card. So, any apps that were on the SD card are dead - I can't use them. A hard reset might fix it - ridiculous.

how about finally fixing the issue where my 950 is on the verge of melting down because I'm viewing a web page on it

At least, they could deliver one new feature to mobile, which is the night-mode toggle! It shouldn't be that difficult, considering the small number of supported devices today.

I have not been able to update apps since the last build. Phone updates work ok. Anybody got any ideas on this issue. They error out before they start downloading, but they give the file size to be downloaded.

I am just glad I fooled my ICON in to thinking it is a 950 so I can keep getting the updates. I like being on the insider ring and see how it works on this phone.

Can't believe they released 16251 to Slow Ring. Edge is still almost unusable, regularly closes down without warning, and after a period of time right-click stops working. Still happening in 16257, over 400 reports on the feedback hub going back to 14393. Really don't want to go back to Chrome, but may have no choice.

I just downloaded the latest insider build for mobile, and did a hard reset.
Everything is fine except I cannot download keyboard layouts and dictionaries.
Does anyone know how a fix? Thanks

After this build for Windows 10 Mobile, now we can see an option in windows insider section with "skip ahead to the next windows release" choice. Feedback App for Windows 10 Mobile also updated and there are some new information about this change.

The mobile build is showing consistency. Absolutely no new features at all.

But...but . I thought W10 mobile was dead ? Hahaha. Keep on the good work MFST .

for some reason i seem not to be able to get this. currently on fast ring and version 10.0.15063.138 :/ anyone else having issues?

Windows 10 Insider Preview Build 16257 erscheint nicht nur mit vielen Neuerungen, sondern auch mit mindestens einem gravierenden Fehler. Vor drei Tagen hatte ich das Build 16257 zum ersten Mal installiert und musste leider auf die vorherige Installation zurück, da mein Outlook 2013 nicht mehr starten wollte - auch nicht im abgesicherten Modus. Nach der Wiederherstellung der Vorversion hat es wieder problemlos funktioniert. Heute, nach der automatischen Aufforderung, das Update (Build 16257) zu installieren, habe ich es nochmal probiert - leider mit dem selben Ergebnis - Outlook 2013 lässt sich nicht mehr starten. Da ich täglich mit Outlook arbeite, ist das für mich ein Grund, kein Update mehr zu installieren, solange es keinen Bugfix dafür gibt.