Windows 10 can now connect to and show LinkedIn content via Cortana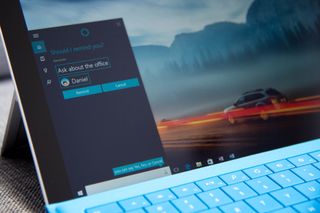 Windows 10 business users who want to stay up to date on the people they may be meeting for work have a new resource. The company has announced a partnership with the business-based social network LinkedIn that will give users a way to connect to LinkedIn's content and display it via its Cortana digital assistant.
Microsoft says that users can connect their LinkedIn account to the Connected Accounts in Cortana's Notebook. It adds:
In a separate blog post, LinkedIn says:
Thanks to our anonymous reader for the tip!
Windows Central Newsletter
Get the best of Windows Central in your inbox, every day!
Interesting. I'll be interested to see how well this works once 10 hits Enterprise heavy.

Yeah it looks really cool.

Does this mean they will update the ancient mobile app?

I hope so, it's awful to use. Needs to be revamped.

Honestly, it's the most useless fugly thing... I would *like* to use a linkedin app that's good. I can't stand the website UI either for that matter.

I hadn't visited the mobile site in a long time until the other day,but that's looking a lot nicer than it used to at least

Interesting. After my experience with both their app and mobile website on WP 8.1 (neither worked at all), I almost thought LinkedIn had given up on Windows Phone/Mobile.

I hope so. That app is WEIRD!

Hopefully they make it into a universal app.

Cortana can update linkedin with how much time you spend on reddit. In all seriousness this seems like a great feature.

No option to add LinkedIn accounts for me yet. I presume there will be an update ?

Blog article says "rolling out throughout the day", so give it some time

I hope LinkedIn will release a Universal app. They haven't touched their Windows Phone app since WP8 was released.

Well LinkedIn is now owned by Facebook and we all know who does the Facebook app. It looks like we would have to depend on Microsoft send they will only develop it partially just like Facebook if they do it.

Huh..? In which world did fb acquire LinkedIn...?? O_o

The deal never happened. LinkedIn, however, has made some acquisitions of its own.

Is this only enterprise editions? Maybe it was in the article and I missed it, in which case sorry.

I'm not seeing it on my work laptop yet... I guess it's not live yet? Sounds really cool!

I'm assuming by clicking on their names there will then be a notification that you checked out their profile.

All well and good. But MS expends the effort to rewrite the Mobile OS and launch two new flagship phones targeted at the Enterprise Sector but can't send 1 or 2 developers over to Linkedin to fix their horrendous and unstable mobile app. Really? Crickets chirping...

Thats's interesting....it opens up new possibilities....

Do phone 8.1 version has this feature? Or if I did this on my PC and it will appear on my phone too. But I won't be able to do it directly from my phone. They said Cortana get update on server side so nothing to do here

Does this mean LinkedIn contacts will now sync on WP 10?

Linkedin contacts already sync on W10M. If you go to Outlook.com > People... and connect your Linkedn account (i.e. the old way). If they ever update their app though, you'll have to do it the new way which is install the app so it can hook into the OS.

Post noted Windows 10 business users... That mean regular Win 10 users out of luck?

Not necessarily - I have Windows 10 Pro on my Desktop at home, and on my Surface Pro 3 and both allow me to add my Office 365 (Business) login to Cortana, so I am hoping/assuming it will be the same for this

Is that only available for Office 365 Business? I've got Office 365 Home.

Connecting your office 365 account under connected accounts in Cortana is only for the business version of Office 365 (Organisation Account) But Cortana already uses your Microsoft Account, which Is what Office 365 Home uses anyway,so there wouldn't be a need to link it per se

It means Windows 10 Pro users. If you have Windows 10 Home it probably won't work.

I have Windows 10 Professional, but don't see LinkedIn as an account I can link to in Cortana.

Now how about a ln update for linkedin

This is awesome...as a LinkedIn power user this is exactly the sort of productivity integration I want to see in Windows 10. It would be great to see office 365 home user integration as well

I think they didn't include Office 365 Home because Cortana already integrates with Outlook Mail and Calendar apps and the People hub.

I want the people app to integrate with LinkedIn as well. In case you're wondering...

It does already, at least my Linkedin contacts are showing. If you go to Outlook.com > People, you can connect your Linkedin account. That's the old way to do it though, and I'll assume that'll eventually be discontinued if Linkedin ever updates their app.

I have done that previously, but only the LinkedIn contacts that I have added more information to, such as a phone number, is present in the Poeple app. That's because an entry is created in Outlook/Hotmail when adding info. Most of the profile pictures are missing as well.

What is this Cortana thingy? Well I have a misfortune of living in a country with highest market share of Windows Phones so it must explain absence of Cortana and Bing being crap.

When in Canada? (no sarcasm)

I just tried this on my home PC, but didn't see LinkedIn at all through Cortana. Is this only available through Windows 10 Enterprise?

OH MY GOD! greatttttttttttttttttt

It might be worth contacting Microsoft/LinkedIn about this..considering it's 12 days since the annoucement and still nothing.

It would be nice if we can connect our LinkedIn contacts to the People app in Windows 10 Phone. That would be helpful! Also, what about viewing LinkedIn contacts in Outlook 2016?

I say this because I do not have Cortana in my market :(