Windows 10 'Continuum' mode for hybrid notebook-tablet devices shown in video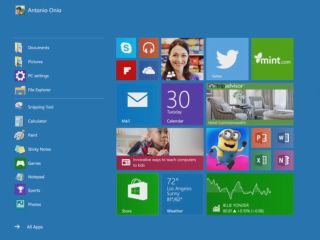 As part of its Windows 10 press conference today, Microsoft's Joe Belfiore showed off a motion study of a new touchscreen mode for the operating system that's being developed specifically for use in hybrid (notebook-tablet) PCs called "Continuum."
No, the new mode has nothing to do with that cool sci-fi TV series about a cop from the future who comes to the present day to stop a group of future terrorists. Rather, its a mode that will allow Windows 10 to switch in between a regular desktop and a full tablet experience for 2-in-1 devices. Microsoft posted the motion study of Continuum (with no sound) on its YouTube site to show it off.
Basically, if you have a device like the Surface Pro 3 that has a keyboard attached, the UI in Windows 10 will work in desktop mode. If the keyboard is detached, or if it flips around to show just the touchscreen, Windows 10 will pop up an alert asking the user to go into tablet mode. If the user clicks "Yes". the UI switches so that Modern apps that were working in a windowed mode now take up the entire screen.
More importantly, the Start menu can also expand to fill the entire screen, in a way that's similar to the Start screen in Windows 8 and in Windows Phone. It definitely looks like it will be a solid compromise for users who still want the freedom to use both touchscreen and mouse-keyboard controls.
The "Continuum" mode won't be a part of the Windows 10 Technical Preview when it goes live on Wednesday, but it's likely to be included when Microsoft launches the consumer preview of the OS in early 2015. What do you think of Continuum?
Source: Windows on YouTube
Windows Central Newsletter
Get the best of Windows Central in in your inbox, every day!
Don't want to see the taskbar or start menu when using touch, looks archaic. Otherwise looks good.

Also don't want to be asked everytime, hope you can tell it to do it automatically. Hope the app list on the left side of the start screen can be disabled too.

well, there is a "don't ask me again option when it pops up... so, i'd assume checking that and selecting yes "would" let it automatically switch, which is exactly what I want on my SP2...

Yes, they said that they are planning to make this (optionally) automatically.

Yep, exactly. Everyone needs to realize the presentation was for the Enterprise, they didn't go deep into features, that will be coming at BUILD in 2015. Even on the things that they did talk about, like the option to make it automatic like you mentioned, people are still jumping to conclusions (and mostly the wrong one).

You can. See the video at the 17 second mark. There is a 'Don't ask me again' checkbox on the popup.

Ok cool, watched the video on my 1020 small screen and didn't notice the option. I'm cool with all the changes provided MS allows options to configure how we want and keep it the way it is if that were the choice.

I kind of like the app list there on the left. Hopefully they give people the option to turn it off and on :)

I feel the switch from laptop mode to tablet mode should rearrange the start screen to be similar to WP, or WP will have to be redesigned to mimic the same look and feel. In that the start menu desing is PERFECT, except it should be a pivot, first screen is the pinned apps screen + the username power button/search button int he upper right. leave the charms bar, that is perfectly fine. Now swipe left, and bring up and apps list maybe one with additional options that can make it easy to expand details about and app etc, maybe utilize some of the screen space to give a store about/info page on the right hand side of the screen. But make the "usage/experience the same" in desktop mode the start button menu (as is, its perfect in the preview of W10) can be the same, one pivot of pinned apps, and little arrow or bigger (whaterver, similar to WP @ the bottom of the pinned apps) to pivot to the apps list. Control panel should be accessed via charms bar. Whatever I am ranting here, but i see a good oportiunity and I am actually excited to see this unification :) I think they are on the right path now :D I think this new feature is going to unify the UX experience much better :)

I really hope we will be able to disable the program list from 20 years ago. This is just ugly. I really love Microsoft and the great ideas behind its products, but they changed their philosophy just because of some people, who don't even try to understand the modern ui. Hope you can also decide if you want to have the Modern UI like on W8.1, even if there is a keyboard and a mouse. I love the fullscreen apps without taskbar and the modern UI without some ugly programs on the left.

The businesses won't buy the modern UI. In fact companies are still requesting laptops and desktops have Windows 7 preinstalled on them. They keep Microsoft solvent. Not consumers. You don't buy 500,000 copies of Windows at a time.

Well, that's right.
That's why I hope it will be selectable.

Gee, the Air Force had no problem with it. We're migrating to 8.1 now. I've not run into this "dramatic training problem" that some have complained about. Windows 10 is horrible.

I work in enterprise IT. Large companies are not deploying Windows 7 to avoid Windows 8.x. They are deploying Windows 7 because they JUST finished (many are actually still transitioning) to Windows 7 and they need a consistent environment (not a mix of different OS versions on different devices). It takes years to validate all of the third party software and then update every PC in a large organization. By the time a large company gets half way through a project like that the next version will already be out. By the time we are ready to upgrade again the version after that will be out. People that don't understand enterprise IT assume it's because Windows 8.x is too difficult to support. I assure you that we support much more compicated migrations and systems every day. Windows 8.x isn't a difficult transition at all, but considering we just finished moving every last user to Windows 7 earlier this year, we aren't about to start another destkop upgrade project any time soon. Having said that, nearly everyone in our IT department that supports their own PC has Windows 8.1 installed.

I'm guessing most of the problems stem from the Vista/7 debacle then? With two versions being released so close to eachother?

As an IT guy myself, Windows 7, 8, 8.1 and 10 all share the same kernel with a few minor adjustments for drivers. So if your apps/programs worked on Windows 7, there shouldn't be very many, if any, issues with them running on Windows 10. Otherwise, I agree with what you have said.

Product and service reliability is essential to businesses, but most companies don't start researching migrating to a new OS, until they absolutely have to. The time it takes to test and migrate is nothing compared with the amount of time corporate suits sit on their hands buying their time.

We're a small business in Taiwan (16 workstations and 5 mobile users) all on 8.1. No issues or complaints.

Its not simply that they don't like it. Its more about practicality, in that they'll have to train a whole staff of people a new operating system and hope that they can effectively get things done fast enough on a new system. Prior to windows 8, windows os's were always similar to the one prior so this wasn't as much of an issue before. Of course there people everywhere that hate windows 8, but thats a different story lol

This! I hope they are including desktop systems and AIOs with large touch screens in their Continuum eligible group. You don't have to be using a 10" Surface to enjoy the Modern UI.

I totally agree. I think people are generally getting used to the Modern UI and liking it after the initial knee jerk hate reaction led by the press. I hope MS don't throw the baby out with the bath water. Don't get me wrong there are things to iron out with W8.1 UI but it works pretty well with touch and mouse unlike the other OSes. My worry is another major change will affect another reaction from the press/haters.

I love the new app list & Start Screen.

Yup. I want that taskbar out of touch mode and the left hand side start menu style nonsense too. Let me customise the start screen the way I see fit.

The left hand side nonsense is also going to be super customizable. No worries.

Yeah I'd honestly prefer the start screen in Win8.1 to this. It was really really good. I wish the 8.1 touch portions stayed the same, but I LOOOVE the power user stuff in the desktop now. I'll be installing the tech preview asap.

As long as you know it takes mroe than pressing a button to enable this functionality and it's a "nice-to-have" that may pop up in future updates or even by the official launch, then you're being reasonable.

I want the Taskbar gone altogether. I hate the desktop.

Totally agree! They have the right idea here, but don't f up the touch.

This time MS gave choice to its user I liked it freedom

Don't want to see those stupid Bing adds in MSN apps, but they do ....

Having taskbar present is no different than having Start, Back and search buttons on WP.... You get same exact buttons here, plus you can use it to swap apps easier, because there's plenty of space... Don't see what's the problem.

The taskbar is needed so you can switch from app/program to app/program (i.e., Word to Excel). However, just like Windows 7 the task bar and start button can "auto-hide" so you won't see it until you swipe up from the bottom of the screen in tablet mode or put your mouse down to the bottom of the screen in PC mode.

Same to me! No taskbar in laptop mode! It looks rediculous! And is not touch friendly at all! I suggest the following for microsoft: - option to disable the taskbar in tablet mode completely (no auto-hide, just no taskbar) - option to permanetlly keep your (2 in 1) device in tablet mode (I use a Surface ONLY as a tablet and don't want to get back to the old OS style).

Good luck selling a tablet with the Windows taskbar. I can almost hear the laughs coming from Cupertino and Mountain View.

They've yet to touch touch. :D Give them a chance.

At least it does not B-E-N-D!

Isn't there still an option to auto-hide the taskbar? Or does that not exist for tablets?

The Start screen looks really cluttered with the list of apps on the left and the taskbar below. Hopefully that can be fixed.

Leave a feedback on Preview :)

agree. they need to get rid of that left list of applications. and that back button on the taskbar im not too sure of either...hopefully they dont get rid of going back to the last app used by swiping from the left edge.

Agreed. This either doesn't make sense or hasn't been explained. Why doesn't it just give you the start screen? Microsoft needs to nip this in the bud.
We have seen how passionate people are about the interface and how negative feedback can spiral quickly into poor perception about a product. I think releasing this was a mistake as it's obviously unfinished.

Yes it is "obviously unfinished" . . . What part of any of this makes you think this is a completed product?

This is why it's an enterprise preview and not a public preview. They want to get as much feedback from the enterprise companies first before releasing it to us, the public. You should wait it out until BUILD and then get the Public preview before wittering on about what's wrong with it. And by the time it's a public preview, if that problem is still there and niggling away at you, that's when you can submit as much feedback as you want until your happy with the way it should look.

I think win 10 is what win 8 could have been if they had listened to users' concerns, not their own developers. It's a compromise, which is no bad thing.

What windows 8 lacked were time for more fine tuning. And feedback. With windows 10, they've got both. Enough feedback to avoid past mistakes and probably prevent some new ones. And time. Operating system development in not a day's job.

No, Windows 10 is what happens when you let tired, lame people who can't move on from the old Start menu and desktop make you go BACKWARD. This is horrible.

Good comment, Windows 8 was a little challenging in the beginning, but then again, when is change not challenging? Learning boils down to breaking habits, to do something differently. Personally, I believe that the start screen is becoming to cluttered, but unlike the people that belly ached about W8-8.1, I'll accept the challenge.

"Can't move"?... Why should someone who does not like it embrace it anyway? I buy what I like, use what best fit me and my preferences. Windows is always been about flexibility; you do not like the Start menu? Do not use it. People who like it will.

You should embrace the future!

It's giving you a much larger choice in the way the OS SHOULD look meaning that at the end of it, you will be a lot happier with what both you and they have done. Don't want to go back to the start menu? Then disable it and you get the start screen. Don't like something on your start menu? Then remove it. Don't like switching to and from tablet/desktop mode? Disable it. Much simpler and better choices for the end user.

Still hope they update all icons to one design style.

Continum is a dirty tweak that shows how Microsoft is running out of ideas for a unified OS

Man. You're a speaking my thoughts. It's like you know :)

Do you have any better design than this? If not then shut up, healthy criticism is good but you are just blabbering.

YES, how about LEAVING THE UI THE WAY IT IS instead of puking all over it like Windows 10 is? Huh? Windows 10 is stupid. 8.1 was best.

It's the future. I know you must be scared of change, but don't fear it, overcome it.

this comment makes way more sense if you remove the 'f,l, and t' from this guys name

Looks pretty clean to me. Maybe you need to let the idea sink in first before posting without giving reason?
I personally like the idea that the system adapts based on the mode the device is in. This is just perfect for these AIO devices everywhere.

It will be. They said its an early build.

What? Can you elaborate? how can they make happy to tablet and desktop users?

When Belfiore demoed Win10 on stage you could see that the File Explorer icon had a newflatter design. I'mm assuming the other system icons have been similarly redesigned

When Belfiore demoed Win10 on stage you could see that the File Explorer icon had a newflatter design. I'mm assuming the other system icons have been similarly redesigned

I hope some options are available for the TouchSmart AIO I just bought

Yup. I used a combination of touch and keyboard and mouse on my Dell XPS2720 AIO. I like how both are automatically available all the time.

I'll be a guinea pig, sign me up. :)

Yea ..I'll let you know after I have used it.

Saw Continuum, came here for the new season, left disappointed. :( Anyways, awesome feature and I'm looking forward to trying this on my tablet.

So... I've been wondering about this quite a while, and now I'm getting the answer... Well, it's good enough, hoping that there's an option to make it automatic... I'd be such a bother to do it every time..

Its automatic. Give it a close attention mate, that option was there!

Sooo... how do i remove that ugly list from the side of the start screen?

Use the start screen instead of start menu. You have the option.

No, the list is on the start screen now.

Join the program and give your feedback.

Dude, that list is also going to be customizable.

Babies be complaining about everything...

Babies be worried about the future of Windows..... and some are just annoying and complain :P

Hope there will be a RT version for the surface 2

Windows 10 previws for arms machine like windows phone and RT tablet will be announced early of next year so we hope it will be.

Yeah, if they can make a version of Windows for everything from Internet of Things to Xbox One, they'll have an ARM version ;)

Will there be an option to only have the start screen for 2-in-1's? I don't like how this looks at all.

That's what this demo is showing. You'll only have this "mode" option in 2-in-1's. Desktops will only have the Start Menu by default. From earlier leaks, you may have an advanced setting to replace the "Menu" with the "Screen" if you wish.

Agreed, the mutlicolors on blue.... just no. Almost as ugly as Android :P I really hope Microsoft mashed a step towards Windows Phone 8.1 design cues and soon.

Its called option. The OS will provide you the option to switch, if you wish not to switch then choose NO in the dialogue and tell the OS to remember your choice in future. Simple. educate yourself before complaining mate.

I'm glad MS is still in the game. It looks like they finally recognized that u can loose it if u keep living in past glories

THIS is the feature that I want the most. I think hybrids need features like this to become greater substitutes for laptops.

Agreed. Im excited about this feature too.

Sometimes I like using the metro menu on a Surface when the keyboard is plugged in. I'd like to see where this goes. Plus, I hope the customization that Windows 8.1 and Windows Phone 8.1 come into play soon. I could not live with music using a tablet with ugly multicolored tiles on a cyan backdrop. Just no.

It is optional. You can set up as you like.

Free Windows 10 DownLoad :) when .....?

What happens when I fold the keyboard back behind the Surface? Will that trigger the Tablet/Non Tablet selection?

Good question. Theoretically this can be sensed since the keyboard turns of when bend backwards.

Yes, did you read the article?

I did. Twice. Yet somehow I missed that. Can't explain it... Just totally missed it.

Hopefully this will stop my tablets from being so schizophrenic.

And what happened with the RT version?

Nothing, it is about the desktop version. ARM version later.

The war is over. Microsoft has won the convergence race.

How on earth do you think that? They just puked all over the OS because of people not smart enough to get off the desktop.

Why is everyone saying that? What's wrong with it?

Yeah, I'm not sure what exactly gave you that idea.

How much time has to pass before it's OK to bust on Belfiore's hair?

Why are Microsoft getting rid of the icons that we have grown accustom to using Over the last 10 years. I like the tiles but the icons should look like they've always looked. There's a reason android and iPhone still use the circle Icons.

Nope... Android and IOS are just behind.

Old people already have computers.

Ewww.. What? With ios7, apple overhauled ios icons. Yosemite comes with new set of icons. Windows X must deliver metrofied version of new icon set to make it look more coherent and attractive.

Why not iPhone icons along with windows phone tiles. Sometimes you have to meet people where they are. Everyone's use to w7 icons and the iPhone icons. Mix iPhone icon and live tiles before apple does it and makes it the best thing since sliced bread.

Hope this will be available for non Touch laptop

I'm pretty sure it's only for 2-in-ones/convertibles

Taskbar on a tablet? I'm sorry, that's an automatic fail. Tablet mode is way too much like desktop now. What a mess. Windows Mobile take 2. This is what happens when you design an OS by comittee. I like my Surface, but unless I see something better coming from Windows in the next few days it looks like I may be done with Microsoft.

What's it with people these day dooming everything just because an preview or alpha product does not seem to be RTM?
First of all no one in the public had his/her own first hands expedience with it. And secondly is Microsoft clearly stating that the technical preview is for folks that wants to test software in an incomplete stage and give feedback; you sir clearly not being qualified for this stage of the product and you should at least wait for the consumer preview or learn how to give constructive feedback.
That said, yes it would be better the taskbar fades out if the system is in tablet mode.

Same way you are so excited. They have to right to be doubtful. I'm jumping head first into this myself. I think this is great.

Perhaps it should work the same way WP devices without capacitive button work... disappear by default, flick up to reveal, or lock to always on through settings.

Show hide taskbar will be an option as evident from the past leaks. also, we do not complain about the dock in ios, or Android, do we?

Waiting for the final version maybe? it is an early demo...

Agree. I think Windows is just about perfect on my Surface. This is defnitely a step back. The only place it kind of sucks is on a desktop with a mouse and no touchscreen, but I just stay in desktop mode all the time on that computer. This is the most disappointing news I have seen in a while. I was loving my Surface Pro 3 and now I'm wondering if I made a mistake.

Your wife does it too, but I didn't tell a thing

Waiting for the iSheep to cmplain that Microsoft ripped off "Continuity"

Hey, maybe Twitter will finally update.. :D

Twitium is pretty great, but Twitter has imposed so many restrictions on third party apps I'd much rather use the official

Good to see, i'm hoping that if we want to keep tablet mode with the keyboard on our Surface that there can be a choice when docking it. Also, i hope there is an option to hide the taskbar, i love fullscreen apps!

Thats impressive! Detecting from tablet to laptop is a good idea.

Will a bt keyboard on a 1520 trigger the desktop mode? Posted via Windows Phone Central App

The 1520 is a phone As of yet there is no desktop for phones

Keep how the start screen's layout in Win8 as is. Then add the start menu when in desktop mode.

Then how ould you get to the Start Screen if the Windows Button would open the Start Menu?

Wonder what kinds of devices specifically this will work for besides the Surface. What about the Yoga? And the Asus Transformer?

At the conference Belfiore mentioned the Yoga and Spectre, but it will prbably apply to all 2-in-ones/convertibles

They should add this option in desktop too. People who loved the modern start menu would really like if they can keep it. So they should add "switch to modern UI" in desktop too.

Looks like an excellent idea, something that could change the way people view laptop hybrids

Gee Wiz, I discussed that with people right after Windows 8 came out.... Start menu that automaticly changed to WIn 8 mode after undocking... Note: Not available yet, not sure if we will get that in the preview...

What about all in one devices? How will it work on those with a touch screen?

Don't quote me on this, but I'm pretty sure on touchscreen all-in-ones it'll have the Start Screen

Amazing, this should be Windows 8 since day ONE... but i accept this right now haha BTW: Any ideas of feature changes from Widnows Phone 8,1 to Windows 10?

I absolute *love* the taskbar in tablet mode. That is awesome. If you can turn on "auto hide" and move it to the sides just like the desktop version, I really don't see what is lost versus the app switcher in Windows 8. The taskbar is probably the single greatest feature that Windows has over the Mac OS, which still struggles with managing open windows/apps in a clean, consistent manner. I can see how you'd want the taskbar out of the way on smaller tablet screens, but on more powerful devices like the Surface Pro 3, managing multiple running apps each with multiple windows just seems so much more natural with a real-time visual reference of what is open. Two thumbs up, Microsoft.

Looks interesting, I just really hope it's very customizable. I avoid the desktop like the plague on my SP3, I only use it when I have to use desktop programs (duh), or when I'm playing around with more advanced settings and features. Otherwise: I mostly use the "Modern" or "Metro" UI. Also: I don't want live tiles on my Start Menu (even though I won't be using the Start Menu [And thankfully, we already know you can keep the Start Menu clean of Live Tiles]), and I don't want a taskbar in "tablet mode," nor do I want the apps list dominating my Start Screen. It's fine where it is on 8.1. Just swipe up to look at all your apps. Seamless, and clutter free. Anyways, I'll make sure to submit this feedback when I get my hands on the preview tomorrow. Can't wait. Already have a second partition set-up, my device is ready!

This is awesome, MS just needs to "continue" to ask questions, and give users choice. To be honest, I just want the plain option on all devices to let me choose which one I want to use at that particular time. The intuitive approach of the input devices being detected is fine, but I use an RT and I really don't have an issue using touch in desktop mode, mainly because when teaching I'm moving around and it's not like I'll always be walking with our connecting peripherals. Point is, there are cases when both are fine.

Whyyyyyy is there still no clock on the full-screen start menu? Ugh.

Just swipe from the right. It's not that difficult

Finally the way it should have always been from the start. Desktop mode and tablet mode with a start button. I think this will be a hit!!!!

Will there be a place where I can set it to have the Modern UI start screen instead of the old school desktop on my new Dell. I just bought the Inspiron 17 - 7000 series with FHD and touch display because I love my WP8.1 and it was time to get upgraded from my Windows 7 Desktop. It just arrived 5 days ago, am I going to end up with a useless touchscreen because I did not purchase a 2-in-1. The way it sounds is that the pop-up window to select the modern UI only shows up for 2-in-1's when you flip them to tent mode or beyond, I love my new laptop and the hinge has some range but it definitely is not flipping far enough to enter the 2-in-1 realm...... Thanks to anyone that has any info that can help ease my nerves. I've been so excited since my laptop arrived and now have been so bummed since I read this article.

I have a no touch Samsung laptop with windows 8.1 so its not a 2 in 1 but as its Windows 8.1 my environment and apps are automatically synced to my surface and visa versa via wifi at home. Hope win 10 will work the same way.

Love that modern/metro start screen ❤

What would be cool is if say you had your rather powerful phone that lets say it comes in proximity to your screen keyboard mouse devise and wham it switches to a full blown computer. Then you go home and place in near a similar thing and bam your back and all the way between it was just a phone.... Long sentence ...

I think I am in the minority as I really like Windows 8 / 8.1. I like the looks of Windows 10 and its touch features.

Wait... Anyone else notice how when they went into the "Mobile" mode, a arrow appeared next to the start button? Guessing that acts as the "Back button" does on Windows Phone, or it swaps back to Desktop mode.

It looks fine but I do not understand what's wrong with the current Windows 8.1's modern UI allowing a swipe up to access the app list. For Windows 10, replace the app lost with the start menu and its perfect. There list to the left looks waaay out of place.

I don't want a stupid "continuum mode". I don't want Metro apps runningon the desktop. I want NOTHING on the desktop. I don't want a taskbar on the Start Screen. In fact, I want to keep the Start Screen exactly as it was before Update 1 to 8.1 If I can't turn off all this garbage that just ruins the UI, then I'll be sticking with Windows 8.1. I don't want a "tailored experience". I want a consistent experience from my tablet to my laptop to my PC. Which is what I have now. I can expect Metro apps to run either immersive or snapped and I can expect ONLY desktop programs to run on the desktop. THAT is what I want. Windows 10 is stupid.

Sorry Dog. People with reason are rare this days, and they drive the smart ones to alter business models. coz you know ...they are a formidable source of income.

This sucks. I actually like the way Windows 8.1 behaves on my Surface Pro 3. This is a step back, in my opinion. I hate windowed mode. I quit using a Mac because everything was windowed all the time and it was a pain to navigate. Windows 8.1 has been a breath of fresh air and now they're basically mirroring OSX. Come on, Microsoft. You should have just stuck to your guns. Screw the whiners.

You will still have the OPTION to run like that, either all the time or part time. The point is there are now OPTIONS to do so (or not).

That's like saying people who complain right now about 8.1 have the option of just booting to desktop. It isn't satisfying because the default options become the image of Windows, and having a bad image and being related to it even though you know better just makes it look bad.

I really like the idea of this, especially with the option to have it automatically do which one you prefer. I think it will help calm those people that absolutely hated (wrongly or not) Windows 8. Definitely looking forward to Windows 10, as well as seeing the new consumer oriented new features. So far, it's looking GOOD!

The Touch mode looks awful ... Hope it looks more like 8.1 than this mess

Tell selfish Google to make one!

Yes, there is. Official? No. Google hurt Google cry.

Nice! What would be nice though is that if they adopt the WP start screen. So that the live tiles fill-up the entire screen and have that new transparent live tile effect but then again that would be too much if you have large monitor/screen size.

Please support duel monitors with one touch and one desktop. This is what I am sporting. Best of both worlds.

Yes of course, it even supports war monitors. touché.

I understand the reason of bring back the improved 20 years old start button, but please don't default it, we love our windows 8 start screen in any mode.

This is just a mess now. It's even more divided than it was. If you isolate this to the desktop/laptop environment this might work, but now you're suppose to be one windows across all devices. When you're on your phone you have the ModernUI in your face, you get to a bigger screen its back on desktop; not sure how that's suppose to have one experience, it's more like 1.5. Windows on a Surface works right now, the only missing link is damn Office and professional apps (like Photoshop or ClipStudioPaint). Seriously, those are the only apps I use on desktop, and the rest of the time I'm in ModernUI. Shoving the Start Screen on the desktop is just going to be confusing, and no one will ever see it. Who spends that much time on the Start menu? The Start Screen feels like a good home screen, the Start Menu is merely a place to launch apps. What becomes the home screen in this will be the desktop, which brings me back to my point that on the mobile front you will have a different home experience than you will on larger devices. This is such a Frankenstein of an OS between Windows 7 and 8 and that's why its relatively ugly. No matter how much makeup you put on this beast it won't look as elegant as either of the previous OSes. The icons are still Windows 7 era and all the apps are Windows 8 era. It just is a mess. That said, what is the design language now for Windows 8 apps now that they're windowed and geared for keyboard and mouse? It looks really weird seeing Windows 8 apps being all huge UI on the desktop for something for mouse and keyboard, and it looks super ridiculous having a huge taskbar that has almost no information about its app on a touch UI. I really hope when they announce more consumer based features it will be better, but knowing how Microsoft is, this is pretty much the final UI without the bug optimizations. Look at the Windows 8 Developers Previous versus RTM, very similar UI. Look at the 8.1 updates for Windows and Windows Phone, UI is the same just bugs are ironed out. If Microsoft is still who they are this is going to be pretty much the final UI. Boy, I hope I will be 100% wrong.

I imagine Windows 10 will be just like windows 8 if you want it to. The best part of windows 10 is that MS will give you the option to chose what do you prefer. Start Menu/Screen, taskbar show/no-show, application list on the left and so on. This way users that prefer touch interfaces and the clean look of the current version will be easily pleased, but the great majority of enterprise people will also have the option of having a natural environment for the work load. I hope that windows 10 is more than just tweaks to please the old school people and brings new refreshing features like win 8 did. Cortana will be one for sure, but a lot more integration with the phone would be great as in Yosemite.

So, a mix of modern and desktop with taskbar.....in *tablet mode*. Ooph, that's pretty brutal. Looks like it's going to be a hot mess for a consumer picking this up in a big box store to play with.

I really hope they will not display the taskbar all the time in tablet mode.

I had a feeling of abandonment after the presentation Microsoft did yesterday. Microsoft has clearly taken a step back to Windows 7, inspired by the Windows 8 series to some degree. In respect to the users who embraced and invested in the Windows 8 ecosystem, I hope Microsoft will value us by giving the right options to customize both the behaviour and look of the GUI in Windows 10.

Actual I think you do have the option to select boot in metro or desktop. Right now 8.1 can set boot on start or desktop. In win10, I assume you can do in setting for boot in metro and desktop or desktop only. If a PC or laptop bought new, then the screen will pop and ask if you want to boot in which and you can change the setting. My whole family, all of us have hybrid PCs, tablets, and Windows phones and therefore we all like to run in both just like in 8.1 now. For those old PC or people still in old fashion style mode then they can choose just desktop as show in win10 demo. I am sure there is much more great features coming, but I am more exciting about unify apps. I owe lots of phone and tablets apps and games so therefore I wish to continue play in my PC and tablet. Therefore, I still like to stay in both metro and desktop. Even those I use 80-90 desktop mode now but that can change when unify apps exist, I would love to spend 50-50 desktop and metro. My Younger daughter use 100% metro in her screen PC and tablet. So therefore it is still better for personal choice to choose what they like to use.

I want Continuum on my phone...

Please don't. They're nothing alike

It's sound alike but Function wise different.
Continuum = Cross Switch (Win 10)
Continuity = Cross Compatibility (OS X) .... ;)

I like what I saw in the video. It seems logical to me.

I have a Yoga 2 Pro and I would hope that this continuum mode would be optional. Then the user can actually choose what they want - whether the start button opens the start menu or start screen with or without the keyboard 'active'. It's OK developing these new ideas but the user needs to have control, what one person likes, another won't.

Join in the insider programme and give feedback :).

Hopefully you can still make the Start Screen like the one in Windows 8. This one just doesn't look appealing to me.

man really wish this was available for the technical preview im puttung the tech preview on my SP3, Hey John do you know if the Tech Preview will at least let you switch between the two manually?

Perma Task bar is what I really really wanted in Windows 8 Metro. So happy to see that.

This must be some kind of sarcastic joke. I was happy about the new Windows 10 features, and I was near installing it on my 8" tablet, until I found out theres a hidden keylogger which sends everything you type to Microsoft, and also there are no touch features yet, no IE touch enabled. But anyway, what I wanted to say was..., Microsoft, really? If it doesnt change, I wont get Windows 10, why? Because they did the same damn mistake, AGAIN, but this time, the other way around: Why is the taskbar always visible, even in "tablet mode"? WHY? I loved the 100% modern UI screen without any taskbar or whatever, and now they are forcing tablet users into it, the same way they forced desktop users into "touch UI" with Windows 8? This must be some kind of a joke. Also the comment here before someone said, who cares, you can always make the Taskbar auto-hide... This is not the same... There is always a 2-3 nasty pixel at the bottom. What most people dont know is, a permanent Taskbar burns into your display over time. TN panels didnt have this problem, but IPS have, and most tablet/laptopt displays are IPS. Also I want the Taskbar to be there 100% if I am in "Desktop mode", and 100% gone, if I am in "tablet mode". How ignorant can they be not giving the user the choice? What's the problem adding a small checkbox option availabe inside the Taskbar options for choosing about this behaviour?? This is unbelievable. Great job Microsoft.

I like this quite a bit. It seems to be a great compromise and eliminates the jar between desktop and mobile UI.
Windows Central Newsletter
Thank you for signing up to Windows Central. You will receive a verification email shortly.
There was a problem. Please refresh the page and try again.