The launch of Windows 10 didn't stem the decline of PC shipments during 2015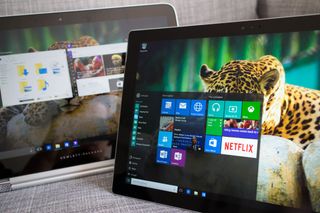 Windows 10 and the launch of several new devices wasn't enough to keep PC shipments from going down worldwide in the fourth quarter of 2015. Research firm Gartner says shipments went down by 8.3% to 75.7 million units while IDC claims they experienced a year-on-year decline of 10.6% with just 71.9 million units shipped.
For the entire year of 2015, Gartner says PC shipments totalled 288.7 million units, down 8% compared to 2014. IDC says PC unit shipments went down 10.4% in 2015, with shipments of 276.2 million units. Lenovo was the largest PC hardware vendor worldwide while HP retained the top position in the US.
You may remember that in the fall of 2015, Microsoft teamed up with Intel, HP, Dell and Lenovo to help fund the "PC Does What?" marketing and advertising campaign in the US. The idea was to show consumers that new PCs, in general, can do more than the ones many people are still using but bought several years ago. However, it looks like that effort was not effective as shipments of PCs in the US went down by 3.1%, according to Gartner or by 4.3% if you believe IDC's numbers.
What happened? Gartner analyst Mikako Kitagawa stated:
Also, IDC believes the release of the free update to Windows 10 caused some consumers in the US to hold off on buying a new PC in favor of simply upgrading to the new OS.
Despite these gloomy figures, both IDC and Gartner are projecting PC shipments to start rebounding in 2016. IDC stated:
Windows Central Newsletter
Get the best of Windows Central in in your inbox, every day!
When did the windows central app become free?

I too noticed. No ads from now on ? I tapped install and it updated :p

It's free since a few weeks. They might be preparing to release a new universal app.

Lol considering its gotten really sluggish its about time

It became free 1-2 weeks ago

It's just ok unless Mac and Chromebook shipments don't increase ;) Many people around the world own a PC now than they did a few years ago and so they won't buy new ones. That's the reason the shipments are falling. PCs aren't phones to buy a new one every year. And with W10 supporting old PCs and being free for the first year, most users would just install it on their old machines.

I still cannot figure out why anyone would ever buy a Chromebook.

Because some people like it and also buy it. Google fans to be specific. Chromebooks are released frequently. In fact Samsung, Acer and Lenovo have released their Chromebook lineups as recently as at the CES 2016.

Great idea for some, however what I see, is lots of returns during school season because they find out non of the required software runs on it.

Also because there's nothing about Chrome OS to teach. It's a Linux-derivative and is almost centred around the Chrome browser. When I was taught about basic computing like GPU, software, etc. as a child, Windows XP was used for the purpose.

They're mostly lightweight, small laptops with great battery life that integrate with Google services. It's not what I would use personally but I can see the appeal.

Its a shame alot of OEMs moved away from intel/amd based CBs though

Same doubt here. Chrome os is dead now. I like the new remix os, new android based desktop os. But still it can never beat windows of course...

Don't know about Chromebook but Mac is pretty sharply up.

Ummm 3% is not sharply up. In fact Apple suffered a 16% growth decline over last year when they had an increase of nearly 19%. Also these are preliminary figures. IDC have a habit of over estimating so there is a good chance we may see Apple announce a decline for Macs in their earning calls later this month. Either way Apple investors wont be happy with this growth decline like we are also hearing with the iPhone.

Stop arguing semantics. Mac sales grew 5.8% YoY, not 3%, which was just the holiday quarter. Perhaps those numbers will be revised, but that's where the estimate stands at the moment. Macs will probably exceed 10% of the PC market in 2016. Will Windows Phone be 10% of anything this year?

Ok, you are correct, I was reading that YoY. Still Apple had 18.9% growth for 4q13-4q14 according to IDC, and this quarter is around 3%. That's a worry for investors as this is the money months for sales. This will make Mac most certainly fall short of expected targets.
Now in response to your quip about Mac's being sharply up, even at 5.6% growth that's not sharply up. Especially considering you can only get Mac OS-X from Apple, eg they have that market covered to themselves. MSFT's Surface range was 44% up on 3rd quarter results in a sea of other OEM's.... Now that's sharply up because these results were before the new Surface range was released.
It's much easier for Apple to report market gains on their PC's when you have such a low market share. Looking at figures from Statcounter since mid 2011 OS-X hasn't moved much at all on market share in the US and globally has only moved around 2.5%.
At the end of the day Apple have shown a massive sales growth decline for this last quarter compared to last year. If IDC are out on their calculations by 4% then this could actually show a decline in sales for Mac's when Apple release their earnings call later this month.
Now just imagine this, investors are already spooked by the idea of declining growth in iPhones, if this turns out to be true and investors see a decline in growth for Mac's that will send big shock waves through the tech industry and the stock market. Has Apple started to reach their glass ceiling?

So now it's a failure if your profits do not increase every year at greater rates? Sony and HTC would be happy if they had profits

I think that with all the new lineups from CES the shipments will go up. Given that 2-in-1's are a different breed all together. You get both a tablet and a PC. And so that gives people more reason to buy them. The cycle of better performing chips, more ram and other stuff doesn't interesting most people. Their PC still runs regardless of those upgrades. Especially given the optimized operating systems. I run windows 10 on a really old laptop and it's smooth and runs fine. Why would i buy more hardware? Unless i'm in the market for a tablet as well. My bro bought a new one recently and he wouldn't buy a regular laptop but had to have a 2-in-1 and he loves it. So possibly all those nice CES devices will bring the people out and purchasing.

For me it was upgrade my current netbook to W10. My next new computer will be a surface, not aPC.

I'm keeping my eyes on the surface, it really is quite appealing

Just an FYI, Surface is a PC. Don't mistake PC as just a desktop. It's desktop, laptop, 2in1's (which is surface) etc. Pretty much anything you buy running windows, not windows mobile though. So buy your Surface when you're ready and help with the PC sales increase. Cheers mate!!

If you are a person then your computer is a PC ;)

2-in-1's fall under mobile though.

@Dominique Hey man they don't count Windows tabs and 2-in-1s and also the Surface devices are not counted by them as PCs.

Which netbook bro? I updated my HP Mini 110.

Loving my Surface. A few more bug fixes and it'll be perfect. Might still sell it and buy the pro 5 when it comes out though, because I really want it to have USB C. Posted via the Windows Central App for Android

Window 10 is light and fast...it runs just fine on my 8 yr old PC. No need to get new PC.

Windows 10 became too troublesome for many of my friends after the November update. They have i3. Works quite well on i5 but not much fast.

The system has become very slow. And when you add virtual desktops, it becomes a pain in the ass to switch between desktops.

I never heard about this. What happened? Could it be an issue with that computer model?

Its not particular to a model or company for that matter. 4-5 friends have asked me to solve their problem. Their complaint is that after the November update, laptop has become a pain in the ass. All have i3 processor.

That's a shame. Hopefully Intel and/or Microsoft is working on a new driver for the i3 or to fix the bug in W10.

I have a 940amd with 4gb ddr2, only upgrade I did was ssd raid 0 with 3 drives and turned by old Tb drive into a backup drive. The damn thing zooms, loads in under ten seconds

PCs will just turn into home severed for our smart homes and digital media. But no one is really marketing them like that. Tablets and phones to connect, and utilize, etc.
Many analysts said because w10 was free this would happen. Next year.

Continuum is the future of Windows!

Not until I can wirelessly connect to any screen I want to without an attachment. I won't have the continuum dock with me all the time. It's a nice technology, but a lot of people don't see a regular need for it.

So PCs in this context means only Windows PCs?

No. Macs are included. Although they actually stemmed the tide and went up. So the PC decline was even steeper than advertised. That said, it does not include devices like the Surface, which are exploding. If they are included, I think the PC market is poised to grow rather substantially in 2016.

Since, apparently, these analysts do not count tablet and detachable PCs in their numbers, I don't think their numbers are completely accurate and representative of the whole market.

Or surface devices for that matter.

PC wouldn't grow that much bcoz of mobile devices shipped a lot. Ppl spend a lot of time on smartphones (talking about avg tech user.) Microsoft failed with windows phone and has only option to go ios,android and try succeed in IOT and cloud products. Smartphones market may also see a decline when internet of things would be widely spread. Smart home, Smart car and so on is where Microsoft should concentrate which they are like the hololens which would be the next big thing for consumers.

I think MS still got time to make W10M great and market it awesomely plus they need to launch awesome and cheap hardware like Xiaomi, Lenovo, YU etc. or make ROMs for most of the popular Android devices. A lot of people are leaving Windows phones because they are getting cheaper and better hardware with Android.

I dislike the PC Does What campaign. it makes people feel dumb off the bat for not knowing things. Why not empower them by telling them that they already know how to do it? Apple does it with their products and it works.

Lol its gotta be the worst campaign ive ever seen. Would've been better off dusting off w7 was my idea & changing it to w10 was nuttellas idea

Windows 10 has launched with some gorgeous products from Dell, HP, Lenovo, Asus, Acer, LG, Samsung, Vaio and others. It's a shame that my market, Pakistan, is saturated with year old products and not a single new products. Apart from distribution, another problem might be steep prices for underdeveloped economies, an ultrabook with gorgeous design, great display, RAM, CPU, dGPU, trackpad and most importantly enough storage PCIe SSD starts at $1500. It's too much for your average consumer who can do same or most of your everyday work on a $150 smartphone. Microsoft, Intel, OEMs need to bring more and attractive internals to the $300 market range to thrive in this onslaught of cheap smartphones and tablets.

A $300 Windows 10 laptop or desktop will be tough to find. There is the Intel Compute Stick, but otherwise that price range will be dominated by Chromebooks. I think someone was able to install Windows 10 on a Chromebook.

I think good Windows PCs can be brought in the $300 range if MS starts licencing Windows for free to OEMs (for all screen sizes) and if it manages to make Win10 a bit less resource hungry. The real place to earn money is WinStore and make Windows free forever. I'm sure it would help the PC market in becoming stronger. And they need to make a better version for tabs (smaller one like 8-10 inches).

Windows 10 is resource hungry?? It has some of the lowest hardwre requirements of any version of Windows. I'm able to run it on a laptop from 2006 and a 2005 desktop without any issues. Those machines came with XP installed, and they now run better than ever.

Dell, sager, eurocomm & asus(not as heavily upgradable but offer some options) are great barebones laptop OEMs. Basically anything that can be upgraded aftermarket you can usually do for cheaper

Shouldn't we all be happy that this could mean the longevity of our PCs is increasing? Sure, companies might not be all to happy about this, but the PC market won't shrink that much that it will become obsolete in the foreseeable future. I guess when better batteries hit the market that will not decay as fast, pc sales will decline even more. But I'd say it is a good thing in this case.

This is why MS is providing the free upgrade to Win 10 and expecting to make money on the store instead. They don't need to sell a new OS to grow their revenue if they get 30% on all those little apps you buy.

Except since w8 alot of component manufactures have been unwilling to support new os past that which is a shame

It is as expected. 2 in 1 sales are up and Windows 10 is a free upgrade even for pirated versions. No surprises.

Microsoft backed away from letting pirated Windows machines upgrade to Windows 10. I wish they hadn't, but it would've enabled every computer to upgrade to Windows 10. They have to make money in software and hardware sales and appease their partners.

Windows 10 is a free upgrade for pirated OS even now. I know many people with pirated Windows who have upgraded to Windows 10. Right now MS isn't thinking about increasing PC sales, but to bring as many users to Windows 10 so developers would come around seeing the target audience.

Hmm, maybe I'll try that out on an XP machine I have. It would be beter than paying for a Windows 8.1 upgrade and then upgrading to 10.

288 million is a lot they need to stop being greedy nothing lasts forever Posted via the Windows Central App for Android

My question is what do they define as a PC? Does a Surface count as a PC? It should since it's a laptop in a tablet form. Desktops and laptops are seen as investments where tablets and phones are, some how, viewed as disposable despite their cost. I see new PC sales going up because of businesses upgrading, but I don't see the general consumer getting anything beyond a tablet anymore. Most people just want to check their email and social media and play games that are quick time wasters. A tablet is more than enough for that.

PC is literally personal computer. Surfaces, tablets, even phones are all personal computing devices. Surfaces are just way better haha

I thought I had read a year or two ago that this was a key difference in the tracking between Gartner and IDC -- one including convertibles as PCs, the other treated them as tablets. That may have changed more recently though.

They don't count tabs and 2-in-1s (including Surface devices).

I can install windows 10 software on my laptop now . it's apps are of beta or released

MS should really invest more on mobile.

I'm noticing a trend in the declining quality of new computers and devices. Too often you pay a premium price for a product that doesn't perform nearly as well as advertised and are typically riddled with problems. In the past I never had to return a laptop or a computer because it constantly crashed or wouldn't even do basic tasks out of the box. It seems that new devices come with intentional bugs that promise to be fixed in future updates but never are. By the time the device software begins to mature changes are made that degrade the experience even more. All while promising new half baked features that never really live up to the hype. I think people are just tired of shoddy products. Why trust that a new product is going to be any better than the old one when the old one never delivered or changed for the worse as soon as you finally got it into workable condition?

T mobile rolling out Widows 10 for Lumia 640 in Poland.

Yep, I just saw the article

T-Mobile Poland start rolling out the Windows 10 Mobile upgrade to the Lumia 640 - WMPoweruser http://wmpoweruser.com/t-mobile-poland-start-rolling-out-the-windows-10-...

Each quarter seems to be mentioned as the quarter when PC sales will stabilize, yet it still hasn't happened. The continual downward trend seems to be the norm. Posted from my Moto X Pure Edition via the Windows Central App for Android

what makes no sense to me is that they are not including two-in-one devices as pc's.7t should be obvious by how that these devices are pc's. Devices like the surface are the future of Pc's and traditional laptops will provablybe completely replaced by them.

I mean... what exactly are they expecting PCs to do now that they could not before? Business machines need basic web browsing, office applications, and network access... Outside of security issues a winXP system could do that pretty effectively. Home PCs need a little more capability to play back video and play simple games effectively, but most 5 year old machines can do that just fine as well. Even in the gaming realm, if you are doing 1080p then a 4-5 year old rig can keep up with all but the highest of settings on the newest of games... and they typically just need a GPU update, not a whole system upgrade.
Servers need upgrades for higher capacity and lower operating costs so their sales are fine, and extreme game/production rigs need as much power as you can give them but they are a limited market.
I am personally rather supprised that PC shipments are not slowing down even faster than they are. Without some great new use-case that mass market consumers want to do make their old PCs obsolete, then there is simply no point to upgrading unless the system dies... and PCs last for a very long time.

I think Consumer shift is only part of the explanation.I think increased consumer criticism and free upgrade on current pcs users own already is party of the decline of pics sales in general. Windows 10 has only been officially been released in July of last year. Adoption takes time. ​

Why is it going down? Bc no one wants a new computer. My HP Pavilion from 2012 has a blu-ray and CD drive, 4 USB ports, 2 headphone and 1 microphone port (making 3), a light on the back, a subwoofer, fingerprint reader, etc. What do new laptops have? Basically none of that. Less ports. More speed though. Oh and they're more expensive. So you want me to spend more money to get less? Lol no. Posted via the Windows Central App for Android

All depends on OEM/model you look at

What I said applies to most of them.

I cannot find a new laptop that is equivalent to my 4 year old Dell XPS 17. Dell don't offer one. Everyone seems to have gone smaller or less powerful. Or both. So I upgraded to windows 10 and swapped my main drive for an SSD. One less new sale.

Lol haswell brought in the low spec ram/deadicated gpu

Indeed. This is my experience with my Latitude E6430. The E6440's processor is half as capable and everything else is virtually the same. I bought some 8GB Ram sticks, a 500GB SSD, and a battery to replace the CD drive with, and this 4 year old machine is better than any mainstream laptop on the market.

If anything, you would think people upgrading to Windows 10 for free would deter a new device purchase...
Windows Central Newsletter
Thank you for signing up to Windows Central. You will receive a verification email shortly.
There was a problem. Please refresh the page and try again.