Windows 10 Education PCs coming from Dell, HP, Samsung and others — starting at $189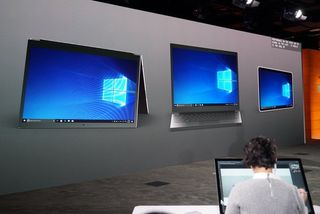 Along with announcing Windows 10 S, Microsoft took to its the stage today to announce that PCs using the education-focused version of its OS will be available from partners starting at just $189. All of the partners you'd expect are on board, including the like of Dell, HP, Samsung, Fujitsu, Acer and more.
What's more, all new Windows Education PCs will come with a free subscription to Minecraft Education Edition. That will let teachers take advantage of any lessons based on the open sandbox game. Aside from Minecraft, Office 365 for Education (with Microsoft Teams) will also be free for students and teachers worldwide, offering access to all of the tools needed to get digital work done.
Finally, Microsoft noted that Windows 10 S will be a free "upgrade" for any genuine Windows Pro PCs that are already in use in schools.
Follow along with our Microsoft Education Event liveblog
Dan Thorp-Lancaster is the former Editor-in-Chief of Windows Central. He began working with Windows Central, Android Central, and iMore as a news writer in 2014 and is obsessed with tech of all sorts. You can follow Dan on Twitter @DthorpL and Instagram @heyitsdtl.
Yeah with like intel atom and 2 gb ram? :P in tired of that kinds of computers :P

They're not for everybody, they're for students in schools and they're dirt cheap

Fantastic news!
Well done Microsoft!!!

They'll offer quad core Celerons, not Atoms.

There is no such thing as a 'quad core celeron' They are Atom chips with Celeron branding slapped on them.
Still not bad. Atom's bad name is largely over-blown. I have used quite a few atom based machines over the last few years and modern ones keep up quite well with day-to-day tasks like students would do. Not fast enough for my personal use with lots of multi-tasking work and games... but to browse the web, play simple games, and make documents they are more than adequate.

I work in education and we do VDI - you can use plenty of devices to get a good experience of VDI. Do you prefer students use VDI from Chromebooks or from Windows computers?

Compete with Chrome? This market is even smaller than Windows Phone. Don't know what MS is doing.

Small, but growing. Also strategically important. Kids are going through middle school and high school using Google Docs, Slides, and Sheets. They'll be happy to use GSuite for work when they get older. MSFT needs to get them using microsoft products at a young age.

I totally agree. My children's school went with the Gsuite of applications. I dont dislike the GSuite, but the majority of business and the college I work at, all use Microsoft Office. This is a good strategic decision for MS to get back into the educational market that they are loosing to Google.

The free Office subscription will be Desktop subscription or just the web based version? I guess it will be later!

Most probably it will be the Desktop version, I think.

It's office 365 for education. It's full installed versions that includes onenote classroom/class notebook, teams etc. Do try to keep up.

Mega question, will the $299 mixed reality headset run on the $189 Windows 10 S device. Or is this whole education experience not actually integrated.

Specs need to be high to run that.. For now, I don't think so!

Not really all you need is min dual Core i5, Intel HD 620, 8GB RAM, the rest you can find it yourself

as long those device follow MS guideline I don't see W10S cannot support mixed reality headset.

I think this is too little too late. Chrome seems to have a strong foothold in most school districts. Microsoft should have come out with this a couple years ago.

Chromebooks have no or little presence in Asia and a good part of Europe. So I don't think it's too late.

Would have made no difference, most of the schools that have moved are due to MS haters in the deparments wanting to move to what they percieve as coolers brands like Apple & Google. So even if MS had this already I doubt it'd have made much difference.

I also think this faces an uphill battle. We are sadly pretty entrenched in Google at my district and i really didn't see anything that would compell our administrators to change from today's demo.

Just turned on the livestream, was Panos out on the lash last night? He still seems to be wearing his dinner jacket...good effort....

Yeah, I also was with Panos last night in the local pub drinking some beers. He stayed there until dawn and didn't have the time to go home and change. He told me everything about the surface phone...

Must've been a short conversation ;)

3h conversation... He actually send me a photo of the actual prototype:
http://www.yankodesign.com/images/design_news/2011/01/18/flip_phone4.jpg I took some time and wrote all that surface phone details I know you guys look forward too.
Here: https://otterlover58.files.wordpress.com/2015/04/gotcha.gif

It's a good move, the more they have students using their Hardwares and Softwares, the more it will easier for Microsoft to push them to use their futur Mobile Devices with phone call function. So it's a very smart way to buy more time...

I'm ready to hear the announcements from partners on their 'windows s books'. Yes, I coined the term. You heard it here from me first, folks!

IDK why you would voluntarily lock your PC down to W10S, unless you really are scared of students that will get viruses left and right (in which case, just make non-admin accounts that require special permissions for installs).

Pretty sure OEMs don't pay the license if It's win10s pre installed....

Which one is starting at $189? :D

How are they making Office 365 for Education free for students and teachers? Seems like a huge logistical undertaking.

Here in Asian countries, we don't know what Chromebooks are. We are using Windows whatever versions here from businesses, homes and computer shops..
Windows Central Newsletter
Thank you for signing up to Windows Central. You will receive a verification email shortly.
There was a problem. Please refresh the page and try again.