Windows 10 gets its own version of Lara Croft GO with cross-buy and cloud save support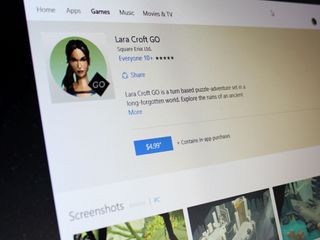 Earlier this week, Square Enix released a Windows Phone version of Lara Croft GO, the new puzzle-based game in the long-running Tomb Raider franchise. Now, the publisher has launched a Windows 10 version of the game that supports cross-buy and cloud saves with its Windows Phone counterpart.
While there's no Xbox Live support in the game, people who purchase the Windows 10 version of Lara Croft GO will be able to get the Windows Phone version for free, and vice-versa. The cloud save support means that if you stop and save on the Windows 10 version of the game, you can continue where you left off on the Windows Phone version. Again, that works the other way as well.
Thanks to Luis for the tip!
Download Lara Croft GO for Windows Phone ($4.99)
Download Lara Croft GO for Windows 10 (opens in new tab) ($4.99)
Windows Central Newsletter
Get the best of Windows Central in in your inbox, every day!
Bonus! Is this touch screen recommended?

Yes. It will work well with mouse too.

Anyone having lock ups on Level 11 Maze of Snakes? Mine locks up on map loading. I contacted support and they responded pretty quickly saying they identified the problem and an update is on the way.

Yeah I'm having the same issue but I'm glad a fix is underway.

Update is out and it fix the lock up!

I feel like Square is going to keep a close eye on the sales numbers to see how successful the Windows Store really is now that Windows 10 is approaching 100 million installs. Hoping all the people buy quality games from the app store so developers take notice. I'd love to see more Square games ported over, especially Final Fantasy / Dragon Quest!

Call me pathetic, but I would be more inclined to buy it if it was Xbox enabled.

You're not pathetic. You are awesome. If you want the game to be Xbox enabled, let them know on Twitter. Ping the following accounts: @SquareEnix @SQUARE_ENIX_EU @SquareEnixMtl @laracroft #SaveXboxWP, details here.

SquareEnix will release Rise of the Tomb Raider to the Windows 10 store, and it will be Xbox enabled, but of course it won't be universal. Phones are not capable of playing new PC games, yet. I have full confidence that ARM processors will be as powerful as the Xbox One by mid-2017.

Yeah I just got finished watching a walkthrough on youtube and had to buy it. Happy for the windows 10 version free =)

Turn based games are not my cup of tea, so I can't really warrant this purchase. Square enix/eidos should bring the original soul reaver/legacy of kain games to mobile. I would buy them in a heart beat.

the one thing that hitman really really needed was cloud saves.

i dont get it... If I buy the WP8.1 I can't download the W10 version on PC?

Yes you can! I bought it yesterday on WP8.1 and I just got it from the Windows 10 Store for free! Works very well and it has cloud saves. I assume it is available on Windows 8.1 too.

Isn't a specific Win10 version. It's a Win8.1 app that works on Windows 10 as well.

Just noticed Hitman GO is on sale!

So I'm confused, I'm on Windows 8.1 on one PC and Windows 10 on another. Are the Windows 8.1 store versions and the Windows 10 store versions separate? If I buy either then they are both crossbuy with my phone?

Yes, I bought it on WP8.1 and got it for free on my Windows 10 PC!

Okay that's interesting, thanks!

I wonder if you go to "buy" it and it shows up as being free in details before you confirm.

It's for Windows Phone 8.1 and Windows 10. Windows 10 will include mobile later. It is cross buy for WP8.1 and Windows 10, but not Windows 8.1. Different store.

Looks like it us actually just a Windows app, buy once and you get it on WP8.1, Windows 8.1, Window0s 10, and Windows Mobile 10. The 'version' for 10 doesn't exist, there is just one purchase to be made for all supported windows platforms including 10.

This is pretty dope for real.

Isn't this the way apples been doing it since the dawn of time?

Buy it on your phone and it's available on your iPad?

No. On iOS you have to buy the iPhone version and the iPad version.

Alllllllriiiight. This is awesome then. Think I was getting confused with the free apps that my wife downloads on her iphone appearing on her iPad.

No on iOS if you buy an app for iPhone, it's available on iPod, iPad, and iPhone. It's not The same with iPad apps. Posted via the Windows Central App for Android

Anyone seeing this in the Windows 10 mobile store? I dont' see it on my 1520

Indeed - I jumped at buying this as I really enjoyed Hitman GO, but only after purchasing it did I realize that there was no Xbox integration. Still, the game is fun, but I likely wouldn't have purchased it had I noticed from the start that I wouldn't be obtaining achievements.

So chievies overrule fun?

I'm as confused by the comments as you are. Achievements are like getting a trophy in elementary verbal just for participating. They mean nothing but more cost for those running the program. What happened to playing and completing a great game being an achievement in itself?

This post here explains the appeal of Achievements. In short, they add replay value, create a more social gaming experience, unify all gaming under the same meta-game, and provide financial rewards, among other things.

First, thank you for helping to lead a charge to try and get more games with achievements released. Second, I can understand the appeal of achievements, but in the end I'd rather have a good game to play than wait for the Xbox certification development hell. Windows Central has written several articles about how difficult the process is to get Xbox certification for apps. I understand you're trying to speak through your money (and social media posts), but I would prefer to support the good games that are coming out since so many devs have abandoned the platform. The only way for devs to be enticed into adding Xbox achievements is for Microsoft to make the process insanely easy and painless. In the end achievements don't make or break a game. A poor game with achievements is still a poor game (Lara Croft GO is a great game). Consumers have played games for decades without achievements and were still able to talk to their friends about what they did.

Let Square Enix know that you want Xbox integration: @SquareEnix @SquareEnixMtl @laracroft #SaveXboxWP

We should all take a minute. And appreciate what Square Enix is doing for all of us. They're not only bring their apps to the Windows platform at the same time as other platforms. But, they fully support the games. With cross-buy and even Xbox achievements. So if any of Square Enix employee happens to read this comment. I really wanna thank you for all hard work and all you've done for Windows. I try to buy most of the games you release, to give back.

This game doesn't have Xbox achievements.

This isn't the only game they've made before. Hitman and Final Fantasy just to name a few have Xbox achivements.

This is the only game they've ever released on Windows Phone or Windows that does not have Xbox achievements. It's not a good thing when major publishers eschew a platform's distinguishing features. The omission of Xbox integration will result in lost sales, which will subsequently deter future game development. This is not a good thing.

Why do you have to go for doom and gloom? They release an app without Xbox is already a really bad sign to something REALLY BAD... Give me a break. For all we know they could add Xbox support later in anyways. I'm all for having Xbox support on all games but, if they don't put it and still cool with it. I'd like to think that at least we got the app. And not a year late or something.

The developers already stated on Facebook that they will not be adding Xbox integration later. Regardless, I'm not going for "doom and gloom"; I'm stating facts: this is the first Square Enix title to lack Xbox integration--a native feature of Windows Phone crucial to distinguishing it from iOS and Android--and this absolutely will result in decreased sales. The better question is why you want to praise Square Enix for their 1. lackluster support for Windows Phone, 2. limited support that is now even more watered-down as they have removed platform-specific features? Square Enix has released just 7 games for Windows Phone since they released their first WP game in 2012. In contrast, Game Troopers made their WP publishing debut a mere 9 months ago and have already released 9 Xbox-enabled WP games, with another two already announced to be coming soon. Many of those games were or are either Windows Phone exclusives, and Game Troopers highlights in their advertising that fact as well as the fact that they have platform-exclusive features like Xbox integration. So, if you want to write a hagiography to a WP developer, write it for Game Troopers, not Square Enix.

Xbox support would slow down the release date and they might not release same day as Android and iOS.

Personally, I have no qualms waiting for the definitive version of the game. But, if that is a concern, they could easily patch in Xbox integration later on, in a timely manner. They have publicly stated they aren't doing so, though. That's not good for Windows Phone. WP will never have release parity with iOS and Android. A few exceptions don't change that. As a platform, WP is better off highlighting distinguishing, platform-exclusive features like Xbox integration. When major publishers like Square Enix, who previously had supported Xbox integration 100%, suddenly stop doing so, that's not good.

With the new tools Microsoft has released for exporting apps from one source code to Android, iOS, and Windows mobile, there is no reason the frequency of same day releases won't increase and eventually become the norm. Yes devs could patch in Xbox achievements if they want to, but just like any business they need to make a return on their investment. Hopefully in Square Enix's post they gave a few hints as to why they didn't integrate them for this game. Unfortunately I wasn't able to track down that post.

and Hitman GO get discounted

We should all take a minute. And deride what Square Enix is doing for all of us. They're not only dismissing their apps from Xbox platform, but they fully dismiss any possibility of loyal Xbox fans from purchasing them. I have bought many Square Enix games in past but without Xbox they are simply not even purchasable...

Not everyone likes ice cream either.

You know, I was all against buying it before stating it wasn't worth the 4.99 on Windows Phone. Now that it includes Windows 10 version AND it has cloud saves, I could care less about Xbox achievements. The only thing I would care about Xbox is getting a cloud save, and that's already being done. This game is now worth the $4.99 in my book. I'm going to invest in it.

You can contact Square Enix on Twitter and tell them to add in the features you desire (i.e. Xbox): @SquareEnix @SquareEnixMtl @laracroft

Xbox integration has always been a hassle for developers. I've never heard anything good or ready about it. There are achievements in the game, but they won't show up on your Xbox account. Honestly this is a small thing. The game won't change greatly with achievements. All you'll get is a green notification banner instead of their white banner.

That's a fallacy; Game Troopers has no problems with Xbox integration. In-game achievements are nothing compared to Xbox achievements. In-game achievements are meaningless. It's the global nature of Xbox achievements that give them their social value. This is not a "small thing". It will result in lower sales, which will subsequently discourage future development. It's not good for Windows Phone.

If it's a fallacy, then please let Windwows Central know the several articles they've written, including a deep dive, aren't correct. Perhaps some devs have had a better experience than others.

What service is the cloud saves? Their own? Why do I need to sign up, meaning there is no info in the game.

No idea, but it only asks for a password. I had to reinstall it, and not it's asking for a username too. I can't enter something I want asked to enter.

Also a flash sale on Hitman GO to celebrate the launch of TR

Graphics are lovely in this game..

Oh, that is nice. Probably will get this game then after the release of Windows 10 Mobile.

You can get it now, and you still still have it on Windows 10 mobile. You can wait until October I'd you'd like.

You can get it on WP8.1. You don't have to wait!

I'm pretty sure that Windows 10 didn't get "it's own version", That this is just the "Windows" version (you can get it on Windows 8.1 as well!), and that all versions of this game (iOS, Windows, WP, etc) were released yesterday at the same time, not "earlier in the week".

WC should just delete this article.

No need to delete an article because some details were off. They're just letting us know is finally available after doing a previous one that said it was coming soon. If you see mistakes, then let WC know. They read the comments and fix issues with issues.

This is lovely! Hope they have Xbox achievement already when I finish my Hitman GO which I got from yesterday's sale:)

If you want them to add Xbox achievement to this game, like Hitman Go, let them know via #SaveXboxWP: @SquareEnix @SquareEnixMtl @laracroft

Yes! Cloud saves are what I wanted with Hitman Go

Now we need Deus Ex The Fall on Windows Phone!!

Thanks didn't know this until I saw the article just downloaded to my W10 computer as well. Happy they went the extra mile to make it a universal app =)

I thought the same thing, but Hitman Go is great. I bought this game, and I like it more than their Hitman game

Free is always good, but this game is worth paying for. We won't get developers on the platform of they can't pay their bills. Use Bing rewards to get it for free, if it's available where you live.

Android version selling for $5.90 while the Windows Phone version is selling for $6.40 for my region..... Seriously?!

Is anyone else having issues with cloud save? I reinstalled the game and I can't download my progress because the game only asked me for a password to set it up. However, it wants a username and password to download my progress. Am I the only one who ran into this?

You can find your username "ID" in settings of the game once you are logged in. You probably have to contact support to find out yours since you did a reinstall

Thanks for the info. I restarted the game after the reinstall, but I'll keep that in mind for the future. I do plan on upgrading my phone in October.

This game is pretty good. People should buy and rate to show support and love for the windows platform. Game runs well and has good puzzles and atmosphere. Also there is(was) a sale for Hitman Go for 1$.

Can you play the game offline? It says it needs an internet connection.

The game does give you the option to play offline but your game progress will not be saved in the cloud. Saving your game progress in cloud gives you the ability to resume your game progress on another device.

Great, thanks for the answer.

Can't play it on my Lumia 2520.. The graphics glitch out every time I start a level. Works great on my 930 though, but the battery drains like crazy do I'd like to play it on my 2520..

I have this game on my lumia 950xl ,and i know my ID (i see it in settings) but on my desktop w10 game ask for User ID and pasword for cloud acc. Any tips how to login?

since i was loged in on phone,i just changed password and solved problem.
Windows Central Newsletter
Thank you for signing up to Windows Central. You will receive a verification email shortly.
There was a problem. Please refresh the page and try again.