Windows 10 grabs another Security Update and enhanced functionality today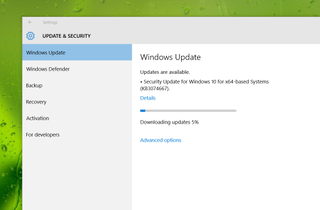 If you are on Windows 10 for PCs, you may want to dive into Windows Update to grab KB 3074667, which is now live for all of those running the latest build of the OS.
Heading to Microsoft's support page reveals a little bit about the update, including the security ramifications.
Besides the patched security vulnerability there is the vague but reassuring bit about Windows 10 features:
What are those fixes? Who knows but we are always excited to see Microsoft spackle up the OS before its big debut next week.
As a small note, you will need to reboot after the update but you can schedule for a later time too.
Source: Microsoft (opens in new tab); Thanks, Christian J., for the tip!
Windows Central Newsletter
Get the best of Windows Central in your inbox, every day!
Daniel Rubino is the Editor-in-chief of Windows Central, head reviewer, podcast co-host, and analyst. He has been covering Microsoft since 2007 when this site was called WMExperts (and later Windows Phone Central). His interests include Windows, laptops, next-gen computing, and for some reason, watches. Before all this tech stuff, he worked on a Ph.D. in linguistics, watched people sleep (for medical purposes!), and ran the projectors at movie theaters because it was fun.
anyone know anything about surface 3 video drivers comming anytime soon so a crash from edge won't render the surface 3 useless until a reboot ? also brightness control would be fabulous...

I looked every where for drivers etc. In the end I had to reset and the video works fine now. Bit rubbish having to install apps again but at least I got rid of the ones I don't really use. (On SP3)

Getting the same crashes with edge.. Using IE now. Brightness control was added in a driver update. Just had to look for updates and restart.

you talking about surface 3 or pro 3 ? i have all updates and still no brightness control on surface 3

Surface 3 here, as well. I remember having this issue when first upgrading from Windows 8.1 to Build 10162, I guess. But then, a graphics driver update (which I think was actually just the same driver reinstalled) showed up in windows update. And brightness control works just as with windows 8.1. Do you have the option to get third party updates via windows update activated? On another note, I think, today's update might have fixed the constant right-click issue after using the pen on surface 3 for some time.

Can someone please help me? I am still on build 10130, and it doesn't recognize new builds at all.

Please try searching in our Windows 10 forums, thanks.

I tried, and there was nothing.

Try changing your preview builds ring. Eg. Change from slow to fast or fast to slow. And then restart your pc. Then check again. Or try reverting to a previous build, select a preview ring after the rollback is complete and restart and then check for updates. Can't think of anything else if these don't work.

Does not work for me either; still stuck on 10166...

Were you signed in using a Microsoft account? If you had not been you may be stuck on that build till the 29th.

Yep, of course. Still no dice though. I've tried everything I could think of.

Tried reverting back and then checking again?

I had to reinstall from the ISO, & it took a couple of reinstalls before it eventually found an update

Do you want to clean install or just update? You can get the .esd for 10240 from mydigitallife.info forums. And convert the .esd to ISO.

No iso is a no go, it will not work

Download the ISO for build 10240 once it becomes available and then make a recovery disk using a DVD or USB flash drive. You can then install the new build from the disk/flash. This will be a clean install so make sure you back up everything & create a system image.

Make sure you're in the right ring. On my SP3 it changed without me knowing a while back and wouldn't update. I just fixed it a couple days ago by putting it back in the right ring.

1. Change the registry key using windows + R keys (run) and type regedit Change the entries from fbl_Impressive to TH1 HKEY_LOCAL_MACHINE\SOFTWARE\Microsoft\WindowsSelfHost\Applicability Ring = WIF
BranchName = TH1
UserPreferredBranchName = TH1 2. Reboot your pc 3. Login and run windows update and it will download and install TH1 Professional Windows build 10240.

Thanks..but Not working.. Is there any other work around?.. And I'm on build 10074 ( its my secondary device and forgot to update it since then ) :p

They pushed 10240 to both slow and fast rings, which usually means there's also an ISO. Try that route.

I had to get a leaked (I believe 10149) build ISO and do a fresh install off that. Relieved every build since through Windows Update.

Go to control panel, change from category to small items, click troubleshooting, then fix problems with windows update.

This worked! Thank you everyone, I just got so many answers I can't thank everyone personally. On build 10240 now.

Try this: http://answers.microsoft.com/en-us/insider/forum/insider_wintp-insider_i...

Method 1 at the link above worked right away for me. Had been stuck on 10162 for days since reverting back from previous build. Method 1: Verify that BITS is correctly configured. Background Intelligent Transfer Service (BITS) transfers files (downloads or uploads) between a client and server and provides progress information related to the transfers. Note BITS is most commonly used by Windows to download updates to your local system.
To verify that BITS is correctly configured and then start BITS, follow these steps:
1. Click Start, click Run, type services.msc, and then click OK.
2. Double-click Background Intelligent Transfer Service.
3. In the Startup type box, click Manual, and then click Apply.
5. Click the General tab, and then click Start. If BITS starts successfully, run Windows Update or Microsoft Update to obtain updates. If you successfully obtain updates, follow steps 1 to 3 again. However, in step 3, click Automatic instead of Manual.

At this point, you have two options: Wait until Microsoft releases the iso, or download them from non-Microsoft site at your own risk.

download a 10240 build from any torrent site, double click on the ISO and click on setup.exe, windows will automatically upgrade itself

This is the only only intelligent answer, other people have offered such silly solutions :-)

Is the build 10240 really the final RTM build which insiders r using? Or we will have a build that has something new in terms of features which insiders doesn't have?

As far as we know, 10240 is the final build, at this point folward, there's just going to be updates. However, that could change, but currently, that's how it seems to be.

It is the RTM, it was confirmed by win beta in their last podcast. We will only receive updates to the OS not another build.

I presume it is RTM because of three main reasons:
1. After the "Configuring Settings" process, I was redirected to the "Hi, Welcome Back!" page that occurs during a first install, where I had to click through a few screens to get to my lock screen.
2. The watermark has been removed.
3. There is a Windows 10 logo in System Properties and the OS name there no longer says "Windows 10 Insider Preview"

Still dealing with the critical error issues on bootup with users that have a MS account tied to them, even after the lastest update. The official forums grow quiet with no response on the fix leaving tons of us in the dark. With 9 days left, you'd think and answer of fix would come out. Instead I'm stuck reading how others are enjoying Win10 from the sidelines.

Hoping that this update doesn't result in me having to repair my apps yet again and another agonizingly long "This won't take long" screen while things are updated for that first login. I've had one older app that has needed to be repaired on each build of Windows 10 for some reason. Works fine once fixed, but an odd issue.

This is a patch and not a full upgrade, so you will not get that screen.

Is it true that u have to be a member of the windows insider to grab windows 10 update on July 29?

So it's only children growing up today that don't need to obsess about security; the rest of us continue to have to worry because Windows is STILL littered with security vulnerabilities.

Thanks Daniel, got the update installed. BTW, did anyone get my email tip about the new Email capabilities with Cortana? She can write emails in Windows 10 now. :-)

"Hey Cortana, email my wife saying I'll be home around 6 PM tonight."... "Add more"... "Love Wifey"... "Send that sucker!"

My download speeds are terrible! I sent Microsoft a screenshot of speedtest about lousy speeds. I get about 3 Mbps instead of my 30 Mbps.

It seems to have made live tiles like weather and calendar more reliable.

Latest build is still shit. Crashes a lot.

@Mikufan... You cannot update from 10130... this was a common problem.. I updated by downloading an ISO for 10162. This is no longer offered. I am afraid you might have to wait for the release date alas....

Actually I updated a laptop at home on the weekend from 130, and it's now sitting on 240. It had been stuck on 130 until then and just decided to work. Unlike Edge which just crashes now the laptop is updated.

Daniel can you stop worryng about these meaningless security updates, and find out why they closed the Health and fitness and related apps?? Are they replacing them with Windows 10 versions, or getting rid of them completely?? I was considering getting a Micorsoft band specifically to track my diet and fitness with those apps, and they are discontining them. I tought this was a primary role of the Band? What will microsoft use instead, a 3rd party's app for that function?? That's kinda stupid if you ask me.

The removal of some of the MSN apps was covered by WC in an earlier article...

Band doesn't need health and fitness. It uses Microsoft Health. https://www.windowscentral.com/e?link=https2F%2Fclick.linksynergy.co...

Notification center, network, sound, cortana, start menu fly outs are still broken.

By the way, this security update is going out to ALL supported versions of Windows today (instead of waiting till the next patch Tuesday) due to the severity of the issue it is patching. So you might want to Check for Updates on all your devices if you haven't done so already.

Patch Tuesday isn't a thing anymore.

Ah, getting ready for the 200+ updates for the 29th, the day you install it.... I dont think I have ever installed a Microsoft OS, from having WIndows update on it....On DAY 1 (release day) and not had at least 20 updates for it...

Is taking longer than usual for anyone else to install?

The only difference I noticed is that made connecting to bluetooth speakers even more troublesome. I was having good success connecting to bluetooth speakers with win 64 apps but now even that is somewhat borked. Win 32 connection is still lousy. I posted in Feedback. I hope Microsoft gets this figured out, as everything else is pretty much A-OK as far as my needs.

now my surface pro 1 won't go sleep , again like once in build 10130