Windows 10 hits the Xbox One in November, DirectX 12 in tow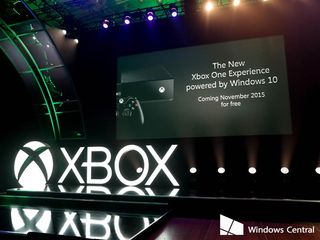 Microsoft has revealed more about how Windows 10 will work with Xbox One. The presentation at Gamescom 2015 revealed some partnerships, and showed off the power of DirectX 12 running on the console. The company also revealed that Windows 10 would come to the Xbox in November.
Microsoft stated that over 100 games studios were working on DirectX 12 which will allow for better textures, lighting, and more on both Xbox and PC. The company showed off a new tech demo produced by Square Enix, built around DirecetX 12, which features extremely detailed hair, textured skin, and more.
Check out more from Microsoft at Gamescom 2015 by tuning in to the Windows Central liveblog.
More Titles should now start supporting resolutions higher than 720p at 60fps... hopefully.

Direct X12 looks strong, but the new dashboard isn't exciting. Hopefully they make it better before launch. Also, I wonder if XBox insiders Arul get the update (beta) in October.

I'd rather have a fast, efficient, easily navigated menu than a pretty one. I use my Xbox to play games and watch movies, not stare at a menu.

Apparently Tomb Raider is 1080p60.

Really really exciting news, will it come to par with ps4's graphical power?

No, you can't change the hardware with a software update. However, the software can be optimized to make the lower spec'd hardware run better than a higher spec'd device. An example would be the iphone and ipad getting better results on benchmarks even though it routinely has lower specs with less cores and less ram.

Seems like direct x12 will put my ps4 to shame

It has always been known that Sony doesn't do a great job with its software. I believe the PS3 also had more powerful hardware but it never translated to a better gaming experience.

Maybe Sony knows they are not good with software so they use more powerful hardware than Xbox to make them both equal.

I need this on the preview please MSFT!

if it's coming in november, then there is a good chance preview members would get it within the next month or 2.... unless they don't want to ruin the surprise.

Well if their past previews have shown for the 360 it'll came sometime this month

1) Typo. DirectX12, not DirecetX 12. 2) It's not a new tech demo. Square Enix showed it back in March I think.

Yup, they showed the whole thing at the E3. This was just a little demo of the demo :)

which demo was it? was it the one that they showed off with Nvidia at Build that used 4 TitanX GPUs to render a demo in real time? edit: just skimmed the live blog... yup, same demo. Now considering the hardware in an Xbox One compared to 4 TitanX's, I wonder how this trailer looked AND if it was running on an actual Xbox One and what resolution? Not doubting the Xbox One's ability, but if it took a BEEFY PC to run the demo in real time, there is no way the Xbox One could match it 100%

The demo had nothing to do with xboxone, just directx 12 on win10. Article is misleading.

Hopefully they share more details on when preview members can expect to try out some test builds.

Wonder when preview members get windows 10
Windows Central Newsletter
Thank you for signing up to Windows Central. You will receive a verification email shortly.
There was a problem. Please refresh the page and try again.