Windows 10 Insider Preview build 10074 gets yet another bug fix update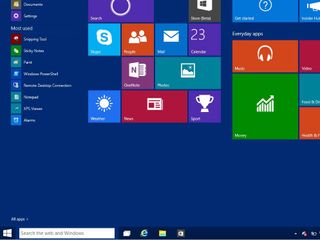 If you have the 10074 build of the Windows 10 Insider Preview, you can expect to download a new patch via Windows Update sometime later today. The update is to fix an issue with "Project Spartan", the new web browser than has since been renamed as Microsoft Edge.
While the official Microsoft support site does not yet have a listing for this patch, Windows Insider leader Gabriel Aul mentioned the update on his Twitter account. He stated the patch is to resolve an issue that was causing Project Spartan to crash when launched.
A few day ago, Microsoft released an update for Windows 10 build 10074 that included several other bug fixes, along with adding support for the Dolby Digital Plus codec. You can check out what's new in that build in our detailed guide to version 10074.
Source: Gabriel Aul (Twitter) (opens in new tab)
Windows Central Newsletter
Get the best of Windows Central in in your inbox, every day!
I have not even received the other bug fix update. Just the same file for ms defender over and over again

It must have come bundled maybe or might have installed automatically...anyways nothing too serious about that

Yep me too. Start menu is no longer working either, so it seems I'm in need of that fix

Same here...just figured out the synaptic issue, then I lose start menu..synaptic driver v13 works good no start up watchdog errors

me too.
also, it still shows the OS as technical preview and not insider preview.

Same here, in need of start menu fix...

I didn't get that one but did get this one today.

For cars. Yes, for desktop :)

Yes. PC. Btw after this update my apps are opening soooooo fast. Incredible! I mean it!

Still no phone build, I guess its coming by 6 pm EST like 10074 last week. :|

Or not today at all. It's pretty much safe to not expect anything from the phone division until they shock us with a release. Even then, I don't expect a decent more big free build to be released for months.

There still should be any time now with the new office apps that were gonna come out last week during build but were then delayed to this week according to an MS rep which was again further delayed for who knows what since they are staying totally silent about it :| I hope you can make out my frustration

I can but I don't understand why.

Good on the Desktop division staying on top of things and pushing out updates consistently. As for the phone division.....wish I could say the same thing

Desktop customer base is 100 times bigger at least than mobile user base. Development where users are.

not completely on topic but... since last build Cortana is gone for me. I have region set to US and everything in English, but it still says it's not available in my market.

Omg please phone builds???? Anyone want phone builds?? Tell me how do you feel using a buggy Windows device??

Love it! Still better than a fully functional Android.

OK, I'm basically never the person to say this, because I think "Dude, it's a PREVIEW" is often an attempt to stifle legitimate critique... but dude, it's a PREVIEW. If you don't like being an unpaid beta tester, well, it's not like the Mafia - you get to quit. (I hear that the current 8.1 build is really stable.)

Considering That the insider preview is even more unstable than the technical preview, I don't think we should ask for the phone build yet. Let them fix W10 on PC first and god knows how much work they still have to do. Then we'll see what happens with WP10.

There should still have been one for the office apps which were told to be totally out last week, which was delayed to this early this week being today as the last early this week day. But still no build, so I'm frustrated and completely disappointed :|

Well, I thought that by now every MS fans would know what "soon"means for Microsoft. Fans get there hopes too high creating frustration and disappointment. Let's be patient. It's nothing important enough to get mad at. Me too I'd love to play with something new but I'm not willing to sacrifice the stability of WP8.1 for a pre-alpha of WP10. I'm already rebooting my phone way too often to fix unsignificant stuff, I'm not ready to carry a brick in my pocket.

10074 Cortana no longer speaks to me or listens to me. That's the bug that bothers me. :(

Same here. But my apps are opening faster.

Awesome, my groan has been heard,Thank you G

still not working XD just loads and closes

Has anyone else Bravely/Foolishly put this build on an HP stream 7? Also does anyone have a factory backup image for 8.1 on this device. Sad face...

I still can't use the settings app and anything that's to do with settings. E.g. right-clicking on desktop to personalise says "Invalid registry" Several MSN and default apps such as Sound Recorder, Camera and Calculator cannot download but are showing nonresponsive tiles and icons

I think it's time for a clean installation, I did that, and now it's perfect.

Do you mean installing without keeping files and settings? I installed from an ISO image from 10049. I'll back up stuff then, and try it

Man everytime I see windows 10...... On WC live tile I rush to read the news only to find it's about desktops. What a wait!

The KB article is now live and i'm more happy about the second fix. I was getting tired of my games getting minimized again and again because the start menu decided it should open everytime there was a resolution change. Complained about this through the feedback app just yesterday.

They keep releasing fixes for the PC and the new phone build gets delayed. Release that first, then focus on fixes please

God no. Desktop is Microsoft's largest market, it has the most users and therefore logical priority. Windows Phone on the other hand is neither.

I cant even update to 10074! I'm not able to install the 10074 update via ISO file. I have Acer Iconia W510 and there obviously is not a DVD drive. I've tried to install this update with Windows Update for a week now, and still get the 0x80246017 error. I do have a 4 gt USB stick but I am not being able to make it to "bootable" drive since I have no acces to BIOS. Any solution? LOL :(

I just made a search, and a lot of result about how to usb boot with Acer Iconia W510. Maybe you should try it.

KB3062095 just installed for me. Presumably this is the update. Start menu does seems to be less glitchy, 3D live tiles are rotating smoothly and no black tiles are present.

The sistem installs boots and on first restart the sistem shows " your pc has problems we will restart" and never boots again

Beside the crash we cannot see movies in full screen in Spartan.

How to install in my system??

Has anyone noticed there is a 10074 Home preview and a 10074 Pro preview....I got both on my laptops, I'll check around for the differences

I'm stuck on 10061... 10074 won't show up in WU...

I just moved back to win8.1. Neither the start screen, Cortana, settings, nor windows store beta opened in this build 10074. Will wait till officially they release win10.

I installing Visual studio 2015! It crash and restart window! I can't open window menu | search box(contana i can't write) | use program ux! Then i Refresh Window 10! I press window key, window key + D --> not working???? And search box(contana) not working!!! I don't understand window Refresh has problem with my win 10???

i am downloading this update

Hi all, Windows 10 working good,But my Start Menu not, somtimes hanging..
Windows Central Newsletter
Thank you for signing up to Windows Central. You will receive a verification email shortly.
There was a problem. Please refresh the page and try again.