Windows 10 build 10074: Everything you need to know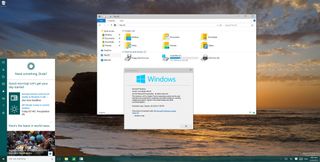 Early this week, Windows 10 build 10074 leaked onto the internet unveiling a number of changes and features coming to the operating system. However, Microsoft is now officially rolling out build 10074 to the Fast and Slow ring of updates for everyone to download and install. Although, the software giant has recently released Windows 10 build 10061 with a bunch of improvements, Windows 10 build 10074 also shows significant changes over the previous build.
Without further ado, let's get a look to what's new in build 10074:
Windows 10 build 10074
Start menu
In this new version of Windows 10, the Start menu and taskbar get a new blur effect, which in combination with transparency, clearly shows that Microsoft is bringing Aero Glass elements from Windows 7 back to Windows 10.
In addition, Microsoft is changing the flat animation effect of Live Tiles notifications in favor of a new 3D flip effect. Furthermore, users can now turn Live Tiles off to stop notifications from the contextual menu.
Keep in mind that the blur effect doesn't appear when you're using Tablet Mode or the Start menu is in full screen.
Cortana
Starting in Windows 10 build 10074, Cortana is now more integrated with the Start menu. When launching the digital assistant users will now notice a new menu bar on the left side with a hamburger button located in the top-left corner.
When clicking the hamburger button the menu will expand and unveil a list of options available with Cortana. From this main menu, you can access to Cortana's Notebook, Reminders, Places, Music (previously known as "Find Song"), Help, and Settings.
Users will notice that Cortana also takes the height of the Start menu when resizing the menu. Even when you take the Start menu full screen, you'll notice that Cortana will grow the full height of the screen.
When search is disabled, users will no longer see the search bar covering the taskbar after opening the Start menu. The only way to do a search is by clicking the Search tile from the Start menu.
Other improvements in Cortana include the ability to answer typical questions as you type them in the search box, such as:
Weather: "Seattle Weather"
Tech support: "memory in my computer"
Finance: "Google stock"
Flight Status: "UA 112"
Calculator: "32*13"
Showtimes: "movies in my area"
Conversion: "34 ft to meters"
Clock: "time in Florida"
Taskbar
Aside from the blur effect, the taskbar also receives a few improvements. In build 10074, you will notice that the Task View button changes when you hover it with the mouse cursor.
In the Notification area, users will also notice that Microsoft is introducing a new control for sound. The new UI for to control sound follows the same flat design we're seeing throughout the Settings app.
Continuum
In Tablet Mode, the software giant is adding the ability for users to go back to the Start menu when closing an application instead on an empty desktop.
Multitasking
Microsoft is adding a few changes to Alt Tab, Task View, and Snap Assist. Users will now have the ability to close an app or window while in Snap Assist.
Settings
Windows 10 build 10074 also shows a number of improvements and changes in the Settings app. While we have previously seen that Microsoft replaced the Screen resolution option for Display settings on the right-click contextual menu. Now, the Personalize option found in the same menu will direct users to Personalization inside the Settings apps, instead of the options in the Control Panel.
The Settings app gets some UI improvements as well. Now, when you click one of the sections inside the Settings app, you'll notice the icon of the corresponding section with a new back button next to the title. Currently, clicking the icon or back button will bring you back to Settings.
On System, Microsoft is renaming Maps with Offline maps and for some reason Tablet Mode and About appear duplicated in the list of settings.
Under Devices, nothing has changed since the last build, but the items has been re-organized to: Connected devices, Bluetooth, Printers & scanners, Mouse & touchpad, Typing, and AutoPlay.
On Network & Internet, Microsoft is adding Data usage, which shows users an overview of how much data the system has used in the last 30 days.
Clicking the Usage details link will display the data usage per app.
The Accounts settings page hasn't changed, but Microsoft is renaming Other users for Family & other users and Your workplace for Work or school.
On Privacy, nothing has changed, but the list of settings has been re-arranged.
Finally, Update & recovery has been renamed to Update & security, and Microsoft is adding the settings for Windows Defender, which is also worth noting that the same settings still appear under System. The For developers item still showing up in this build, but clicking the item will crash the Settings app.
Under Windows Update > Advanced options, Microsoft seems to be changing how users choose to get new builds. You'll notice a new Preview Builds are On label with a Change button that appears not to be working at this time.
Apps
Like in Windows 10 build 10061, build 10074 comes pre-installed with many of the new apps, including Mail and Calendar, Weather, Sports, News, Money, and the new Microsoft Solitaire game. Users will also notice that the Getting Started app has a new icon.
In this new version of the operating system, Microsoft is updating the Music Preview app with a new immersive Now Playing experience with a new full screen experience.
And there is an updated Video Preview app, which now allows users to download, delete, and re-download videos as many times as you want. In addition, you can check progress, pause, resume, and cancel video downloads on up to three devices, and purchased videos support closed captioning.
High DPI support
Microsoft is finally including additional support for high DPI displays. This new improvement will allow users running multi-monitors to use two different DPI settings, which means that Windows Insiders will start to see Windows scale correctly when using multiple monitors.
Windows Store (beta)
In the Store (beta) front, Xbox Live games and in-app purchases should work. Now apps you've purchased on Windows 8.1 will appear in the Store (beta) on every Windows 10 devices you own. Microsoft is also expanding the unified Store to over 49 new markets.
Windows Spotlight
The software maker is building a new learning and discovery experience in the Lock screen with a feature called "Windows Spotlight". Users can enable or disable this feature from Personalization in the Settings app. The new feature will include a range of tips and tricks to use Windows 10, the ability to discovery new interesting apps, and will enable the Lock screen to feature new background images pulled from the internet.
Wrapping things up
Windows 10 build 10074 changes from being a "Technical Preview" to "Insider Preview", which Microsoft says it's a token of appreciation toward the community that is helping to build Windows 10.
Furthermore, after many feedbacks Windows 10 is including a new set of default sounds.
As you can see, there are a number of changes that makes build 10074 a special preview of Windows 10. After installing the new bits, users will notice that overall, the operating system runs smoother and the Start menu and Cortana are snappier than ever before. Having said that, there still bugs and features that don't work, as such you should not be using this version as your primary operating system.
Microsoft is rolling out Windows 10 build 10074 and Windows Insiders can also download the ISO files using the links below:
Are you running Windows 10 build 10074? What do you think about the changes? Let us know your thoughts in the comments below.
Get the Windows Central Newsletter
All the latest news, reviews, and guides for Windows and Xbox diehards.
Mauro Huculak is technical writer for WindowsCentral.com. His primary focus is to write comprehensive how-tos to help users get the most out of Windows 10 and its many related technologies. He has an IT background with professional certifications from Microsoft, Cisco, and CompTIA, and he's a recognized member of the Microsoft MVP community.