Windows 10 build 10061: Everything you need to know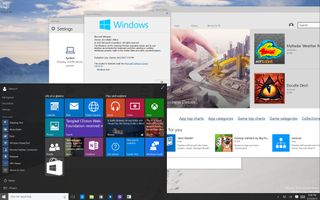 On Wednesday, Microsoft released a new preview of Windows 10 (build 10061) to the fast lane with a lot of changes since build 10049. However, it's only a minor improvement of build 10056, which leaked outside of Redmond's headquarters several days ago.
Instead of listing what's new in Windows 10 build 10061 since build 10056, we're going to be looking for the new official changes since build 10049. That will give Windows Insiders a better picture of what's going on.
Below there is a list of all the changes found in Windows 10 build 10061:
Windows 10 build 10061
Start menu
In the Start menu, you will notice that Microsoft has moved the power options (Sleep, Shutdown, and Restart) above the All apps button. The updated menu has by default two columns of Live Tiles hinting that now users can resize the Start menu by simply stretching the corners.
Groups are now a lot easier to manage and rename. You can also move groups around the Start menu, but it seems that there is a bug causing the menu to crash.
Also at times, if you click the Start button and move the mouse cursor away will cause the taskbar to hide for one second.
When clicking the All Apps button, you'll now see a list of recent apps at the top with a button to clear the listing. In addition, when in All Apps, users will notice a new left-arrow icon indicating users how to return to the Start menu.
Tiles for desktop applications no longer use the color from the icon, but they take the scheme color from Windows.
Microsoft is also adding a new option on the Personalization page to disable transparency, and there support for AutoColor, which pulls the primary color from the desktop wallpaper.
Another noticeable change in Windows 10 build 10061 is that users can now drag and drop tiles on the taskbar or desktop, creating shortcut links.
Taskbar
In Windows 10 build 10061, Microsoft is not only enabling transparency for the Start menu, but for the taskbar and the Action Center too.
A new Windows Defender icon appears in the notification area, and Microsoft has also enabled the new calendar and digital clock when clicking the time.
Task View
On Task View, Microsoft has refined the window icon, the close button, and the thumbnails. The improvements also appear in the Alt + Tab and Snap Assist, and the Task View gets a new icon.
Virtual Desktops
Now the Virtual Desktops supports unlimited desktops, and users will notice a new animation effect creating new virtual desktops. There is also a new experience to access virtual desktops after hitting the limit of the display.
Tablet Mode
Tablet Mode now is more optimized for touch-enabled devices. In build 10061, enabling Tablet Mode will cause the Start button, Cortana, and the Task View buttons to adjust their size and space out to be more comfortable with touch. Items in the system tray will also get more space out to improve "touchability".
Users will see that entering to Tablet Mode will cause all the pinned and running apps to disappear from the taskbar to remove clutter. However, users can launch new apps from the Start menu and access running apps from Task View.
For those who want to see the pinned and running apps in the taskbar when in Tablet Mode they can now change the settings in the Settings app. Furthermore, now there is an option in Settings to boot directly into Tablet Mode.
When in Tablet Mode, Snap features a new divider similar the one we see today in Windows 8.1 when snapping apps side-by-side.
Cortana
In Windows 10 build 10061, Cortana receives two new options: Find Song and Help.
Find Song works in the same way as the Shazam app.
Help aims to help users learn how to command Cortana.
Apps included in Windows 10 build 10061
The new version of the operating system bundles several new apps too. These apps include the new Music Preview and Video Preview, the new Outlook and Outlook Calendar apps (which is worth pointing out that these two apps were first spotted in build 10051). The Outlook apps also include new options to add different types of account (Exchange, Google, iCloud, POP and IMAP, and Advanced setup).
In addition, Microsoft is officially introducing a new Weather, News, Sports, and Money apps. For more information about these apps, you can check my previous write-up.
The new build of Windows 10 also bundles a new Microsoft Solitaire Collection Preview with a fresh new UI, and the app is now universal.
Windows 10 build 10061 includes the new Microsoft Family app to help parents configure parental control. We can also see a new People app and Windows Spotlight app, but all of these apps appear not to be working at this time.
Settings app
Since build 10056 and in build 10061, Windows 10 shows various improvements happening the Settings app. For example, Microsoft is now moving the Display and Personalization configurations to the Settings app.
Microsoft is also removing the Screen resolution option from the right-click contextual menu in favor of the Display settings, which will take users to the new Display page in the Settings app. If you prefer, you can still access the display settings via the Control Panel, but we're not sure for how long the option will be available.
Another big change is happening in the Personalization page, which now includes four new sections: Background, Colors, Lock screen, and Themes.
The most interesting setting in Personalization is Colors that offers the options to disable or enable transparency and the new dark theme across the Start menu, taskbar, and Action Center.
I recently wrote a guide to personalizing Windows 10 with all the new these new settings. You can check everything here.
It's worth mentioning that the new Personalization settings were also spotted in Windows 10 build 10056, but in build 10061 is when the settings actually work and do not crash the Settings app anymore.
Microsoft also is enabling offline maps and the ability to check for an update in Maps.
The Settings app also offers three options to enable different Tablet Mode behaviors. These modes include "Immediately enter to Tablet Mode", "Take me to the desktop" (default), and "Keep the mode I was in previously". And there is an option to hide apps icons on the taskbar when in Tablet Mode. (These settings were also first spotted in build 10056.)
In the Devices sections now there is a Printers & Scanners section, which as the name implies is the place that users will go to install a new printer or scanners. Microsoft also offers a toggle to disable downloads of drivers or device software in metered connections to avoid extra charges.
Privacy adds two new settings: Radios to let users control if apps can run Wi-Fi or Bluetooth automatically to send and receive data.
Account info let users control if apps can access name, picture, and other account information.
Update & recovery in build 10061 features a new "For developers" option. However, we still cannot confirm the purpose of this app just yet.
Project Spartan
Internet Explorer successor, Project Spartan, includes a few improvements in this new release of Windows 10:
The new browser has a new version 0.11
Users can find the downloads in the download manager
Users can open a website with Internet Explorer from Spartan
The "Add to" dialog has been refined
Users can now save PDF opened in Project Spartan
Microsoft enabled the "about:flags" page with new options
There is a number of improvements to the EDGE rendering engine
These new improvements haven't changed since build 10051, but they are new for those coming from 10049.
Wrapping things app
Microsoft recently announced new changes were coming to the Xbox app for Windows 10, and it requires users to be running build 10061 to enable most of the new features. The update for the app doesn't come included in this build, but Microsoft has just released the update through the Store (beta). This update includes Game DVR for PC games, screenshots, Live Tiles, user profile update, new media controls, Xbox controller drivers, and a lot more.
Oh! And let's not forget that there is a new Recycle Bin icon!
For those who have been running Windows 10 build 10049 will find that build 10061 has a bunch of new features and improvements. Those who have been running the leaked version (build 10056) will only notice just a few refinements. In either case users will find that Microsoft still has a lot of work to do if they want to launch Windows 10 sometime in the summer. The build still buggy and a lot of things don't work.
Mauro Huculak is technical writer for WindowsCentral.com. His primary focus is to write comprehensive how-tos to help users get the most out of Windows 10 and its many related technologies. He has an IT background with professional certifications from Microsoft, Cisco, and CompTIA, and he's a recognized member of the Microsoft MVP community.
Looks good!! Specially outlook and calendar. Should've kept screen resolution, wouldn't have made any difference.

And Spartan is actually usable in this build! I'm using it now to write this. Still no extensions at this point, but I can almost use it as my main browser already. It's really fast.

I to agree I normally use Opera but i find myself using Spartan much more. It takes bit to get used to no home icon.

Build 10061 is great but the update is too slow. I recommend all of you to download Windows 10 build 10061 ISO file

Help me, my new build 10061 not activated? Old 9926, 1041... all been activated?

Also love those two apps. They suck on the phone, though...

Swiping from the bottom in general hides the taskbar

Does it? If so, awesome. I didn't like that tablet mode still had a taskbar and I was going to say that it should only appear when swiping in from the bottom. I'm testing 10 on my old desktop, I like my SP3 too much to try beta software on it. Therefeore, testing tablet mode isn't ideal. :) The only other thing i want here is that, since Cortana can search for music, it would be nice if they brought back the ability to search using the camera (i.e. QR codes, etc.)

In tablet mode the taskbar should only show up on the start menu and it should be a larger dock with easier to use buttons and easier to read time. Of course this dock could also be accessible from within any app with a swipe up. The way it is right now looks very silly on a tablet. Portrait mode needs a lot of work as well.

Completely disagree. It should be entirely malleable. I want taskbar 100% of the time on my tablet.

Now we just need a way to get app settings, and app commands easier, and a way to share...

Its a bug. Same here.Taskbar hides itself a lot.

Re the ISO: http://news.softpedia.com/news/How-To-Convert-Windows-ESD-Files-to-ISO-4...

Microsoft does not make official ISO files for Windows 10 for releases to the Fast ring. Only for Slow ring. The company does this because it needs to test how update works. Thanks,

All build ISO's can only be downloaded once the build is available for slow ring users.

The Windows Central app works again in this build, so I'm happy.

The app works? Light the fireworks guys!!

I noticed this as well, booyeah

The Windows Central Apps for both Windows and Windows Phone are poorly designed for an "All About Windows"... yah.

It's coming in together beautifully

Right? Great job by MS till now, subsequent builds should be ground-breaking as well.

Ground breaking? probably not. At least not to those on the fast ring. Chances are that the slow ring participants are going to get milestone updates.

Outlook and Poople are execrable

change of recycle bin item from the hideous one is the most important one...:P

Absolutely loving this build...feels more polished. The new UI in the MSN apps looks so much better. And I have to say the hamburger menus seem slick and natural...enjoying using them.

Why is 2 outlook accounts not allowed in Mail app still? Posted via the Windows Phone Central App for Android

Maybe its part of the next office outlook

I have configured 4 outlook accounts in the new Mail app. It is showing some unintended behaviour though, adding accounts onits own accord, not using the primary alias of an account and more.

How do you add subsequent Outlook accounts? There are only options for Exchange, Google, iCloud and IMAP.

You add it as an exchange account.... or at least thats what I've always done

Still cannot use Cisco Anyconnect... Grrr...

Right click on it, run as an admin, try that, I was having problems on this build and that seemed to work...

What version of Cisco Anyconnect are you using, I've tried and can't get 3.1.04059 working on 10056. Tried all the previous tricks, Regedit, Runas Admin etc.

version 3.1.02040 works for me on 10061

Have you tried running it in Compatibility Mode? If not, try that. I was having trouble with it under 8.1 and running in CM fixed it.

Looking forward to installing :-) as soon as I can figure out why when I sign in on build 10049? I can no longer access anything, not even windows update..... Only file explorer..... Never had issues before, just started out the blue.....

Remember it's still in the early stages and it's probably a rare bug, hope it gets resolved :)

Does the F8 option work in Win 10 when booting? Safe mode?

All these updates coming so quickly are great. Really makes me want to try Win10 even more now. But I'd rather wait until it's stable enough to replace my main OS.

Been running it on my (desktop) for a few months now as my main OS. Works really well already

Same here been running it for awhile as my main os. Loving this new build.

Been using this since day 1. A few niggles with some of the earlier versions of apps but never had a system crash. I did need several reboots to get my screen brightness right after the earlier builds updates but that has now been resolved.

I'm having trouble with Apps updating specifically the XBOX App. It downloads around 0.4 MB then errors out each time I try meaning if I click Retry over and over it goes 0.4MB, 0.8MB, 1.2MB etc... Also the Mail App is still crashing maybe because it can't update? Still the rest of the TP is pretty impressive.

Same here with updating. Always had this problem in all the TPs.

Is there any chance you have problems with your internet? Or is it for dormitory or something? Same happened to me with 10061 build too. It was constantly failing and i had to retry. And after a while even that would not work and i had to restart whole update. But when i used my university's internet rather than dormitory's, it downloaded very quickyly without any failure. So i suppose, some net suppliers have an issue with server connection with microsoft.

This build is great, but I honestly don't like at all the fact that they decided to use the theme color for each desktop program pinned to the start screen.
Lets say I pin 10 tiles to a group, this way I'll have 10 tiles with the exact same color :(
As for that, I prefer the auto customization that W8.1 has, where each tile has its own color depending on the program icon.
I hope they'll add an option to change that in future builds.

I'm not trialing the W10 TP but had a quick look to see what's happening and I found it odd that all tiles would be the same colour. So agree with you.

This build almost makes me want to install it on my Surface Pro 3. Have been holding out, but 10 is looking better and better!

Been using it on my SP3 since last September the only build I had any real trouble with were 10049 and 10051. Would get random blue screens of death when starting up or waking from sleep. Seems to be fixed now though. 10061 is a nice build to use with it. Very smooth.

I need my tablet, so I will stick with (the much hated) Windows 8.1 on it... The builds work fine but, some apps will not install or run on it so need to have compatabity. I would hold out, dual boot on a desktop or VM is the best bet right now.. It is a LOT better now than what the past builds were..

I've got a dual boot on my SP3 that's running very well.

The best thing about this build is the trash can icon JK

Yea, I like it but, I wish they would upgrade all icons (explorer, etc), as they look cheezy and like a old cartoon...

The o nay annoyances keeping me from using it on my Surface is the lack of touch friendly controls for brightness and volume. Using it on my other laptops though, seems to finally be coming together as an OS.

They added a 25%, 50%, 75%, and 100% options when hitting the brightness icon in action center, but they SERIOUSLY need to just bring the slider back. Why on earth it was removed is beyond my understanding.

Fn+Del is brightness up Fn+Backspace is brightness down

That really doesn't count as "touch friendly". Guessing they meant using it in tablet mode.

these detailed write ups about what's new in Windows 10 builds are outstanding. would love this for Windows 10 mobile builds as well, if possible. Great job guys

I really appreciate the feedback. Thanks,

The recycle bin looks good..

Is anyone else having errors printing? I can print a test page and that's all.

Ugh, that right mouse menu is still the old dated one.

The AutoColor feature is something I suggeted long time ago via WP Suggestion Box. Could it be they actually read that?! ;-) 1 MUCH needed feature is missing: DESTROY taskbar when in tablet mode ​(at least for devices that have a Windows Button) ​

The juxtaposition between this and the phone build are insane. So much more polish and functionality here. Good write up and good build.

I know its beta but when you ask Cortana what you can say, it shows call and text message. I wonder if that means we will be able to do these things through our computers and tablets with Windows 10. I would love to be able to text from my tablet instead of getting up and finding my phone! #lazy

Agree!! Vote for that idea here: https://windows.uservoice.com/forums/265757-windows-feature-suggestions/...

Just got the MIC set up on my PC. Trying out hey Cortana. Doesn't work the first time so I speak louder. 3 Lumias my tablet and my PC all respond at once. I didn't even know all those phones were in my office right then.

If only they could do as a good job with Windows 10 for phones...

Did I just see 'Send a Text' from Cortana on a PC? Nice!

hope they really bring windows phone pairing with pc on the same network (and mabe through internet too) to use phone capabilities from the pc. people and messaging app could help with that

Vote for that idea here :) https://windows.uservoice.com/forums/265757-windows-feature-suggestions/...

A tip for people that I found out last night. If your running 32bit apps in the start menu that wont run once you click on them (known bug on this build), RIGHT click on them and select "Run as Adminstrator" and the app will run... Found this out last night after upgrading, I was trying to run Remote Desktop (use it to connect to a few machines at home) and it would not run, and I did this and it ran fine. I hope they send out a patch for this soon, this is an annoying bug (wonder if disabling UAC would sove this). Does anyone know of a tiny microphone that can be mounted on a flat panel screen? I want to try cortana on the desktop but, dont want a visable microphone on my desk.

Creative's mic that shipped with my sound card was low profile enough. Might be able to just order the mic by itself.

Does anyone else have problems with the new mail app not syncing mail from exchange
/office 365?

Tablet mode is improving, but still a long way from primetime.

Enjoying this build more than the last, Im a heavy touch user. Now for its final release, XB1 and Win 10 updates!

I still think this whole "let's get rid of the OneDrive app" thing is a touch of insanity... Tile view is the only thing that even makes it remotely realistic to use without a stylus.

I'm wondering if all those great features will affect the general performance of Windows in the low end. Cause right now budget ATOM or CELERON even AMD computers run smooth with Windows 8.1. Any comments?

The minimum system requirements didn't changed.

A website ran some performance tests about a month ago and it resulted in no performance change. The actual change was about a 5% change in favor. The biggest performance improvement came from directx 12. It even benefited integrated GPUs from Intel. Posted via the Windows Central App for Android

Will windows 10 work on netbook too?, wish i can update my netbook.

If you meet the minimum system requirements, I don't see why not! Processor: 1 gigahertz (GHz) or faster RAM: 1 gigabyte (GB) (32-bit) or 2 GB (64-bit) Graphics card: Microsoft DirectX 9 graphics device with WDDM driver Thanks,

I guess the problem will be the screen resolution right?

Spartan performance greatly improved over 49 build!

A summary like this is always appreciated

Windows 10 on PC is looking really nice, I'm looking forward to upgrading (although i do really like 8.1...). Windows 10 for phones, not so much, but it's growing on me. As both are developing, they're starting to feel much more unified. I presume the start menu can be resized to full screen, to allow for what is essentially a 8.1 start screen?

Liking this build. Finally feels like the OS is starting to come together from a UX perspective. I still hate the new "all apps" section in the start menu though. Tablet mode is getting better, but there's still lots of room for improvement. I'd be pretty happy if they made these changes: Add an option to hide the taskbar, and let you swipe up from the bottom to show it Add an option to make swiping from the left behave more like Windows 8.1 where you can quickly flip through the running apps When swiping from the right, make the notifications pane "stick" to your finger instead of just treating it as a gesture. It does this on the phone when swiping from the top, and it would make it easier to "peek" at the notifications since you can quickly swipe in and back out without lifting your thumb. Right now you swipe in, then have to reach all the way across the pane and tap outside it to close it. Not ideal when operating my tablet with my thumbs. Pull in some features from the phone keyboard. The keyboard in full Windows 10 feels very outdated and limted by comparison. Anyway, they're making progress. Can't wait to see if there are any new announcements at Build next week!

Totally agree. The all/recent apps thing is a horrid space waster for tablets. I would hope that people are already prioritizing them by the way they're pinned, making that column completely redundant.
I'd like to see Cortana rolled into the notification center since it's a bit schizophrenic to have two separate notification areas, but I know it won't happen.
Definitely try to use the wordflow keyboard on the tablet at least 3 times per day... Need to bring it to x86/x64 big time.

Does this build fix the bug where the start menu wouldn't appear, and the mail/calendar/people apps don't work.

How's the new music & video app so far?

New UI, universal, but very limited in functionality. Thanks,

Update pretty much turned my tablet into nothing more but a pretty desktop. no Start menu displayed with pressing button, no Action Center displayed when I attempt to get to Settings. Event viewer shows repeated errors in Application log: "Activation of app Microsoft.Windows.CloudExperienceHost_cw5n1h2txyewy!App failed with error: The operation was blocked by parental controls. See the Microsoft-Windows-TWinUI/Operational log for additional information." Not sure I can get myself out of this one! :)

Is it OK to instance this build in my personal laptop . because I use adobe all most all the applications and and Microsoft web matrix . I really want to install this .I just wan to know is this build crash .or any applications not working .please let me know is it safe to install .thanks

There are a few known issues. One thing for sure, don't try to grab a group of tiles and try to move it around. I will crash the Start menu and it's really hard to make it work again. Thanks,

Exchange Mail is broken, the system is unable to apply security policy. Posted via the Windows Central App for Android

i can't download the update idk why it says i got an one and its not downloading and an error shows up

Have you try using the Disk Cleanup tool to make room in the hard drive to install the update? You could also trying resetting Windows Update (https://support.microsoft.com/en-us/kb/971058?wa=wsignin1.0) Thanks,

I've installed Windows 10 build 10061 but when I select the Start button, nothing happens. Also no response from Cortana when selecting the microphone icon in the taskbar's search. Numerous desktop processes are running when I right-click the Start button to open Task Manager but I can't launch any Windows apps. For example I can launch File Explorer, Google Chrome and Chrome App Launcher however the Mail, Calendar, News and Settings apps so far are not available. Windows 10 build 10061 running as the native OS on a HP laptop 64 bit Intel Core 2 Duo CPU that with 2 GB RAM. I log in with full local Administrator permssions and had no issues with previous Windows 10 builds. During the install of 10061 the installation circle on a black screen took about an hour to reach 100% but I saw no errors reported. (I've sent the above to the Windows Insider program as well)

I had the same issue --- only fix I had success with was to perform a "Clean Install" in the Recovery options. You'll need to back up your files if necessary.

You shouldn't be running 64 bit OS unless you have at least 4GB of RAM

Spartan still gives me a proxy error... :/ Posted via the Windows Central App for Android

Sometimes when I wake up my SP3 it shows blue screen with cursor after login. And sometimes Spartan just hangs out whole tablet for minute or two and than system closes it because of huge use of memory. Only two concerns about this build so far :)

The first happens to my Surface every single time when woken up from sleep after 15 minutes (the timer that's set for it to ask for a password again). Pressing the power button once to turn the display off, then pressing it again to turn the display on, fixes it. Haven't had any memory issues on my Surface, except when running the always on 30s of Game DVR with the Xbox app.

Two things I don't care for in this build... The new digital clock-calendar that expands from the task bar. The design looks pretty bad. The white border around the notification center. This should really be borderless.

Please help , struggling to get Build 10061 installed via Update. Done the install 4 times with 50-68% max download ,Help please

The outlook app is nice, but I have to say that it's a little bit like icloud.

I just updated my laptop to 10061 yesterday and I have to say, I'm VERY impressed. Yes they still have a lot of work, but if what they have been able to do from 10049 to 10061 is any indication, I'm sure they will have a completed OS this summer. Just from what I've been able to work with so far, I can already tell I prefer Windows 10 to any previous version, and I feel confident that most people will not have a problem upgrading to Windows 10 when it is released, especially since it will be a free upgrade! Another thought is that if lots of people upgrade, then my prediction of developers having to develop apps stands a good chance. Developers won't really want to develop for Windows Phone given the low market share, but they will be developing for Windows 10 since it's market share will be much higher. But the clincher is, Windows 10 works on all devices, so they inadvertently will simultaneously be developing for Windows Phone as well. This will probably make more people want to buy a Windows Phone. Windows Phone sales haven't really picked up much in the past, but I think Windows 10 will be what will really give WP sales a much needed boost!

In the start menu??? start menu will not open, i can right click on the windows logo but not bring the start menu up

Hey Windows Central, great overview, but when you use a page as a source, it's always nice to link to them: http://changewindows.studio384.be/build.php?build=10061. Why I think this has been your source? Because the order of mentioned changes in Spartan is quiet familiar. Especially to me.

I'm just not finding any reason for wanting to upgrade to this for a tablet. So far I am finding this an all around inferior experience to 8.1. I really dislike the vertical scrolling. Everything just seems so much more polished and fluid on 8.1. I will keep trying but if in the end unsatisfied I'll stay with 8.1 until the next rollout.

Or for a PC. I love using Win8.1 on my PC, my laptop and my Surface Pro 3. There is no universe where I find Windows 10 anything other than an ugly, messy, poorly-designe, spiteful piece of junk as an operating system.

Oh good. It's not just me. I really want to call this a hot mess. Lol

Really? I completely ignore the new start page in Win8.1... I only use it to go to the desktop. I seldomly use it to load Hulu, but only when I know I won't be multitasking at all for that time. If I even think I might multitask, then forget about it. Posted via the Windows Central App for Android

I'll admit... First version of win10 was nice but meh... Now it's really starting to look good. Love it. I feel this way about win10 on phones too. Hopefully it turns around just the same. Looking forward to some change.

Just fifteen minutes with the latest build of Windows 10 and it was enough for me to be absolutely certain I will never, ever like Windows 10. They are doubling-down on their stupidity in design. Microsoft, I've gone from one of your biggest cheerleaders to one of your biggest haters.

it's time for you to send messages to Microsoft about what you feel is bad. everyone has an opinion of what theythink Windows 10 should look like and work like your opinion is worthy of their consideration too so give it to them best of luck to you ! as a designer I think microsoft's tiles should have the tiles have rounded off corners instead os 90 degree sharper corners because people find the more appealing to look at then plain jane 90 degree sharpe edged corners. I expressed my ideas to Microsoft no reply but at least I gave them a warning that if you make your UI look better people might buy more Windows smart phones and tablets. who know maybe they will give my artful idea a try in a later build

Disagree. Previous builds looked really bad visually. This one is looking amazing and a lot more polished. They sure will be improving even more.

My feeling as one who has retired from graphic design is that the 8.1 look is total eye candy whereas the rounded look which you find in OSX and Android is rather bland and tired looking. If you want to see a beautiful example of bold squares and rectangles take a look at The Verge website. I may not always agree with their editorial content but it's a delight visually which is how I find 8.1 to look at. It's style was a bold move for MS but the average person doesn't want to be bothered with adjusting to something different.

Did anyone notice that the Music and Video preview apps are named Microsoft.ZuneMusic and Microsoft.ZuneVideo in C:\Program Files\WindowsApps? The return of Zune?

T​hese have always been labeled with the Zune brand.

Yes, I didn't say it had something to do with this particular build.

I like this new build with the exception of Spartan. I have not been able to run it. Click on it, it opens to splash screen, then closes. Havent been able to figure out what is wrong : (

Great write-up, but only one thing: Eff Barça. That is all.

I want the old bin icon.. :(

Here's a video showing more of a hands on tutorial. https://www.youtube.com/watch?v=jS8ovzn8Ghc

Can anyone got this build tell me if there is a manual update option within update settings?

Installed but cant log in. I keep getting a DPC WATCHDOG VIOLATION everytime I try. Then it goes into restart. Anyone else getting the same?

Complete failure at the login screen. It is an older laptop upgrading from W7. Ran previous build ok. Now I cant get in to step back. Any ideas?

Update. After a dozen attempts I was taken to a page with restart options. Tried to revert to previous build but it will not let me so next option is to refresh. Hope this works

Every new version of Win 10 contains more and more bugs and stupid things. I was a fan of Windows, but now I think that I have to consider other operating systems... (

I also have a lot of bugs on a tablet. Luckily I don't have to use it for serious work. The biggest problem is Bluetooth not working. Anyone else has the same problem?

When you do, make sure you only use beta releases of "their" operating system and come back and let us know how it worked out.

Are you serious you're thinking of leaving Windows due to bugs in the preview versions?

Not because of bugs, but because of the MS. They give us OS that doesn't work, and with ugly user interface. I understand that this is not beta, but this doesn't mean that _everything_ should crash. I am developer, but I never do commits before I check what I wrote. Currently it looks like MS has 100500 junior developers and everybody wants to do finish tasks as fast as possible.

Just amazing, so dang beautiful. I am loving it.

Is it just me who think that the Recycle bin icon is so Windows 95-esque?

Unfortunately can't open any app ie Spartan, even settings. Nothing happens when I click on items?????....... Any one knows what could be the issue?

Ohh well, it seems you are not the only one.. too bad microsoft is not supporting systems, that they broke with their update... Not good for their Statistics.. 8-/ Here are 2 Links from the insider community, If Linking is allowed here... You see, no attemp to go for this: Windows 10 Update Build 10061 Parental control Problem, ascess to apps and sytem broken Build 10061 update from 10041 locked me out Can t access anything useful parental control settings denies system access
Windows Central Newsletter
Get the best of Windows Central in in your inbox, every day!
Thank you for signing up to Windows Central. You will receive a verification email shortly.
There was a problem. Please refresh the page and try again.