Windows 10 build 10061: Everything you need to know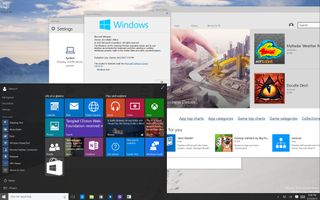 On Wednesday, Microsoft released a new preview of Windows 10 (build 10061) to the fast lane with a lot of changes since build 10049. However, it's only a minor improvement of build 10056, which leaked outside of Redmond's headquarters several days ago.
Instead of listing what's new in Windows 10 build 10061 since build 10056, we're going to be looking for the new official changes since build 10049. That will give Windows Insiders a better picture of what's going on.
Below there is a list of all the changes found in Windows 10 build 10061:
Windows 10 build 10061
Start menu
In the Start menu, you will notice that Microsoft has moved the power options (Sleep, Shutdown, and Restart) above the All apps button. The updated menu has by default two columns of Live Tiles hinting that now users can resize the Start menu by simply stretching the corners.
Groups are now a lot easier to manage and rename. You can also move groups around the Start menu, but it seems that there is a bug causing the menu to crash.
Also at times, if you click the Start button and move the mouse cursor away will cause the taskbar to hide for one second.
When clicking the All Apps button, you'll now see a list of recent apps at the top with a button to clear the listing. In addition, when in All Apps, users will notice a new left-arrow icon indicating users how to return to the Start menu.
Tiles for desktop applications no longer use the color from the icon, but they take the scheme color from Windows.
Microsoft is also adding a new option on the Personalization page to disable transparency, and there support for AutoColor, which pulls the primary color from the desktop wallpaper.
Another noticeable change in Windows 10 build 10061 is that users can now drag and drop tiles on the taskbar or desktop, creating shortcut links.
Taskbar
In Windows 10 build 10061, Microsoft is not only enabling transparency for the Start menu, but for the taskbar and the Action Center too.
A new Windows Defender icon appears in the notification area, and Microsoft has also enabled the new calendar and digital clock when clicking the time.
Task View
On Task View, Microsoft has refined the window icon, the close button, and the thumbnails. The improvements also appear in the Alt + Tab and Snap Assist, and the Task View gets a new icon.
Virtual Desktops
Now the Virtual Desktops supports unlimited desktops, and users will notice a new animation effect creating new virtual desktops. There is also a new experience to access virtual desktops after hitting the limit of the display.
Tablet Mode
Tablet Mode now is more optimized for touch-enabled devices. In build 10061, enabling Tablet Mode will cause the Start button, Cortana, and the Task View buttons to adjust their size and space out to be more comfortable with touch. Items in the system tray will also get more space out to improve "touchability".
Users will see that entering to Tablet Mode will cause all the pinned and running apps to disappear from the taskbar to remove clutter. However, users can launch new apps from the Start menu and access running apps from Task View.
For those who want to see the pinned and running apps in the taskbar when in Tablet Mode they can now change the settings in the Settings app. Furthermore, now there is an option in Settings to boot directly into Tablet Mode.
When in Tablet Mode, Snap features a new divider similar the one we see today in Windows 8.1 when snapping apps side-by-side.
Cortana
In Windows 10 build 10061, Cortana receives two new options: Find Song and Help.
Find Song works in the same way as the Shazam app.
Help aims to help users learn how to command Cortana.
Apps included in Windows 10 build 10061
The new version of the operating system bundles several new apps too. These apps include the new Music Preview and Video Preview, the new Outlook and Outlook Calendar apps (which is worth pointing out that these two apps were first spotted in build 10051). The Outlook apps also include new options to add different types of account (Exchange, Google, iCloud, POP and IMAP, and Advanced setup).
In addition, Microsoft is officially introducing a new Weather, News, Sports, and Money apps. For more information about these apps, you can check my previous write-up.
The new build of Windows 10 also bundles a new Microsoft Solitaire Collection Preview with a fresh new UI, and the app is now universal.
Windows 10 build 10061 includes the new Microsoft Family app to help parents configure parental control. We can also see a new People app and Windows Spotlight app, but all of these apps appear not to be working at this time.
Settings app
Since build 10056 and in build 10061, Windows 10 shows various improvements happening the Settings app. For example, Microsoft is now moving the Display and Personalization configurations to the Settings app.
Microsoft is also removing the Screen resolution option from the right-click contextual menu in favor of the Display settings, which will take users to the new Display page in the Settings app. If you prefer, you can still access the display settings via the Control Panel, but we're not sure for how long the option will be available.
Another big change is happening in the Personalization page, which now includes four new sections: Background, Colors, Lock screen, and Themes.
The most interesting setting in Personalization is Colors that offers the options to disable or enable transparency and the new dark theme across the Start menu, taskbar, and Action Center.
I recently wrote a guide to personalizing Windows 10 with all the new these new settings. You can check everything here.
It's worth mentioning that the new Personalization settings were also spotted in Windows 10 build 10056, but in build 10061 is when the settings actually work and do not crash the Settings app anymore.
Microsoft also is enabling offline maps and the ability to check for an update in Maps.
The Settings app also offers three options to enable different Tablet Mode behaviors. These modes include "Immediately enter to Tablet Mode", "Take me to the desktop" (default), and "Keep the mode I was in previously". And there is an option to hide apps icons on the taskbar when in Tablet Mode. (These settings were also first spotted in build 10056.)
In the Devices sections now there is a Printers & Scanners section, which as the name implies is the place that users will go to install a new printer or scanners. Microsoft also offers a toggle to disable downloads of drivers or device software in metered connections to avoid extra charges.
Privacy adds two new settings: Radios to let users control if apps can run Wi-Fi or Bluetooth automatically to send and receive data.
Account info let users control if apps can access name, picture, and other account information.
Update & recovery in build 10061 features a new "For developers" option. However, we still cannot confirm the purpose of this app just yet.
Project Spartan
Internet Explorer successor, Project Spartan, includes a few improvements in this new release of Windows 10:
The new browser has a new version 0.11
Users can find the downloads in the download manager
Users can open a website with Internet Explorer from Spartan
The "Add to" dialog has been refined
Users can now save PDF opened in Project Spartan
Microsoft enabled the "about:flags" page with new options
There is a number of improvements to the EDGE rendering engine
These new improvements haven't changed since build 10051, but they are new for those coming from 10049.
Wrapping things app
Microsoft recently announced new changes were coming to the Xbox app for Windows 10, and it requires users to be running build 10061 to enable most of the new features. The update for the app doesn't come included in this build, but Microsoft has just released the update through the Store (beta). This update includes Game DVR for PC games, screenshots, Live Tiles, user profile update, new media controls, Xbox controller drivers, and a lot more.
Oh! And let's not forget that there is a new Recycle Bin icon!
For those who have been running Windows 10 build 10049 will find that build 10061 has a bunch of new features and improvements. Those who have been running the leaked version (build 10056) will only notice just a few refinements. In either case users will find that Microsoft still has a lot of work to do if they want to launch Windows 10 sometime in the summer. The build still buggy and a lot of things don't work.
Get the Windows Central Newsletter
All the latest news, reviews, and guides for Windows and Xbox diehards.
Mauro Huculak is technical writer for WindowsCentral.com. His primary focus is to write comprehensive how-tos to help users get the most out of Windows 10 and its many related technologies. He has an IT background with professional certifications from Microsoft, Cisco, and CompTIA, and he's a recognized member of the Microsoft MVP community.