Windows 10 build 10056 unveils updated MSN apps with new UI and vertical scrolling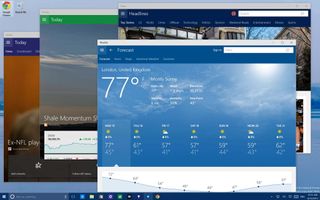 While the latest official release of Windows 10 Technical Preview still stuck in build 10049, a new preview of the operating system (build 10056) recently leaked onto the web. This release of the OS unveiled a number of changes, improvements and updated apps including a new Weather app.
Additionally, Microsoft is also including new redesigned version of its Sports, Money, and News apps (now called MSN Apps).
All these new apps are universal, which means that they run on PCs, tablets, and phones. All the new MSN apps introduce a fresh new design. Microsoft is also changing the scrolling to a traditional vertical orientation (moving away from the awkward horizontal scrolling that only made sense on tablets).
Let's have a look as to what's new in these apps for Windows 10:
Sports
Interesting enough all the new apps share a similar look and feel to the same sections in MSN.com. When launching Sports, you will see the top featured article front and center and access to the different sections. Scrolling down the page, you'll find all the latest article arrange on a Pinterest's like grid.
The new MSN Sports app also features a Scoreboard, Slideshows, and Videos section. In addition, you can do pretty much everything you were able to do before, like follow your favorites sports teams, read statistics, and more. Also, clicking the hamburger menu button in the top-left corner of the app will the you access to settings and list of your favorite teams.
Money
Money for Windows 10 also features a main finance article when you first open the app. Unlike the Sports app, MSN Money does not feature a top menu with different sections; instead, you have to click the hamburger menu button to see a listing of what is available to you. For example, Market data, which currently is not available, Watchlist, News, Personal Finance, Currencies, Mortgage Calculator, World Markets, and access to Settings, which at this time is very limited on all the apps.
News
The News app for Windows 10 is a little different from the rest, when you launch the app you'll go directly to Headlines, and you'll see a listing of the top stories. Each section features the top four stories making headlines with a listing of the latest articles arranged on a Pinterest's like grid.
From the menu, you can access other areas, such as Topics. There you can make a list of your interests, Local for local news, and Videos that look the same as the Sports' Videos section.
Weather
The Weather app is perhaps the MSN app that received the most changes, including a fresh new design. Like the rest of the apps above, the content can be scrolled vertically. The new MSN Weather app also features a main Forecast section as well as one for News, and a Maps, Historical Weather, and Favorites area, which aren't yet available.
(Note: Although we have seen the Weather app in previous posts, I wanted to include it in this list as it part of the MSN apps group.)
Wrapping it up
Even though these new universal MSN apps are an early version of what is to come, they already are an improvement from the same apps we have been using in Windows 8.1. The UI has a modern look and matches the elements Microsoft is implementing in Windows 10. Despite many people not liking the new hamburger menu, the new UX choice is very useful, I even like the back button that appears whenever you access a new section.
Weather, News, Sports and Money have been spotted in Windows 10 Technical Preview build 10056. This version of the OS is not available to the public, and for those wondering the Health & Fitness and Food & Drink apps remain the same for now. Nonetheless, we can certainly expect these apps to get updated in the future.
How do you like the new MSN apps for Windows 10? Leave us your thoughts in the comments below.
Mauro Huculak is technical writer for WindowsCentral.com. His primary focus is to write comprehensive how-tos to help users get the most out of Windows 10 and its many related technologies. He has an IT background with professional certifications from Microsoft, Cisco, and CompTIA, and he's a recognized member of the Microsoft MVP community.
I am downloading it right now

just go to any torrent site.

Build 10056 is not an insider build! It is a leaked internal build, and Gabe Aul has already said that we will not be getting this build from the Insider Program.

Is it only me or am I seeing 1 news screenshot with weather screenshots

Universal App but wont run on Windows 8.1.
Not so universal now is it.

Windows Apps are for Windows 10. Which is a FREE upgrade. You cant complain and staying on Win8.1 is your choice but you'll be left behind as new apps are.made for 10 and not 8. That's tech for ya, things go obsolete whether you like it or not.

You'll be able to upgrade to 10 for free, if you didn't know. And then, use them happily. They will be universal across all WINDOWS 10 running devices and most devices are getting that upgrade for free.

So many hamburgers that MS could feed third world countries... :(

Hahaha! This made my day!!!

McCrosoft, McDonald called, they want their hamburgers back!

There's a McDonald's image in the article, such coincidence

You my friend. Have won the internet.

Only an American would think that's funny

Actually, I'm no American but find it funny as hell!

You do know McDonalds exists in most countries right?

I'm not American and I'm vegetarian and I think that's funny


i'm from the phils, a 3rd world country, and the joke actually made my day :D

Me too class 3 world, think that comment is light hearted. Especially since the word 'hamburger' cointains 'ham' Phew.. too much PC here...

@Sean1robertson:
This is NOT funny - on two counts!

Who doesn't love a good hamburger though? Bacon, cheese and tomatoes and I'm a happy man. But it when it comes to the redesign,all in all it looks great.

Lol! Quite upset with that hamburger menu and this one sure the best joke yet.

Terrible joke and poor taste.

haha you made me happy right this instant :D

So many poor and stupid people. Lol. Lets talk badly about those poor stupid people ?

"The needs of the many, outweigh the needs of the few, or the one." -Spock (dying words)

Okay, Pivots and Hamburgers. Hm. Yeah, okay. I could like that.

As long as we can swipe right to get to the next section....

I hate hamburger menus replacing the swipe/pivot/metro but....have been doing some web designing today and there are more and more sites using them, one way or another. They are now growing on me as I seem to use them more and more using sites on the internet. These new apps do look appealing to me and as they have more design coming their way, maybe a move to Windows 10 will not be as painful as I thought it would be moving from my beloved Metro.

I prefer nuggets, but Microsoft won't include a nuggets menu for some reason

I also prefer the hamburger button, it's easier on the fingers and follow the design of pretty much every mobile app. Thanks,

But I don't think they will work that way anymore, which is a shame. I disagree with Daniel -- swiping horizontally is not awkward.
I think vertical scrolling makes sense when the apps are in a window on the desktop, but they should scroll horizontally when in full-screen mode.

Noticed on the Galaxy S6 the hamburger menu at the top right has become a vertical ellipsis. Wonder where they got that idea ... I like horizontal scrolling, better than vertical. Especially for the menus.

What is wrong with just the simple "hamburgers!" Accept them now! They are universal from now on!

Exactly. Big screens like these are meant for two-handed use anyway.

The problem with the three dots is quite simply that they are too small and can be difficult to hit without hitting something else instead. So I'm all for the burgers :)

Just swipe from the top or bottom into the screen.
I don't know why people try to hit these small bars.

My god. I didn't know that :P But they are still now easy to hit on a desktop. Besides the desktop settings system is a mess, so the need to just pick one or the other.

"My god. I didn't know that :P" Heh, I had my phone for over a year before I discovered that.

All of the edge swiping is gone. The only thing you really have it for is Task View, Notification Center (which both have visual indicators/icons as well) and app commands in apps designed with the old Windows 8 design language.

Ok ok, but let's put the hamburger in the place of 3 dots, and not in the oposite side :(

Yes! They should get the same placement as the dots!

I'm for one of two things, either hamburger where the 3 dots were, or (to me, more logically) just make the three dots a little bit larger so they aren't hard to hit and are more obvious to the new user.

That would also make sense

Somebody send this feedback to MS! Hamburger menu in same place as ellipsis menu from earlier!

If only they'd be on the bottom right corner :(((

This. We want things more on bottom

Carousel pivots and hamburgers together if implemented properly shouldn't be too much of a problem I guess...the hamburger menu has to be accessible by a swipe from the corner...i get that it will conflict with the pivots but give it some spacing in between and it will work fine...i sincerely hope they will implement it this way

Thank you! I'm happy to be part of the team.

You can ask Cortland for that, she tells stories too

I HATE vertical scrolling on a tablet, seems like it takes forever to get where you need to be. I would rather see Microsoft utilize a container type that aligns horizontal for tablet devices and switches vertical for mouse and keyboard, which would be dead easy to do in XAML.

Not a fan either. I thought the whole concept of continuum was to provide features and changes best for tablets and touch. I guess it's just a fancy way to auto full screen everything.

I have to believe that will be how apps work once the final polish is in place. Well designed modern Windows apps should adapt to the use case.

Interesting. Other than on the phone, I hate horizontal scrolling, even more so with a keyboard and mouse. It feels contradictory to the way we've been using websites for decades.

I really love windows 10 new ui as a proffesional windows user i dont have any problem with hambergure design and i am sure many people will move to windows 10
Thanks MS thanks satya nadella

That looks clean liking it.

Whats the problem with hamburger menu?

Some haters are afraid of things that they presume is cursed by the evil G-Droid :P

No Problem. Only a big Problem on Smartphones, because it is impossible to use it with one-hand.

That's not because of the hamburgers. It's because of their location. There's no reason why they can't be put at the bottom like the dots

It's really because of how the OS handles edge swipes. On Android, an edge swipe deploys the side menu with out being any where near the hamburger button. I thought Microsoft was moving the OS towards a similar direction with handling edge swipes, but if I'm not mistaken, this gesture is still dedicated to launching Task View. And it does nothing on Windows 10 Mobile TP, hopefully such functionality is coming.

Or, more likely, it's because Windows 10 universal apps can run as floating windows or windows docked on the right hand side of the screen. Swiping in from the top or bottom of the screen to invoke the app bar in Windows 8.x made sense because a store app was guaranteed to virtically fill the screen.

The problem with the hamburger menu is that it's very vague. People don't understand it because it doesn't have any indication of what it is or what it does. It's been proven many times to significantly reduce usability and is generally considered bad UX design. Many apps and websites have found that user engagement increases when making their UI more obvious (replacing the 3 lines with 4 letters; "menu" for example).

Is it possible to choose specific news site in the News and Sports apps? I never use the News app and only the Sports app for results, because that I can't choose where to get news from. If I can't choose I'll just stick with Nextgen Reader. Which is an awesome news app and is also available on both PCs and phones. Off topic, have all of you been to the Blizzard site and demanded that Hearthstone comes to WP? Otherwise head over there now! Right now only iOS, Android and Kindle are getting it. To Battle everyone :)

You can use whatever news source you want with MSN News app, including RSS feeds.

I've never been able to find half the sources I want news from. It can't read all RSS feeds.

Manually adding the RSS feed URL?

I'm using the search for source feature in the app. Is there another way?

Right mouse click or swipe from top/bottom edge on touch screen (or trackpad), click "Sources" in the top left and then you can enter any valid RSS link. After you find the source you want to use you need to right mouse click again and click "Add as section" (star icon). You would enter this URL if you wanted to add Windows Central: http://feeds.feedburner.com/wmexperts?format=xml It isn't the best RSS reader out there though.

I hope these integrate into the mobile OS much better than mail and calendar do currently.

Vetical scroling :( Meh. I really got to like horizontal scrolling on tablet.

I really don't care for it, and I think you're just "used to it", but regardless, the really issue was that horizontal scrolling on a Desktop with Mouse/Keyboard....no the best idea as it created a very awkward user experience for those users. Remember the only hope Microsoft has is to make a great OS, and one that provides apps that creates a great experience for Desktop users first and foremost...because without happy Desktop users, we'll never see the "Universal App boom" we need to see to save Windows 10 Mobile / Windows Phone.

Windows 10 mobile is just a facet of Windows itself. It doesn't need "saving" -- it will be here as long as Windows exists.

Way to sneak Chrome into all the screen shots. Gotta get that Google advertising in somehow.

Maybe horizontal scrolling only made sense on tablets, but the MSN apps' experience in Windows 10 won't be as good as in Windows 8.1.

It'll be much better on desktop than it is now. Microsoft needs a design that will attract desktop users to use Windows apps (especially since they are ~90% of PC users).

The "Pinterest's like grid" drives me nuts. I like having clear rows of items with even heights so that I can scan across them as I scroll down. Irregular rows makes it harder for my eyes to follow and more likely I'll miss something while scanning. And the hamburger menus seem like a missed opportunity. They could be given the option to be pinned to the side with article counts or drill-down sections. Instead it's just another typical hamburger menu hidden away like a junk drawer.

Did they really looked at those ugly top bars :X

I prefered the old design with horizontal scrolling. This is gonna be ugly on a Surface, scrolling vertically. And MSN news looked better with the big featured article.

its the same... moving your finger from left to right and doing it up down, takes the same and does the same. oh but yeah it will be "ugly"... how can scrolling be ugly? only because you are used to something it doesn't mean the other is bad or ugly. the only thing I thought it was dumb to complain about Windows 8 haters was how the scrollwheel was vertical and you did it horizontal like if many things, even videogames didn't use horizontal to change weapons or something. but I don't mind vertical scrolling, I just thought it was stupid to complain about mousewheel and horizontal when it worked the same as vertical. just like scrollwheel is used for zoom in and out. it's just natural thing to do... But my point is, vertical or horizontal is the same... yeah, it looked a little cooler to have more content to the left or right because it was continuous... but again, it doesn't mean you will use it and it will be bad the vertical scrolling. that only depends on you, but windows 10 is here to stay and it will be the future. like it or not. websites are done vertical anyway... and you use websites everyday. so nothing will be different from that

These look GREAT!! I'll still wait for the official update, though.

Hate to say it but the old design was truly good. Why is Microsoft ditching full view image backgrounds is beyond me? The images in these apps were truly exceptional. And what is the difference between this and MSN.com if they are basically the same info? Users on PCs would anyhow prefer a website than an app.

I disagree -- I will always choose a quality app over a web site. Perfect example: The new Windows 8.1 Tubecast app is awesome and much more enjoyable to use than a browser.

That's because Tubecast offers much more than just plain vanilla YouTube.com. These apps don't offer much functionality other than what's already there in the website. Especially, after Spartan officially launches, you can even annotate and use Cortana functionality in the browser itself thereby negating the need of this app. Earlier before the restructuring of the MSN website, these apps consolidated info from multiple sources in a single place. Now with your preferences roaming across devices and the web, there's little incentive to use them on PCs. On phones and tablets, definitely yes. But on PCs, they're just meh. I welcome these apps, ofcourse. But a little differentiator from the website would be appreciated.

BEAUTIFUL! I never quite got used to horizontal scrolling. I hope the Windows Central app makes the same update. I really don't like using it on my desktop.

Oh no please not more Hamburger menu's! Loving the whole universal thing but this is getting silly now, they need to employ some designers fast before is all released to the public. Is giving the whole thing responsive website look which is what we need to get away from, also is on the top which is the next inconvenient part for mobiles just like the Spartan's address bar on the top. Feedback people, feedback faster...

I preferred the panorama that we get with current MSN apps
I think it's so much better, especially on phone. Seems like universal apps has led to more focus on tablets, rather than phones.
Really not a fan of where the UI is headed and I don't think Microsoft will change their mind at this stage, regardless of all the feedback :/
I hope I can learn to love it

Or rather, we can collectively hope Microsoft listens to our feedback about not making a mess of an already functional interface.

Nice when is the next build for phone? I dnt wana revert to windows phone 8.1 im liking windows 10 mobile but too much bugs...whish another build cud be released sooner

I still want an option for horizontal scrolling

Before we hear another "purge the hamburger menus" comment, remember that Microsoft needed a UI design that works equally well with mouse as well as touch in order for Windows 10 to be a consistent experience across devices. Hence, the hamburger menus (just like the File menu in desktop software) and the decreased emphasis on pivot menus (which are awkward to use with a mouse anyway).

Agreed. People seem to ignore the fact that a better "App" on the Dekstop experience means more users of Apps, which also means we have a better chance at increasing the number key apps available in the Windows Store.

Your point is partially true. But why not adapt the XAML to provide hamburger functionality in the ellipse is what is plaguing users. Visual Studio can classify the app based on which screen its intended to run and change the XAML to suit that interface. I think they have spoken about this quite a bit on various occassions. On a desktop with mouse input, hamburgers or any menu icon is welcome. But for a touch first interface, its a usability nightmare. The consitency will prove itself when the app is equally functional across all screens which is what Microsoft actually implies by 'universal'.

Can somebody find me the link to the metro design guidelines so I can tell MS to go delete it :p Seriously, about time!. Welcome to 2012 microsoft. I'm so happy you're doing with metro. That needs to die like the zune.

The good thing about so many of the stock apps being decoupled from the OS is that it gives them more flexibility with releasing builds. They're what will really make the difference in making it feel like a new OS. A lot of people have complained that not much has changed from 8 and that's because the things that have changed are more to do with the shell while the apps have largely stayed the same. I'll take these apps starting to show up as a sign we're getting really close to a release candidate, possibly at Build.

I like the new design of those apps. I were mad about being able to access the settings before in a fast way in Windows 10 with touch. These hamburger menues seem to fix my problem = im fine with it!

the grey chrome in windows 10 is fn ugly.

I love it :D I'd love to see the same UI AND THE COLORS IN WP TOO !

So what for do you need the apps, if they replicate the MSN websites?
I hate that they dropped the splash-screen on the news app [while keeping it in the other apps]. This was the BEST part of the news app.
And i want the weather app to be animated. Is this so hard, Microsoft?!

I echo your opinions, brother.

I hope they drop the hamburger button and get back to the ellipse design it was perfect

You know this isn't happening. Deal with it.

Re: Aliens,
I agree. I hope Microsoft can improve the UI rather than copying the old ideas of other OS.

Looks great. I am really liking the consistancy that we are starting to see.

the msn are the best apps for Windows pone, glad to see them get better and better

Well at least they're all universally boring. Tiny text, smaller images, etc. Not seeing anything that is better than what we have now. Just compromises and a severe lack of style.

I noticed this a while ago. Music also got a nice update too.

Looking great. This is the first time since i've been using windows I can say that I won't have to rely on third party skins to to make windows look sexy. Transparent tiles like windows phone and xb1 is all we need now. ...And the ability to drag-n-drop when i'm using the universal email client.

Still not convinced desktop/laptop PC users care about apps on a desktop. If I want the weather, I'll open Firefox or Chrome and go to my local news channel weather report, or type my zip code and 'weather' into a browser search bar. Why would I search for and open the MSN news app, on my computer, when I can navigate to nytimes.com or washingtonpost.com? It'll be just as pointless as it currently is on my Windows 8 desktop.

Quickly glancing on the weather tile or clicking it does seem faster to me than opening a weather website but maybe that's just me. As for your last argument, MSN News aggregates news from several sources, which is a clear advantage over the websites you mentioned. You shouldn't rely too much on a single website for news on my opinion. Of course, it's all just a matter of preference. Some people may prefer an app for some tasks and others prefer to do everything in their browser. It's perfectly fine either way.

Why use a calculator when you could use an online calculator? Why use Notepad when you can use Google Docs? Why have a clock when you can use an online one?

Lol. That's a fitting reply to the OP.

Glad no horizontal scrolling anymore. Hoping more apps will change to vertical scrolling

These square grid layouts are super boring. Compare the iPad NYTimes app with its flexible layout to the Win8 NYTimes app with its square layout and gray pages. Ugh. I hope WIndows 10 will somehow make it easier to have less rigid layouts in news apps.

Horrible bland design. Reminds me of old fashioned Microsoft. No personality or consumer friendly designs. Milquetoast. Vertical scrolling is fine, but navigation looks terrible. Hamburger and back button in corner. Pretty much 2008 Android controls except buttons are at the top of screen instead of bottom.

Horrible bland screens. No "design" at all.

The apps no longer have the thoughtful, magazine-style layout that made them so visually appealing. The UI is just a grid of thumbnails now. One of the guiding principles during Windows 8's design was "Pride In Craftsmanship." This is just utilitarian, lowest-common-denominator deisgn. That said, I do agree with the decision to use vertical scrolling.

why there is Chrome browser Icon in your Windows 10 why do you use it while there is better Browser like IE 11 or FF 35... or even better like Project Spartan?!!!! thats a shame!

Stop telling him what he should use. He knows pretty well which browser is better and which is not. Chrome might be resource draining, but, due to its extension support, it becomes much more than just a browser. IE11 is definitely good for browsing, but Chrome has an edge over it due to the above reason and Spartan, well, that crashes a lot in this build and there are various compatibility issues.

Too bad each build breaks either Netflix or Hulu. This one is no exception.

Wow i dreamt of vertical scrolling on metro apps since windows 8

Now these look absolutely beautiful. Great job Microsoft. Now please fix Windows 10 Mobile and the damn Start screen and touch UI part of Windows 10. The apps looks fantastic. The UI looks dreadful for tablets and phone. Some aspects look great, most don't.

I hope we get this build soon. I hate the current build.

The estate has been used really well here. I think the scorecard section (when it doesn't have too many matches) can show the match data of each match there itself.

The apps seem like web wrappers for MSN

Windows 10 on tablets of 8 inches or more is officially dead

Vertical Scrolling? Wow, this is cutting edge, people!

It looks promising. I didn't use MSN Money before. But with the morgage calc. I'll sure take it for a spin!

ok. i think the design is good indeed. here are my thoughts: 1. the pivots should be accessible though right-left swipes 2. the hamburger is fine :) sorry haters. 3. *however* if the app detected a small screen system (particularly a phone) the hamburger *must* go to the lower right (or left if the user sets left-handed) side of the screen and shall work the way ... buttons work before - that is - options coming from the bottom.


If I remember it correctly Microsoft told us on MWC that "hamburgers are completely optional, it's up to you", but apparently they use it everywhere. Also design of all those apps looks so similar, so "cut down to 400px columns" to fit on both phones and tablets. I don't like it that way when single app design is skewed to fit on all platforms instead of separate design tailored specifically for each platform.

The Windows 10 still ugly. Very ugly. Icons, fonts, livetiles sizes, icons on taskbar... everything is ugly. MS needs to: - Redesign really beautiful icons;
- Redesign Start Menu. The way it is now, is ugly;
- Resize taskbar;
- Redesign File Explorer;
- Redesign Logon Startscreen;
- Redesign windows borders;
- Redesign windows buttons Close, Minimize, Maximize; Well, thats it...

I hope the new sports app supports the CFL.... but it probably doesn't.

"... horizontal scrolling that only made sense on tablets". What? Horizontal scrolling makes great sense on any landscape oriented screen as it makes best use of available screen real estate. Look at any website - it only takes up about 20%-30% of the available screen width, which results in the need to scroll a helluva lot more than you would with horizontal scrolling. If these idiots at MS are taking out horizontal scrolling, then I am definitely sticking with Win8 for as long as I possibly can. Every time I read a new article on W10, it just seems that they keep taking out more and more of what makes W8 so damned good. It is insanity, pure and simple.

Why does MSN Money lock up Win10 10061?
Windows Central Newsletter
Get the best of Windows Central in in your inbox, every day!
Thank you for signing up to Windows Central. You will receive a verification email shortly.
There was a problem. Please refresh the page and try again.