Windows 10 build 10056: Everything you need to know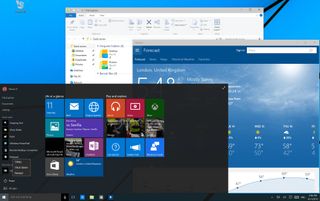 Microsoft has been keeping its promise on releasing more frequent builds of Windows 10, but this is not stopping private versions to leak onto the web. Windows 10 build 10056 was just spotted outside the walls of Redmond, and it shows significant cosmetic changes and various improvements coming to the operating system.
Below there is a list with all changes found in this new leaked version of Windows 10:
Start menu
The Start menu has received a number of improvements. Now by default, it shows two columns of Live Tiles and users have the ability to completely resize the menu. Do you want to see more Live Tiles, but you don't want to use the full-screen mode? Fine, simply hover with the mouse pointer and stretch the Start menu to the right and/or upwards.
In Windows 10 build 10056, renaming groups has received some refinements and now it's much easier to create a new group of Live Tiles and rename it to anything you want. You can also drag a group and relocate it anywhere inside the Start menu.
Windows Insiders will also notice new visual effects launching the Start menu in its regular mode and when in Tablet Mode or full screen.
One of the most noticeable changes in the Start menu is the power button, which now has been relocated to the bottom-left corner, above the "All Apps" button. This is a minor change, but the new location makes more sense for everyone who has been using Windows 7 or Windows XP for a long time.
Clicking the All Apps button will still list all apps installed in Windows 10 with the difference that you now see a left arrow icon next to the "Back" button to indicate easily how to return to the main menu.
Tablet Mode (Continuum) has been improved when using Snap mode, now we can see a divider very similar to what you see in Windows 8.1 when snapping apps side-by-side. It's worth pointing out that this bar or divider doesn't appear on normal mode.
Also when switching to Tablet Mode, you'll notice that all the app icons in the taskbar will disappear until you go back to the desktop mode.
Cortana
The latest leak of Windows 10 unveils a few changes on Cortana. In build 10056, Microsoft is adding two new options: Find Song and Help. With Find Song, users now can use Cortana just like the Shazam app. You don't know the name of the song, simply click the menu button on Cortana and she will listen to the song and identify the music.
The Help option is to make it easier to use Cortana. In Help, you'll find the commands you need to use to make a call, send a text message, add a new appointment, create a reminder, create a note, set an alarm, play music, get directions, how to do a search, and much more. (Very useful for beginners.)
Also the taskbar search box, where Cortana lives, is noticeable bigger, now it has the same height as the taskbar (refer to previous images).
File Explorer
Although, we don't see many changes on the desktop, the File Explorer in Windows 10 build 10056 shows thicker lines on the navigation elements and bolder fonts. Another interesting change is that window titles no longer appeared aligned to the center -- now they aligned to the left.
Interesting enough, after many critics the Recycle Bin in Windows 10 has been replaced with a transparent, 3D icon, which looks similar to the Recycle Bin icon from Windows 98.
Task View (virtual desktop)
The new Task View includes a few new improvements. The virtual desktop feature in Windows 10 now has a new icon in the taskbar, and there is a new visual effect when creating a new virtual desktop.
Apps
While the new leak of Windows 10 doesn't bundle the new Music and Video Preview apps or even the preview of the touch-friendly version of Office apps. Like in build 10051, build 10056 includes the new Mail and Calendar apps, however Microsoft still hasn't rebranded these apps to Outlook apps, which it may happen in the future.
We also find a new Weather app. The new app has a fresh look and now it includes different tabs, where users will find interesting weather news, maps, historical weather, and a favorite tab, which in future updates will include your favorite places.
Microsoft also bumped the Xbox app version number to 3.3.5006. According to the change log, this version includes: watch popular game clips, activity feed and profile improvements, better window sizing, connect to Xbox One, Xbox one remote control, and browse OneGuide.
There is a new Microsoft Solitaire Collection Preview. This is a new version of the popular game that has been part of Windows since 1990. The app is now universal and comes bundled with build 10056. With the new Solitaire, Microsoft warns that this preview build will not save any user data when the game is closed.
The latest leak of Windows 10 also includes a previously spotted Microsoft Family app, which appears to be an app to help parents configure parental control in the operating system, and there is a Windows Spotlight, but both are appear not to be working at this time.
Settings app
One of the most interesting changes found in Windows 10 build 10056 happens in the Settings app, as Microsoft is now moving the Display and Personalization configurations to this location.
In future releases of Windows 10, when users need to change the screen resolution, right-clicking on the desktop, the "Screen resolution" item on the contextual menu won't be longer available. Microsoft is changing it with "Display settings", which will direct users to the "Display" section in the Settings app. However, the old screen resolution settings still can be found in the Control Panel.
Personalization now includes four new sections:
Background will now be the place where users will use set their desktop wallpaper. Options will include to use a picture, color, or slide show.
Colors is the section that lets users choose a color scheme for Windows 10. Here you can choose to let Windows, pick a color automatically from the background, or you can pick a new color manually. What's interesting about this setting is that it appears that in the future window borders may also change color as well, leaving behind the boring gray color.
In Colors you can also choose if the taskbar and Start menu will change color too and there is a new option that allows user to disable transparency in the Start menu.
Another big change with themes comes in the Action Center, where the color of the slide-in pane will change with color scheme you select to match the theme color.
The Lock screen and Themes settings are now accessible from Personalization.
Finally, the Settings app also includes two additional improvements. In Privacy, now there is a "Radios" section that allows users to control if apps can turn Wi-Fi or Bluetooth automatically to send and receive data.
And there is a new "Account info" that allows users to control whether apps can access your name, picture, and other account info.
Although this is a build that shows many improvements coming to Windows 10, it's very buggy, therefore unstable. The Start menu crashes a lot when moving Live Tiles around and creating new groups, some the apps won't start or they will take several tries to get them working, and a lot other things don't work, as such it's a version you should not be using as your primary operating system.
Windows 10 is scheduled to launch later this summer in 190 countries and Microsoft plans to make the new operating system a free update for the first year for Windows 8.x, Windows 7, and Windows Phone 8.1.
Do you like the changes Microsoft is including in build 10056? Leave us your thoughts in the comments below.
Get the Windows Central Newsletter
All the latest news, reviews, and guides for Windows and Xbox diehards.
Mauro Huculak is technical writer for WindowsCentral.com. His primary focus is to write comprehensive how-tos to help users get the most out of Windows 10 and its many related technologies. He has an IT background with professional certifications from Microsoft, Cisco, and CompTIA, and he's a recognized member of the Microsoft MVP community.