Xbox app for Windows 10 updated with Game DVR for PC games, real name sharing, more
Microsoft has released an update for the Xbox App in Windows 10 today, bringing a massive list of new features along for the ride.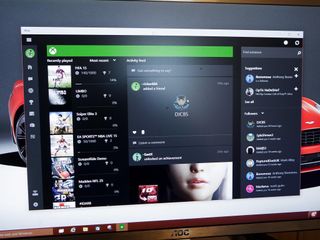 Today's update allows those using the Xbox app preview on Windows 10 to record and share clips from PC games, access new live tiles for new messages and activity alerts, and use real name sharing with their friends.
Of course, there's much, much more in this update, all of which is detailed below:
Game DVR for PC games – The Game bar lets you record game clips of your favorite Windows games.
Screenshots – Take screenshots of Windows PC games by pressing Windows + Alt + PrtScr. Just as with Game DVR, you can also do this by clicking the "Screenshot" button on the Game bar.
Live Tiles – The Xbox tile on your Windows 10 start menu now welcomes you back, showing off your gamerpic and letting you know when you have new messages and activity alerts.
Avatar app – A new app is available in the Windows Store to customize your Xbox avatar's appearance and outfit your avatar with a vast collection of items.
User profile – You can see another gamer's bio, location, reputation, tenure, and other information in the more info page, including their animated avatar.
Real name sharing – Similar to the features we brought you in the March update on Xbox One, you can now choose to share your real name on the Xbox app with all of your friends or with everybody.
Xbox One Now Playing and media controls – The games and apps you've used most recently on your Xbox One are now displayed when you connect the Xbox app to your console. You can also use the Xbox app to pause, fast forward and rewind.
Live TV streaming and PIP (picture in picture) support – For preview members with an Xbox One Digital TV Tuner (in 16 European countries and Australia) or a Hauppauge 955Q TV Tuner (available in the U.S. or Canada) attached to their Xbox One, you can now stream live TV within your home from your Xbox One to Windows 10 PC running the Xbox app.
Xbox controller drivers – The drivers for Xbox controllers are now included with Windows 10, so you no longer have to download and install controller drivers on Windows 10.
The update should now be live in the store though you may have to login again to force the update. Once complete, the version number for your Xbox app should read 4.4.9014.0 or higher.
Source: Larry Hryb (Twitter)
Dan Thorp-Lancaster is the former Editor-in-Chief of Windows Central. He began working with Windows Central, Android Central, and iMore as a news writer in 2014 and is obsessed with tech of all sorts. You can follow Dan on Twitter @DthorpL and Instagram @heyitsdtl.
Finally! Now I can start recording since Action isn't working all that good with Windows 10.

I hope Xbox Video and Music end up getting this much attention. Alot of work seems to be going into the Xbox Game app.

Me too. And to show remorse at the pitiful state of those apps, though should work out integration of Xbox video libraries with vudu and ultraviolet. :)

What! The Xbox Music app is amazeballs!

How??? Do I update to get it I click update in ap store settings and I'm not seeing anything happen...!

If you're still seeing issues on updating, then try going to the Windows Store Beta. Search for "Xbox" and choose the Xbox app. Install it from there, and you should get the update.

When I do that, I just get a "Try that again error" and if I keep clicking the circle(refresh) icon to the right, it will act like it's loading, but keep going up as in 55.1 of 55.1 mb...then later 59.3 of 59.3 mb, and so on. It just keeps doing that, but it only goes about .5 mb each time and errors out. Somethings not right, and I know others have had similar issues.

I hope all of the built in apps are as pretty as the Xbox app is by rtm O_O

Built in drivers for Xbox One controller woooo! It's the little things sometimes that make a big difference

Now all they need to do is update it so it can run Xbox One games and they'll win.

Is there a time frame when that will happen? I thought it already had the capability, been bouncing back and forth whether to down and try it out

Yeah like running a game inside of the app to be made full screen with no visible bezel of the application. Add the Xbox layout, they could do the universal gaming thing across devices as a major boost for windows devices

Time to punch steam in the gut.......

Is it yet possible to change your gamer tag without owning an Xbox 360? Like in the app somewhere?

From the xbox support website:

To use the free change to your auto-generated gamertag. Sign in to your account at live.xbox.com, click View my profile, click EDIT MY PROFILE, and then click Change gamertag.

I thought universal apps were weak but these now seem amazing.

Na the api has become super strong right now...you just need the right developer and creativity to make it beautiful and functional like this...this app makes me feel like the winrt apps will certainly match the win32 apps in terms of functionality

I wonder if the screenshots taken using the xbox app are compressed...

No idea, but the ones I took while testing in World of Warcraft were just under 3 MB in size.

For users in the US, would the TV streaming be for only OTA antenna channels or does it include streaming of channels received via satellite/cable?

Streaming only applies to OTA antenna.

Nice. It's off by default. You have to go into settings and turn it on. Some things I noted: * The always on 30 s recording doesn't appear to work. Tried it while playing GTA 5 on Steam, and World of Warcraft. * Manual start/stop recording does work fairly well with minimal impact on my rig. I'll try it in high impact gameplay this evening (GTA Online, Ashran zergs in WoW, etc). * Despite having audio recording on, it doesn't appear to record audio from the game (hopefully a bug, unless audio recording is meant to just be you speaking into a mic, which I didn't try). * You do need to do the Windows + G to initialize on a game window to save what you have in focus as a game. Which makes sense. * I'm hoping they add the ability to change the keybinds. I'm probably not the only person who normally disables the Windows key when gaming, and even when I don't (in order to test this), pressing Windows + key (or an additional +key) is awkward when you're in the middle of the action so to speak. For now, I've bound that combination to a button on my gaming mouse as an interim solution. Nice start!

Oh, it's a bit unstable. I've crashed it inadverdently a number of times, none of which were repeatable, so it appears to be nothing specific and just all around instability. When it does crash, and Windows + G doesn't appear to do anything, you have to go into Task Manager and kill all instances of: * Game Bar * Broadcast DVR Server It'll also sometimes say there's nothing to record after recording for ~10s. I'm not sure, but it seems like it sometimes gets confused and thinks you're focused on the game bar UI rather than the game in those cases. Lastly, none of my videos show up in the Xbox app. Just my screenshots. Vidoes can still be accessed via going to their file location in file explorer, just not the Xbox app. But, still, it's a start!

Hrm, while the always on 30s recording doesn't seem to be working (no videos can be found), I'm guessing it is doing something anyway, as after an hour with the game bar active in a game, I got all sorts of low memory errors.

What have worked to me is the following: 1) Click win+alt+r. A small red tab in the right top corner of the screen appears counting seconds. 2) Minimizie that red tab 3) keep playing a game or screen recording your activity. It worked. Hope it helps.

How were you playing these games and using the Xbox App DVR? I tried to play a few games off Steam and use the Game Bar, but it wouldn't pop up? Is it only available on certain games or what?

Games have to be in Windowed mode, I believe. At least, all mine tend to be played that way (Windowed/Borderless). I just tried to switch to Full Screen and was unable to pull up the game bar.

Mine appears to be stuck at 4.4.23002 and won't update

...that's the current version that has Game DVR, real name, etc. :/ I'm not sure why the article claims you need to be on 4.4.9xxxx Edit: Oh, that's what the press release claimed the version would be at. Well, it's not. You're good to go. :D

I got one stuck at v3.3.*****

I can't update either. Store Beta says it has downloaded update but I can see it stopping at 15.5Mb of 33 ! Is there anyway to delete old app and start again ? Can't be uninstalled from app list

Would anyone here be willing to invite me to the Xbox preview? My name on Xbox Is naithehu

when using win+alt+r and the game vid saves it didnt capture the audio, anyone else with this issue? also windows video player wont reconise the file type.

i didnt have "update windows apps" checked, seeing if that works.
Windows Central Newsletter
Thank you for signing up to Windows Central. You will receive a verification email shortly.
There was a problem. Please refresh the page and try again.