The Windows 10 launch was a source of humor for Steve Martin, Jimmy Fallon and others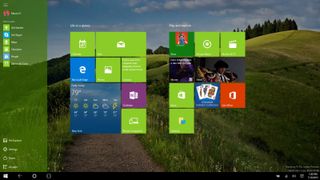 The release of Windows 10 as a free upgrade this week got a ton of media attention, as expected. It also provide some material for major comedians to use like Jimmy Fallon, Steve Martin and others.
Fallon used his platform as host of The Tonight Show to talk about Windows 10. He started talking about the reports that the download traffic for the upgrade might break the Internet (which turned out to be unfounded), when Clippy, Microsoft's older digital assistant popped up on-screen. Clippy said that it doesn't like Fallon having a MacBook on his desk. Let's just say Fallon might be trading up for a Surface soon.
Steve Martin used his Twitter account to show how he was updating his own PC to Windows 10.
That last post was made a day ago. We hope Mr. Martin's Windows 10 upgrade went smoothly.
Finally, the latest episode of @Midnight, the funny game show on Comedy Central, mentions that the Solitaire app that's bundled with Windows 10 is getting some complaints due to its subscription fee to get rid of its in-app ads. Host Chris Hardwick asked the night's comedians what else Microsoft could charge for. One of them, Kurt Braunohler, said that Clippy (yep, him again) could be used for shakedowns: "It looks like you want to make a letter; give me $20 or I will send your porn search history to your mom!"
Source: The Tonight Show (YouTube), Steve Martin (Twitter), Comedy Central
Get the Windows Central Newsletter
All the latest news, reviews, and guides for Windows and Xbox diehards.