Windows 10 Mobile Anniversary Update rolling out August 16th for carriers, 9th for open market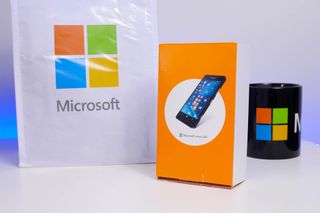 Microsoft is gearing up for the Windows 10 Mobile Anniversary Update and while it didn't co-launch with the PC and Xbox One updates it is not far behind at all. Earlier this week, a now deleted tweet from Microsoft's official Lumia India Twitter account claimed August 9th for the update.
Although Twitter can be unreliable for such information (and that tweet is now gone), I can confirm that the August 9 date is accurate. Nevertheless, there is more nuance required.
Tuesday, August 9th is the planned release date for the Windows 10 Mobile Anniversary Update for open-market Windows 10 Mobile devices e.g. unlocked Lumias and presumably Coship, NuAns, Acer, and more.
The previously mentioned nuance is for mobile operator branded phones sold through carriers e.g. Lumia 950 on AT&T and Alcatel OneTouch Fierce XL on T-Mobile. These phones are planned for a Tuesday, August 16th release one week later.
The reason for the one-week separation is to give carriers some extra time for testing "features and enhancements" from the update, which is typical. Considering most Windows 10 Mobile devices are open-market these days the majority of phones should get the Anniversary Update around August 9.
Of course, both dates are subject to change should any last minute problems be discovered before general release. Nonetheless, Microsoft is not expecting any delays at this point and both times as of today seem to be a lock.
While many open-market Lumia 950 and Lumia 950 XL phones have already grabbed the 16236 firmware announced in July the AT&T Lumia 950 has yet to receive it. If I had to guess, AT&T would co-release both the new firmware and the Anniversary Update as a package on Tuesday, August 16. However, we'll just have to wait and see. That firmware delivers double-tap to wake, fixes for Wi-Fi and improvements to the PureView camera.
As far as the final build that will be pushed it could 14393.10. While that build is not yet released for Insiders a recent changelog for the PC variant did mention a fix specifically for mobile:
Addressed issues that cause high battery drain when a Windows 10 Mobile device is idle or the screen is off.
That modification implies that an update is yet to come. Otherwise, Microsoft could just ship 14393.5, which is the latest release for all Insider rings.
We also have some late information that suggests 14393.67 could be the final build pushed fo the Anniversary Update.
Windows Central Newsletter
Get the best of Windows Central in in your inbox, every day!
Daniel Rubino is the Editor-in-chief of Windows Central, head reviewer, podcast co-host, and analyst. He has been covering Microsoft since 2007 when this site was called WMExperts (and later Windows Phone Central). His interests include Windows, laptops, next-gen computing, and for some reason, watches. Before all this tech stuff, he worked on a Ph.D. in linguistics, watched people sleep (for medical purposes!), and ran the projectors at movie theaters because it was fun.
YOO HOO !!!! :D Looking to get a L950XL.. I wanted to know how the battery life is now with 10586.494 and the new 14393.5 (Latest FW of course). Could any current user give his/her thoughts overall too - Performance and all. Thanks. :)

I use mine fairly heavy for work in a 13 hour shift and I generally have around 45% remaining.

Wow my 950 lasts only 5 hours when I'm at work

Huh.... I don't have anything turned off either. Have a band2 that is always connected and I use my data connection instead of the WiFi. I would say about 18 hours before I crash at its about 25% still.

I too had came prob with mine done a simple trick. Just turn off mobile data when using WiFi notice the difference..

Yeah, mine too... it was better brfore the double-tap firmware just with the X.5 build...

Haha the funny thing is I only use my Camera, Calculator & Outlook for work and it only lasts 5-6 hours

I had the same problem with my 950XL, but there was a simple trick to fix it. I went to the MS store and they gave me a new one. Actually I think it might've been the battery but they didn't have any way to test the battery in the store which I thought was really weird, but since I'm a good customer they gave me a straight up exchange and the new one easily lasts all day.

Then you are not working. Posted via the Windows Central App for Android

I run my own warehouse, between taking pictures of things to do inventory management, using my calculator, and outlook to email employees, my phone only lasts 5-6 hours.

I have run into the same problem with my Lumia 950. I think it is an issue with how Windows 10 handles apps in the background. For example, you open the camera app, take some photos, and then back out of the app and press the power button to put the phone to sleep. But if you wake your phone back up and hold the back button to pull up all the task manager and apps that are still live in the background, the photos app will show. It is the live photo app and other system level apps like it that i think cause the intense battery drain on my device. If I remember to hold the back button and fully close all these "suspended" applications, my battery drain is more normal. My guess is, the camera app is designed to continue running to process any images that you have taken, and if you leave it in a "suspended state" it continues to run at its full capacity in the background to process those images, but when it is finished processing, continues to use system resources and power in the background, not aware that it has completed processing and "enhancing" the photos taken and keeps chugging along like an extremely obese battery vampire. This is just what I speculate is going on. If anyone has any evidence or thoughts to refute this opinion, please do so. I'm merely speaking on my experience, and though i haven't done any real testing, it is the only thing I can think of that explains my percieved sense of battery drain with my device.

It's possible what you said is true but not entirely. W10M has been engineered in a way that apps are partly saved in memory so that they resume really fast when you want them to. So if you wanna take quick photos every 2-3 minutes - Leave the app as it is.
If it's like every hour or so - then completely close the app by long pressing the back button (not double tapping like u said :) ) Also, those having poor battery life should really check out their background apps and turn off unwanted ones. Also check the PRIVACY area under settings. There are apps that use camera, location, etc for no reason.

Good points Abhi! I didn't realize how details the battery and background apps section is. I'll try to use it next time to identify the true main culprit. Also, I didn't realize how many apps I allow to run in the background. Currently, almost all of my apps are allowed to run in the background, which doesn't make sense for a couple of them. Also, I forgot to mention my Lumia 950 (not the XL version) is also with AT&T, so no new firmware update yet. Hoping for a bit of a battery improvement with the newer firmware and the anniversary update when they get pushed out for me in a week.

That's really good to know.. :D
So its a BUY !!! Yeahh !

Y'all have to consider one other thing, your distance to a transmitter/receiver of your network too, the nearest to it the less it searches for stronger reception, therefore less battery used up.

There seems to be an issue with some web elements. One certain site always makes the phone run hot and drains battery like crazy. And no, it's not an adult video streaming site =P

those dont drain, much
ive done extensive research

I consider myself rather heavy user and I don't see any issues. Battery lasts around 1,5 days, performance is great, no lag or any other problems for me, backgroud apps are working fine and I do not see spinning wheel to many times. App gap does not exist for me as I have all apps I need (it is about 5 of tose by the way). Great experience, great phone...

Great to know that @melhiore !! Thanks. :)

It is far more stable and responsive than latest threshold build.

Far more stable? Far less stable? You obviously meant to type a different four letter word... (the above comment has been edited now)

For my L1520 it is almost 30% jump from 10586.494 to 14393.5 (Release Preview). Details here http://forums.windowscentral.com/windows-10-mobile-insider-preview/433733-windows-10-mobile-anniversary-update-10-0-14393-5-lumia-1520-improved-battery-life-no-heating.html

I have 950 ,not XL but I've seen improvements in my battery

Ooh really? How long does your battery go for now? This 950 XL info is impressive to me but I'll love to have a piece of that on the 950.

For me my battery lasts 22 hours there about but before I've tweaked it alot for maximum battery cause I do alot on phone,before Redstone it was like 18

Performance is not a problem, though my battery doesn't seem as awesome as others report. Granted, I'm only a week into owning the phone, so it may settle in and improve over time. I think there's a lot of indexing that goes on at the beginning. Still, if I use mine pretty hard, I'm down to 15% at day's end. The bright side is the quick charge will get you back to 50% in no time. It seems about like what you would get out of any modern flagship phone.

What you've said is correct. Any new OS will do 'something' in the background for a few days. It's just designed that way to not trouble people IF it was done all at once.
It'll settle down for sure. :)

Yea I don't get that great battery life either. Might do a hard reset after anniversary update, especially if there actually will be a slightly newer build than current fast one. Anyhow, I've strategically placed qi pads at home and work. My battery rarely gets below 30% anymore

I have the 950, first week battery life was hopeless but then I realised how much use tweaking looks and installed apps. Now I am in normal use pattern battery easy lasts all day

Battery life dramatically improved on my 930 when I changed between those two builds last week. Not to mention now you can select the last 6 hours to show battery app usage which is very handy to see what is using your battery and then you can stop apps that are running in the background that don't need to be.

Good news. I've had a 710. An Omnia. A 920, and now a 930. I've never had battery life last more than 5 hours with heavy use. My 930 currently lasts 3 hours tops with constant use.......

Wait for the Elite E3. Then, compare.

I was at some conventions with lots of people. When the events ended, my Lumia 950XL, in battery saving mode, was the only device still alive with a solid 35% battery remaining.

Hope they fix the issue of the build not being functional on the BLU Win JR LTE X130e.

yeeaaahhh...9th aug man...!! authorities ar authorities!!

So how would a T-Mobile branded prepaid Lumia 640 get this update? It was purchased from Walmart but T-Mobile branded. Would T-Mobile push out an update for this phone or would I have to use insider? Posted via the Windows Central App for Android

Good question. And I'm going to be of absolutely no help to you. Just wanted to say, good question.

Still not had the FW update for the 950 XL - Unlocked & UK

Have you tried the recovery tool?

Glad it's getting released soon. I've been really impressed with the anniversary update both on desktop and mobile. I think this frequent incremental windows as a service model is really paying off, a little at a time it's getting super polished and stable!

I agree Kaymd.
All my devices are running sweet, just my 950 on AT&T drains battery fast, can't wait for AU to fix this issue.
I remember when WP 8.1 came out and 1020 was draining fast, so I know it will get fixed and battery life will be great.

Yes, as I have 14393.5 on my AT&T Branded 950, battery does drain fast, so hopefully the AU update will be 14393.10 to rectify: Addressed issues that cause high battery drain when a Windows 10 Mobile device is idle or the screen is off. Then getting the updated 16236 firmware, and I will be pleased...

I hope the new version is able to hold itself to Android and iOS! If things are getting better my new phone in 2017 might be a windows phone! Posted via the Windows Central App for Android

From an Operating System standpoint it is just as good if not better than both Android and iOS. The only problem you might run into depending on the types of apps you use is the app store. If you want to play Pokémon Go or use Snapchat and/or other popular apps then you will run into issues but if you just need your phone to be productive and intuitive then Windows rocks. I'm sure the app situation won't be a problem in the near future as Microsoft is doing a great job increasing Windows 10 market share which will drive app development. Posted via the Windows Central App for Android

I agree with most parts of your comment, except that Microsoft doing a great job in increasing marketshare (on desktop) is going to increase app development. As a developer I find Universal Apps as a not at all appealing framework to build on as it offers very limited access to a machine's full potential. Unfortunately Windows Mobile is in limbo right now. I guess Microsoft will release a Surface Phone sometime near Christmas or next year and that'll be about it. Switching to Apple-like flagship-only business model, while it will increase their support for that specific phone it will probably alienate the people that grew into loving the multiple flavours of Nokia's offering. One could only hope that third parties will build great phones to entice new users (or bring back old but alienated ones).

I'm just a consumer and not a developer, so could you say more about what's limiting about UWP/UWA? I'm very curious since I know little about the developer side of things.

I doubt UWP is limiting developers.

Yeahhhhhhh!!!!!!!!
Thanks Dan....

Yayyy!! Unlocked 950 here, can't wait anymore. Too much excited for Panorama mode in Windows Camera :P

Pano is so good, it was almost worth the wait. They really nailed it in my opinion.

We miss the surround sound recording as well. Can we expect it Daniel?

Upvote upvote upvote.
From what i hear, L930's Surround sound recording capability has been ruined because of W10M. Is it true ?

My sound is screwed. For me videos are 2 channel and left channel is 30db lower than the right (basically inaudible) Only discovered this problem last week on my lumia 930. From what I have read so far it is possible 1 or more of my secondary mics may not work. Needs more investigation.

You're correct. Only the mics ok the back of the phone function, in stereo.

Heh.. I've been hoping for a capable panorama solution for a while now, but now that its here I haven't had an opportunity to really test it.

Hi dan. Since 14393.5 is considered the anniversary update, i still don't have panorama on my L950 XL

App rings exist too. Some apps are only Fast Ring at the moment.

Try setting your phone to US region and then follow the app download link from the WC article (search for 'panorama' in the WC app). That is how I got it. Previously my phone was on UK region. And yes you have to be on fast ring :)

Windows 10 Apps, interface, functionality, everything is coming in good. But iOS-ish elements are sneaking into windows (panorama interface in updated camera app). Apps ported from iOS. (eg: Instagram). Im not saying im against that. But shouldn't Windows 10 Be unique ?. Windows 8.1 Was unique. What are they doing ?. Is time a factor ? Are they pushing too hard to get somewhere ? I believe such a big company has enough resources to maintain Windows 10 Mobile unique and stand out from others. I appreciate whatever effort they are putting in.

I don't know why double comments are getting posted from the app. :( Sorry

Based on your comment, I'm assuming that you're saying MS is to be blamed for the uprising of iOS ports? No, that is wrong. The developers are the one that chose not to asopt W10M's UI. Instagram, FB, Messenger are all ported from iOS via OSMeta, Facebook's own porting tool, instead of MS's Project Islandwood. That is why these apps looks way too much like iOS because devs choose to make them that way, not MS

Why are you assuming that I am blaming Microsoft ? I am not blaming anyone. (Sorry if that comment looks like so. English is not my first language) I was more like why can't developers make proper windows 10 apps from ground up like they did for windows 8. Why can't developers be more like be dedicated to making the OS awesome ? They are already making a windows 10 app with half the effort ( I am no developer, I have no knowledge, I am just assuming that a port is easier than developing an app from gound up), then why can't they put in 100% and make a native Windows 10 app ? Isn't windows 10 worth putting in all that 100% ? Isn't windows 10 promising ?

If you notice, its the developers who want their style everywhere.. Hence the reason, Instagram looks the same across all three OS's. ;)

Yeah, Instagram looks exactly the same on all three platforms, but Facebook Messenger, for example, doesn't. Our app looks like the iOS version, but on android, it has material design now (and is pretty ugly if you ask me). So the unification of the UI of apps between OS' doesn't apply to all apps, not even for all apps made by the same company :D

Yep. Devs liked the more popular WP8 style as can be seen in the apps, but not so much the WM10 style that has not really taken off. Even the Windows Central WM10 app follows a lot of the WP8 style (pivots, edge swipes etc.) but many other apps are following their preferred iOS style etc. Until MS can bring back a bit of spark to the design style, this will continue.

Unification is more important than uniqueness today. That's exactly where Microsoft is trying to head. We are no strangers to the result of what once known to be uniqueness of Windows Phone brought to the consumer market. Those app layouts and pivotal views couldn't be used to make apps more functional. People found the UI confusing - even those who never used it. Having said that, Windows 10 Mobile still is unique, in the way that its a complete different OS in itself.

Both can be achieved if they actually wanted to. Sadly, Microsoft is busy playing nice with the competition who doesn't give a **** about them. Remember the YouTube app that Microsoft made? If Google didn't want to play nice then Microsoft could've blocked Google's services on their own platform as well. Force them to use Chrome OS if they want Google's services. Do you really think people would go with that route just to use Google's services or Android?

The answer is yes, a lot of people will use Android in that case. Or would have switched to Android if MS had taken that direction. Just look at the amount of people that are affected by the current issue with Google accounts on W10M. The percentage of users willing to switch their stuff to a Microsoft account if they can't get their Google account working is really, really small. Only the enthusiasts will do that.

Really? So given the choice between Windows, macOS, and Chrome OS users would go and learn to use the limited Chrome OS just so they could use Android? If that was the case then Chrome OS should've overtaken Windows by now. Microsoft merely needs to block Google's service on all of their own then the users would come. If users can't even learn to use mobile operating system (heck, they can't even learn to use Windows properly or even the changes that came with Windows 8) then you'd really expect them to be willing to learn Chrome OS?

Fortunately we don't have you as business decision maker, do you want to affect a lot of companies that have their business built around of Google services, like Enterprise mail, Google Analytics, Google Docs, Hangouts, Google? If I as customer can't use what I WANT, I just simply change platform (e.g. Apple). You Fanboys are just babbling and babbling and chip chatting non sense.

No need to look far as Windows 10 itself has already lost it's own identity. Contacts and toggles are circular. Hamburger menus. They're too iOS and Android. It's just too soft. Heck, even Xbox Music was renamed Groove. Even the comment bubbles on the WC app has rounded edges.

People don't want unique. They want familiar and easily understood concepts. They've already learned how to use iOS and Android, why bother learning yet another system? Windows 10 Mobile is really good in that way since it takes bits and pieces from both systems and discard those which users didn't like (like the WinRT interface styles). Unfortunately it's a up hill battle, but it might get more popular once again if they invest more time (money) into the platform.

Might be the stupid question but is this for non-insiders too?

This is a general release for all Windows 10 Mobile handsets, excluding older Lumias like Lumia 920, etc.

Lumia 920 is getting it too? Does that mean my old 820 will also get it? Interesting...

Yep. It's for non-insiders.

In simple words, it's a general consumers update, not any beta or insiders. Posted via the Windows Central App for Android on my Zuk Z1 which I am loving so far.

I hope they fix the issue of missing apps in my library in the app store, the sometimes freeze up from turning off blue tooth via the toggle is also fixed and some more better battery hahaha.

All is good if they fix the BT issue with the build released on Tuesday.

What's been fixed in .67, will it be pushed to fast ring first?

We should have had 14393.15 by now. It's more than 10 days they have released a build. We still have the Wi-Fi bug, the notifications list bug and some other major bugs in 14393.5. Are they going to release it in that state?

Im currently on insider fast ring build 14393.5 can i get public build of AU after its launch without roll back(WDRT) or clean install.

But how you confirmed that Dan?

Magic. Or I talk to people.

Just be grateful you heard something positive about the anniversary update might come sooner....

They need to fix the enormous battery drain with Band2 and the latest build. It is annoying as hell! From 48 hours to 14 hours!! This is a major issue.

Meanwhile, the Lumia 640 T-Mobile is MIA, thanks to continuing Wi-Fi Calling & VoLTE issues.

Sadly. Watch the Fierce phone get the update though.

Part of me still isn't a fan of W10M on these lower-end devices. Launching apps is noticeably slower than on 8.1.

For what it's worth, an unlocked ATT 640 runs like a champ on T-Mobile. Even band 12 works. No wifi calling or VoLTE though.

AWESOME NEWS!!!!!
YEAHH!!!

I hope 'Windows as a service' would release any latest firmware available at the time to all the devices at once, someday...

It's still a billion times better than the old way.

Yay!! Looking forward to trying it on my 640 and incoming 950!

You should be looking at HP Elite X3.

Nah, that phone is way too big for me. The 950 is the biggest I would go.

How about the 7 in holofone phabet .

Anybody knows how (or have a link) that I can upgrade my lumia 920 to Windows mobile 10?

Download Windows insider app

Thanks, but I did. Selected fast ring (and other selections) then settings and phone update, but it says 'phone is up to date'. Any other way?

Won't happen since your phone isn't eligible for upgrade to windows 10 mobile

Is there any way though of getting it? Can't find anything concrete on the net

You could've but msft made change in their servers,so if you did factory reset and try to get it again,it won't work,many reported not that good performance so they pulled plug on legacy devices

You'll have to attempt to hack the registry.

I've tried almost everything on lumia 630 but nothing worked. The last chance is download build for Lumia 635 from windowsupdate servers and install manually with some strange tool. I found this way just today on russian forum 4pda.

You should down load the Upgrade Advisor form the store first.........

I'm just glad it's around the corner

Can anyone tell me what is the firmware and version for non insiders lumia phones? Please... I just bought a 640xl and I want to know.

why is there so much excitement about this update? No UI improvements and not any significant new features

Everything works a little bit faster and with more features and less problems. It's a worthy upgrade even when much is the same.

Seriously? Only bug fixes? I think MS could do way better than this!

Is this the update which also removes features like FM Radio and PDF Reader? I'm on WP8.1 and not that familiar.

Yes, this is the one. It also removes kids corner too(still p%&*£# at) which is replaced with apps corner whichever though apparently more robust, its a b**** to exit from and a pain for me to launch because the f%£&*&# tile nevers stays pinned to my start screen.

You might be on the insider fast ring so you are spoiled already and have loss the appreciation. But for the regular Joe, this update will introduce quite a few changes and access to new apps that are currently only available to the those on the insider fast ring.

I have to remind you that windows mobile market share sinks below 1 percent

Ε και;;; Δε βλέπεις ότι η ανάπτυξη συνεχίζεται κι ότι νέες εφαρμογές έρχονται;

Αντίθετα βλέπω ότι η ΜS έχει αποδεχθεί την ήττα της στο mobile και δεν προσπαθεί πλεον καθόλου

Why there always must be a Greek commenting in Greek in an English forum? Posted via the Windows Central App for Android

Hahahaha you're right! Sorry :P

Hey Daniel the Lumia 930 for AT&T hasn't got the Windows 10 update yet. Do you know if it will jump right to the anniversary update or will it still need to get the initial Windows 10 update and the anniversary update sometime in the future?

I don't think AT&T ever carried the 930. Now if you meant the 830, they did get it but you have to install upgrade advisor in order to get it.

Yeah it was a typo its my dads phone actually and just ran upgrade advisory app and got it, somehow missed the announcement a couple of days ago. Either way my dad is happy now :)

typo I meant the 830, and have the upgrade now

Cool! :D Just to confirm: currently, I'm using 14393.5 in Slow ring, so if I hit the Stop Insider Preview builds button, it will switch to Production ring and I will receive the cumulative update normally, right? I really don't want to go back to 8.1 and do the entire upgrade process again... :P

Exactly just switch to production build and you're good bro

Yes, you're already there except for cumulative update.

Meanwhile: the T-Mobile 640....

This and the AT&T 640 XL. Sad days. :(

Seriously!!! What is the hold up with Microsoft/AT&T on any sort of W10 update for the AT&T 640XL? I have two very impatient people asking me almost daily on why they still​ do not have the W10 update.

That is what is going to be rolled out.

Umm, what? We're not talking about W10-AU, the Lumia 640XL on AT&T haven't even been upgraded from 8.1 to 10.

Lets hope the Google account sync issues are solved until then. Resets after the update will create caos!

I bought my 650 from the Microsoft store, do I get it on the 9th?

If they corrected outlook mail and calendar live tile and sync,its good for me..

Yay, this is the Incredible Anniversary Update, aha...
That's why the brightness level bug is still here since the first 14xxx build... It's really disappointing that they didn't fix it, and I think with the .10 build nothing will change... I don't say this update is sh*t, because it's have lot of bug fixes and improvements, the system is faster and smoother, it's so cool, but the brightness level setting it's a basic thing, and didn't work it, that's why is disappointing. Oh, and where is the LED notification? Nowhere? Exactly...

Oh, if someone says the truth, then immediately down vote it, because it's about something not good to hear? Please... These things many times mentioned in the Feedback Hub, Microsoft would have been half a year to fix/made it, but doesn't do anything...

The fact that it did not get released alongside PC and Xbox updates tells us very much about Microsoft's attitude towards Windows 10 Mobile.

no, it's shows that there was some reason to not push it out yet. just because PC and mobile seem to get the same build numbers doesn't mean they are both ready at the same exact time everytime.

Same, same, same complaints AGAIN... Get a life bro.

Windows Mobile is dead People, don't keep believing it ain't. I know you don't want to hear, but it is.
No apps, no os, and the apps there are, they miss way to many features they have on Android or iOS Posted via the Windows Central App for Android

Love W10 on my 950, moved from iPhone 6S and I can never go back to the Fisher Price Toy.....and I'm ALIVE!!!!!

Give it a rest with your doom and gloom. Windows Mobile is far from dead.

Haha unbelievable, please people open you're eyes and stop thinking you did a good buy.
Really I tryed windows phone for two years recently and they miss so fu.ki.g many features, it's sad but true.
Then you have the people who say: all the apps I use are available, and that's true until you use these apps on Android and iOS, they have so more features, that compared to Windows it's unbelievable sad if you have a windows phone.
Sorry folks,no harm,i liked windows to but it's just the reality and someone needs to open you're eyes Posted via the Windows Central App for Android

No you did not ever like WP, you are an ass hat and a sad one at that, have a great day!

Since you're not me you can't know if it was a good buy for me or not. Why would you care anyway? Are you threatened by people who don't share your viewpoint? Apparently so, since you are trying to convince those of us who prefer Windows phones to quit preferring them.

Looks like you are trying to convince yourself that you made a good decision by choosing lagdroid.dont worry son,god will grace you.

Typing this with my eyes closed having a nightmare of the last android I used. Thank god I opened my eyes. Nope, if windows phones ceased to exist I'd be iPhone.. Been down the android path, Frisbee's it down the asphalt cause the phone dialer was force closing went straight to wally world and got a Nokia 520 haven't looked back since. Now enjoying my icon.

I second that comment. shut up.

Please tell me my lumia 925 will be install windows 10 anniversary ?

Anybody want to trade a 950 for a 950 XL? Lol

I would but the 950 I'm buying this week is the at&t 950.

Oh ok, that's the one I have

Hundreds complaining of freezing phone and rebooting on feedback hub yet they are leaving us hanging for the weekend. I get that these are insider builds but .3 was fine and .5 started these issues. So close to release this shouldn't happen. It's so annoying to constantly have this happen. They need to implement a rollback to previous build feature.

I actually have fewer resets and issues on .5 than I did on .3. Both have been quite good on my 950XL RM-1085. I do agree that a roll back feature would be useful at times.

So is my Lumia 830 getting the anniversary update.....?

Yeah! I have an unlocked Lumia 830 and I'm waiting for the Anniversary update ;)

Do you have official windows mobile 10?

non insider builds and anniversry update are all official.

Although it is good news but i am not happy with microsoft. Why always so late in mobile division only?

I think they did the best! I suppose we'd have issues due to overloading servers

It's one week later than desktop. Which is a massive improvement from the initial release of Windows 10.

I sure hope the next update fixes messages restore after hard resets. I'm still missing messages

missing messages? text messages? you need make sure you backup messages when using wifi. text messages are backed up aomatically. in messages settings, find 'download messages through ( choose any time.) . messages should'nt be missing as long as they are backed up.

I did. I'm not new to this. I made sure I backed up 2 times in a row. Everything has been good great till I did a hard reset now no text messages at all. Only 2 names came back. I had tons

in messaging setting. change more settings for messaging. click sim 1/sim 2. automatically download MMS should be on.

It usually takes my 950XL a few hours to download my backed up messages. Usually when plugged in over night. How long have you waited?

I don't know how. I forgot to count but i think not too long, mayybe few minutes or 10,20... not hours. should't take that long. how many messages you have?

Alot. Enough and it's been days. I've done hard reset a hundred times in years and have I lost my text messages

why doing so many hard reset ?

I'm just saying I've done it alot lol. Not alot all the time. I've been here since windows 7.

Hey bro...Just use TRANSFER MY DATA(Nokia made app) for contact message and mms backup. It's really faster yaa

It makes a copy of message contact or mms and makes it as a backup file.You can use the same app to restore the backup created by that App

Messages get lost after a hard reset since threshold... The only way to get them back is to roll back to WP8.1 and then update to Windows 10. Note: You will have to do this every time you reset the device.

I think I did the last time last week. I hooked it up to the device recovery to the pc. do I need for them to restore before I upgrade back to windows 10?

Yup waif for all them to be restored first. Make sure to choose "download messages from any time" in the messaging app as soon as you roll back to 8.1

Ok cool thank you so much. I'll try today

Let me know how it goes. Also, if you happen to have duplicates of your text messages after updating to Windows 10 let me know. I finally found a fix for it.

Thank you so much. Will do

Great news! I thought it will be much later. Thanks Dan for the info ⌛

Happy to hear that.did I can get red stone 2?(Lumia 730).some phones are deleted from list and I think I am in list.

AFAIK Lumia 730 should get Redstone 2 builds :)

I am in release preview with Lumia 730, it is awesome.

Agree. The first stable Redstone 2 release for 730 for me (actually the first Redstone releases were good until they totally broke it). Dual Sim working so far (5 days in). Great battery improvements also. I think they increased the animation speed of all interface transitions, so it feels snappier now. Happy with this build.

I didn't see anything about Verizon doing the anniversary update ... any clues?? I got the W10M on my ICON, and want to make sure that I get the anniversary update, also.

Yeah I understand what you sayin,hope Verizon doesn't block you from getting on the 16th

"Addressed issues that cause high battery drain when a Windows 10 Mobile device is idle or the screen is off." Does this mean this would fix the issue where the phone would drain 20% of battery overnight?

Aaah poor Daniel, while the world is all aweinspired over the latest Galaxy Note 7, this nice guy is still covering the dying bird called Windows Mobile. Posted via the Windows Central App for Android on my Zuk Z1 which I am loving so far.

But I see windows mobile is getting update every week, android, IOS, not.

Lemme guess, they increased some numbers and that's about it? Yawn.

its not dying nor vanishing, proof is that u r still commenting on this page

Like wise. Posted via the Windows Central App for Android on my Zuk Z1 which I am loving so far.

Dan how soon after this public release, can we start seeing new feature builds for insiders?

Dona said around mid August!

Actually its already being released for few

anyone with a spoofed x2x series phone on redstone that got glance working? i tried multiple configurations in the registry on my 925 and couldn't get it to work.

We'll see. Unlocked L950XL in Argentina. Hope it's available. Can't wait :)

Daniel, do you sources have anything to say about the W10 upgrade for the AT&T Lumia 640XL?

I was wondering the same thing.

14393.67 red stone AU , threshold is still under development with build 10586.594 will we see that's for PCs??

Current production build issues in my L730(.494) - Ringtone & Alarm volume is too low even at full Volume.... (9/10 i missed the alarms, I use to set atleast 5 Alarms to wakeup) There r somany other issues but if they resolve above one I am satisfied with this update.

I don't know much about this update. But i think it is better rename as Resume" phone instead of windows phone.. Always show resuming.. When pick up an minimized app. And even while opening.. Then all are blaming android as laggy phone. .. Poor guys.. Happened a mistake when buying a phone..

Which phone? I don't see resuming screens anymore on my Icon, in a LONG time.

Maybe one of the more techy members will jump in and help you out with some advice.. I'm not gonna jump on the band wagon and tell you right off the bat to hard reset because I've only done that like 3 times through the whole win10 insider program and only did it to see what the clean experience was like, never from major issues.. Mine is running great with fair battery life without all that on the latest Redstone build.. I never expected miracles from the icon's battery anyhow lmao..

No goose bumps after reading this, windows phone is already dead, it is selling all time low.

Is Lumia 730 dual update on 9 th august........????????

It took many months after it was released for AT&T to roll out W10 to my 640 so I don't really expect to see it on the 16th. Maybe by the 16th of September...

Will the 640 get the update? Sorry if that's a dumb question☺

Yes bro x40 and x50 are officially supported for wm10

Leaves you to wonder what feature(s) ATT might seem inappropriate for thier customers.

Great news. My mobile drains overnight at a rate of 10% per hour even on idle mode

Waiting for august 9 for windows 10 mobile anniversary update for my Lumia 950xl

Will this update is going to have "3G only" mode?

No it won't. You have to use Interop Tools
Bing 'Interop Tools W10M'

I've an unlocked Lumia 830

I do see 3g only on 640XL. On build 14393.5

Oh WoW this is a Miracle by MS
Thanks alot Mr. Daniel Rubino

Ms? Daniel isn't a woman.

I can wait for the update. But I think Microsoft still doing a bad job to inform the fans and user about the update process on Windows 10 Mobile. Dona Sarkar claimed on stage at one episode of Windows Weekly that the anniversary update for the mobile would roll at the same time as Windows 10 for the desktop on 2 august. That not happened obviously.

System is rigged against Mobile.

I hope there'll be an updated image on WDRT.

So even if your are an fast ring insider and your with the at&t carrier, then it will not be till the 16th instead of the Aug,9 or does the 16th only apply to non insiders'?

So will we see any new hardware beside the new HP? Would be nice if BLU or some other would release some new phones.

Yeah that would be nice indeed

What do you mean by unlocked phone...???

Which are carriers phone and which are non carriers. Can I able to update my L535 wi10 AU on 9 august.

A carrier device is one bought straight from a carrier normally on a contract - like an AT&T branded Lumia, for instance. Only a matching SIM from the same carrier can work.
A non-carrier device is unlocked and can be bought from places such as Amazon or straight from Microsoft; any SIM can be added to the phone and it'll work. So basically, if you bought your 535 from a carrier on contract, then yeah, it'll probably (though not always) be locked to that carrier. If you bought it on it's own and then added your own SIM, it's most likely unlocked and non-carrier.

Any improvements for Lumia 650?

Automatic rebooting, randomly hanging ...i hope these issues are fixed..

Do any of the phones on ATT support Wi-Fi calling? That would be amazing if they rolled out the update with that feature that so many other phones are getting.

Will this anniversary update will allow us to move back to wp8.1 if we wish to through WDRT.?

I'm a Windows fan,insider fast ring since early last year.I think it's awesome.My only complain is,why remove a native app because of low usage without sampling opinions?

Can I assume then my 640 will be moved from threshold to Redstone with this update?

Is lumia 640 get anniversary update on 9th august?

Sweet! So I'll get it tomorrow!!

Will the update be available through Insider? I'm on a Lumia 925, so I won't be getting an official update.

Not this one, the 925 is stuck with what it already has and can go no further, sorry.

hope it is a new build as 14393.5 is glitch on my 830. random freezes and lock ups which clear themselves after time but suck as it may take a minute or more to clear. hopefully 14393.10 will fix this too

I have a 650, had a windows phone of every generation before that and I have had to stop using it now due to my NAS not being compatible with it (WD MyCloud), should have researched it better but WD discontinued support for Windows Mobile :( Otherwise my 650 is the best phone I've ever had, Best battery life I have had out of a modern smart phone (2 days), never froze and just worked. This was on the Threshold 2 release as well, not Redstone. If WD releases an UWP app for MyCloud then I would defiantly ditch the Android phone I have now and go back to the 650.

I thought Microsoft was done giving in to carriers for updates, but yet again ATT is delaying updates. So it's now been several weeks since the latest update for the 950 firmware and ATT still has not released that. Now they are delaying the Anniversary update by at least a week and I'm betting next week there will be another delay. Way to roll over Microsoft.

Why are they getting rid of "kids corner"? I like the fact that my kids can play without going any where in my phone to mess up stuff or change things. Keep kids corner

When Lumia 1320 will get an update of Win10? If anyone has an idea...pl let me know as I have been awaiting since long.

Maybe they will fix that annoying broken backspace key and send button when replying to an e-mail in Outlook/Gmail. Also, Cortana does not seem to know how to launch Groove Music when you tell her to "Play Random Music" or "Queue up my music".

I use my devices daily...work and play. I haven't come across any issues that I have not been able to fix on my own. However, every time that there is an update there seems toi be unique issues that arise. So, I'm holding my breath and hoping that I can resolve those issues without having to re-set my devices or spending hours trying to figure out what to do.

all those with time/errors is the TUESDAY!!!!! not TODAY: Tuesday, August 9th is the planned release date for the Windows 10 Mobile Anniversary Update for open-market Windows 10 Mobile devices e.g. unlocked Lumias and presumably Coship, NuAns, Acer, and more. http://www.windowscentral.com/windows-10-mobile-anniversary-update-augus...

?? Today is Tuesday, in fact for me it's already Wednesday (0:30am)

I'm still waiting for the Windows 10 mobile rollout on my 920. My wife is still waiting for the same on her 640.

Hurrah for you guys! Still waiting on standard Windows 10 mobile for my 920. My wife is waiting for the same on her 640.

Hurrah for you guys! Still waiting on standard Windows 10 mobile for my 920. My wife is waiting for the same on her 640.

Anyone has it yet? I've been waiting for this too long already

What is going on with this update?! More 8 hours and it will be 10.08...

TIME LIES BETWEEN 8.15PM - 11.15PM IST

Hai I have't get any updates today for my lumia 930 when does microsoft rolling anniversary update for mobile i'm waiting for update Bcz my phone heating up when i'm using phone softly i thing new update fix this type of issues Update is Rolling Out or Not

Yikes, i am too lazy to see the excuses for no update in this comment thread. I am sure the # of excuses > Apps in the Windows market store. Remember those articles by other websites claiming WP would be in 2nd place in the mobile market? No? well, poor on more excuses for great HW but aweful ecosystem.

I am using 950XL as mentioned above, I have the same battery problems. Waiting for the updates to solve if not (What we can do?) will buy a Candybar mobile as an alternative (Since no resale value for this).

Well when mine upgraded, it intially experienced a few odd things like a few text messages I received resulted in the contact vanishing, leaving the text as a new message and under the phone number instead of their name. The contact was still on live.com, and eventially over-night came back to the phone and the text automatically was grouped together under their text messages, but wierd. It happened two times with two different contacts that day, but hasn't happened again since thankfully. My roommate said all of his contacts suddenly vanished that day but also came back by the next morning. Other changes noticed: Alarm tones begin at a much quieter volume now. At first you can barely hear them, but it grows louder as it repeats each time before there is no ignoring it. Touch to Wake of course A camera button on the lock screen (lower left). I can't remember if that was there before hah. Might just be my forgettfullness or A.D.D. Push notifications now have new button designs (ie, dismiss, snooze). Most likely giving way to multiple options in the future or custom between apps. The Weather Channel's tile is working again where it used to be just blue. Now it once again shows the days stats. I don't know if the fix itself solved this, but it hasn't worked for months until that morning all of a sudden. Beyond the knowns about WiFi, BT and Cell reception, that's all I can think about right now (or have noticed). Anyone else notice any small changes like those?

what happened to the FM Radio? Is there a good replacement?

This is a far cry from the days WP8 when we had to wait months up to a year before the smallest update.
Windows Central Newsletter
Thank you for signing up to Windows Central. You will receive a verification email shortly.
There was a problem. Please refresh the page and try again.