Windows 10 Mobile build 15207 now available for Insiders with one new fix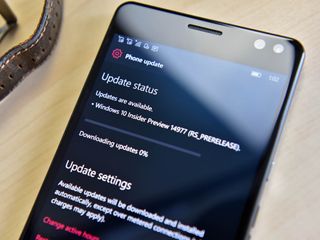 Microsoft is today rolling out another Insider Preview build for those in the Fast ring today, this time build 15207 for the Windows 10 Mobile platform. Are you excited to try out new features? Shame. This build is exactly the same as build 15205 that was released last week, but with one additional fix.
What's new for Mobile?
We have added a privacy page to the Windows 10 Mobile OOBE and upgrade experiences that allows you to quickly and effectively make common privacy changes while setting up the device. However, Insiders have reported that their device would crash or reboot shortly after unlocking their device for the first time after the upgrade if their device did not have a password configured to unlock the device. After updating to Build 15207, you will see this privacy page one more time – but should no longer experience a crash or reboot.
It's fair to say that the Insider Program for Windows 10 Mobile hasn't exactly been lighting any fires as of late. Even during Redstone 2 development, there were barely any features worthy of note for Mobile. Perhaps that'll change in the coming weeks, but we're not holding our breath.
Windows Central Newsletter
Get the best of Windows Central in your inbox, every day!
Zac Bowden is a Senior Editor at Windows Central. Bringing you exclusive coverage into the world of Windows on PCs, tablets, phones, and more. Also an avid collector of rare Microsoft prototype devices! Keep in touch on Twitter: @zacbowden.
Dang, Avatar of Apathy is busy today!

Yeah, it's so action packed, there may be another one coming. =P

There's never been a greater time to be on the Public Build than now.

Wohoooo /s. At least devs can have a bit of fun with the new APIs though ;)

Is Bluetooth connectivity restored in this update or are will still stuck without it?

I don't see any Bluetooth connectivity issue since last build.

My Bluetooth also does not connect after last build also broken Bluetooth quick action for the last few builds

I were having a problem trying to reconect to my gf Bluetooth radio on his car and suddenly I hard restarted the phone (Keeping the power button pressed for few seconds) i were able to find and connect again, also happened with my Bluetooth speaker.

Well I just updated and this latest build still has broken quick action menu smh

Mine works, 950xl fast ring. It can at times stall, but it only stalls, hasn't just stopped working.

I have the 950. It's a serious stall. I thought it was broken. Still needs fixing before final release

Bluetooth has been working for me.. Expain?

It stopped working with my car's system (Mercedes COMAND 2.5) since the last insider fast ring update. It still works with the Nokia MD-12 speaker bueno t not as well as before. I have a 950XL dual SIM unlocked

Have you tried a clean install ??as my 950xl dual works fine on my command system, although not the same 2.5

I could pair again after this build.

Stick with it while it lasts

Give us back Gabriel Aul, I'm sick of this ****.

It has nothing to do with him or Dona.

It literally has nothing to do with Dona (or the fact that she is female for that matter). Gabriel Aul would not do anything different, that is not their job. Try picking on somebody else.

I'm just curious...Why did you say "or the fact that she is female for that matter"? Was that brought up as an issue in an earlier comment? Seems you just threw that in there... Again, just asking because I don't know where that came from. Perhaps I missed a post that was later edited? The prior commenter def thinks that Gabe Aul would have done a better job and for that they are mistaken as you've already pointed out.

Eh, I could have left it out. But after other comments i have seen directed at Dona i thought I would throw it in (you should see some of them). I did not accuse the op of this. But just in case that was part of the op's thinking thought it better to have that stated as well. It was really more of a side note than anything. But I could have left it out.

Other commenters on past articles have given Dona guff for being a woman. It's fairly pointless and has nothing to do with her ability to do her job.

Hardly addresses more pressing issues. Bluetooth appears a little less reliable in 15205. Just keep on waiting...

Bluetooth is completely unreliable. I've had all kinds of issues with Bluetooth! Dude, fix it!

I am right there with you I have not been able to use my bluetooth headset for the last 4 builds

Did you try a hard reset? Fortunately for me mo Bluetooth issues. It's even working with my car.

Oh jeeze. I'm glad to hear it's not just me.

It's really ridiculous as this is one of the core issues with any mobile device. Especially us road warriors

I did not realize there were so many of us with Bluetooth issues. That and wireless is all that I want fixed and I'll be happy :)

Haha, well. Bluetooth was never reliable in windows phone/mobile, never. When i first come from symbian to windows. I went back10 years, am still ten years back....

FFS why bother releasing this build? Either some proper fixes or new features needed. Snoore zzzzzzzz

Because it's a Insider build that's why

I don't think you know what the Insider program is for.

Certainly not for builds as useless as this one;). It is like their are looking for fishes, to see, who their is left for insider after the big cutout of all insiders. Probably, two three persons who forgot to get out..

We do, but this is an insult and a waste of resource even at Microsoft in releasing the build to the insiders. (...unless, of course, there are additional fixes not reported)

As you said, it is an insult.

Ohh, fair enough - definitely more fixes under the hood. BT back working again for me with this build.

I am quite getting tired that no one from Microsoft cares about nonfunctional VPN for mobile.

Nor of the Tethering and Hotspot issue, that's been there like forever. Anyways, my Lumia can't even receive these builds; stopped waiting for it.

Wait, what tethering and hotspot issues? That is the one thing that works great for me on my 950XL.

Tethering works fine with elite x3 on Tmo. Check with your wireless carrier, plan, and apn settings etc.

Tethering and hotspots working perfectly on my 950XL.

VPN seems to work ok on mine. What VPN service provider are you with?

I use PureVPN https://aka.ms/aq8d0v

VPN works fine. What issue you having

Using vpn daily on fast insider. No issues ever.

What protocol and which provider? No disconnects?

Vpn unlimited, use on 950 xl and my pc. Both on current insider builds. I do hard resets after every update, maybe that's why I'm not having issues?

I use Nord VPN and have my own VPN server at home served by Synology (NAS). I connect to both using L2TP/IPsec with pre-shared key, and I have a PPTP fall back to my NAS if L2TP doesn't connect. Solid connection once it's connected but depending on some free Wi-Fi providers, they may block some ports required for L2TP which doesn't even connect to start of with.

Why bother mentioning this if it is so meaningless to you? If they didn't bother to fix anything there would be complaints about that. No wonder MS is quiet. Dammed if they do and dammed if they do not.

Creators update. ??? When?? A Lumia 640 user in release preview ring ,,installed build 16350 138

Yeah, non kidding. Advertised public release starts tomorrow, and no updates on the 15063 after .138. Yet not available on release preview. Maybe they forgot about that ring's users of the forgotten OS...? ;-)

Yeah, non kidding. Advertised public release starts tomorrow, and no updates on the 15063 after .138. Yet not available on release preview. Maybe they forgot about that ring's users of the forgotten OS...? ;-)

I'm waiting for this as well. The last 2 CU update builds has the WiFi on my 950XL dropping internet constantly. I have to turn off the WiFi, use LTE for a bit, then the phone turns WiFi back on by itself, reconnects and has internet, then after a short while the WiFi says no internet again and the phone is too stupid to switch over to LTE data when connected to WiFi with no internet so I miss everything until I turn the WiFi off again manually. Viscious circle that happens a dozen times every day.

Weird no issues here. Also on 950 xl. As I mentioned in a prior reply to another user, I hard reset with every build.

so is anybody on W10M that ISN'T in the insider program? asking for a friend.

I'm not. Was, but since all I got for my trouble was more bugs but not new features, I dropped out a whlie back.

Yes, and on production builds (i.e. no rings) W10M is actually about 95% stable

Anyone even bothered about these "builds" anymore?

Yay! At least Microsoft is still releasing updates. As long as these are out, we're still a ways away from "dead."

At this point we're Undead...

Started hearing the song Undead by Hollywood Undead reading your comment lol

Wow, that is quite the song.

Lol, should have probably put a warning on that post if you have never heard the song before

Yes...because the influx of awesome first party apps are just thriving in the windows 10 moible community. Its a very expensive feature phone....nothing more at this point.

Some of my favourite phones have been feature phones.

Got Lyft recently. Good compliment to Uber.

Waze is still working fine too (few bugs but manageable) on my 950XL on fast build.

Unfortunately, I have to agree.

Any performance improvements that could make it worthwhile to upgrade (asking because RS2 to RS3.1 was good so no "yes its faster" jokes ;-) )?

Feature 2 is also known as "Zero feature update!"

You would know that the second build in the branch, wouldn't you?

Feature 2 is contact fulfilling, aka. support as long as described upon purchase IMO.

Except for the feature mentioned in the article (that's the 1st feature). Waiting to see what the second feature is :)

Does anybody know when the random reboots will stop? Have already done 2 hard resets, one through settings and a Device Recovery Tool reset. Get about 10 reboots a day.

Isnt it time for you to give **** in W10M? How do you managed such much without throwing the phone away?

See if your battery has swollen. I had the same problems with my 950XL and it was hardware related (battery). Buy a new one and try.

What are you doing when it reboots. 10 is a really high numbers, is that really how many times it happens?

It sounds like a battery issue, you have an 950/950xl? They sure are as crappy as a samesung made. Checkout the battery pins if this is the case, they might have gone to separated, bring them back with a small pointy thing;), all 3/6 of them.

Still wish I could assign custom ringtones to contacts.....

You can. But only if you leave the DEFAULT message tone on in settings. Then the assigned text tones on contacts work. If you change the default tone... then all the custom tones in your contacts dont work. It really is stupid and it was the first feedback I ever uploaded to fix it.

:D my phone resctricts my choices? Like... seriously?

What phone doesn't restrict our choices? I can't do everything I want to do on Android or iOS either. For your choices to not be restricted, build your own OS to have it do whatever you want it to do, otherwise your comment is just you being your negative self, taking a shot at Windows 10 Mobile.

So I have to leave the ringtone set to default in the settings in order to see the custom ringtones in the list when I press on "+ Ringtone" in the Edit Contact screen? I tried and I still don't see any of my custom tones in the list. The only place they show up is in the settings to be used as a system wide ringtone

I am having the exact same problem. I did a master reset over the weekend and now none of my custom ringtones or Lumia tones are showing up under contacts. They do however show up in file explorer.

I found a good fix. I guess by doing a master reset, instead of just updating as usual, things had changed on MS's side and they weren't being recognized. All credit goes toward Batman1776 in the MS Community. "1. on a PC right click mp3 file select "properties" select details tab at top, set genre as "ringtone" 2. move file to phone storage under "ringtones" folder 3. In Settings/Personalization/Sounds/Ringtone the file name is now in the list of ringtones Note: it does not appear under "custom" for me its just in the list"

Hello. It's only for mp3 files? I've tried that fix but it doesn't work, and the file appears on Groove as "Unknown" everything. The same goes for aac, wma, mp4 files...

Where the hell is the creators update for release preview users! In goes on general release tomorrow!

Non-existent! Clearly going straight to production at this point. Probably will be 15063.251 released tomorrow (latest private internal test build compiled 4/20).

Whew, Zac is getting cynical. Maybe Jason W should write these ...

I have no problems with Bluetooth on my Lumia 950 XL

Zac is seeing the writing on the wall....unlike Jason who is living in LA LA LAND...between his never faultering belief that windows mobile is going strong to his unwavering support to the massive crock that wharton brooks is/was......

Those of us left rooting for Win Mobile... its like being a Cleveland Browns fan.

Call me a Chicago Cubs fan..the championship tile was always "Coming SoonTM" as is Microsoft's mobile ambitions. I prefer Windows 10 Mobile even though I have the latest and greatest versions of iOS and Android as well. I am typing this on a widescreen monitor via Continuum on my Lumia 950XL after playing Warhammer 40,000: Freeblade with a mouse. As long as our phone and OS meets our needs, root for it, regardless of the OS.

Like you, love the platform. I wonder whether the disappointment, apathy and anger / frustration is more due to or own expectations and Microsoft's inability to meet those expectations. For me, the app gap isn't an issue.

They need a new program manager.

Oh yes, the WindowsCentral wall of tears.

My HP Elite x3 Bluetooth is Stable, and rebooting issues have been resolved.

Being on Fast ring I should be able to get this, instead I am on 15063.183

Guys, do you have any issues with Edge in this build?In my case when i open it, first page goes freeze...

Lumia 950, first page freezes, have to reset page.

Its been like that for last few builds, I have reported it, they know about it, hopefully a fix is on it's way. But don't hold your breath.

Going through the motions.

In 2 hr it is 25 april, the release off Creators Update for mobile! I'm insider on preview release but still nothing!? Is the Preview Release stopped somewhere and did I missed that also?

It's not on Release Preview yet. Just Slow Ring.

Donna said that they will not be releasing any more builds this week, they are preping for some other stuff. https://twitter.com/donasarkar/status/856581654562787328?ref_src=twsrc%5...

We need some new features

Installed on my Nokia Lumia 920 now

The HTC Diamond is only $499 in Amazon:
https://www.amazon.com/HTC-Diamond-Unlocked-6-1-U-S-Warranty/dp/B001F7IX... It comes with full Windows Mobile 6.1

I loved me some WinMo, but the Samsung SCH-i760 was where it was at.

If there was a WhatsApp and a Twitter client for Windows Mobile 6.x, I would make the move right away

In what way would that be an improvement?

I just wish they would fix the issue with the Alcatel Fierce XL recieveing updates, havn't been able to get any new builds since 15063.138 and have been on the Fast Ring since forever. Real pain in the A%%. My 950XL...no problem. And they said they fixed it with the last build release. They lied. m!m

Well, that's what they said, but if you can't or the system won't download and install the fix in the update, it really doesn't do much good, does it.

I think that this is for non-insiders tomorrow, because the last builds were only fixes, i hope that after tomorrow they start to aim at us like crazy with new features.

And here I was hoping it was a fix for the back arrow app switching they broke in the last build, where it takes 5-10 seconds for the button to respond. It's frigging annoying.

Uptodate lumia 925 spynet

Tethering works great on my 950 Dual Sim.

If this is one of the last updates and no more future changes I'm happy! It works!

No hope for my Lumia 1520 :-(

😃😃 oh Microsoft bring something new. How many time we are waiting.

I feel you're campaigning towards Microsoft to make them change their execution in mobile. Am I wrong?

Here is my problem.
I don't mind Microsoft doing this. Hey! I am all for making sure that there is no Windows Phone 8 panel anywhere even.
HOWEVER, it doesn't help that all signs point that the phone will be killed off by the end of the year (hopefully, it changes, but so far these are the signs), and that they are FAR more important things to fix. I would love to get a "last hurrah!" out of the team, where they work their ass off, and fix important issues like Bluetooth and making sure it works great with most cars and devices. Fix critical bugs like when you phone rings with headphones, it rings on both internal speaker full blast and headphones (at least an issue on the Lumia 950 XL), and more (feedback hub is filled with it), and if times allows add Edge features to make it a finished product (home/dial screen, dark theme, extention support, for example) , and how about Android Auto (it's open source, if you wonder). At least give a nice gift to Windows 10 mobile users as a last send off.

15207 build was able to load on the 950 XL was the best fix, the 2 previous builds wouldn't load because of not signed error. The Edge is still poor dealing with webs links. Tapping on a link is hit or miss if the inteneded link opens or another one opens instead.

Just waiting for a Release Preview update. Shouldn't be too long now...

I'm on 15207. But I want to opt out so I selected the option to opt out at next release. Will I still get the creators update or have I gone too far forwards with the fast ring builds?