Windows 10 Mobile preview build 14291 released to more Fast ring Insider devices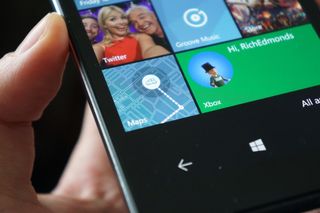 Microsoft is now rolling out the Windows 10 Mobile preview build 14291 to nearly all of the devices that are able to receive updates from the Windows Insider program. The one exception is the Lumia 635, which will get the build at a later date.
Users will need to be on the Fast ring to see the update.
Build 14291 is part of the new Redstone branch, which is set to unify OneCore and bring new native features to Windows 10. Previously, only a subset of new Lumias that launched with Windows 10 Mobile were eligible for the preview update.
Being an early preview, it is not yet advised to use on your main phone unless you understand and are okay with the associated bugs and issues (see below).
Microsoft's Windows Insider head Gabriel Aul stated
As a reminder, here is that list of eligible Insider devices:
Alcatel OneTouch Fierce XL
BLU Win HD W510U
BLU Win HD LTE X150Q
Lumia 430
Lumia 435
Lumia 532
Lumia 535
Lumia 540
Lumia 550
Lumia 635 (1GB)
Lumia 636 (1GB)
Lumia 638 (1GB)
Lumia 640
Lumia 640 XL
Lumia 650
Lumia 730
Lumia 735
Lumia 830
Lumia 930
Lumia 950
Lumia 950 XL
Lumia 1520
MCJ Madosma Q501
Xiaomi Mi4
For more information on build 14291 see below:
What's Fixed for Mobile
We fixed the issue where connectivity to older Wi-Fi networks using the WEP encryption security method may be broken.
We fixed an issue resulting in slower text input speed the more words were typed.
We have improved Word Flow recognition of longer words.
The All apps list has been updated to now follow the "Make Text Larger" ease of access setting.
We fixed an issue where Settings would sometimes list unresolved app names under Extras.
We fixed an issue where touch targets could be out of alignment in the Photos picker.
Known Issues for Mobile
If you reset your phone on this build (Build 14291) and restore your phone from a backup, restore will fail to install apps from your backup's apps list leaving blank grey titles on Start. If you delete the grey tiles and attempt to reinstall the same apps from the Store, you will not get app data restored. The next backup will over-write the app backup data as well. To avoid hitting this bug, avoid resetting your phone on this build. If for some reason you do need to reset your device on this build, don't restore your phone from a backup and you should turn off backup for apps and OS data to avoid creating a corrupt backup via Settings > Update & Security > Backup.
If you have a Microsoft Band 1 or 2 paired to your phone, it will no longer sync after updating to this build due to a system API failure that occurs after the update. If you want to get your Band syncing with your phone again – you can temporarily change the language of your phone as a short-term workaround until we release a fix. Additionally, you can also choose to reset your phone to get out of this state – however you may experience this update issue again with the next build until we fix this issue. This issue may also impact Skype video and audio calls.
The Gadgets app will not detect the Microsoft Display Dock on phones running Windows 10 Mobile Insider Preview builds, and thus cannot update the firmware version. If you have a dock which has already been updated to version 4 then this will not affect you. If you have a dock that has not been updated, then you may experience some minor issues with USB-C stability. You will still be able to use your dock and Continuum.
There is a new option under Settings > Update & security for Windows Insider Program. This is a work-in-progress option to improve managing your Windows Insider Program settings on your device. Right now, if you go to this option it crashes the Settings app. Please continue to use the Windows Insider app to manage your settings for now.
Yes...looking forward to downloading! Posted from my 1520 running Windows 10

Yes please do, i will be counting on your post to see how it goes on L1520 :P

I notice performance improvement on my 1520 , a lot of bugs fixed as well.
Definitely more stable than the previous branch.

slow or fast ring? mine is not showing (L1520 slow ring)

Read the article. Some **** about fast ring should have rung a bell with you. Posted from Pornhub

Really? You don't even have to read the article...the answer is in the TITLE.

Thank you, Captain Obvious. Posted from Pornhub.

You're welcome, Colonel Cliche. I wasn't actually responding to you, but thanks for the tired-out insult. Enjoy your day.

Noticed better performance on my L535 :3 it seems a lot smoother for some reason :D and the flickering finaly fixed

I'm still running my 1520 with Win 10 Mobile, but I think I will wait a few builds before I update again. I was hoping that some of these bugs would be fixed, since it's been a couple of weeks (almost 3) since the initial release of this Redstone branch for insiders. The Band syncing and data back up is a major thing for me.

Hey ... How does windows 10 performs on ur 1520? .... Plz revert

It runs pretty good. I use it as my daily driver, without many issues. One annoying issue is that the messaging app sometimes gets stuck resuming, but pressing and holding the back key resolves this. I've also noticed that Cortana and responding to text on my Band 2 don't work, but notifications still work fine. I just accidently updated to the current build, because I forgot to switch to slow ring. Anyway, the new Redstone preview branch is still a work in progress. If you want to upgrade, I would suggest waiting until the slow ring version, or next build. The only major issue I have with this new build is that my Band is useless right now, because I reset my Band and reinstalled MS Health to try and get Cortana and text replies to work from the Band. I may just revert to the previous build. Fortunately, I did turn off my automatic update.

I have only one issue, battery draining like hell.... Windows 10 on Lumia 730

Try signing out Skype account in Messaging app. It solved my battery issue.

Same problem with my lumia 730. Can anyone please help me to get out of this.

Correct me if I am wrong but the redstone builds are only for newer devices right?

*facepalm* to myself ..didnt read the article completely

Lol This comment was posted on Windows Central for Windows 10 UWP.

Facepalm accepted. Posted from Windows Central for XL

Waiting to see what broken before I download. Posted from Windows Central for Windows 10
Using My Beastly 1520

It's not a new build The notes are already out there

True... Posted from Windows Central for Windows 10
Using My Beastly 1520

I was disappointed that this is old build, because my phone is very unstable and hard reset is not an option with known issue. However good news for other insiders Posted from Windows Central for Windows 10

Known bugs are posted in the post.

known. KNOWN. that means there could be bugs that arent obvious at the time

Well it's much stable than previous ones... Much more i should say..

Yes yes yes! Redstone on my Lumia 640 :D

Also finally much needed app updates along with Redstone! ☺

AT&T (GoPhone) Lumia 640 :)

Finally the new beautiful maps app This comment was posted on Windows Central for Windows 10 UWP.

actually prefer the old style that actually matched windows 10 pc version...so much UWP and consistent styles across devices..white looks bad on the new maps app on w10m

So ...are you satisfied with the workings of your phone now? ​920&640

Don't know if you mean me, but I've always been satisfied with my phone :P And it still works really good with this build.

People will never stop complaining no matter what.

I haven't seen anyone complaining, but then again I haven't scrolled too far down in the comments here.

Is it stable enough as a daily driver? Posted from Windows Central for Windows 10

Ah, I see. Thanks Dan. Posted from Windows Central for Windows 10

Is your avatar a glamour shot? Posted from Pornhub

Tool late :(, already downloaded.

can you please let me know how to back up what's app chat history in lumia 920 which doesnt support sd card

Once you manually take a backup of whatsapp from the app, connect your phone to a PC. In the file explorer you will see a WhatsApp folder right outside, you can simply copy that folder to your pc - and use it to restore the chats in the future. Posted from Windows Central App
Lumia 830/Win10Mobile

u mean this folder Computer\Phone\Pictures\WhatsApp ?? this folder has the whatsapp images and a PTT folder ..
where is the chat backup ??

Not that folder. Computer\Phone\WhatsApp - is that available for you on internal memory?

nope
only the folowing folder r available in Computer\phone Documents
Downloads
Music
pictures
Recent
Ringtones
Videos
..
Lumia 1020 . WM10 .. NO sd card i have been requesting whatsa pp team to provide one drive backup from past 2 yrs ..
since i cant save backup chats manually .every time i have to format .. i lose all the chats .. grrrrrr

So sorry, but it appears that there is no solution... Although I'd like to suggest doing a check - have you ever simply uninstalled/reinstalled WhatsApp, and if so, has it ever asked you to restore previous chats? If it has then there is hope that SOMEWHERE the backup exists.. You could search for the folder "WinPhoneBackup". If it does exist in some folder, you could that to restore your chats maybe. Posted from Windows Central App
Lumia 830/Win10Mobile

" WinPhoneBackup " folder not found while uninstalled/reinstalled WhatsApp, it does asks to restore previous chats .. the problem is when i do a hard reset /format of my Lumia 1020/Win10Mobile.
since the phonel is formated there are no backup file availble . hence onedrive support or sm other option is required for cell with NO SD card .

So chances are a backup file does exist, hopefully it is searchable within the whatsapp folder in pictures or something?

sorry bro no idea.... previously I had lumia 610 and same situation as urs and later got Lumia 730..... try to look for some videos in YouTube, ask in Windows forums they might give u explanation. - From Windows 10 Nokia Lumia 730

Did u get the 14291 update for 920?

Well some previous builds have been very bad, I'm gonna bite the dust for this one. Can't lose anything.

Hey Daniel which of the three builds is stable, slow/fast/release? Thanks

10586.107 and 10586 .164 are the last two I had and currently have on my 1520(.164) runs Smoothly and the previous build (.107) ran smooth too.

.107 was okay, but IMO the .164 is the most and in fact completely crash free build, been using it since it came, updated thru upgrade advisor now, which i did for the RS builds only, otherwise it didnt seem neccessary. Not a single crahs, EVERYTHING is great, craving for new features now :P

The only W10M build I find to meet the criteria os "usable" is .164. It's stable, the Edge browser mostly works, WiFi connectivity is acceptible. W10M still has a long way to go to be "good" but 164 is alright.

I agree. I had to revert back to 164 on my 950. Battery drain and the phone warm up were too much. On top of that, Xbox login only worked after reboots.

I had this warm up on my XL, gps went on all the time I think

How do you revert? I've never actually had to do that before, but I forgot my phone in the fast track ring :/

Using your computer. Download the Windows Device Recovery Tool from the MS website. Posted from Windows Central for Windows 10
Using the Alcatel OneTouch Fierce XL for Windows 10

I rolled back from preview builds to .164 on my 950XL...and it doesn't seem to be any less buggy than future preview builds :-\ Posted from Windows Central for Windows 10

Reverting already. Update broke my data connection. Phone sometimes frozen on data toggle

Daniel, i cant leave the insider program, cuz the phone preparing to download that new redstone build... Im with offi. W10M right now... What i have to do god damn it....

Download it and update. Then role back Posted from Windows Central for Windows 10
Using the Alcatel OneTouch Fierce XL for Windows 10

Still has the Bluetooth/Band issues right? I will wait.

Yes to band issues but there's a workaround. On the 950xl, the build was unusable until I did a fresh install via device recovery. It's running good now but I do get at least one restart per day, where I had none on 10586.164.

I just reset my 930 :( Damn, worth it to sync my band :3

No, Bluetooth/Band issues have been working for awhile now. Biggest issues with this release, as pointed out is that the Health app on the phone won't see the device. No big deal if you sync via PC app, but you lose out on the new live tile functionality like battery percentage. I just change my language to English UK, or should I say the Queen's English, for now and all is spit spot. Oh, forgot to mention, running on 640XL that's nearly a year old and gives me no reason to want for an upgrade with the Insider Program. Ok, so I've got a tab running at the local pub for our hardware guy in hopes he can get me the new HP Elite X3 when it comes out. Also, blog site nokiapoweruser.com is already talking about builds 10586.168 and 10586.200 for those still on the mainstream, and 14306 for Insiders. And yes, this is my daily driver and I don't care and Windows phone is not dead no matter what that Thurrott guy says.

Soooo... Changing the phone to a new language after update fixes the sync issue with band? I mean 100%

Did not fix for me, chaged to Indian english and rebooted the phone. After reboot band is still not connecting.

Do not join Insider Fast on your primary phone. I suggest you go for Insider Slow or Insider Release Preview.

I had major issues with extreme battery drain and overheating, even after several hard resets. Couldn't overlook that one for a daily driver, bit I sure miss some of the redstone features.

Same here, overheating on XL two hard reset.

I hate HTC for not allowing the One M8 to be upgraded. Never going to buy HTC again.

Hmm... Posted from my Lumia 525 running Windows 10 Preview

HTC has made promises in every single device. And not delivered. They make amazing phones and make them available when were desperate and promise the world. They're either really dumb or really smart. Haha.

At least you put the blame where it belongs. :P

So much for "supporting the device for two years". They could at least update their apps for windows 10....especially the HTC Camera

I have a feeling that one mountain OEMs of all Windows Mobile devices are going to have to climb is the collective behavior of previous device OEMs of abandoning product way too soon. This certainly isn't going to do the platform any favors.

Hell, even Microsoft is doing this. EVERY PHONE running 8.1 will get 10. LOAD OF CRAP! I am not impressed that I am not getting any future updates for w10 for my 1020. I do not WANT a new phone. I was ready to purchase a couple of extra 1020s in case I had issue with the two I have. But now, NOPE. I am so dissapointed in this. So, its not JUST the OEM. Its even Microsoft doing the same thing.

I have some client users at my job running .107 on the one m8 and isn't had any complaints, however, this is one of the reasons Lumia controlled 90+ % of the windows phone market before; lack of support by the other OEMs as well as poorly designed devices. Of the current list of new OEMs continue that trend then Microsoft will have to go it alone and be a solo OEM like Apple because I for one don't want a repeat of the last four years when it comes to other OEMs!

Yep, me too. I just ordered a Lumia 735 so that I can get back on the upgrade track. Basically my only option as a Verizon user.

I hate Verizon at work because of the lackluster support of windows phone and poorer selection of windows phones with the exception of the one m8's design. Posted via Windows Central app for Windows 10!
Proudly rocking my Lumia 1520!

Love my 735 with W10M, build.107.

Per previous a post the cost of carrier testing was too high for the small number of phones involved. HTC made a business decision. Microsoft could open up the petty cash box and pay for the carrier testing. This reflects poorly on Microsoft's reputation and integrity.

T-Mobile Lumia 640 still stuck on 10586.164... Currently set to fast ring. No other option results in any OS updates being available.

Did you do the usual insider app stuff? This comment was posted on Windows Central for Windows 10 UWP.

To get .164 on my 1520, 3- 640's, and Lumia 830, I have to select slow rig instead of the usual fast rig I was in to get it. Try going slow rig. I'm passing on this build after reading the list of issues Posted via Windows Central app for Windows 10!
Proudly rocking my Lumia 1520!

Just switched to the slow ring (no updates found) and back to the fast ring. 14291.1001 is finally downloading :D.

Good for you, let is know how it runs on your device!

Gotta blown away my head for this since days..and finally yes!!

Hmm.. Time to throw my Lumia away.. :( Posted from my Lumia 525 running Windows 10 Preview

Please don't it to me instead! :P Posted from Windows Central App
Lumia 830/Win10Mobile

Will download to see it on my L640.

Is this for the Fast ring or both Slow and Fast?

Thanks, I guess I missed that in all my excitement :)

Daniel can u plz tell me.will i able to get this build on my lumia 625 some day through insider program?

Daniel can u plz tell me.will i able to get this build on my lumia 625 some day through insider program?

u don't need Daniel to tell u that... MS has clearly stated that some phones including yours wont go beyond 10586 build...

Why we gotta switch from Dev.Branch to Fast Pre.Release ro get this, I thought Dev.Branch is latest and automatically pushes the latest build to qualified phones once certified. After the update I don't see Dev. Branch and there are only slow,fast and prod. So those who opted for Dev. Branch thinking that they stay on cutting edge build should go back to Fast ring and start over to get this update. Thanks!

So sad. We are the outsiders since then. (Lumia 1020)

I want to be Johnny
Posted via Lumia 1020

Not really. You can still get this build(unofficially) if you want, but I would suggest using the 10586 as it's quite stable.

The phone internal hardware it's dated, nothing late forever; I know the build quality and design of the 925 is great, but it's time to upgrade. Go buy a Lumia 640 for 29.99(go phone). I bought three.... They'll be getting the update. Posted via Windows Central app for Windows 10!
Proudly rocking my Lumia 1520!

not possible on t-mobile us only thing available is the alcatel phone

So you are paying your carrier to control the devices you can buy? Must be fun

Sorry, but I've heard some of ATT phones run on T-Mobile but 3G only.

yep...640 will get the build with a crap camera, build quality and not as good screen. Just what i want to "upgrade" to.

This was the same build that fixed music controls flickering ?

Thanks. And also the app list greyout problem I guess. Solved ?

Only question is why this wasn't the build they released when w10m went live. I guess I'll find out. Wasn't this in the preview stage just as long as .164? .164 is not great by any means.

Maybe there was some issue directly upgrading to RS branch

i think that was fixed in 14267 already, also the app list not fading the background when pressing back from an app.

Breaking news, this just in: Generalissimo Band 2 is still dead.

I found a work around that...I seitvhed my language to English (UK) and I havent had any problems between that and the 950.

That's great for all the insiders. Waiting for reviews about L730.

trying to install but saying no space in damn phone.. there is no option in storage to move all apps into SD..... manual sucks..... - From Windows 10 Nokia Lumia 730

vow.. awesome, the first impressions with Redstone update in lumia 730 is amazing.... All my issues from .164 has been resolved in this build Now notification bar hides in older apps
app icons load faster in start screen folders...
apps are loading fast.... Haven't faced any issues yet bcz using new build for only 10 mins..... - From Windows 10 Nokia Lumia 730

after 2 hrs of use realized battery draining like hell... in settings i changed not to run any app on background except Whatsapp but my Wifi is continously working.. i don't know what it downloading ?

Thanks for reporting back . Im skipping this one :) i think without firmware, any more builds is of no use. Posted from Windows Central for Windows 10 Mobile.

Everything is awesome in this build. Working very fine, workflow keyboard is perfect, but battery draining...i think Max I can get battery backup for 12-18hrs a day Windows 10 on Lumia 730

downloading now on my unlocked at&t 1520 here in canada!

Let us know how it goes!!! Posted from Windows Central for Windows 10
Using My Beastly 1520

Does this place all the lumias at the same build? Including the 950?

If on Fast ring, then yes.

What about my lumia 625 Dan.i chekd i didn't get this update?

625 will not get redstone or 10 without insider program. Its not on the bloody list above. Is reading so difficult.

Is this including Lumia Icon(929)? Or is that still left out? Or can we assume since 930 is on the list the 929 gets it too?

Icon/929 is not included. i have one and in the fast ring and update is not available nor has it been. latest is still 10.0.10586.164. bummer.

no thank you. this build of Redstone is not stable enough to be on a daily driver. on another test device yeah sure, but not on my main daily use phone

Yes, 164 is very stable on my 950xl and 650. Redstone is nowhere near as stable. Avoid on your daily driver.

I don't know, as I have not used Redstone yet, but .164 was not the greatest. Since the official update, msn apps would crash. Cortana crashed everytime I used her for an internet search. Groove crashes, often. Blank tiles when opening folders and returning to start screen. And I don't know how people use Edge. Worst mobile browser I think I have ever used. Maps hangs a lot. Everything else is working fine though.

that was exagerated too much, there isnt a single crash on .164 on supported phones, unless you have x20 phone

Even the x20 phones don't crash much on .164

Exagarated? Why would I exagarate the problems I have had with .164. This Redstone build has a hugely superior maps app. The navigation bar can now be hidden everywhere, which is huge. It got in the way of a number of apps I have. Cortana has yet to crash on a search. Groove no longer flickers song names when skipping. Also huge as I listen to music a lot. Battery seems to be the same. No fast draining. Only issue I have is my people app circles are blank. And I am still not getting the Outlook update. From where I am sitting, this build is better than .164. I am happy with this build, gives me hope that MS may actually want there mobile division to survive.

On .164 I agree with you everything except crashes of Groove. Other than that .164 is near to nightmare on my 730 even after couple of hard resets. Phone dialer loads half, top right corner appears on whole screen in tile format and keeps flickering, screen suddenly changes its brightness, tint and saturation.

I agree that .164 has problems. But a build where you effectively can't do backups or hard resets? That's not "fast", it's the bleeding edge for people who like to live dangerously.

Dude what phone are you outside? 520, 635, 730?? I'm running .164 on 3 - 640's, 1520, and an 830 without issues. Posted via Windows Central app for Windows 10!
Proudly rocking my Lumia 1520!

I used edge alot in .164.... Only problem with it is when you want to go back page it won't react sometimes Windows 10 on Lumia 730

.164 is very stable on continuum...very stable, 4 hours using at least every day

I am on a 640 XL Dual Sim.Can't comment on Continuum.

Well, yes. Thats the whole point, of this build and the insiders program.

Just switched to fast ring from slow and 3 downloads. 14291.1001, insider fast configuration update and configuration update.

Great, downloading now...... Oh wait, I have a Lumia Icon/930.....

Waiting to update Lumia 520.. When it will be??

Never. The article says the update is only for the phones that can be upgraded to Windows 10 Mobile. The 520 isn't one of them.

Windows 10 won't be released for the 520 due to the hardware being insufficient for a good consumer experience. The 520 can only get W10 by signing up to the Insider program - but it will only get the release build and will not receive any further updates from then on. Future Redstone builds, such as in this article, will only be pushed out to a select list of eligible devices.

Big freaking whoop. So pleased I am back on Windows Phone 8.1 on my One M8. I prefer to have a working phone that connects to my car without issue, not some unsupported crap on my phone. (Yes, I said crap because Microsoft is not even bothering with the One M8 and no, it should not be up to someone else to do what they can do themselves.) Now, the real question is, iOS or Android when I end up needing to switch.

Yeah, the HTC One M8 owners are getting screwed over big time. Go Android man. Just make sure you get a phone with at least 3 or 4 gb of ram.

Don't blame MS. Blame HTC. It is totally up to them.