Windows 10 Mobile ROM is now available for the Xiaomi Mi 4, but there's a caveat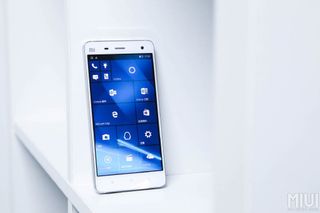 The Windows 10 Mobile ROM is now finally available for Xiaomi's Mi 4. The ROM allows you to bypass Android and install a fully-functional build of Windows 10 Mobile on the handset. However, there's a caveat. The ROM is only available for the LTE-enabled version of the handset, and as such Mi 4 devices sold in India (Mi 4W) are ineligible to flash Windows 10, at least for the time being.
Microsoft has made the ROM available on the handset to solicit feedback from Xiaomi fans, who tend to be some of the most vocal on the planet. In addition, the Redmond giant stands to gain a host of new users registering for its services and paying for content on the Windows 10 Store.
Interested in checking out how Windows 10 Mobile fares on the Mi 4? Head to the links below to download the flashing tool, and register for the Windows Insiders program to get your hands on the latest Windows 10 Mobile build.
Once again, the ROM only works on the LTE-enabled model, so make sure you have the right variant before proceeding. Also, given that this is new territory, there are bound to be bugs.
Source: MIUI forums (1), (2)
Hope to see some future Windows handsets from Xiaomi.

The SD820 based Mi5 will be out in February. It should be able to support Continuum if W10M ROM is available for Mi5. Xiaomi reportly will also make W10M available on Note series and Mi Pad2. http://www.gizmochina.com/2015/12/02/first-look-at-windows-10-on-xiaomi-...

That's rather sad... My friend planned to move to Windows and was eagerly waiting for December 3... But it isn't available for Mi 4W

Same here.. My friend also planned to buy new Mi4 n flash it with W10M.. But its not available for non 4G devices.. Really sad..
Really don't understand why MS make such stupid things at last:(

Really don't understand why people make such stupid comments. Think it through for a change. Obviously there is a difference between the two variants of the phone so there will need to be differences between the ROMs. Do you think they should have held back the LTE version until the non-LTE version was ready too? Do you think that everyone else should have to wait because you do?

well xiaomi is working on windows 10 mobile rom for mi 4w version, but it will take time they said, if u want proof than go to the miui source provided in this article and look for the comments, there u will find it. therefore everyone in INDIA having mi 4 wait a little more we will also have it..

Microsoft could have released it but if that bricked or damaged your Mi 4W then you'll still blame Microsoft. Stop whining and be patient.

Hey, just chill man. They'll do it for NON -LTE devices soon. They know how much Xiomi has sold in India. And it is important to them to support maximum number of mobiles.
Personally, I don't like Xiomi made handsets. So I'm cool. Hehe.

Just wondering is this for all lte variants(international or fdd) & not just the tdd version

Well I guess we have a few less winers here than why Windows 10 is so buggy.. it is a preview version and half of the insiders are already complaining about the builds even though they knew what they signed up for.. imagine all those people now coming from a different plattform just waiting to rant about the system

Wow, did people forget everything microsoft said at the begining of this year? The OS was already delayed for half a year, its supposed to come out just before android marshmallow, and till now its barely usable. Users every freakin right to rant.

"the OS was already delayed for half a year, its suppose to come out just before Android marshmallow" Um... Wat? That has literally never been the case.

'barely usable' Works flawlessly on my device. Better than 8.1 for sure

Win 10 Mobile has never had a release date. You must be thinking of Win 10 for desktop. Which has been available for some time. Posted via the Note 4/Nexus 7 (2013)/Lumia 1020/Lumia 2520

all that Microsoft said about W10M is that "...will come later in 2015"

Isn't Joe supposed to be on leave?

Yup! He is. That's the reason there are no tweets from him yet.

953 MB
link : http://download.microsoft.com/download/4/A/4/4A4136AA-1B13-49FB-8C40-976...

It would be so absolutely amazing if this would just be a ROM you could install on any android phone. You could just pick up a OnePlus X, LG G4, Samsung S6 and it could run Windows 10. So awesome.

Its impossible.. 1 rom cannot run on other device.. Btw would love to see a oneplus rom.. ;)

Just imagine that on the moto x 2014
Now I really want it on mine Posted via the Windows Central App for Android

+925 Hoping the industry moves in that direction, so that you could nab a copy of Windows Mobile from a store shelf and slap it on whatever reasonably current phone you happen to have, the way you can with PCs.

Waiting for 730 in Indonesia.

It's already around for a couple of months

Ive been using since six months

I will wait for windows mobile varient of their next flagship Mi5..

Pondering that its got lte-a after all but mi5 is supposed to have 4k sceen

And they'll count toward marketshare. Let's hope many adopt it, having xiaomi as OEM would be a great asset.

Let the rise in market share begin... I hope Microsoft collaborate with xiaomi in producing a Windows phone with non-apple-esque design. Such phone would help xiaomi in expanding its tentacles in Europe and America...o hope this will punish likes of Samsung and co for abandoning windows phone

Xiaomi's CEO has clearly stated in a recent interview that they won't go to Europe and North American countries anytime soon. Btw today I saw mi4 and it looks very sexy. Posted via the Lenovo K900

Makes sense to skip obsolete 2g/3g phones.

what build is it? 10586.11?

Yes. Definetly that build which is available to insiders

Is it cheaper phone than Lumia? =_=

Wouldn't really call a SD801 midranger.. The price is more or less closer to 730's original price..

=mid ranger means in terms of price.. Even he is asking the same i think

Well does the 730 support cat. 4

I have no idea what that is.. I am not comparing phones, just giving a price estimate..

It's priced around $200. Posted via the Lenovo K900

1. Is Xiaomi mi 4 support continuum?
2. If there are problem, how to switch back to MIUI (android) ?

Xiaomi doesn't support continuum. It can be flashed back to android.

You can just reflash MIUI.

Just flashed the rom on my Xiaomi Mi4. It runs perfectly.

Ohhh please make a video and upload on youtube.. :')

Well it does have mhl/miracast wonder if it works & if they've included a tv remote app for that ir

E para os outros Lumias que é bom, nada!!! My Lumia 640 XL is dying sick. It needs an update NOW!

Se tu queres o Windows 10 Mobile participe do Windows Insider e baixe a prévia. Não tem uma versão estável ainda, nem mesmo o do Lumia 950 é.

Aliás essa ROM é a mesma versão que tem no Insider atualmente.

What if xiaomi releases a Windows phone(with continuum) with 4gb ram ?

What if HTC releases a Windows Phone with continuum and 4 GB of RAM? Or anyone?

What if xiaomi releases a Windows phone(with continuum) with 4gb ram at a cheap price ?

Dude that will be sick...

Waiting for Cortana beta in pt-br. They promised for this December :/

I highly doubt that. If they do it will be like an alpha version of sorts like in Canada and other countries. -.-

Hoping the same but for Spanish Chile just ask sick that everything only is gotten for India and united states of anyway with such policy Microsoft won't still earn any money

That's the same build 10586 we have in our Lumias, right ?

Well, now we need to know how much market share these devices have.

Total Xiaomi sales > Lumia sales. This phone is probably more widespread than any WP flagship, but not the LTE version.

I might even get a grey import Xiaomi Mi4 now. Seems like the ideal W10M midrange-highend (somewhere between, imo) at the moment.

Yeah looking @ network specs it is a nice device

No LTE in the US, though.

Guessing your talking about the tdd version

What's the build number??

Hey guys. Here Maps is ok again.

It's complicated to see phone run other os already run w10m and still yet, on official release date on when it be available for Lumia Phone? Even when the 950/950xl is out. And ms keep on say will not be available for every Lumia Phone. Ms should realize that this is just an os and not more.

STFU.. Its not official it has got the same build that we are on.. 10586..

Not every Lumia model has the necessary features to install or run W10M. For example, some models only have 4GB storage, which is not enough space for installing W10M.

Yep which means it'll have to be done on a computer to make that transition

Nice move Microsoft. Immediately increases the market share of Windows 10 mobile overall and they can say by the release of W10, we could see tremendous improvement in user adoption. Along with people updating their existing 8/8.1 to 10, this addition should be encouraging to developers to make apps. Forget Steveb telling -ve things about universal apps, convergence is the future. Lets bring some iPhone apps as well. Lets rock W10. Waiting for my 950XL white, 12 - 15 Dec is the timeframe given to me in India :)

You mean Chinese apps plague?

Get thus over to XDA stat!! We need variants for other android devices ASAP!!!

Had to look up the wire caveat :(

I for one can't wait until we get wireless caveats.

I'm sure if the rom can be 'unzipped' and specs messed around with, yes it could run on others. XDA will be an interesting place again

Want official Android 6 ROM for LUMIA ;)

Better switch to android then.. :/

I just threw up in my mouth. Thank you, stranger.

That's no stranger that's Aman Deep Singh

If I could get a 64GB Mi4 that worked on AT&T LTE I would try to import one today. I hope this goes well and testing with other Xiaomi devices proceeds apace.

Sorry but that version isn't flashable right now & it only supports hspa.
Yeah would be nice to have a xiaomi box pro3 running windows lol

well xiaomi is working on windows 10 mobile rom for mi 4w version, but it will take time they said, if u want proof than go to the miui source provided in this article and look for the comments, there u will find it. therefore everyone in INDIA having mi 4 wait a little more we will also have it..

Cool. Now I know how to say "Xiaomi"

Definitely some one will port the ROM for more devices.

Would be nice if Microsoft started a RESQUE project which aim at a phones which OEM don't update them for a couple of years and make a ROM for them.

My mi4 got a new look .. thanks xiaomi and MS

Hey Microsoft ,If You Are Reading this then Find a Way to flash Win 10 onto my Mi Pad .I've Had Enough Of Android .
Thank You ,
Lumia 730 User Posted via the Windows Central App for Android

Dear CruelEngine, No. Buy a Surface. Thank You, Microsoft. (just kidding!)

At most you could flash windows rt if you could source the right drivers for the other components because sadly its running a tegra chip. Or maybe some form of linux try http://en.miui.com/forum.php

I got my mi4 from amazon yesterday morning, and in the evening I installed the rom with no major hiccups! All good so far!

xiaomi mi4 is great device except camera.

I am here in india. How can I buy mi4 LTE mobile so I can install windows 10? I am searched everywhere

Is it possible to install windows 10 Mobile to a Samsung S7? If yes how to do so?

when will you launch windows 10 mobile rom for other devices also . like lenovo a6000 plus, lenovo vibek5 note , asus zenfone 5,6 etc..

what is Microsoft :- its something which first tells that it has got something great n new ,..............then whispers that its not for you !!
Windows Central Newsletter
Thank you for signing up to Windows Central. You will receive a verification email shortly.
There was a problem. Please refresh the page and try again.