Windows 10 Mobile update for older phones likely pushed back until end of February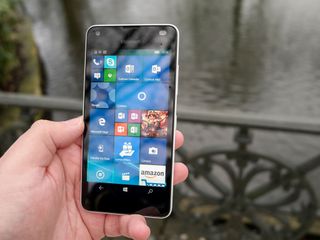 The Windows 10 Mobile update appears to be pushed back yet again, this time until late-February. Earlier reports had anticipated the roll out to take place mid-January, but those talks have not surfaced again. In a tweet sent to Bouygues Telecom asking the status of the update, Joel Devaux was advised:
The update has yet to receive a firm date from Microsoft, but we sure do hope it comes sooner than later. Late-February is a bummer, but hopefully when it is finally ready it will roll out to everyone quickly.
Source: Joel Devaux (Twitter); Via: Cassim Ketfi (Twitter)
Jared started off writing about mobile phones back when BlackBerry ruled the market, and Windows Mobile was kinda cool. Now, with a family, mortgage and other responsibilities he has no choice but to look for the best deals, and he's here to share them with you.
Those who are frustrated.. Join insider program... Others.. Keep waiting.. 38 days to go.. :p ..

Better than sending out buggy OS.. Even though W10M is stable enough... It needs more polish.. More time they take.. More smooth will be the OS experience.. Calm down people ;)

Still ni reason to take so long for an upgrade or even update. When was the last upgrade of windows phone? Years ago?

Are you one of the Knights that say ni? O.o

i have had an Australian Lumia 830. It runs the version of Denim it shipped with. No update for it for over a year!

Dude,even if the update is pushed to late 2016, you will still get a crappy halfbaked OS and this polish story ppl have have been hearing for more than a year now. So scratch this polish OS story now.

Yes... Because we all know it is better to rush products. Microsoft should move like Electronic Arts.

@Giddora:
We all know Microsoft's approach to Windows has become "Shut up and del...ay over and over again." a long time ago.

They already have sent out a buggy OS. On the Lumia 950 and 950XL.. :(


That's why they can't afford to have another shaky start. Don't release anything until it is ready. This time it would impact entire WP users and not just those L950/XL owners.

We prefer to be referred to as "suckers."

Haha another shaky start? this is the shaky end mate... Windows on a phone is dead, ever time they start getting somewhee they push the restart button. There is half the amount of Windows phones in the wild as 18 months ago, App devs are leaving because the marketshare is plumeting. The lack of Nokia/Ms phones was meant to bring back all the other OEMs, which it didnt... W10 is taking way too long, coming up on 2 years since an OS upgrade. Even samsungs dirt crap Android cycle is quicker than that...

That's why I never understood why release new hardware and don't have a stable daily driver OS to accompany it.

Better to have a Windows 7 type release than the rushed and cut back Vista release.

Even if it comes end of February, July or September, or 2017... It will be buggy. They have even slowed working on w10mobile, what happened with the updates?

Um. I'm fat, dumb and happy with W10M.63 running on my 640. The ONLY issue that I have is the messaging app hangs from time-to-time coming out of sleep. This bug has been there since at least .29. So at least on my 640, I wouldn't call it buggy. In fact, it's pretty darn rock solid. Okay. Deleting photos could be a little faster.

I have a 640 on W10M.63, as well. Groove crashes on mine on launch. Uber hangs on launch and doesn't open. The simple workflow of capturing / texting a photo to someone is hair-raising -- especially if you God-forbid edit that photo mid-workflow. One of those apps (camera/photos/messaging) simply gives up the ghost and crashes. Every.Single.Time. When it isn't buggy, it's very laggy. The days of Windows Phone running smooth and fast on lower end hardware are a distant memory. It's a puzzler why MS is slapping low end processors into two of their three phones (550 & 650) when the OS is so slow. Apple can do it because the OS is efficient and optimized; W10M, notsomuch.

When has Apple put a low end processor in their phones? They always use very fast chipsets. Posted via the Windows Central App for Android

Apple sells devices that are 1-3 years old that run beautifully on the latest iOS version. RAM amounts are generally 30-50% lower than competitor devices. Hell, the latest iPhone is a DUAL CORE processor (fast, yes, but just 2 cores) while Android and Windows phones are trending to 8 core processors. The integration of hardware and software is far more mature on Apple than Microsoft, and the result is Apple can sell years-old phones that still run the latest iOS flawlessly.

my Lumia 640 is fast on windows 8.1 and very slow an laggy on Windows 10 (last build) Edge is a pain to suf

A couple of things: 1) Have you tried a hard reset on your 640? I have a 640XL, and am not experiencing the problems you are on your 640. WM10 isn't finished IMO, but it runs a lot better than many people here give it credit for. 2) The myth of Apple running smooth and fast on older or lower-end hardware is a myth. That's why I'm here. I had an older iPhone (3G, if I remember correctly, running v3. An upgrade to v4 made my phone so unacceptably slow, it was practically unusable. Like a good Apple drone, I bought the latest and greatest model, even though my phone had no physical damage. That phone lasted a year and a half until the WiFi chip blew out (not under warranty, of course). I've been Team Microsoft ever since. The point is the grass is always greener over the cesspool, or something like that...

Unfortunately, your experience from a few years ago doesn't match today's reality. The iPhone 5s, which is more than two years old, works beautifully on the latest version of iOS - with no reinstalls nor trouble shooting from forums and blogs required. On the other hand, the Lumia 640, which is a currently selling device from Microsoft, lags terribly with basic apps on W10M. Sad to see such a departure in performance on low end hardware on this platform, especially considering the relative strength in that segment. Lazy engineering at its worst.

Just don't use Edge for over five minutes. And Facebook takes light years to update and navigate around. And missing features. There isn't even a Me Tile anymore. Where has the magic gone? I loved WP8.1 back in my Lumia 1020 days. I use my Lumia 920 now as a testing device to see if/when I should come back to Windows Phone/W10M and from the lack of apps that I'm enjoying on Android to the sheer outgrowth in photography function-wise from manufacturers like LG I find no compelling reason to do so besides nostalgia and even Microsoft has killed most of that off with these later releases of the OS. I really do hope it changes. And hopefully I'll get my Snapdragon 820 powered Lumia 1040 with the full featured services of the Lumia 950/950XL but if that never happens and if the Surface Phone(another on my want list) disappoints, I'm perfectly fine with what I have. And I think that's a bigger problem than low market share:people are fine with they have: for now.... One picture at a time -- LG V10

Same here! The message resuming is annoying but being able to reply to texts via information center has become my all time favorite new feature! My 640 has become my favorite device and the marriage with 10 I has been overall satisfying.

Way to be positive...
"Microsoft will never get it right" lol

Sadly they released 2 premium phones with that buggy OS, which is not making any good to the already damaged image of Windows Mobile

You're forgetting that W10 came out LAST JULY and they said then that the mobile version would be following "shortly after" that has turned into 8 months. I've got the latest build and it's NOT ANYWHERE CLOSE TO READY. -------------------------- after AT LEAST 24 months of development since WP 8.1 was released in the beginning of 2014. W10M = pathetic joke

I would say it works as good as 8.1 on my lumia 930

Yep edge is a prime example of something that needs to go back into the incinerator

What do you mean? I have a 950 and they shipped it with a buggy OS.

Yah yah sure. Like if W10 mobile will be a total bug free end product. ROFL. It will never be even if they release after 10 years. MS is not interested it their own product, why everyone else is?

Everyone is hateing on win10mob and i'm just here enjoying my lumia 950 XL without any real problems...

This is a failure, yes. But releasing what they have now would be even worse. W10M is horribly unfinished, ATM. Giving themselves a chance to get their ducks a little more in a row is a good thing.

They did it. Lumia 550/950/950XL come to my mind.

I know. I have a 950. Replaced my One M8. The difference is night and day, and not for the better. The 950 is easily the worst smartphone I have ever used and I would suspect is one of the very worst smartphone devices of all time.

My 950 is far superior than my 928. There are some features I miss on the W10M. But it is stable and works fine. Sorry you are having trouble. I did buy the unlocked 950 from Microsoft and activted on ATT. I did have the ATT 950 for a few days and did not like all the bloat ATT put on phone. So I returned the phone and bought the 950 from Microsoft. Works well.

Wow, your brand new phone is superior to a 4 year old phone? That is the best you can say about it? Not very promising. Posted via the Windows Central App for Android

Getting mad at someone for saying their new phone is better than their old one....geez

I'm just the opposite this is the best phone I have ever used hands down. I have the AT&T version and have not dealt with any of the repored issues. No reboots, Windows hello works great, etc. Nothing but smooth sailing

I hate to call strangers names, but that's a lie, plain and simple. There are "reported issues" and then there are just the ways that W10M actually works when it works. While it is entirely possible that you are not experiencing "issues" like random reboots (I don't have those, either), W10M is still terrible almost from top to bottom. Edge sucks. Email sucks. Calendar sucks. People Hub sucks. Continuum sucks. And W10M is ugly as all hell, continuing the trend in WP of getting uglier and uglier ever since WP7.5 (although that is admittedly an opinion and yours may differ). Furthermore, Windows Hello works reliably for me, but it still sucks! It is always faster to just enter my pin and that doesn't require me to hold the phone 10" from my face. That's just the way it is. If MS had included a fingerprint reader, that could have been avoided. Add to that the fact that the phone itself is cheap feeling and the buttons are creaky (and this in every single device, since they're all identical), and you have yourself a bona fide lemon. Then, there is the fact that, for most of us, at least (and I assume you too, whether or not you admit it), there are bugs bugs bugs everywhere. And battery life is horrible. The only way this is the best phone you have ever used is if this is your first smartphone, or perhaps if you've only ever used Windows Phones, since they've been pretty bad right from the getgo...although the L950 is a whole new level of suckage.

X I'm tc you have a lot of nerve calling me a liar. You don't know me or know anything about me. In regards to all these apps suck and W10M is ugly as hell what does that have to MY experience or thoughts on WM10? Absolutely nothing! Unlike you I didn't say EVERYONE thinks the 950 is the best phone or experience I said it was MY best phone and experience. So what you're the almighty voice of Windows 10 mobile? Get over yourself. You say Windows Hello works reliably for you but it still sucks...thats a contridiction as far as how many inches you have to hold etc. Dont use it then, It works fine for me. There are bugs in every OS on every platfor there always will be. When did I say anything about Windows 10 mobile not being buggy....uh I didn't! Battery life on my 950 has been fine and has not been an issue for MY usage. In regards to this being must be my first smart phone, again since you don't know anything about me but feel qualified to make such stupid public assumptions. I have owned 4 Lumias, a few HTC's and have used Windows phone back to the Windows mobile 6 days so there you go knower of all things your wrong. So yes the Lumia 950 is the best smart phone I have ever used to date if you cant wrap your head around that or feel compelled to think your opinion and experience applies to everone ...well sucks to be you

Wow...geez dude... take it easy

Are you nuts, ranting like that ! One would have to be charitable to believe that you yourself believe the drivel you've written . . .
I use W10M on my Ativ SE (not even a supported phone in the Insider Program) and there are no bugs, and the battery life is excellent, as good as with 8.1


IMO, its the software not the hardware.

I too switched to the 950 from the M8 and feel pretty much the same way you do. I'm going to have to go back to the M8 before I throw the 950 at a brick wall. Besides, I really liked using the M8.

£%@$ the duck. Just give me 8.1 GDR 2 on my L830 and I'll be on my way.
Thanks.

When you say failure and horribly unfinished you should explain it. The latest Insider build works great on my L735

Technically , MSFT didnt say any date themself, it were just fake news/rumors making the fans more frustrated, they said soon after the original December delay, so soon never meant Jan the 12th or the 19th. I am eagerly waiting for the new insider build though, the OS seems native on my L1520 already with minor , vey minor issues which i cant even mention at the moment, they are so small issues. i'd like to see new features like OTG after couple of more insider builds.

It still can be 138 ...i mean they said november then december ,januari and now februari...i thhink summmer 2016

how about releasing the update in Feb 2017

Rohan, don't give MS any bad ideas :D. They love to use those.

Believe me, those Insiders are much more frustrated than those outside! Failure of an OS! I was there! Reversed to Denim.

I love the insider build on my L1520, i dont what bothered you to go back to denim, im looking forward to the new build with more fixes and probably new features coming after couple of builds :D

New features??? After they started working on PC version again (Redstone)? Hahaha

I would wait...it will cost a lot more to me if I hurried...and Microsoft I am still waiting for interactive tiles...ans what happened to the music control in lock screen it was in beta last year what now XD

I agree; Windows Phone/Mobile users constantly go back in time while other mobile OS-es keep innovating. MS is asking A LOT of patience and trust of their customers, and no sign or word of appriciation on that!

I just wonder how you expect them to express their appriciation?

MS simply hired all those who came LAST in their studies, of ALL those who attended the same schools who now work for MS,APPLE & ANDROID.

We can all wait till the summer! You'll see.

I can wait til next year bro. Posted via the Windows Central App for Android

Insider program does nothing for people like me who Have a Samsung Ativ SE.

It is Samsung's fault for not allowing the device to receive W10M

And even when the Official one rolls out there is no guarentee it will even support the Ativ.

Edit registry and install it on SE Posted via the Windows Central App for Android

The insider program does nothing for me being on a Samsung Ativ SE.

It is Samsung's fault for not allowing the device to receive W10M

Exactly. It's Samsung's fault for not allowing it on Ative. For others, it's the service providers fault. For some others, it's not supported. And for not getting more sale of WP, it's customer's fault for not buying it.

sell the samesong and buy a supported device. I had the ativ s and ditched it for a supported nokia device. Much better experience.

Better to stay on 8.1, which is a better OS.

Ya know we keep saying 8/8.1 is a better OS, ? what do you say if you compare every OS iteration since XP to XP. Doesn't XP come out on top for being the most stable of them all. I'm saying that as well how long has XP been in use compared to the rest. Take 8/8.1 compare it to 10, the same applies. The only thing is 8/8.1 lacked too many features that were common place on rival systems, so 10 looks to correct that and add to it to give a better, more now UI. Unfortunately for MS they can't hire "US" as we surely as consumers would never have announced and release any NEW TODAY HARDWARE with any type of unfinished OS. Plain stupid simply put. Seems like a mutli-billion dollare company is run by complete and utter idiots.

Oh. Like that solves anything. Yeah, tell him to download a half baked OS that has no battery life. Brilliant. I'll say what you're too scared to say. Windows 10 Mobile is a cluster####. There. I said it.

Join insider program, then you'll know why and will agree that much more time is needed for older devices.

You're right! Despite loving the Windows, what you get is mere frustration. In my case, I've been trying to upgrade my W7 laptop to W10, but it just fails after hours of waiting. Now W10 upgrade for mobiles being pushed further back is really disappointing. I hope someone listens...

I want to join insider program. Fast or slow ring?

Yeah, did that, but the last build, although overall quite nice and stable, had the nasty habit of random reboots during or after phone calls on my device. Since it's my only phone, I rolled back to Windows 8.1. Phone calls ARE still important on a phone for me :D

bt insider program not ok for lumia 730...its too buggy...i had tried that too last year.. :(

Release of wp8.1 was probably the happiest time for a wp user. Back then, it was visible that MS was listening to its customers. Because wp8.1 had lots of features demanded by users. But now it doesn't seem so :(

Those happy moments im gona miss that on 8.1, but not on 10. Posted via the Windows Central App for Android

kinda', remember that the music app was a mess, and now that I've got a new phone it's not loading my covers. I suspect it's cause the music is on the SD card.

Back then MS had customers ...

We all didn't get the point here..
..
THE ARTICLE IS ABOUT W10M RELEASE FOR BOUYGUES TELECOM not Official W10M release..
..
The title of this article is soo misleading.. Damn it..
..
@Jared What have you done!! ;)

When is 11099 coming to non insider 950/XL?

Doesn't matter when they release it. It will already be dead on arrival.

Let's be fair. They are now working hard on the Redstone update for the desktop, so not much time to support old outdated smartphones. Plus they need to concentrate on the new Surface Mobile x86 platform which is far more important than 2 % Lumias. Same like with WP7 -> WP8 transition.

No, they are working on apps for ios/android and new phones with cyanogen...

This IS actually good news. The OS is not ready yet. I've running W10 on my 930 for a couple of months now...the Extra menu in settings still hold some 8.1 layouts...

Needs more polish.. That's all...

When will Microsoft make an official announcement? Give us something Microsoft!!

This SOON hurts less than these bogus rumors such as this Post... :@

Yeah, I don't trust this from a third party. He could be referring to the operator's release date for all we know.

Agreed! Shocking lack of good PR going on here, communication is key MS!

People are never happy when you communicate, unless you are Apple.
It's always too long, unless it's "NOW".

Wouldn't it be up to the carries like ATT and T-Mobile. Microsoft already released the update to them for testing.

agreed since update schedule had started on Nov 26 2015 so which devices get the update would depend on the wireless carriers. For anyone already on W10M, no more needing to get carriers involved! Updates come directly from Microsoft :)

Carriers don't apply if it's a Country Variant though so the lack of communication from Microsoft is frustrating.

Microsoft suck and Lumia suck

Ur mom sucks my big lumia 640xl. Fk off hater.

MS should tell developers to stop making w10m apps and go back to making wp8.1 ones.

older lumia means x30-40 series or x20 series???

Yes, I was wondering the same thing.

by older, i think they mean pre-950.

anything that is windows 8 can update to 10. everything is coming out in waves though so some devices will be updated first wave, 2nd wave and maybe 3rd. but if your phone is locked into a company your company has to approve the update, some phones who are company locked are being told they cannot update offically through that carrier. HTC is not updating either as of now (they may do it at a later date or not). if not you can always move to the preview if your phone is able to.

I thought you had to have denim...

Yes you are required to have WP8.1 Denim + 8GB Internal Storage + 1GB RAM and your device should upgrade to W10M

Wrong! Denim is a Lumia update only. Any non-Nokia/MS device will never have this hence it is storage and RAM that are the only restrictions.

8.1 and 8gb internal storage

Please Microsoft release WP 9 instead with features you took away and apps you killed. Behind the scenes you can work on your projects Majorwood and Astoria and release them when they are ready.

50 newest > 40 slightly new >30 newish> 20 old > 10 and 00 series = no update

I had family that was newish, they got old real fast... ;p

meaning you were born yesterday?

Oy! Vat yu got against newish people?! Oy vey!

What? The x40 family is not "older" or else who would be getting w10m? Lumia 950? Lol! They already have it.

No luck for my Lumia 800 :(

Give it a place to rest. It's like the Nokia's original piece of design.

And they keep pushing it back

It's Microsoft bro. Posted via the Windows Central App for Android

No they don't. The mid-January release was rumor only. Microsoft has never published a release date for upgrading old phone. Nonetheless, it's amusing to see some get their panties in a bunch when a rumor turns out to be false (gasp!) and Microsoft gets blamed anyway. ::rolls eyes::

It's an older Lumia, so really, you didn't even have to read the article (which I assume you didn't anyway) you only had to read the title! It's really that simple, here it is again in a bolder and more clear style: OLDER LUMIA PEOPLE WAIT TIL END OF FEBRUARY SCUM, NOBODY KNOW WHEN IN INDIA MAYBE 2017 MAYBE NOT, YOU NO BUY EXPENSIVE 950, YOU DESERVE NOTHING!

I am part of this scum by the way, it wasn't supposed to be specifically personal :P

Better that they push it back rather than it blows up on them and the naysayers come calling for the termination of our beloved Windows 10 phone OS

I'm all for making sure that the OS is ready, but this does seem like a bit much. The first phones with Windows 10 were released back in November, and older phones still don't have it? Maybe it just feels like a long time, but I don't remember if it took so long for 8.1 or other updates to get pushed out. And even if that wasn't the problem, there is still a problem with the OS in general. I love WP as much as the next person, but Windows 10 is a bit of a mess still in comparison to Windows 8.1. I can't tell you how many times I don't receive notifications for new text messages- they just show up, and I don't know they are there until I happen to open messaging. There's a lot of little quirks and bugs with Windows 10 that I hope get ironed out and improved upon in the coming months. I've been a WP owner since Day 1, but if the Surface Phone and Windows 10 aren't ready for primetime by the end of this year, I'm sadly gonna have to move on to Android...and I don't want to move on.

My hope is if Microsoft can make an incredible stable OS like 8.0 was and 8.1 to some degree, I'm inclined to believe they can pull off a stable W10M as well. When or how long is anyones guess before they achieve that same level of stablility. But IF they actually manage the pull off this OneCore Framework, It will be incredible and revolutionary. just my two cents.

For me the OS is ready. The delay factor for me is all the individual firmware updates, carrier approval and allowing devs to get their apps W10 ready. I could see a backlash not from the OS but all the currently broken or unavailable apps on 10 Vs 8.1

By Microsoft terms that is the 30th of February. :D

Good one... Or may be sooner or later.. :P

User: Which February?
MS: Every year has February.

I heard it might be February 30th.

Good. Latest DP build is dreadful on my 1020 even after reset. Does not communicate with pc over usb, crap battery life, random lockups / restarts etc but the worst thing is I've lost my beautiful camera. Win10M has reduced the best phone camera ever to an also ran, the flash timing seems off, pics are noisy, no reframe, just awful. 950XL is much better from a reliability point of view but the camera is not on the same level as the 1020 from a low light noise and zoom point of view

lets face it, there may not be another Windows phone with similar camera specs that the Lumia 1020 had

So sad. Not sure what to do. No roadmap for us 1020 owners. My device is starting to fail, but there is no upgrade path available. Bummed.

There are plenty of devices available with a superior camera. They just don't say Windows on them. Posted via the Windows Central App for Android

I'll be happy to see even a limited list of phones with Xenon flashes and above 23MP cameras.

Flashes are almost useless and megapixles aren't the measure of how good a camera is, just the resolution. There are much more important things when looking at cameras.

I have zero of the issues you just described with my 1020 and .63

So you're camera photos are exactly as good on .63 as they were on Win8.1?

Yes. With the Lumia Camera app. With the stock W10 app, yeah they suck.

Using Lumia Camera on W10M, pics are as good as with WP8.1, with Windows Camera... I return to Lumia Camera. Is it just my imagination or Gabe Aul did say that an update to Lumia Camera was going to be available by the end of 2015 autum? Is it available on Windows 10 Mobile? I haven't hard reset my Lumia 1020 just because of that app.

I had the same issue with my 1520. Technician told me it was the software (Lumia Cyan) that I got from Microsoft and was not my battery as my battery was tested. As a last resort I became an insider and nothing worked. Phone only stayed on when phone was plugged into the wall or charging from my car. It would randomly shut off. Didn't have these problems before Lumia Cyan. Had the phone for close to two years and switched to Android. Posted via the Galaxy Note 5

Good. It's not ready yet. Battery drain is stupid

are they eating out of their noses lately things are going so slow, get them some pepper!