Windows 10 Mobile update for older phones likely pushed back until end of February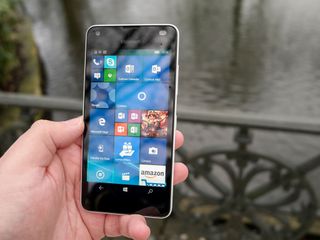 The Windows 10 Mobile update appears to be pushed back yet again, this time until late-February. Earlier reports had anticipated the roll out to take place mid-January, but those talks have not surfaced again. In a tweet sent to Bouygues Telecom asking the status of the update, Joel Devaux was advised:
The update has yet to receive a firm date from Microsoft, but we sure do hope it comes sooner than later. Late-February is a bummer, but hopefully when it is finally ready it will roll out to everyone quickly.
Source: Joel Devaux (Twitter); Via: Cassim Ketfi (Twitter)
Windows Central Newsletter
Get the best of Windows Central in your inbox, every day!
Jared started off writing about mobile phones back when BlackBerry ruled the market, and Windows Mobile was kinda cool. Now, with a family, mortgage and other responsibilities he has no choice but to look for the best deals, and he's here to share them with you.
Those who are frustrated.. Join insider program... Others.. Keep waiting.. 38 days to go.. :p ..

Better than sending out buggy OS.. Even though W10M is stable enough... It needs more polish.. More time they take.. More smooth will be the OS experience.. Calm down people ;)

Still ni reason to take so long for an upgrade or even update. When was the last upgrade of windows phone? Years ago?

Are you one of the Knights that say ni? O.o

i have had an Australian Lumia 830. It runs the version of Denim it shipped with. No update for it for over a year!

Dude,even if the update is pushed to late 2016, you will still get a crappy halfbaked OS and this polish story ppl have have been hearing for more than a year now. So scratch this polish OS story now.

Yes... Because we all know it is better to rush products. Microsoft should move like Electronic Arts.

@Giddora:
We all know Microsoft's approach to Windows has become "Shut up and del...ay over and over again." a long time ago.

They already have sent out a buggy OS. On the Lumia 950 and 950XL.. :(


That's why they can't afford to have another shaky start. Don't release anything until it is ready. This time it would impact entire WP users and not just those L950/XL owners.

We prefer to be referred to as "suckers."

Haha another shaky start? this is the shaky end mate... Windows on a phone is dead, ever time they start getting somewhee they push the restart button. There is half the amount of Windows phones in the wild as 18 months ago, App devs are leaving because the marketshare is plumeting. The lack of Nokia/Ms phones was meant to bring back all the other OEMs, which it didnt... W10 is taking way too long, coming up on 2 years since an OS upgrade. Even samsungs dirt crap Android cycle is quicker than that...

That's why I never understood why release new hardware and don't have a stable daily driver OS to accompany it.

Better to have a Windows 7 type release than the rushed and cut back Vista release.

Even if it comes end of February, July or September, or 2017... It will be buggy. They have even slowed working on w10mobile, what happened with the updates?

Um. I'm fat, dumb and happy with W10M.63 running on my 640. The ONLY issue that I have is the messaging app hangs from time-to-time coming out of sleep. This bug has been there since at least .29. So at least on my 640, I wouldn't call it buggy. In fact, it's pretty darn rock solid. Okay. Deleting photos could be a little faster.

I have a 640 on W10M.63, as well. Groove crashes on mine on launch. Uber hangs on launch and doesn't open. The simple workflow of capturing / texting a photo to someone is hair-raising -- especially if you God-forbid edit that photo mid-workflow. One of those apps (camera/photos/messaging) simply gives up the ghost and crashes. Every.Single.Time. When it isn't buggy, it's very laggy. The days of Windows Phone running smooth and fast on lower end hardware are a distant memory. It's a puzzler why MS is slapping low end processors into two of their three phones (550 & 650) when the OS is so slow. Apple can do it because the OS is efficient and optimized; W10M, notsomuch.

When has Apple put a low end processor in their phones? They always use very fast chipsets. Posted via the Windows Central App for Android

Apple sells devices that are 1-3 years old that run beautifully on the latest iOS version. RAM amounts are generally 30-50% lower than competitor devices. Hell, the latest iPhone is a DUAL CORE processor (fast, yes, but just 2 cores) while Android and Windows phones are trending to 8 core processors. The integration of hardware and software is far more mature on Apple than Microsoft, and the result is Apple can sell years-old phones that still run the latest iOS flawlessly.

my Lumia 640 is fast on windows 8.1 and very slow an laggy on Windows 10 (last build) Edge is a pain to suf

A couple of things: 1) Have you tried a hard reset on your 640? I have a 640XL, and am not experiencing the problems you are on your 640. WM10 isn't finished IMO, but it runs a lot better than many people here give it credit for. 2) The myth of Apple running smooth and fast on older or lower-end hardware is a myth. That's why I'm here. I had an older iPhone (3G, if I remember correctly, running v3. An upgrade to v4 made my phone so unacceptably slow, it was practically unusable. Like a good Apple drone, I bought the latest and greatest model, even though my phone had no physical damage. That phone lasted a year and a half until the WiFi chip blew out (not under warranty, of course). I've been Team Microsoft ever since. The point is the grass is always greener over the cesspool, or something like that...

Unfortunately, your experience from a few years ago doesn't match today's reality. The iPhone 5s, which is more than two years old, works beautifully on the latest version of iOS - with no reinstalls nor trouble shooting from forums and blogs required. On the other hand, the Lumia 640, which is a currently selling device from Microsoft, lags terribly with basic apps on W10M. Sad to see such a departure in performance on low end hardware on this platform, especially considering the relative strength in that segment. Lazy engineering at its worst.

Just don't use Edge for over five minutes. And Facebook takes light years to update and navigate around. And missing features. There isn't even a Me Tile anymore. Where has the magic gone? I loved WP8.1 back in my Lumia 1020 days. I use my Lumia 920 now as a testing device to see if/when I should come back to Windows Phone/W10M and from the lack of apps that I'm enjoying on Android to the sheer outgrowth in photography function-wise from manufacturers like LG I find no compelling reason to do so besides nostalgia and even Microsoft has killed most of that off with these later releases of the OS. I really do hope it changes. And hopefully I'll get my Snapdragon 820 powered Lumia 1040 with the full featured services of the Lumia 950/950XL but if that never happens and if the Surface Phone(another on my want list) disappoints, I'm perfectly fine with what I have. And I think that's a bigger problem than low market share:people are fine with they have: for now.... One picture at a time -- LG V10

Same here! The message resuming is annoying but being able to reply to texts via information center has become my all time favorite new feature! My 640 has become my favorite device and the marriage with 10 I has been overall satisfying.

Way to be positive...
"Microsoft will never get it right" lol

Sadly they released 2 premium phones with that buggy OS, which is not making any good to the already damaged image of Windows Mobile

You're forgetting that W10 came out LAST JULY and they said then that the mobile version would be following "shortly after" that has turned into 8 months. I've got the latest build and it's NOT ANYWHERE CLOSE TO READY. -------------------------- after AT LEAST 24 months of development since WP 8.1 was released in the beginning of 2014. W10M = pathetic joke

I would say it works as good as 8.1 on my lumia 930

Yep edge is a prime example of something that needs to go back into the incinerator

What do you mean? I have a 950 and they shipped it with a buggy OS.

Yah yah sure. Like if W10 mobile will be a total bug free end product. ROFL. It will never be even if they release after 10 years. MS is not interested it their own product, why everyone else is?

Everyone is hateing on win10mob and i'm just here enjoying my lumia 950 XL without any real problems...

This is a failure, yes. But releasing what they have now would be even worse. W10M is horribly unfinished, ATM. Giving themselves a chance to get their ducks a little more in a row is a good thing.

They did it. Lumia 550/950/950XL come to my mind.

I know. I have a 950. Replaced my One M8. The difference is night and day, and not for the better. The 950 is easily the worst smartphone I have ever used and I would suspect is one of the very worst smartphone devices of all time.

My 950 is far superior than my 928. There are some features I miss on the W10M. But it is stable and works fine. Sorry you are having trouble. I did buy the unlocked 950 from Microsoft and activted on ATT. I did have the ATT 950 for a few days and did not like all the bloat ATT put on phone. So I returned the phone and bought the 950 from Microsoft. Works well.

Wow, your brand new phone is superior to a 4 year old phone? That is the best you can say about it? Not very promising. Posted via the Windows Central App for Android

Getting mad at someone for saying their new phone is better than their old one....geez

I'm just the opposite this is the best phone I have ever used hands down. I have the AT&T version and have not dealt with any of the repored issues. No reboots, Windows hello works great, etc. Nothing but smooth sailing

I hate to call strangers names, but that's a lie, plain and simple. There are "reported issues" and then there are just the ways that W10M actually works when it works. While it is entirely possible that you are not experiencing "issues" like random reboots (I don't have those, either), W10M is still terrible almost from top to bottom. Edge sucks. Email sucks. Calendar sucks. People Hub sucks. Continuum sucks. And W10M is ugly as all hell, continuing the trend in WP of getting uglier and uglier ever since WP7.5 (although that is admittedly an opinion and yours may differ). Furthermore, Windows Hello works reliably for me, but it still sucks! It is always faster to just enter my pin and that doesn't require me to hold the phone 10" from my face. That's just the way it is. If MS had included a fingerprint reader, that could have been avoided. Add to that the fact that the phone itself is cheap feeling and the buttons are creaky (and this in every single device, since they're all identical), and you have yourself a bona fide lemon. Then, there is the fact that, for most of us, at least (and I assume you too, whether or not you admit it), there are bugs bugs bugs everywhere. And battery life is horrible. The only way this is the best phone you have ever used is if this is your first smartphone, or perhaps if you've only ever used Windows Phones, since they've been pretty bad right from the getgo...although the L950 is a whole new level of suckage.

X I'm tc you have a lot of nerve calling me a liar. You don't know me or know anything about me. In regards to all these apps suck and W10M is ugly as hell what does that have to MY experience or thoughts on WM10? Absolutely nothing! Unlike you I didn't say EVERYONE thinks the 950 is the best phone or experience I said it was MY best phone and experience. So what you're the almighty voice of Windows 10 mobile? Get over yourself. You say Windows Hello works reliably for you but it still sucks...thats a contridiction as far as how many inches you have to hold etc. Dont use it then, It works fine for me. There are bugs in every OS on every platfor there always will be. When did I say anything about Windows 10 mobile not being buggy....uh I didn't! Battery life on my 950 has been fine and has not been an issue for MY usage. In regards to this being must be my first smart phone, again since you don't know anything about me but feel qualified to make such stupid public assumptions. I have owned 4 Lumias, a few HTC's and have used Windows phone back to the Windows mobile 6 days so there you go knower of all things your wrong. So yes the Lumia 950 is the best smart phone I have ever used to date if you cant wrap your head around that or feel compelled to think your opinion and experience applies to everone ...well sucks to be you

Wow...geez dude... take it easy

Are you nuts, ranting like that ! One would have to be charitable to believe that you yourself believe the drivel you've written . . .
I use W10M on my Ativ SE (not even a supported phone in the Insider Program) and there are no bugs, and the battery life is excellent, as good as with 8.1


IMO, its the software not the hardware.

I too switched to the 950 from the M8 and feel pretty much the same way you do. I'm going to have to go back to the M8 before I throw the 950 at a brick wall. Besides, I really liked using the M8.

£%@$ the duck. Just give me 8.1 GDR 2 on my L830 and I'll be on my way.
Thanks.

When you say failure and horribly unfinished you should explain it. The latest Insider build works great on my L735

Technically , MSFT didnt say any date themself, it were just fake news/rumors making the fans more frustrated, they said soon after the original December delay, so soon never meant Jan the 12th or the 19th. I am eagerly waiting for the new insider build though, the OS seems native on my L1520 already with minor , vey minor issues which i cant even mention at the moment, they are so small issues. i'd like to see new features like OTG after couple of more insider builds.

It still can be 138 ...i mean they said november then december ,januari and now februari...i thhink summmer 2016

how about releasing the update in Feb 2017

Rohan, don't give MS any bad ideas :D. They love to use those.

Believe me, those Insiders are much more frustrated than those outside! Failure of an OS! I was there! Reversed to Denim.

I love the insider build on my L1520, i dont what bothered you to go back to denim, im looking forward to the new build with more fixes and probably new features coming after couple of builds :D

New features??? After they started working on PC version again (Redstone)? Hahaha

I would wait...it will cost a lot more to me if I hurried...and Microsoft I am still waiting for interactive tiles...ans what happened to the music control in lock screen it was in beta last year what now XD

I agree; Windows Phone/Mobile users constantly go back in time while other mobile OS-es keep innovating. MS is asking A LOT of patience and trust of their customers, and no sign or word of appriciation on that!

I just wonder how you expect them to express their appriciation?

MS simply hired all those who came LAST in their studies, of ALL those who attended the same schools who now work for MS,APPLE & ANDROID.

We can all wait till the summer! You'll see.

I can wait til next year bro. Posted via the Windows Central App for Android

Insider program does nothing for people like me who Have a Samsung Ativ SE.

It is Samsung's fault for not allowing the device to receive W10M

And even when the Official one rolls out there is no guarentee it will even support the Ativ.

Edit registry and install it on SE Posted via the Windows Central App for Android

The insider program does nothing for me being on a Samsung Ativ SE.

It is Samsung's fault for not allowing the device to receive W10M

Exactly. It's Samsung's fault for not allowing it on Ative. For others, it's the service providers fault. For some others, it's not supported. And for not getting more sale of WP, it's customer's fault for not buying it.

sell the samesong and buy a supported device. I had the ativ s and ditched it for a supported nokia device. Much better experience.

Better to stay on 8.1, which is a better OS.

Ya know we keep saying 8/8.1 is a better OS, ? what do you say if you compare every OS iteration since XP to XP. Doesn't XP come out on top for being the most stable of them all. I'm saying that as well how long has XP been in use compared to the rest. Take 8/8.1 compare it to 10, the same applies. The only thing is 8/8.1 lacked too many features that were common place on rival systems, so 10 looks to correct that and add to it to give a better, more now UI. Unfortunately for MS they can't hire "US" as we surely as consumers would never have announced and release any NEW TODAY HARDWARE with any type of unfinished OS. Plain stupid simply put. Seems like a mutli-billion dollare company is run by complete and utter idiots.

Oh. Like that solves anything. Yeah, tell him to download a half baked OS that has no battery life. Brilliant. I'll say what you're too scared to say. Windows 10 Mobile is a cluster####. There. I said it.

Join insider program, then you'll know why and will agree that much more time is needed for older devices.

You're right! Despite loving the Windows, what you get is mere frustration. In my case, I've been trying to upgrade my W7 laptop to W10, but it just fails after hours of waiting. Now W10 upgrade for mobiles being pushed further back is really disappointing. I hope someone listens...

I want to join insider program. Fast or slow ring?

Yeah, did that, but the last build, although overall quite nice and stable, had the nasty habit of random reboots during or after phone calls on my device. Since it's my only phone, I rolled back to Windows 8.1. Phone calls ARE still important on a phone for me :D

bt insider program not ok for lumia 730...its too buggy...i had tried that too last year.. :(

Release of wp8.1 was probably the happiest time for a wp user. Back then, it was visible that MS was listening to its customers. Because wp8.1 had lots of features demanded by users. But now it doesn't seem so :(

Those happy moments im gona miss that on 8.1, but not on 10. Posted via the Windows Central App for Android

kinda', remember that the music app was a mess, and now that I've got a new phone it's not loading my covers. I suspect it's cause the music is on the SD card.

Back then MS had customers ...

We all didn't get the point here..
..
THE ARTICLE IS ABOUT W10M RELEASE FOR BOUYGUES TELECOM not Official W10M release..
..
The title of this article is soo misleading.. Damn it..
..
@Jared What have you done!! ;)

When is 11099 coming to non insider 950/XL?

Doesn't matter when they release it. It will already be dead on arrival.

Let's be fair. They are now working hard on the Redstone update for the desktop, so not much time to support old outdated smartphones. Plus they need to concentrate on the new Surface Mobile x86 platform which is far more important than 2 % Lumias. Same like with WP7 -> WP8 transition.

No, they are working on apps for ios/android and new phones with cyanogen...

This IS actually good news. The OS is not ready yet. I've running W10 on my 930 for a couple of months now...the Extra menu in settings still hold some 8.1 layouts...

Needs more polish.. That's all...

When will Microsoft make an official announcement? Give us something Microsoft!!

This SOON hurts less than these bogus rumors such as this Post... :@

Yeah, I don't trust this from a third party. He could be referring to the operator's release date for all we know.

Agreed! Shocking lack of good PR going on here, communication is key MS!

People are never happy when you communicate, unless you are Apple.
It's always too long, unless it's "NOW".

Wouldn't it be up to the carries like ATT and T-Mobile. Microsoft already released the update to them for testing.

agreed since update schedule had started on Nov 26 2015 so which devices get the update would depend on the wireless carriers. For anyone already on W10M, no more needing to get carriers involved! Updates come directly from Microsoft :)

Carriers don't apply if it's a Country Variant though so the lack of communication from Microsoft is frustrating.

Microsoft suck and Lumia suck

Ur mom sucks my big lumia 640xl. Fk off hater.

MS should tell developers to stop making w10m apps and go back to making wp8.1 ones.

older lumia means x30-40 series or x20 series???

Yes, I was wondering the same thing.

by older, i think they mean pre-950.

anything that is windows 8 can update to 10. everything is coming out in waves though so some devices will be updated first wave, 2nd wave and maybe 3rd. but if your phone is locked into a company your company has to approve the update, some phones who are company locked are being told they cannot update offically through that carrier. HTC is not updating either as of now (they may do it at a later date or not). if not you can always move to the preview if your phone is able to.

I thought you had to have denim...

Yes you are required to have WP8.1 Denim + 8GB Internal Storage + 1GB RAM and your device should upgrade to W10M

Wrong! Denim is a Lumia update only. Any non-Nokia/MS device will never have this hence it is storage and RAM that are the only restrictions.

8.1 and 8gb internal storage

Please Microsoft release WP 9 instead with features you took away and apps you killed. Behind the scenes you can work on your projects Majorwood and Astoria and release them when they are ready.

50 newest > 40 slightly new >30 newish> 20 old > 10 and 00 series = no update

I had family that was newish, they got old real fast... ;p

meaning you were born yesterday?

Oy! Vat yu got against newish people?! Oy vey!

What? The x40 family is not "older" or else who would be getting w10m? Lumia 950? Lol! They already have it.

No luck for my Lumia 800 :(

Give it a place to rest. It's like the Nokia's original piece of design.

And they keep pushing it back

It's Microsoft bro. Posted via the Windows Central App for Android

No they don't. The mid-January release was rumor only. Microsoft has never published a release date for upgrading old phone. Nonetheless, it's amusing to see some get their panties in a bunch when a rumor turns out to be false (gasp!) and Microsoft gets blamed anyway. ::rolls eyes::

It's an older Lumia, so really, you didn't even have to read the article (which I assume you didn't anyway) you only had to read the title! It's really that simple, here it is again in a bolder and more clear style: OLDER LUMIA PEOPLE WAIT TIL END OF FEBRUARY SCUM, NOBODY KNOW WHEN IN INDIA MAYBE 2017 MAYBE NOT, YOU NO BUY EXPENSIVE 950, YOU DESERVE NOTHING!

I am part of this scum by the way, it wasn't supposed to be specifically personal :P

Better that they push it back rather than it blows up on them and the naysayers come calling for the termination of our beloved Windows 10 phone OS

I'm all for making sure that the OS is ready, but this does seem like a bit much. The first phones with Windows 10 were released back in November, and older phones still don't have it? Maybe it just feels like a long time, but I don't remember if it took so long for 8.1 or other updates to get pushed out. And even if that wasn't the problem, there is still a problem with the OS in general. I love WP as much as the next person, but Windows 10 is a bit of a mess still in comparison to Windows 8.1. I can't tell you how many times I don't receive notifications for new text messages- they just show up, and I don't know they are there until I happen to open messaging. There's a lot of little quirks and bugs with Windows 10 that I hope get ironed out and improved upon in the coming months. I've been a WP owner since Day 1, but if the Surface Phone and Windows 10 aren't ready for primetime by the end of this year, I'm sadly gonna have to move on to Android...and I don't want to move on.

My hope is if Microsoft can make an incredible stable OS like 8.0 was and 8.1 to some degree, I'm inclined to believe they can pull off a stable W10M as well. When or how long is anyones guess before they achieve that same level of stablility. But IF they actually manage the pull off this OneCore Framework, It will be incredible and revolutionary. just my two cents.

For me the OS is ready. The delay factor for me is all the individual firmware updates, carrier approval and allowing devs to get their apps W10 ready. I could see a backlash not from the OS but all the currently broken or unavailable apps on 10 Vs 8.1

By Microsoft terms that is the 30th of February. :D

Good one... Or may be sooner or later.. :P

User: Which February?
MS: Every year has February.

I heard it might be February 30th.

Good. Latest DP build is dreadful on my 1020 even after reset. Does not communicate with pc over usb, crap battery life, random lockups / restarts etc but the worst thing is I've lost my beautiful camera. Win10M has reduced the best phone camera ever to an also ran, the flash timing seems off, pics are noisy, no reframe, just awful. 950XL is much better from a reliability point of view but the camera is not on the same level as the 1020 from a low light noise and zoom point of view

lets face it, there may not be another Windows phone with similar camera specs that the Lumia 1020 had

So sad. Not sure what to do. No roadmap for us 1020 owners. My device is starting to fail, but there is no upgrade path available. Bummed.

There are plenty of devices available with a superior camera. They just don't say Windows on them. Posted via the Windows Central App for Android

I'll be happy to see even a limited list of phones with Xenon flashes and above 23MP cameras.

Flashes are almost useless and megapixles aren't the measure of how good a camera is, just the resolution. There are much more important things when looking at cameras.

I have zero of the issues you just described with my 1020 and .63

So you're camera photos are exactly as good on .63 as they were on Win8.1?

Yes. With the Lumia Camera app. With the stock W10 app, yeah they suck.

Using Lumia Camera on W10M, pics are as good as with WP8.1, with Windows Camera... I return to Lumia Camera. Is it just my imagination or Gabe Aul did say that an update to Lumia Camera was going to be available by the end of 2015 autum? Is it available on Windows 10 Mobile? I haven't hard reset my Lumia 1020 just because of that app.

I had the same issue with my 1520. Technician told me it was the software (Lumia Cyan) that I got from Microsoft and was not my battery as my battery was tested. As a last resort I became an insider and nothing worked. Phone only stayed on when phone was plugged into the wall or charging from my car. It would randomly shut off. Didn't have these problems before Lumia Cyan. Had the phone for close to two years and switched to Android. Posted via the Galaxy Note 5

Good. It's not ready yet. Battery drain is stupid

are they eating out of their noses lately things are going so slow, get them some pepper!

What the hell does this even mean??? Yikes

Hilarious imagery. You are a true poet.

ok ... that looks like english but i don't know what it means :P

Do they really have plans of releasing??

I guess yhe answer is Yes, but Soon we will find out. Posted via the Windows Central App for Android

I'm thinking Microsoft wanted to release the update in November but the wireless carriers need convincing that they should spend $$$ on upgrading the devices. Therefore, the upgrade schedule date keeps getting pushed further

Wow ! What a surprise news ! Microsoft never late in their services ....

My previous experience of Windows 10 on my Lumia 930 was so broken, that I'm kinda glad they're not rushing it out for everyone. I'm getting a trial 950XL in the next few days. Interested to see what its like on a phone its "meant" to be on...

I hope you like the 950XL as much as I do - certainly the best phone I ever owned from any stable. Nearly all the apps I need too!

I'm curious, what other phones have you used? I certainly couldn't say the same thing.

I did a hard reset back to WP8.1 and then upgraded directly to latest Insider build on my Lumia 930 and it's been great

I've tried every permutation of installs of the builds up until the one before Christmas and on my 930, the camera is virtually unusuable through random crashes, full device reboots, rich-capture images all have hideous stitching lines through them. Hey Cortana and motion data both "unavailable on this device"... I'm hoping the full roll-out comes with some new firmware or something.

Maybe its me but is Joel Devaux or Cassim Ketfi from Microsoft? Or is just Bouygues Telecom talking out of their asses? Let me know when officail word comes from Microsoft.

Microsoft will neve comment. Joel and Cassim got the information from a French carrier. And I had a confirmation from a MVP that the target is mid/end of February. And it could again be postponed, I mean there's no garantee they will deliver end of February. And that's why Microsoft will never announce anything until roll out has started.

I can wait. I want something stable and in working order.

SOON you will have that. Posted via the Windows Central App for Android

How about 8.1. No problems here.

I wonder if Microsoft will ever decide to give WP8.1 devices that cannot update to W10M and small update like WP8.2. Thinking along the lines of what Microsoft did to Win RT devices by giving them a small update

8.1 is a dead OS now with no development or update on apps and you wont see any new either . The apps are outdated both in terms to function and UI. So stop bugging about stable 8.1 or 8. Its useless

Got so used to all the release date rumors, assumptions and delays that I just smirked after reading the headline.. :/

F-UCK.THIS.S-HIT I'm out,I've waited long enough,I don't even wanna know when it's comin out anymore.

Let the Hate flows through you. Posted via the Windows Central App for Android

He has a reason to be mad.

Welcome to Android side...we have cookies Posted via the Windows Central App for Android

YOU WANT NOW INSIDER APP DONE

Um....ok....way to let something insignificant upset you and ruin your day...

Thank god. I was never going the install the POShitty current build is.

Microsoft's status - Delay Delay Delay Delay Delay....... Always Delay.... It is better to be I sold my Lumia 640XL & Buy new iPhone 5S....!!

5s is to old. Get a 6s Posted via the Windows Central App for Android on my Lumia 950 XL

Side loaded the Android app???

Tne words "new" and " iPhone5s" shouldn't exist in the same sentence.

Well, the current insider build gave me nothing but headaches on my 950 (instability, reboots, and more), to the point that I went back to the regular current release (,29 was it? i don't remember) The reason MS isn't giving a firm date is probably because they need the release to be smooth AND stable.

MS could roll out .29 as the "RTM" and then send monthly update ("patch tuesday"). Vodaphone AU and other operators have stated that the OS version they have is .29 So I'm not sure they're pushing back because of the OS, but maybe also because of firmware. We'll see. In the meanwhile, we'll see if WaaS for the 950/xl is a reality. .29 was released in December, we didn't get our "cumulative patch" of January yet.

Quite honestly, ive given up on W10M - Life is too short. MS can do what they want, ive wasted 2 years on this micky mouse BS. I have a company to run, no more chances, no more waiting, im getting an iPhone.

Bye and enjoy your iPhone.

Yes, what @Gerard Corbier said: Get an iPhone. You will enjoy the experience so much more. Consistent release schedules. Polished UI. Premium handsets. Better Microsoft Apps. It really is amazing how much better you feel once you make the change.

I agree (actually moto G3 for me).
I've waited long enough for things MS should care and not me.
It feels great having a device you can rely on when is most needed! One less thing to worry about.

I like how you make it sound like you have to just sit and wait until ms releases an update. Is it really holding you back?

@great deal had lost his nuts even before he had a Windows phone. By switching to iPhone he's guaranteed to lose his brain as well.

LOL - Nokia was a client of my company, now Microsoft ofc. If you see my previous posts of several years you may notice how I started with the Apple eco system, ditched it as its rubbish for business. Went to Android/Google, ditched them (no amount of money will ever make me use thier products or services again) and went all in with MS. Windows was and desktop still is (aside from the data leakage issues which ive plugged) the only option (linux doesnt cut it in the industry im in) and I have stood by Microsoft in all its iterations over the pasy 3/4 years. Today, Microsofts services are BETTER on its competitor platforms. I run business accounts, would be nice to have my business banking app on Windows phone, but no...I can give you a massive list of Apps I want and have waited for patiently...no more. I also wont be getting any Surface Pro's anymore, just too damn painful, too many bugs and hardware issues out of the box. On top of that they lied about Onedrive storage and pulled the rug from beneath everyones feet. I can not support a company like this anymore. I am platform agnostic now. Apps exist in abundance on the Apple ecosystem. Hardware IMO is comparable between all 3 platforms, not much between them nowadays. I also understand the pain of those who purchased a 950 etc as you have money invested in the decision to support them, even though its Nokia technology from thier roadmap and not Microsofts. Im not saying I wont be back, I probably will as I dont like Apple and thier high walled protectionism, Im just not prepared to be a guinea pig for Microsoft any longer. Good luck to you all :)

This is a solid post, and those that poo on people that leave the MS ecosystem should read it carefully. There are very solid reasons for leaving WP, it's why the marketshare has collapsed. MS has completely failed on mobile, and as time goes by they alienate more and more of their previous supporters. I was willing to give Nadella a chance, but he's been there two years, and if anything mobile is going backwards.

You have a dead 8.1 OS that has no update and obselete apps wrt design and functions and you ask someone is it holding back. Lol

Time is money as they say. It is probably feasible to spend a 30-50% more on an Apple device
and continue business rather than to cut your way through that Microsoft weed.

I think Winows Mobile 8.1 is as good or better than W10M. W10M isn't anywhere near complete and is full of bugs.

SOON - that's the key word of MS :)

Everytime i see that word, i imagine Palpatine saying it. Posted via the Windows Central App for Android

Well talk in august and still no update you'll see. This is Microsoft and the carrier's way sadly.

Annoying, need a new phone till summer. Will this beta crap exist entering summer I will jump this annoying ship for other platforms. Lets see the outcome.

Why cannot MS just enhance Windows phone 8.1 with some features of W10 mobile and roll it out? That at least make 80-90 percent of windows phone users happy in the meantime....

90% doesn't even know there will be a update. They enjoy 8.1.

And by that it means another 4 lumia phones. Posted via the Windows Central App for Android

Microsoft does have like five people working on Windows Mobile, so there's that.

That many? I think just a few interns. The real programmers are building apps for IOS and android.

And the others are now testing the new insider build for PC. Posted via the Windows Central App for Android

Yeah, you're probbly right.

Ya.. Let's countdown... 38 days right?? :D

Oh I had almost forgotten that win10 actually exists on mobile..... And that older devices not of the x50 series is supposed to get it

It says "older". Older = phones released before the x50 series.

I have W10 on any and every phone I want it on. I have Windoes 8.1 on one of my 1520 I have build 10586.36 on my 950XL, L640, and my second L1520 I have no reason to throw a tantrum over this article. Microsoft says I get to CHOOSE. Now or later.

I think it's better for Microsoft to quit the mobile business and admit that they can't compete in it.

Didn't they? I could swear they did when they cut all those jobs and then decided to only have 3 more phones but just for the minimals... They know they can't compete, so they're not trying, ya dig?

Markets change quickly, especially with technology. Microsoft is playing a long game and recently hasn't been trying to compete with the market of today. With features like Continuum and a universal OS and store, it's trying to win the next era. And they can't really quit mobile, it's a large part of the whole idea of W10 - it can run on everything type of device you own.

You make too much sense. :)

If they cannot keep up today, what makes you think they will be prepared for the future, let alone lead it? Do you really think they have a revolutionary technology as big as the original iPhone, because that is what it will take at this point. Posted via the Windows Central App for Android

If Microsoft quits the mobile business, then the Universal Apps and OneCore doesn't make sense anymore.

absolutly a terrible idea for all mobile phone users. Androd and apple will dictate the market causeing higher prices for the consumer and of couse windows desktop users cause most of us want that intergrated future lol. Microsoft are very slow at things but they are not going anywhere and as slow as they are i hapen to think windows moblie 8.1 is the best mobile platform going,10 still needs some work on the features and the removal of the dreadful hamburger menu. 8.1 only needed intergrated imessage equivelent and apple pay equivilent that was working but after another reboot we are now wating for the things that helped windows phone exel that of my iphone experience, things like gestures are sorly missed. I just hope microsoft dont take years to bring back features. 12 months to get a weekly calender view, a linked email account system is kinda a bit too long.

Android by itself would be plenty of competition. Being open source and easily used by anyone, the iPhone and Windows with their 15% market share doesn't create much competition compared to each individual Android manufacturer. Windows definitely isn't required for the market to remain healthy. Posted via the Windows Central App for Android

LOL - I actually snorted when I read this.

It will come on the 31th of february

I hope with some firmware improvements.

Why even bother anymore. That is what happens when you have too many phones. All you need is 1 high end, 1 mid range, and 1 low end per year. Not 3 or more for each categorie. Quality > quantity. As usual, great ideas, poor execution.

yeah unfortunately Posted via the Windows Central App for Nexus 5x

That's what Microsoft have done with the Lumia lineup having finally transitioned it from Nokia?

Where's their mid range device then? The 550 and 650 are low end. A mid ranger with 16/32 2 gigabytes of ram and a Snapdragon 616/617 with a 5 inch 1080p device for the basics. Posted via the Windows Central App for Android on my Lumia 950 XL

You also have to take into account how long it will take carriers to approve of the update before users actually get it. Probably not until Spring haha. Posted via the Windows Central App for Android

LOL, why do they even give dates? When was the last time they did something that didn't suffer delays from one thing or another with mobile?

They don't. People moan about MS not clarifying things - this is why they do it. No point breaking promises that they may not be able to keep.

Did they even ever officially give a release date? I don't think so.

Not a specific one, but as this article states, the plan was mid-January. Everything with MS gets delayed, and it's annoying. I mean, we're being told the XB1 won't get backroung music until summer AT THE EARLIEST, even though they keep pumping out these weird, minor updates in the process.

It is the article that states the date, it is not Microsoft stating the date.

Some ppl say they are tired waiting and getting an iphone lol is theere something new on the iphone becose its every time the same os difference is so little end os is booring so, even the phones look the same every time and dont forget they have bugs to

The only thing boring about the iPhone is the home screen which you don't spend a lot of time on anyways. Everything else, including app design and functionality is superior to W10M. Yes iPhone has bugs, but these bugs are miniscule in severeness compared to W10M. Even Microsoft apps are superior in iPhone. They literally update them all once a week.

Agree 100%. I've never understood the argument that iPhone's grid of icons is boring. I use apps more than I spend time gazing at my home screen. Even as a one time Windows Phone user, I never spent that much time just looking at it and thinking how pretty it was. The concept of live tiles is a good thing; however, it got to the point for me that many of them didn't update unless you open the app. This caused me to distrust the information that was provided and I ended up not looking at them after a while.

Lol. I like you comment. Cos, you were one time Window OS user and now an iPhone user or may I say loyalist. But, you still stay in a Windows Forum. Which means, either windows OS still has something to offer you or you are here to spread hatred against Windows OS.

I still own a Windows Phone.

She's not spreading hatred. It's just simple fact. The UI of my Lumia 640 running the latest Windows 10 preview is pretty but that is it. It's useless to me. It's so inconsistent and that is if an app even supports live tiles to begin with! Posted via the Windows Central App for Android on my Lumia 950 XL

App design was way better on WP previously, with all the menus easily accesable from the bottom of the phone via buttons and swipes. Can't argue about the W10M bugs, MS should double their efforts, they already hit the image of their latest flagships with this unfinished OS.

So Word, Excel, Powerpoint didn't just get yet another update on W10? Oh wait yes they did and I downloaded them today. And they were updated only about a month ago before that. Seems like in your rush to hate on W10 you got your facts wrong. Note that I say W10 because they are universal apps and hence the same app is available on both desktop and mobile simultaneous.

Who said I was hating? I was just answering Salvatore's question. I didn't say Microsoft doesn't update their apps. I just said that their apps are superior on iOS which is TRUE. And don't lie, not all of W10 universal apps are on par with the W10M apps in terms of features.

Get a Lumia 950 XL and an iPhone 6s...pull up Facebook. When the performace and functionality are identical, I'll buy a 950 XL. Until then, I'll keep trying my 640 XL every few weeks to see what Microsoft has updated...but I'll keep using my iPhone 6 Plus.

And keep in mind a lot of iPhone users already find the Facebook iOS app totally slow. If you'd give those the 950 they just ran away.

Should still be in beta. So many freaking bugs!!!!!!!!!!!!!!

But people are getting the update already??!!

Some are waiting, few others have switched to insider and remaining are using Android and iOS. Hope MS gets serious.

First rumoured Summer release in 2015. Then pushed back to Oct, Nov, Dec, Jan and now Feb. But sure it will roll out before Jan 2018.

And by that time Android already complete the alphabet. Posted via the Windows Central App for Android

summer 2015? i never heard that one, i was always under the impresion it was a october 2015 realease date. One things for sure microsft do taske a long time to get things done for sure. im still waiting for gestures and some kind of apple pay lol.

What's that? I just got Android Zebra cake Posted via the Windows Central App for Android on my Lumia 950 XL

Come on income tax, because the Nexus 6p has been calling me :)

I've been very happy with mine, for what that's worth.

Smart move, although I wonder if an extra month is going to be enough to bring the OS on par with 8.1. Especially for the average user having to do a hard reset to get your OS working again is not going to happen, they will simply dump windows as their OS and switch to android.

I have 920 on Insider and is buggy as hell. I have to wait 20sec just to open Messaging app. Outlook syncs after 10minuta on manual push...and so on. Microsoft is shooting itself in the foot.

Hard reset and don't restore a backup!

I did hard reset but with restore. So you have 920 and you tried that and it works? It's time consuming process to get all I had again..but if necessary

Resetting without a restore works a ton better. You still sync your texts, emails, contacts etc but everything else gets deleted

Yeah I first tried out W10M on my old 920 with a restore backup and had some issues. Finally tried W10M on my daily L830 with a 8.1 hard reset 1st, then update to W10, then another hard reset with NO backup restored. Started fresh. Works so much better and only having minor issues so far.

@zalokram : Thats because you are using a device that is more than 2 years old to run the latest OS. You should buy a new device to run the latest OS. It is Microsoft's fault that they let you run the latest OS on an old device that is out of warranty. They should have forced you to upgrade your device by not offering updates for older devices That is what android does.

Im an insider and trying to revert to 8.1 , after so much wait and 1+ year of previews if the final os comes out with bugs then im done with windows !

Lol funny. You should already move to iOS or android. Then you can come back when you learn how good Microsoft has been to you by offering windows to even older phones. You dont get that kind of privilege on other OSes.

Not really a valid statement unless you own a Lumia. Already been stated the HTC 8X will not see the update so not a definite future for all older handsets. Posted via the Windows Central App for Android

Just wait and officially announce it at Build. Oh wait they already did that last year! #PissedOff

Does anyone still care for having an incomplete and buggy OS update on their phone?

Ill wait!! Better than sending us buggy updates. Yaaay!! :)

Definitely needed to clean it more. It's rough on my 1520 still. Good enough for an enthusiast. But... Not for the general population.

This is getting ridiculous

Forgot about win10 thankyou for remembering

Might not be a bad thing to wait a little longer to improve the stability before the mass adoption.

Developer version is still slow

Bleh, I rolled back to Windows Phone 8.1 hoping to get an official update this week or so. This would be considerably disappointing. I can't be going back and forth between Insider and official builds all the time, but staying on WP 8.1 is a pain now.

Move to the insider ring, update to .63 then move to the slow ring.

not sure if I need it... I don't trust MS anymore after my PC was updated from 8.1 to underdeveloped crappy 10 - any impressive improvements and lot of problems only - I wouldn't try if I knew what's going to happen.

Now Microsoft should seriously shut down the W10 project. It's one of the biggest drawbacks so far of them, and leaves behind of iOS & android. If a smartphone user don't get regular updates then that's a big problem.

How regular are updates on iOS or android ?

On IOS much much more often, that's for sure.

In terms of iOS, I get an update once every 1 to 2 months. In terms of Microsoft apps on iOS I get an update for most of them once a week. Heck, Apple even released iOS 9.3 beta before releasing official 9.2.1 earlier this week. That is how fast they are. The difference between W10M and iOS is that you can really tell how important iOS is to Apple.

Even if android does or doesn't have updates regular,I still have access to updated apps with terms to functions and design unlike the dead 8.1 OS with no update and out dated apps with both functions and design. Cut the crap here. By the time you get a buggy OS by Feb, google would have completed the alphabet project completely.

Major iPhone updates come out yearly like clockwork with many smaller updates inbetween - every couple of months or so. Predictablily makes owning an iPhone a much more pleasant experience.

Apps or system? Google's services are all in apps, so there are updates to those every week (some are even instant server side switches) For system updates: bug fix updates come every few months, major updates once a year and security updates once a month. That's assuming your OEM and carrier give a damn about pushing out the update, though.

This sucks!!!! I'm getting tired of all this goddamn waiting! We lumia lovers are keeping up too much with this patience thing!

Let the Hate flows through you! Posted via the Windows Central App for Android

U guys are playing games with us. So irritating. It seems like ur going to say that no windows10 update for Older Lumias in future. Wat wrong with you guys.

Really? As early as the end of February?
I guess it will be more like June. ​
Just after Apple's Developer Conference when nobody will give a sneeze for Microsoft news. There is also a chance that older phones do see their first exposure to W10M with its RTM release. Seriously, why go through all the trouble of porting already outdated W10M to old phones when W10M Redstone (which is the "real" W10M) is just around the corner. Hmmm, that might just be a wee bit too late to make sense,
so why provide an update anyway.
Those guys just should buy a new handset. Fricking ol' handset. Why not just ignore them. ,

I guess its the lumia 610, 710, 800 and 900. Posted via the Windows Central App for Android

Now lets say... Microsoft gives update on February end... We install it.. And camera goes for a toss.. Like secondary mic busted out after win 8.1 denim update... Microsoft is not gonna bother to fix it... Or after windows 10 update mother board crashes lol...speaker does not work.. Or battery get blow up... Then they roll back the update they take more 6 months to fix... Devices which got victimized, Microsoft are not gonna do anything about it... Finally Microsoft releases update after the issue fixes... And claim they are best OS.. By then android and IOS would have gone more further and still Microsoft is lagging behind... We windows fans like fools love Microsoft... Some intelligent people port to android and IOS... ................... Hmmm hope so this story will not come true...ha ha ha

Ohhhh mann!!! I'm gonna cry loudly for hours. Wish MS could measure our pain. This totally sucks!

Do we get insider build for phone before release?

Disappointing to have to wait longer but take note it will be a stronger OS when its released for general usage. Better to have a solid experience than to get it now with bugs and glitches and lose more because of the rushed consumer wants.

Crap dude.whether today or tomorrow ur gonna receive the same crappy OS. This polish and stable thing is more than a one year story now

Thing which irritates more is MSFT instead of working on W10M will continuously work work on releasing and updating apps and services to iOS and Android.... Then who the **** will stay back in Windows platform if the same app and features are available in other platforms with better apps.....

The more people that update, the more telemetry they get about your experiences and the easier it is to get updates done. Get into the insider program and help them move at a faster pace.

Im not dealing with crashes on a daily basis, thanks though.

My phone hasn't crashed in two weeks. I don't know what you're talking about.

The people o know personally with a 950 or 950 XL are still experiencing crashes. You're amazing.

The longer the official release of W10M is postponed the better. Currently we get to choose between W10M and WP81, with the option of "downgrading" from 10 to 8.1. An official release will bring us nothing new but we'll loose the ability to downgrade.

So Windows 10 Mobile isn't ready, for those wondering or arguing that it is

Wow ******* wow, I'm not a Microsoft fan but,nice job of making fan boys happy ! Every ******* time!!

Aaand my prediction was right, sort of, another Denim fiasco but appears it is going to be even worse, utterly pathetic.

I just wish they'd fix the video camera not recording sound on the Lumia 930. Only found out about this yesterday.

Apparently they know how bad it has been for many users.

It will come as soon as the window Central app

By the time the update comes out no one will care cause everyone with an older model windows phone with be eligible or soon will be eligible for an upgrade through their carrier

I can wait. I want it to work smoothly in my Lumia 720(512 Mb ram device) just like 8.1 does,

Làm với chả ăn . Như ... -_-

Fu king ******** ....this kinda **** has been said said from Dec 15

Edge is still infuriatingly buggy on W10M preview, so waiting another month means hopefully polish on that as well as some other bugs I've seen throughout the OS.

They are busy updating Internet Explorer. Posted via the Windows Central App for Android

Microsoft can suck my dick. Samsung Ativ S owner

MS even if you push it to end of 2016, you will still release a halfbaked, incomplete crap OS in the excuse of windows 10 as a service of updates to fix them. Selling 640XL. Switch to android next week. No matter laggy or whatever, I still have latest apps there. Not like the dead 8.1 OS that doesn't have any development with outdated Apps

I'm currently doing the same thing. Put both mine and my wife's windows phones on craigslist and moving on. love the os but updates come at glacier speed.

I'm already at the other side!
My advice for you is (if you go for Android) to get a nexus or Motorola device (stock Android) because it works like a charm and they are pretty much future proof in terms of future updates.!
Android has come a very long way and its finally a joy to use! I know this words 2 years ago couldn't go together, but lollipop and marshmallow are spot on!

Why are people so fixated with W10m needing to replicate android or iOS and lagging so far behind. MS is changing mobile services and how we interact with mobile devices which is a monumental challenge. W10m is conceptually very different from previous versions of the OS, somewhat putting a square peg into a round hole.

Yep and MS was born yesterday... To stop production of sorts because "we have a better wheel" then leave their loyalist in the lurch is not cool, I for one own an 830 and got what, a delayed Denim update on a device that was supposed to have the "real deal" from the start, got very little in the way of enhancements with that update and zero since then, now my phone is basically EOL. And speaking of lagging, didn't kinow a rubber band could stretch that far LOL

If you bought a Windows Phone expecting support from Micrsoft, then you haven't been paying much attention. The platform is basically dead and Microsoft hasn't had the greatest track record of supporting its devices, especially when they flop. Don't forget the L900, Kin, WindowsRT, Windows Phone 7 and Windows Phone 8. They have all lost support. Some WP8 devices will get W10, maybe, but WP8 itself is dead within I more support from Microsoft or developers. Great strategy. Posted via the Windows Central App for Android

Who would have imagined in 2014, when they announced W10M for 2015, that the whole year would go by without any existing devices oficially receiving Windows 10 Mobile? Now 2016 is here and they are still holding back. Lets just say they missed the mark on this one

You are exactly Windows Mobile's target demographic.

but if we spam to gabe aul or terry myerson "when comes out win10mobile update?"

Just like we spammed them about Zune. That worked well also. Look at what we got instead.

This will always keep happening, it's the same old ***** from the 80s and 90s at Microsoft...the company needs new blood running it. Nothing will ever ******* change.

Nice of MSFT to ship phones (950/XL) for 'the fans' with an OS that was at least three months away from RTM quality. For the suckers, more like! I feel bad for Panos, already facing shipping his Surface Phone with a half-finished 'Redstone' beta.

thats why i switched to android cant wait that long for an update to come, MS not even sure about their OS. All the apps that i use are on android, what can i say if u cant win android u have to join them :P Posted via the Windows Central App for Android

Better late than never. Allow them to make their time, we dont want the same thing as what happened with the lumia 950xl. Posted via the Windows Central App for Android

Ms thinks that people will buy 950 n 950xl to try windows 10 mobile. Lol. I fail to understand their logic of delaying the update. Seems they will now introduce the 650 let it sell for a few days, trying to get people to purchase it for using wm 10. And when all that will be done.... They will bring the update.... Which will be no fun by that time. Ms.... U deserve to be 3% of the pie.

They are too busy making apps for other platforms

I have windows 10 insider latest build on Lumia 1320. It's smooth and stable. No complaints at all.

Seems faster™ Coming soon™

Panos Surface Phone is F****d Up. Posted via the Windows Central App for Android

Really? Did he hand deliver you one?

The other thing, why switch if I lose my TV apps that you banned? If they are going to pull their official TV apps and help Android and iOS form a monopoly, refuse to pull the apps already or many of us aren't switching to mobile 10.

End of February 2015 was when the Lumia 640 and 640 XL were announced as "Windows 10 ready" phones. So it's going to take a whole year to get the promised update on those phones. Even the Lumia 650 will be announced earlier. Quite frustrating...

Or available now via Insider...

Thus year may be the end of WP and the Surface phone will take place.

That's why apple never releases an open beta testing OS.... People are restless....

Apple has a similar beta testing program for their OS. The difference is that Apple rarely misses a release deadline. Consistency breeds a patient user base.

Actually Apple has TWO open beta programs for iOS and OS X: One just for registered developers and one for everyone.

Ya thats right and you should read the Terms of Apple beta program. Here is an excerpt for anyone who wants to know about the program in a nutshell. Terms of Apple Public Beta Testing Is the public beta software confidential? Yes, the public beta software is Apple confidential information. Don't install the public beta software on any systems you don't directly control or that you share with others. Don't blog, post screen shots, tweet, or publicly post information about the public beta software, and don't discuss the public beta software with or demonstrate it to others who are not in the Apple Beta Software Program. If Apple has publicly disclosed technical information about the public beta software, it is no longer considered confidential. The above line that I have underlined shows that their beta testing program is confidential even though public can sign up for it.

@agnish True. Thats what Microsoft must do. They must shut down the public beta testing program and make it only available to a few registered beta testers. Thats way the feedbacks will be more focussed and bug will be eliminated fast. Also there wil be less people crying without knowing that they are testing pre-release software.

Be fair everyone, the Windows 10 mobile dev team is coding a fast as he can and anyways, Thu and Fri he's at community college

Well it's not fast enough. They should hire more people.

As long as its stable and not very buggy.

I say it's time to do a little "push back" of our own. Don't buy windows phone, or you run the risk of them becoming "obsolete" before they can get the update. I'm starting to think the MS motto of "push them where we want them to go" applies to older w8m phones to become obsolete before w10m is available so that they will be ineligible for the update.
Prove me wrong.

Not a problem because where I live WPs are becoming rarer and rarer

Seriously? Oh, hello again Android

So that "soon" means minimum 38 days! Bullshit...

What else is new? I have a feeling it will not come until summer, a full year after it was supposed to be here :/

Then maybe people will have to pay for the upgrade because it will be past July 29th?

Microsoft is surely going to lose it customers trust

Everytime they announce crap like this, just tell me who they fired so we know they are actually taking it serious. Getting tired of thus "we are listening crap" when they are doing anything but.if you were listening, the people hub wouldn't still be a mess, the music and video situation would be back to the functionality of Windows Phone 7, there would be a real way to sync all our media, etc. So start firing the idiots that are destroying this whole ship, and ACTUALLY START LISTENING MICROSOFT.

Well they did send Belfiore to witness protection, so there's that

They fired the whole mobile team. That's why no progress.

Because of new Microsoft mobile launch lumia 650

WAITING FOR NOKIA COMEBACK .... I HOPE THAT NOKIA WILL NOT FAIL ME :(

article is so mis leading. these are expected date of Bouygues Telecom not for other independent carrier or CV devices.

It isn't ready, so pushing it back is a good thing!

Microsoft must rename Windows 10 Mobile to Windows 10 Delay!

Yeah! Msft should open its eyes to know what happens out there... Right now! Or else they're losing consumers slowly. The OS should have been released by now. Of course a solid OS is the way to go but the delay is way too much.

I just can't wait anymore.... I will keep my 930 of 19months and just go pick up an iPhone 6S Plus.

I think we should send the entire Windows Mobile team lunch, get on their good side, maybe it will help. Two medium pizzas and a six pack should cover it.

You kidding me? Is it really coming so early? I thought it would cold the next year!

Seriously, then can't even finish the calculator "app"... Every single week they need to update it. How difficult can be to make an calculator app?

Good move in my opinion, it's not quite ready.

Guess what? They are delaying so that customers are forced to buy the new devices..and that's why they are also not giving basic functionality to older devices through the windows 10 update..

Thats is what happens on other OSes. Atleast they are releasing the OS for older devices, even if they are delayed.

Windows 10 Mobile not going anywhere while Android is growing in leaps and bounds.
http://crunchng.com/what-we-should-all-expect-from-android-in-2016/

I've got a lumia 630 running Windows 10 via Windows Insider. It's cool, but a bit patchy. There's several standard apps that seem to lag a bit compared to 8.1 Denim. I only paid AU$179 for it more than 12 months ago, and it's only 3G, so I'll probably upgrade in the next 6-12 months to take advantage of the expanding 4G network in my town.

I have sort of given up / forgotten about this. Even if they figure it out, I will think twice about putting it on my l920.

10586.63 is actually great on old Lumia 625. It's fast and stable. My only concern right now it's when Microsoft will deliver Cortana in Portuguese (Brazil), since it was promissed for December and then delayed.

What's the moaning about just a few weeks away can't pls some people . And it's what ever telecom company that's published that not M S . Better they push it back than release a update that's buggy although the latest build seems fine on my 930 custom variant
I can understand M.s been sensitive on getting right . They don't want a repeat of win 8 desktop and we the users don't either the update advisor is now in general use fir public so that a real sign it's on it's way very soon . Although people moan that isn't working well it won't if your using W10 T P to be honest to those who ain't usefld it yet it's worth the wait . Patience people let's be fair W10 is make or break for M S OS Let's remember what happened to Sega console industry for getting it so badly wrong .

Three words: Join Insider Programme

3 Words: how about no. Posted via the Windows Central App for Android

I'm almost ready to go back to android, these pushing back updates just aint cutting the mustard, and another thing I don't understand is microsoft has given some windows phone apps to andriod, but windows phone has yet to run their apps

This is getting embarrassing. Coming Soon has officially become the standard tagline for Microsoft. Everyday makes it harder to be an evangelist for them.

This forum gone mad. Hold on people, if you can' sell and buy:). Sell the old buy thr new;)

Guys, let them get this one right. Let's not hurry them unnecessarily.

True. Hurrying them for a flagship was reason they released 950/950XL with pre-release OS. Now they blame MS for releasing 950/950XL with WM10.

If they didn't anyway hype a December release and push it back to January on top of that, I would have been okay. But they did not deliver on their statements.

lol ok so gestures beta release in 2018?

I'm going to give the benefit of doubt to this rumour, since it comes from a carrier who might be delaying the process, but I'm tired and losing my patience entirely with Microsoft and their mobile OS. I bought a Lumia 640 last June with the promise of a "Windows 10 ready" device, at least that's how it was advertised by Microsoft itself. Rumours back then claimed a post-Summer upgrade, around September/October. Christmas has passed. Most of January has passed. This is simply unnacceptable. They haven't even set a final date in stone after all this time! And I find it funny to those who reply "just install it via the Insider app". That's your solution? Leave people at their mercy with experimental builds? Have you even read the warnings before upgrading from WP8.1 to Windows 10 Mobile preview? I have been loyal to Windows Phone for 3 years, have recommended WP8.1 devices to family and friends, tolerated the app gap for this entire time, but that's it. Patience and tolerance has its limits. Microsoft is becoming the corporation of the promised land, never delivering, existing in an ethereal plane. I'll live with my Lumia 640 as long as I can and then things better improve somehow or else goodbye forever.

I agree with you in the way of referring windows phone to friend and family and I have been using wp devices for a least 5 years when the HTC trophy came up. Now I'm using the Lumia 930 and still waiting for the "sooner upgrade" and nothing. Disappointed

I totally agree with you. I went through a similar experience with buying a Lumia 640 in August, hoping that Windows 10 would be rolling out in the autumn. Furthermore, it was advertised as coming with a one-year's Office 365 Personal subscription. When I bought it and downloaded the gift app from their store, it informed me that the offer had already expired, though it didn't say so on their website or on the website of the retailer. Ok, I was able to swallow this because I was eligible for Office 365 University so I got that instead. But then this Windows 10 (and the promised advent of many new universal apps) never coming started to get annoying - and even if it were released, I'm not quite sure it would have brought the necessary improvements. In my country Cortana is inacessible and as a consequence so are "Quiet hours", which I really need and which I had a hard time adjusting to coming from Android, where even if the system cannot handle it itself, then there's dozens of apps that can take care of that - which wasn't the case for WP 8.1. On top of all that, my unit had hardware issues (with the display) and went for repairs two times. I don't know who takes care of that, but Microsoft's local representatives didn't even try to repair my device and even said it conformed to "Nokia's standards of quality". Now that's just unacceptable. I returned it two weeks ago and got my money back, so there's that. Perhaps I have saved myself another endless round of waiting for something that's nowhere near as good as promised. Now I'm back to ****** Android, but at least I have all the features that I need, in spite of the occasional lag.

950 and its w10m OS work great....on the apps that are not broken/unfinished/etc, sadly enough most of those are MS apps that shipped with the phone

The day Windows 10 for PC was launched, WinBeta published an article saying that Windows 10 mobile was feature complete and MS was looking to launch it in summer. But then as usual there was some bug in rolling out the build 10240 to the insiders and then they shifted the date to the fall of 2015.

It it's feature complete. Now they're adding the final polish to the product. Redstone is the next update with new features.

I didn't expect anything in January. The team took off the end of December, and no one is motivated to get back to work after an extended break. If you want it now join the insider program. Otherwise just sit there and wait for the free update.

Some reasons like this one make people get frustrated and complaint of the windows OS.

It's just a couple of weeks and MS doesn't owe you anything, so please be patient.

Do you think maybe they're including a surprise feature related to their Feb Xbox announcement. Like streaming games to the phone?

Lol. The fact is : "Expectation leads to disappointment". Do not expect anything and you will be happy with what is offered.

This is getting ridiculous. Microsoft have provided no clear schedule about when it will be updating it's devices and has now delayed the update twice. It's always the same cr@p with Microsoft.

Now its really painful..MS please don't test my patience

Lol. They have been testing MY patients for years...

I'm not pretending you can't complain about this but if the delay of an update actually makes you switch to Android of all things then maybe you need to sit down calmly and rethink some of your choices.

Bored of waiting, Microsoft can keep their W10 update. Getting an android device so that I could be happy like everyone else.

Well at least as far as a phone makes one happy :) but I feel the same way, the experience on WP 8.1 / W10M is so bad compared to the competing platforms it's almost a torture having to use a Windows phone, unless you use it as a replacement for a feature phone. Unfortunatelly W10M is still not on par with Android/iOS, so even if they make it until the end of February, it's still going to be behind in terms of features and app availability. It's 2016 and no one wants to wait for features that have become an industry standard to maybe appear some time later on.

Honestly, keep pushing it back until you actually make it usable. To say this is "Beta" or "alpha" software is bull. The have publicly released this less than half baked OS on three handsets now. It's publicly launched. I'm a long time windows phone fan, I've been on the bandwagon since Windows Phone 7. On my 1020 the constant battery drains, and messaging hangs, reboots, are just not worth it. I was willing to drop $850 CDN on a 950xl and then I realized, I'll have all these same problems on a larger more expensive device...why pay that much. So I've opted for a refurb 1520. At least that can be left on Windows Phone 8.1, an OS that actually works. I know so many of you are going to knock me but you know I'm right. This is no longer "Beta" software or "Preview" software. What's on the 950/550 and upcoming 650 is public release software that just doesn't work right. I just spend an entire day reverting my 1020 back to 8. 1) Skype integration, while amazing is a huge battery drain and makes messaging extremely slow 2) Cortana is basically useless, laggy, slow, and music search is in the wrong spot 3) Apps close randomly after opening 4) The excuse of hard resetting to "fix" these issues is not a valid resolution. Do you seriously expect all the windows phone users out there to factory reset their phones just to upgrade? There are so many things I love about this OS, the little upgrades and integrations. The ability to reply back to SMS within other apps and the amazing work they did on mail and calendar is fantastic. However all the shortcoming of the OS are just going to keep me back on 8.1 until they get their **** together. It really does feel like MS gave up.

I completely agree with everything you said. I installed build 10586.11 on my Lumia 1020 back in December and I immediately wished I hadn't. I waited 2 weeks for build 10586.29 to be released but after installing it and seeing that NONE of the bugs that were driving me crazy over the past 2 weeks had been fixed, I reverted my 1020 back to 8.1. Since then, I have been seriously considering switching to Android. The only reason I haven't bought a Galaxy S6 is because the 16MP camera is nowhere near as good as the 41MP on my 1020.

Honestly I love the Windows Phone platform. The lack of apps doesn't bother me that much, what i need and waht i use i have. I wouldn't go to android as i currently also carry around a Galaxy S4 for my other job and i absoutely hate it. For a phone that has better specs than my 1020 it's glitchier thatn my N9 running simbian. What Microsoft is putting out for a mobile OS now, i don't even know what to say. Yes i understand that it's a work in progress, but could you at least finish the work you've done so far? I'm really starting to think this "Technical preview" is really "Here, you find the bugs for us, save us time so we don't have to" I want to believe in MS, I want to get the latest flagship, but the fact that W10 for mobile is still a ghitchy shitshow makes me not want to buy it because i can't revert back to WP8 where things work smoothly. At least the 1520 i orderd will work on W10 mobile when i decide to upgrade.

YES. JUST IMPROVE THE OS AND IM FINE. **** THIS ****

I'm wondering about this "free upgrade for the first year" thing. If Windows 10 Mobile is not released for older phones until February, does that mean the free upgrade will last until February 2017?

I am replying to your second comment because your second comment invalidates your first comment and proves that you represent the vast majority who do not even understand what is announced by Microsoft. Windows 10 is a free upgrade for Windows Mobile(any device with screen size less than 8 inch) for lifetime of the device. However Windows 10on PC will be free for the first year. Hope you understand the message now.

Well that is frustratingly disappointing. Come on windows phone, you're better than this!

I think the issues are with the update. The only thing worse than an update that doesn't meet users expectations is an update that breaks users phones. I suspect the delay is because there are some issues with the update process when tested in the wild, as it were.

Lol. It doesn't matter. Just release it when its ready. Not before. I'll wait.

it a good thing still some bugs to work out PLUS PLUS IM JUST 32 UPVOTE A WAY FORM MY GOAL 5000 OF UPVOTES

I don't have any faith in Windows Phone no more, just release the OS, take it seriously, put more resources behind it.
For apps just pay companies a nice sum of money to get the big name apps in the Store. Its not difficult, Android and iOS do it why cant Microsoft.
Its a shame to put such a great OS behind the curve since launch.
No good hardware and people hanging onto the hopes of what might be a well overpriced underwhelming Surface Phone. No one will buy it if the apps aren't there.

Isn't this just a carrier saying when "they" not MS will be rolling out the update? After all WP8.1 -> WM10 requires Carrier and OEM approval.

Just use the windows insider to get windows 10 until the official version for your model is out , my lumia 1320 runs windows 10 ok , but sometimes freezes , not much maybe 1x a week , reinstalling the windows 10 is a pain having to go back to 8.1 and I wish microsoft would speed up any updates as you get to hate that spinning cogs after a while , it takes far too long to install even a language pack, that needs to improve as knowone new to windows phone will put up with its slow updating.

Microsoft must follow the android way of updating OS. Any phone that is 2 years old does not get new OS update on android. Even iOS 9 is available only to iPhone 4S and above. So I actually see that Microsoft is being nice to every one by getting the update ready for older phones that are already out of warranty. Microsoft should just stick to updating newer phones and if anyone wants to enjoy the new OS, they must buy the newer phone, just like other OSes.

Huh? The iPhone 4S was released in October, 2011. It's now 2016. MS is SO far behind the curve.

I want Windows 10 mobile to be RIGHT when it rolls out. the new 950/950XL smart phones got bad reviews because the software was not up to par to a lot of tech sites testors. if they have worked out the bugs which they know of it will be a stellar OS great to use


This is getting annoying another delay with W10 mobile until the end of February that's f@#k up. The sad part is the delay is for Lumia phones not for other Windows phones so when will we get the W10 update "Build 2016"!!!!

Jesus did anyone actually read the article its not ms pushback its the carrier that's pushin its release back ... My guess is that carrier wants to bloat it to get people on higher price contracts or to sell more expensive models . Ms have not in anyway as of yet stated they will delay again . And I recall the last statement stating early 2016 NOT early feckin Jan ffs get a grip or goto smackle or FUXkdroid . Apple may be leading but lets face it they dictate everything you cant even take a shi% with ya phone unless they approve it first and yes spamdroid has shed loads of app but... Just how many do you really use and tbh alot of em are shady as a nun in a cucumber field... At least Ms are trying for once to get it right Rome wasn't built in a day you know. Apple may release every year but be honest with your playtoys they pump out more **** than priest buggers asses

How can you say the release is pushed back because a French carrier is not getting their updates out till late February? Why does this effect the release of 10 when T-Mobile Poland has already done it?

Give an OS without lags or bugs and I am ready to wait.

Microsoft should just change their name to Coming Soon. Posted via the Windows Central App for Android

Seriously MSFT. We dont care about this update anymore. We all know how buggy it is. Could you please just focus on the future development of Redstone and keep those ****** bugs away?

Better later and fully functional without bugs then sooner with bugs.

Even after this much delay there will be much more bugs. If you want to give buggy os then remove some features with severe bug and release the os and then give updates when the features are ready

I'm not sure why everyone feels the need to dog Microsoft about pushing the release back? What's funny is the latest insider build is almost flawless and the bugs that do remain are minor, so minor infact it feels like I'm on the lastest android. I have a android device and let me tell you, the finished os for droid is still slower and more buggy then w10 preview build. Windows phone still captures my attention and imagination. Ipick up my android device and I'm bored within 5 minutes. The only complaint that's legitimate is that Microsoft supports droid and iOS apps far more then windows mobile apps, which to me makes absolutely no sense, yeah I get the whole market share thing, but still is their native hardware why not support it better and more then droid, even if only to be loyal to the windows mobile users.

and as a standard reply 'Coming Soon'

650 is coming out on 1 feb lets seee its fail. 550 in india failed miserably, even amazon does'nt have amazon fulfilled seller for l550, those selling this phone are selling at 9.5k+ INR and also charging shipping charges.

I was on insider for my Lumia 830. Man so buggy. Windows phone 8.1 so smooth love it. I can wait.

Hope they don't postpone it to June 2016

Take your time! But make sure that the OS is bug free.

I'm excited Microsoft! Good that at least you'll release a full OS instead of a half baked OS. :)

Next up Redstone delayed until January 2017. Microsoft Edge extensions support delayed until March 2017. Windows Bridge for iOS delayed until 2018! Introducing Microsoft Edge for iOS and Surface Phone with Android!

That's not factoring the carriers of course... Posted via the Windows Central App for Android on my Lumia 950 XL

Now I'm in confusion whether to write my app for Windows Phone 8.1 or should I write an WM10 universal app, initially I thought about universal app, but now WP 8.1 seems practical, as my app targets local audience and all of them will have WP 8.1.

Hey Microsoft! Just give up WM10. Start switching us to Android. At least then we will appreciate your work

I used Windows phones for about three years, but I have thrown in the towel now. Many apps were cancelled and removed, such as Mint, Bank of America, Pinterest, and many others. In addition, the existing apps are watered-down and buggy versions of their ios and Android counterparts. I am now using a Zenfone 2 running Android Lollipop. The OS is more robust and the apps are much better and more available. Sayanora Buggysoft.

Surprise, surprise, surprise. Already have the 8XT in storage... Posted via the Windows Central App for Android

Using Lumia 540 with the .63 build and I am very satisfied with it. This build is very fast and stable. Only problem is the Facebook app (it is pretty much useless).

Windows 10 Delayed is Windows 10 Denied... :-(

So, in practicallity Microsoft is now about a YEAR late (W10 including W10M was originally intended for the beginning or 2015) and we still see full focus on ios/Android and crap results on W10M. Folks, when will you (also) give up? The "mastermind" is laughing at you!

I dropped my 650 in the toilet by accident. Local shop had a moto g 2014 on sale for 100€. Back on Android now, and I do not miss anything about Windows Phone, at all. I can finally use the Chromecast in the living room (that usually my wife had to connect to to put netflix on the tv via her iPhone)... These news of the further delay for Windows 10 Mobile confirm that I made the right choice.


Microsoft has been failing ever since they tried to be innovative. All they ever had to do was slim down windows xp, make it touch based and put a quick launch for phone keypad and text messaging. If they could have done that instead of trying to make everything a **** load more difficult they would be running the mobile device market right now hands down. Hell all they really need to do now is slim down win 10 add keypad and txt msg app and put it on a lumina and they would be getting praises. No one likes the tiles Microsoft, get a damn clue! A phone with a desktop, a start menu, and being able to run whatever program the hardware lets you like windows xp is what people wanted 5 years ago. You could have delivered. Now your just rehashing **** and trying to fix something people dont even want. You ruined Nokia. Please fix yourself ffs. It aint that hard man, seriously, the company is trying to be so inovative but fails to see that Android and iOS are actually more like windows xp then your w10m.. Home screen=desktop App tray=Start menu. God dammit MS wtf is wrong wit chu

To all if you who came here to complain about MS....I'm here to complain about you!!! LOL

To all you who came here to whine and complain about MS...I came here to complain about you!

If you don't like it or how it looks since 7.5...why are you still here. I for one, and many others with me I'm sure, like how it looks and that is one of the reasons we chose WP and bow W10M.

Thank god I bought Lumia 950XL. Else update on my Lumia 820 will be delayed to infinity.

Why Microsoft is so blind to notice that the a. Updates are always delayed, b. Too many bugs, c. Pathetic experience on latest Flagship Lumia 950XL. This clearly means Microsoft needs to FIRE THEIR LAZY STAFF and HIRE SKILLED PROGRAMMERS & DEVELOPERS.

Ppl, is there any future for Lumia 520 users or any other old Lumia 8.1OS users??? Should we wait or upgrade to new Lumia handsets???

Ms has officially lost a customer

Ora kaget, ora gumun blass!!! It goes like "I hate something that I love", what to be done then??

Bought a Lumia 640 around Sept 2015 expecting Windows 10 mobile to be launched soon after and have lots more apps available. Well should have thought this is Microsoft after all and it will probably never happen. Waste of money buying this phone and now think time to return to Android as they are reliable with releases of updates.

I think that, at this time, Microsoft has a good chance to win over Apple and Google regarding smartphones and they are throwing it away with these delays. Updates are coming really slowly. They need to provide windows 10 mobile asap to all devices and not after waves and waves and waves.....We don't need and -definitely- don't care about update batches....They must provide the new OS before it's too late and start losing customers. At least provide it as it is and then they can patch the bugs until end of February.

Yeah no more polish your knob!!!! Comments please. At the rate Microsoft is going on stability with W10 mobile_I wouldn't be downloading to your other device till the operating system is fully-fledged spot on, which sadly is currently not the case!!!!

I love my Lumia 640 LTE with Windows 8.1. Sure it needs some software upgrades but still one of the best phones I ever had. I will be patiently waiting for Windows 10 and hope thay can clear any major bugs before launch. I rather wait one more month for Windows 10 then have issues with it. Good job Microsoft until now.

Win 10 ... 10th wonder in the world

If you ask microsot to build a app for Andorid...they will make it in minutes...Investing huge amount for making android apps ...shame on you microsoft
Microsoft please care your customer toooo...

Ask microsof to build a app for android ,they will make it in minutes

TOTALLY NOT WORTH IT BUYING A WP !!! MICROSOFT TOOOOOOO FAR FROM ANDROID AND IOS -_-

Apple or Samsung here we come! Microsoft seriously don't care about their customers in everything!

Won't let me post a link but Google search says Vodafone UK is prompting upgrades fingers crossed

I am eagerly waiting for windows 10 its maybe after feburary

रफ Posted via the Windows Central App for Android

Get it a little more time.

Microsoft poor response Old Lumia users.. Microsoft give OS NEW phone only.. I think good funesment for old lumia users.. Please give os all mobile immediately.. So only app developer give good response ur side.. Otherwise app developer can't get update(win10)..

Microsoft poor response Old Lumia users.. Microsoft give OS NEW phone only.. I think good funesment for old lumia users.. Please give os all mobile immediately.. So only app developer give good response ur side.. Otherwise app developer can't get update(win10)

Microsoft poor response Old Lumia users.. Microsoft give OS NEW phone only.. I think good funesment for old lumia users.. Please give os all mobile immediately.. So only app developer give good response ur side.. Otherwise app developer can't get update(win10)

Its Half Life 3 all over again.