Windows 10 Mobile's February cumulative update is now rolling out
February's Patch Tuesday update is now rolling out to Windows 10 Mobile.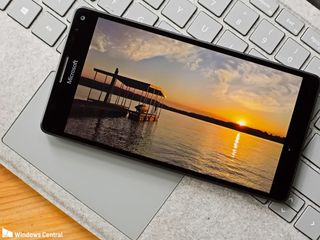 Microsoft yesterday went about releasing its monthly round of Patch Tuesday cumulative updates for Windows 10 PCs, but Windows 10 Mobile was initially left out of the fun. Now, however, the February update for Windows 10 Mobile is rolling out to Windows 10 Mobile as KB4077675 (opens in new tab).
The update brings the build number up to 15254.248 for devices on version 1709 and contains the following:
This build includes all the improvements from KB4074592

(opens in new tab)

.
Addresses issue where the touch screen would remain unresponsive. In most cases, using the Power button to turn the screen off and on restores responsiveness. Occasionally, at startup, the touch screen would remain unresponsive, and the only recovery mechanism was to restart the phone.
The improvements cited in the release notes include a number of fixes that rolled out to Windows 10 version 1703 yesterday (opens in new tab). Alongside the improvements, the update also contains a single known issue that PDFs cannot be rendered in Microsoft Edge on Windows 10 phones. The workaround, at least for now, is to download the Microsoft Reader app. Microsoft says it is working on a fix that will come in an upcoming release.
If you're still using a Windows 10 Mobile device as your daily driver, you should be able to grab this latest cumulative update now.
Dan Thorp-Lancaster is the Editor in Chief for Windows Central. He began working with Windows Central as a news writer in 2014 and is obsessed with tech of all sorts. You can follow Dan on Twitter @DthorpL and Instagram @heyitsdtl. Got a hot tip? Send it to daniel.thorp-lancaster@futurenet.com.
Microsoft reader app doesn't work on mobile

Yup. Typical Microsoft. They simply don't care.

Of course they don't. They came out and TOLD YOU WE DON'T CARE ABOUT W10M! It's not their fault the fanboys can't get that through their skulls.

I thought that it was long phased out and that all are encouraged to use Edge instead.

Did you read this article? It's a bug that pdfs aren't working in edge so they were saying to temporarily use something else

I did. It's just that searching for that something else as recommended produces no actual download in the store.

Adobe Acrobat Reader works just fine on mobile.

It is available for fast ring?

I have the same question - the update is not showing on my X3.

Just updated my Elite X3.

I didn't get it on RP either. Seems they're not releasing to Insider rings...? I got it immediately when pausing or exiting the Insider program.

You must or you wouldn't have come all the way over here from lagdroid circle jerk central to comment.

Apparently you do. Leaving a comment on a dead phone OS article requires someone to be an aficionado.

They released the mobile updates yesterday. Installed 14393.2068 on my 1520 yesterday. Still running rock solid.

The build is 15254.248 and 15254.249 on insider

On my L730 it's 14393.2068

Win 10 mobile still getting updates for my 950XL and Elite X3 and yet there are lagdroid phones out there not even year or two old not receiving updates. SMH at all the idiots paying $1000+ for a lagdroid phone and hoping to get an update in the next year or two.

Should we really be cheering for two fixes?

Exactly. We really get a lot of support for our minority phones, Android fanboys should dream of being this lucky. Also, iPhones become obsolete by design twice in this lifespan.

Tell that to Acer Jade Primo users who are stuck on an old version.

SMH at your ridiculous comment.

No problems with the update, Lumia 920 (1709)

I almost got a 930 yesterday for $210 Aus$ but decided against it. Was at a porn shop in perfect condition, but still second hand. I'd rather get new. 😀 for $230

You definitely could have spent your money more wisely in that porn shop.

Funny that you can buy a used mobile phone in a porn shop. I would have thought you would need to go to a pawn shop for that.

The Windows Cenral UWP app still doesn't work right on desktop or mobile.

WC has no more f*cks to give.

"Encouragement" to use the web for those juicy ads?

I do hope you enjoy the content we produce for you and don't ask you to pay for.

They need to make Apprograms.

They need to make Apprograms.

I got build 15254.249 instead of .248
Any variance?

I got 15263.202 on my Lumia 950 (running W10M)

My 950 is getting 15254.249 as well.

I don't use Edge to read PDFs. And my 1020 is still my daily driver, with my 950 simply as a backup device. I had noticed the occasional unresponsive screen on it, so it is nice to see they decided to address that. Of course, this never happens on my 1020.

This is the first mobile update I have had in many years. I just left Verizon and my 8.1 phone behind and joined Cricket with a family surplus 950. I'm elated.

Updated my Lumia 1520 just now

got the update! and no snarky "windows mobile is dead" comment thanks.

After this update, I have error code with the camera app on 950xl. Anyone else?

and when I try to use the flashlight, the phone restarts. any one else experience this?

just ordered the x3. $200 off. ugh. 950xl will send to get fixed and then I have a backup Windows Phone.

I have this issue from past 3 builds. There are many people having this issue. Need an update to get this fixed.

Here's hoping it works! I have the un-resposive start screen issue. It is irritating to start interaction with my phone with an error state. :(

My lumia 640 lte have update 15254.249...very good 😊

My 950XL enrolled in Release Preview does not see it. My Idol 4s (spare) immediately saw and started downloading it (not enrolled in insider program). If I don't see the update in a few days I guess I will have to remove the 950XL from the Release Preview.

Pdf on edge browser is broken

At least your browser is working. Mine stopped 6 months ago and I haven't got around to doing a hard reset

Yes pdf on edge is broken. I no can open pdf file,this not good

What really needs some serious Love is the photo app. The photo app seems to have degraded with this build taking back several steps

I'm still on 15254.158 and the MS site say the update is for Windows 10 Mobile Enterprise. How do I set my Lumia 950 in Enterprise mode? Anyone sent me a link where I can find out? THX!

IM updating my 950xl to 15254.249 so let's see

An inexcusable failure on Microsoft's Edge team for breaking windows 10 mobile pdf file reading in Edge in this update. A feature I use daily and have used for years. Advising another PDF reader is inexcusable! The Microsoft reader app has also been stopped to be supported as an app on windows 10. This issue needs fixing ASAP.

Please I need help unable to install this update after download keep telling me there's a problem with time and date on my device that I should check the time zone and time and date I've checked even restore it's still saying the same thing I need help

I liked the photo app update...and then Microsoft took it away.

You'd think a fix for edge and pdf would be forthcoming rapidly but appears not ☹

I still don't have receive this update and on 15254.158 on my Lumia950.
My laptop just installed 17074.1002 and I'm in the Release Preview!? Nothing about this update in announcements? Last one was Januari 19 that this build is released to Windows Insiders in the Slow ring, now it's also in the Release preview!?

The latest build for windows 10 phone which released recently on this March on Slow and Fast rings doesn't get installed! Please give a solution! I tried the soft reset a dozen times and at last the Hard reset too! But it gives a Date & Time error! Build version 15254.249
Windows Central Newsletter
Get the best of Windows Central in in your inbox, every day!
Thank you for signing up to Windows Central. You will receive a verification email shortly.
There was a problem. Please refresh the page and try again.