Windows 1.0 officially turns 30 years old today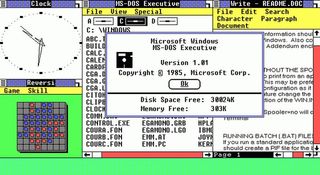 30 years ago today, on November 20, 1985, Microsoft launched Windows 1.0 for IBM-based PCs. The 16-bit graphical user interface-based operating system was the first in the Windows line which continues to this day with this year's release of Windows 10 and this week's official launch of Windows 10 Mobile.
Looking back, the release of Windows 1.0 turned out to be a disappointment. Many reviewers at the time cited the poor performance on PCs, and others complained that it relied too much on the then-new mouse accessory to navigate. However, many of the UI elements in Windows 1.0 are still used in some fashion by Windows 10 today, including drop-down menus, scroll bars and more.
30 year later, the vast majority of PCs have some version of Windows installed and running on their hard drive or SSD. It's likely that will continue for the foreseeable future.
Windows Central Newsletter
Get the best of Windows Central in your inbox, every day!
How do you copy something that you bought to yourself? If I remember well, Microsoft bought QDOS. And made a good progress on it.

@Pappa don't forget bout that 384k shadow ram Hehe... Started with DOS here then win 3.1 on up. Ran os2 warp for a while..

Started with win95 and now uts win10! The journey was enjoyable but not without a few hiccups.

I enjoyed every release even the worse ones. I've had a pc since XP personally but have used since 95.. I'm 24 years old. It's great seeing history and thinking back at the wonderful things we used to have.

Wow that's a great milestone...

Ooffttt I mind those days :)

For the foreseeable future... So till like 2020

Na, another company would have to do something seriously innovative to steal Windows market share, at least for enterprise anyway. Even if someone released something amazing tomorrow it would be 10-15 years before a company like I work for would actually make a full switch, we only just managed to get rid of all XP machines. The cost involved for a huge company to migrate to a new OS across the entire network is huge which is why it takes so long. The direction Microsoft has taken recently I think will keep them number 1 for another 30 years easily. After that, who knows...

My foreseeable future only goes as far as bedtime tonight. Probably because I just don't want to think about tomorrow.

And today people think its crap and going no where.. Damn. Ms. What's wrong with ya.. Lol... I kid I kid. Lya

I don't suppose those who turned 30 today win something from Microsoft? :P

Yeah they should all be sent floppy disks

The golden floppy, which is actually a special USB key shaped like a floppy, gold covered and containing a copy of Windows 10

The flat design of Windows 10 UI was inherited from Windows 1.0.. That's cool!!

Inherited from QDOS, via Apple, via Windows 1.

But Windows 10 is (literally) 10x better!

Wrong! Look more closely....it's only 9.9x better.

Happy Birthday Windows, I don't know where I'd be without you xP

Happy birthday x86 platform

I know what I would do. I would be typing on an electronic typewriter, probably ;)

I see what you did there! (xP)

I wish Windows takes over Linux as the most used operating system for servers.

True but probably not going to happen until it's stable enough. You don't want your data corrupted and you don't want to get hacked. Posted via the Windows Central App for Android

This from an Android device. Adorable.

Listen cut the bias. Just because someone has an Android doesn't mean they are a hater or a loser. I have a 1020 too. You don't understand how much I disdain when people talk shit when they don't know anything about them. Posted via the Windows Central App for Android

Chill, he was commenting on what you said about data being hacked or corrupted which can and does happen on Android which is derived from Linux. There is no such thing as a completely secure system.

I know. But Windows 10 has a lot of data problems because it's new and I constantly encounter issues with it. It's not ready for servers. Also the thing about being hacked - I know anything is hackable but since there is very little malware there is not that big of a deal. Posted via the Windows Central App for Android

In terms of malware, there's arguably much more of it in Android than Windows 10 Mobile.

I'm not talking about mobile??? Not all Linux is mobile. They would not use mobile on servers. I'm clearly talking Linux desktop versions vs Windows 10 for desktop. Posted via the Windows Central App for Android

You are correct, but the fact is, ARM 64-bit is actually starting to be used in data centers on servers running Linux. They are still servers running like normal with power cables, obviously, instead of mobile devices with batteries.

Windows 10 mobile is a limited system so if you want to make server you have to reimplement it. Like with mobile you can't just run a whole bunch of apps from any source easily and you can't go into like the system files and modify. Posted via the Windows Central App for Android

And even if mobile they would not use Android for servers. Posted via the Windows Central App for Android

Theirs also variants of arm Linux kodi. I got tired of dealing with a buggy out of date android stb so I flashed a distro based on buildroot arm for a family member

That horse is quite tender.

? Posted via the Windows Central App for Android

There is a reason that consumer versions of windows are released before the server versions. Having said that, Windows Server in general is plenty stable and secure. It's also more common that Linux in many enterprise environments. At my previous employer, windows server outnumbers Linux servers about 10 to 1. At my current employer it's roughly 50/50. The idea that Windows Server is inherently less reliable at storing data is absurd. I'm a database administrator for both Linux/Oracle and Windows/MSSQL systems so I know quite a bit about the real world track record of both.

I agree with everything you said. But I was referring to Windows in general. I agree that once things straighten out and glitches and security holes get fixed, the server version of Windows 10 will work well for storing data. But for now there are many bugs in general that need to be fixed. Posted via the Windows Central App for Android

Fair enough, but pretty much all of the glitchy stuff you're talking about are either new consumer facing features or "preview apps". The Windows core functionality and the desktop UI are just as stable and secure as they have been for years. Windows Server has all of those consumer features stripped out anyway, so the lack of polish in those areas isn't really an issue for Server.

I in fact have issues with the UI though. I am fed up with context menus so good thing they are working on it. I also discovered a highly annoying bug. When you set the color to change automatically and have a slideshow, when the background changes it resets Explorer windows and jumps back to top. So if you are in the bottom of System32, it will scroll it back to the top which is annoying. Hundreds of people have complained on this according to Microsoft Answers and it hasn't been fixed even in the new update of Windows 10. Also the new color title bar does not change if you click on a Window. You have to unclick to refresh color. Posted via the Windows Central App for Android

None of those things matter for server. That's what you aren't getting. Color bars are nothing when all you need is for the computer to store data.

Of course I understand that. My main point is that if we have bugs that users can obviously see then there's obviously a whole bunch of internal bugs too which can be critical. Posted via the Windows Central App for Android

Fine, but those are examples of consumer facing features. The UI hardly gets used on a server and nobody is customizing the UI to make it pretty. Many servers run for months or even years without anyone logging on to them to see the UI. If one of my colleagues set up a slideshow of desktop wallpaper on a server I would seriously question their competence as an IT pro.

Lol. Posted via the Windows Central App for Android

And Android is just as awesome as WP. Posted via the Windows Central App for Android

Among fortune 500's windows is number 1 server. Among the non 500, Linux is number 1. Far more non fortune 500's. They when the averages war.

Linux is used more tho. Posted via the Windows Central App for Android

Yes it is used more by companies that don't make the money. The richer companies don't use Linux as much (notice i didn't say no usage). Just find it interesting the more money they make the less Linux a company uses. Might be something significant there if you think on it.

Ok then but from the sources I heard that's not the case. Whatever. Posted via the Windows Central App for Android

I think those stats are somewhat misleading. Keep in mind that the Linux numbers get inflated by webhosting providers that deploy a thousand clones of the same Linux webserver image. In most other industries, the ratio favors Windows Server. In fact, most smaller companies favor Windows Server heavily, because it's easier to find people to support it. Larger organizations can lean more heavily on Linux, Oracle, Java, etc. Because they can afford to employ an army of specialized IT pros. Smaller companies usually are looking for less specialized jack of all trades types. Anyway, I think all those webhosting companies skew the numbers because in my experience most small and medium businesses try to avoid the complexity, lack of centralized management tools, and lack of built in functionality that goes with Linux servers. Also, don't confuse Linux with Unix. Unix was the defacto standard before Windows Server started eating it's market share in the early 2000's. Linux became popular in business after that as a replacement for the remaining Unix servers, but I don't think Linux has ever had more market share than Windows in most non webhosting datacenters.

I'm not going to just take your word from it I need actual statistics. Posted via the Windows Central App for Android

Plus if that's the case that doesn't even apply to me it applied to the main comment. Posted via the Windows Central App for Android

Ah, I'm reminded of the hamburger menu!

Never noticed it until now lol, when you're out of ideas, go back to well haha

I'm a teenager and wasn't alive back then to experience it in the wild but I did install it on a Virtual Machine and I love how it starts up in less than 2 seconds. Posted via the Windows Central App for Android

It does? *uninstalls W10*

Yeah the boot screen flickers and displays for like half a second and you're in. Posted via the Windows Central App for Android

Windows used to load up real fast all the way up to Windows 3.10. It was not until Windows 95 got known for having long loading times.

No it didn't. Windows 1.02 was my first version and it took some time to load it from a DOS prompt. My CPU was an Intel 8086 and the system came with 640KB RAM and a 30MB harddisk and a 3.5" and 5.25" floppy drives.

Depends on hardware. Posted via the Windows Central App for Android

It started with solid colors... 0o

Yeah but some monitors were monochrome. They had options to change it to monochrome mode so the system doesn't try to display color in the first place. Posted via the Windows Central App for Android

I still have it in a VM....lol

Rich people had Windows. We had rocks and we liked it.

Your not as wrong as you think....back in the early PC days, Around the Atari PC days (800XL anyone ?), a IBM compatable computer even ENTRY models was around $2000, It was crazy, you wanted a PC, you needed to get an Atari PC but, if you wanted to have a "REAL" PC, you had to really pony up.... Rocks were fun.... I was not a lucky kid on getting a 2K PC...

The charging port of the phone bent on a brand new unit.Material quality seems worse for a $600 phone https://twitter.com/dcseifert/status/667705311818604544

Ok troll, crawl back under your rock. Nobody's biting.

Do you know that all charging ports bend when you apply a certain amount of force on them?

Wireless charge. And if you think that's a bad design, look at this http://ukrainianiphone.com/wp-content/uploads/2015/10/6a00d83451b52369e2...

"The release of " (insert any major design change in Windows) "turned out to be a disappointment." MS is the most consistent software company in the world. Although I love the new W10, and think it keeps getting better for the most part, I really wish for a version that knocks it out of the park on release day. I often wonder what Windows would be like if Apple and MS traded attitudes - "We think you'll love it" (meaning this is the way it is and you're dumb if you don't like it) and, "Coming soon" (keeping people hoping the best version is just around the corner)

There was a version that knocked it out of the park. 95. Big changes from version 3.1, huge release with big media coverage, people waiting in line for hours to get a copy, and people liked it when they got it.

Also, version 7 caused a lot of stir, it was met with very positive reviews, but only because Vista was such a disaster hahaha. Vista is what made me leave Windows. 8 is what brought me back.

I turned 34 today maybe they will send me a 950xl???

Post your address publicly so Microsoft can send you a FREE phone! Edit: Oh, happy birthday! :)

Old is gold . Gold day's while install windows 1 .
Never never forget. ❤

Happy Birthday, Windows! The earliest version of Windows I've had a chance to get hands-on with is Windows 3.0. I would LOVE to just spend a little time screwing around on 1.0 and 2.0. Just to get to experience them!!! Cheers!

Here you go! Have fun... https://winworldpc.com/library

Thank you very much! I emailed myself the link for when I get back to my PC!

May be available in MSDN.

Sharing a link to one of my favorite movie clips. Upgrading from Windows 1.0 through all versions till Windows 7. There shouldn't be a problem to continue to 8, 8.1 and 10. Cool video: https://youtu.be/vPnehDhGa14

Wow.... And who remembers Trumpet WinSock to connect to Internet with a 1200b pstn modem :D ????

Since I'm an old coot, I am often asked "So how long have you been doing this?" They are referencing my profession, of course. So now I can change my answer to "Since about the day Windows was born". Which is accurate too. Happy Birthday Windows!

I'm older then Windows --- I invented Windows :)

Ohh.... So u're mr. Gates or Paul??? Hehehehehe Posted via the Windows Central App for Android

Hey Steve Jobs. Welcome back everyone missed you especially Microsoft who you invented and was a CEO Posted via the Windows Central App for Android

Do You remember Windows 286 ? We installed it only to have Excel 2.10...

I loved Windows since 2003 when my PC had Windows 98 SE.

Has anyone else noticed the menu bars in the top left of everything? Seems strangely familiar lol

Yeah, Ive actually been saying this for a while. The "Hamburger menu" everyone rants abou tbeing a google copy dates WAAAAAAY back.

Check out that Hamburger menu!

While old enough to remember it, we did not use Windows until 3.1. We used MS-DOS for a long time, and then used a list-style GUI called "Moo" because our computer did not run well on the Windows GUI lol.

I had an workbook 5.25" disks I think it was 10 hhhh

Congratulation to Microsoft for success...

I wasn't born then... But I remember using MS-DOS till almost '95 at our home when PC's used to cost a bomb.....

ask cortana "whats up?" right now thank me later :D