Windows 10 'Patch Tuesday' build 16299.125 now rolling out
A new cumulative update is now rolling out on PC with this week's Microsoft Patch Tuesday.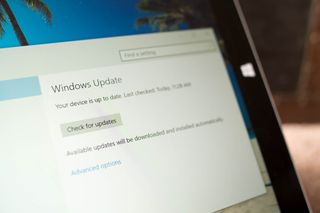 Microsoft is rolling out new Patch Tuesday updates for September on PC and Mobile today. This months patches bring Windows 10 up to build 16299.125 on PC. This weeks patches include a number of new fixes and under the hood enhancements. The update on PC is rolling out as KB4054517 (opens in new tab), with the Mobile update referring to itself as "2017-12 update for Windows 10."
Changelog
Updates Internet Explorer's default visibility for the button that launches Microsoft Edge.
Addresses issue where Windows Defender Device Guard and Application Control block some applications from running, even in Audit-Only Enforcement Mode.
Addresses issue to reset PLC bit on U0/U3 transitions.
Addresses issue with personalized Bluetooth devices that don't support bonding.
Addresses issue where the touch keyboard doesn't support the standard layout for 88 languages.
Addresses issue where the touch keyboard for a third-party Input Method Editor (IME) has no IME ON/OFF key.
Addresses additional issues with updated time zone information.
Addresses issue where, when using System Center Virtual Machine Manager (VMM), the user can't copy or clone virtual machines (VM). The error message is "0x80070057- Invalid parameter". This issue affects the VMM UI and PowerShell scripts used for VM cloning and copying.
Security updates to the Microsoft Scripting Engine, Microsoft Edge, and Windows Server.
The updates are rolling out now for users in the Release Preview ring and Production ring. Make sure you check for updates to get them downloaded, or wait for Windows Update to automatically download them soon.
Windows Central Newsletter
Get the best of Windows Central in your inbox, every day!
Zac Bowden is a Senior Editor at Windows Central. Bringing you exclusive coverage into the world of Windows on PCs, tablets, phones, and more. Also an avid collector of rare Microsoft prototype devices! Keep in touch on Twitter: @zacbowden.
I got Windows 10 Mobile cumulative Update -- 15254.124

I'm downloading it on my 520

Windows 10is a pain in the ass on lumia 950xl, you got to have a lot of patience!

I would imagine that running full Windows 10 on a 950XL would require a lot of patience. =P

Not sure what you're on about Windows 10 Mobile is fine on my 950XL!!!

Getting update in the mobile fast ring

Getting update in the mobile non insider.

Got a Mobile fast ring update too... build is 15254.16. Is that the same for non insiders?

The Insider program for W10M is no more. Maybe you confused the build numbers. They should be the same

Why?? I'm still on insider fast ring

you won't get a message that it has stopped. It will just be the same builds as production from here on out

Before you all downvite: https://twitter.com/Heathcliff74XDA/status/938528009719615489?s=17 http://allaboutwindowsphone.com/news/item/22657_Windows_10_Mobile_goes_t...

When morons, do not understand nothing, they downvote you. No stress. It is usual in this forums.

I downvote for poor use of English "...do not understand nothing..." being a double negative that would mean they understand something.

The mobile build is 10.0.15254.124.

Hello there, In my opinion version .154 or .16 depends of speed that we set in windows insider. .Slow give .154 and fast .16.

Time to jump off the fast ring train and get onto production if your phone is supported for the Feature 2 mobile update.

Would love to switch to production. No longer seem to have an option with .16. When going to "Stop Insider Preview Builds", I get "Move to a less risky"(that only gives me "Slow" and "Fast" options), Pause updates, and "Keep giving me builds until the next windows release"(which doesn't find .124 as it's still insider builds)

Is your phone supported on Fall Creator's Update (Feature 2)? If not, you;re probably screwed and may have to start over. Can you "pause" insider updates after pressing "Stop Insider Preview Builds"? Then select one day for the pause interval? Then select resume? Then select the link to "Need to stop getting windows insiders builds completely"? The restart and check for updates? I don't know if this will work for your device, but it might be worth a shot if it is supported. Good luck!

"Keep giving me builds..." is the option for switching to production

I selected "Keep giving me builds" yesterday and doing a check doesn't show an update available. I figured it just needed some time so just checked it again, nothing, still on .16. This is a 950.

That's cause you already have this build but with other number. You need to wait for the next update;)

Therein lies the rub. Many us were dropped from the Creators Update. My L640, for example. Only way to stay up-to-date (for the most part) is by staying in the fast ring.

You can get to FCU with the 640 by using the fast ring and then leaving it

"Microsoft is rolling out new Patch Tuesday updates for September on PC and Mobile today. This months patches" Thought it was December..... 🙂

"Microsoft is rolling out new Patch Tuesday updates for September on PC and Mobile today. This months patches" Thought it was December..... 🙂

Seems like the update was lost in the woods since September... Regardless, the state of the touch keyboard in FCU is horrible so I'm staying on CU for as long as I can.

Also no mention of the mobile update number in the article or elsewhere on the site (other than comments above), just PC. I guess the WC writers have all moved on :)

Yep, Windows Central does not care anymore about W10M. You have to go to allaboutwindowsphone or maybe OnMSFT for W10M news. For the few news there is anymore anyway...

That is cause is called WC. It has a reason. They flushed it.

Well, it is called WC. They flushed it.

I was just about to say the same thing, those updates must be a little late then Zac?

I wish that they didn't kill OneDrive on my Alcatel Idol 4S ... it just times out and goes back to the home screen. Works on my 950XL still tho .. and if you go to Apps > OneDrive > Advanced , the reset is greyed out. Can't do a thing about it.

I still have WP10 issue where the messaging app crashes anytime I hit the + key and start to search for a name. I see this issue on my 950XL and HP Elite X3. Anyone else see this issue?

I did have the same. I did the hard reset and its fine now.

Hello there, In my opinion version .154 or .16 depends on the speed that we set in windows insider Slow get .154 and fast get .16

Well done for spamming the same message over and over again!!!!

In my opinion version .154 or .16 depends on the speed that we set in windows insider. .Slow give .154 and fast .16.

It would have been nice to update some necessary apps.FB, messenger others

I think it's better to hold on until we know what's in store.Wouldn't like to have my capable L950 xl bricked by an innocuous looking malware. or any evangelical Android /ios switchers.The silence from wc about this mobile update is too deafening.

Anyone else lose random contacts with this update? Outlook also now not showing or syncing selected folders and when I go to windows update it's spelt all weird. First time really having issues post update

Welcome to windows 10 mobile. That is nothing. Take a look at calendar and mail. You can't manage microsoft accounts anymore. You can't even select what calendars to sync, or even if one should sync. You are forced to sync them all.

Omg you are so right... Indeed you cant manage accounts and you cant manage what you want to sync. You must have all account's contacts if you want to have multiple email accounts ! Skype now is slower than the first skype preview version released too. I don't understand what is going on. Are they trying to kill anything on window phone ?

Does anyone know that the hotspot issue found in 10.0.15254.12 solved in this build? I am using Lumia 950 and staying at 10.0.15254.1 to avoid the hostpot issue. Hope the latest build has solved this problem.

I've now 10.0.15254.124 installed from 10.0.15254.12 and that came from 10.0.15254.1. When I installed the last one 15254.1 I couldn't find anything of it on Windows Central site and now only reading about PC in the Phone-tab!? Is WC indeed stopped writing anything about Windows 10 Mobile Phones updates or whatever?! That's damm-**** if I may say so! I'm gonna use my Lumia 950 till dec.10 2019 or longer!

"Patch Tuesday Update of September" ??
Windows Central forgot to edit September to December while copy pasting content 😋

It's still not corrected, maybe we all went back in time

And still not corrected. I find it interesting how they don't reread before posting

I'm using a Lumia 650. Overnight my phone started going into a perpetual reboot; I assume because this update was applied overnight, as per my phone's update settings. Anyone else having this issue with a Windows 10 Mobile phone?

Had to do a WDRT reset to get Backup working several weeks ago, now back to 0x80004004 error again after this update. Wtf. And the name of my last backup got changed.

Hmm i'm still happy with my build 10586. Don't know what's the fuss about with BSOD and brick trigger updates.

How do you get this build 16299.125 ? I am currently on 15254.124 on my Lumia 950XL.
Keep checking on updates and it always comes back with "Your device is up to date."

I applied this update. The update went smoothly. However, after applying the update, the mouse and keyboard plugged into my Continuum display box no longer work. The display works and the touch pad on the phone works. However, no USB device works. Has anyone else encountered this? Is this problem related to the update, or is it a random failure? My windows phone is a new Alcatel Idol 4-s

Answered my own question by buying a second, new HD-500 dock. Works perfectly with my Alcatel Idol 4S. Problem solved.