Windows 10 PC preview build 14371 released for Insiders in Fast ring with activation improvements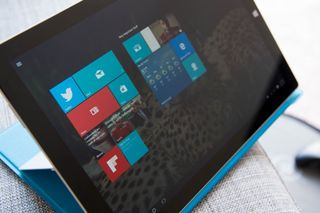 Microsoft has released the latest Windows 10 PC preview build for Insiders in the Fast ring. The new build number is 14371.
In a blog post, Windows Insider head Dona Sarkar stated the main feature of this new build is for activation improvements:
There's also a long list of other improvements and bug fixes in the new preview build:
We have made a couple of key fixes for accessibility. We fixed the issue causing Narrator to not launch when you toggle switch to "on" via Settings app > Ease of access > Narrator. We also fixed an issue where Narrator spoke at an unexpectedly accelerated rate.
We improved learning speed for some slow cases on Japanese IME conversion, and prediction candidate quality. We fixed a short hang issue in Japanese IME which had been there since the Windows 10 November Update.
We improved the file download experience in Microsoft Edge. Now if you click on a download link from outside of Microsoft Edge that quickly opens and closes a tab, we will open the Download Hub so it is more apparent that a download has begun and succeeded. We also fixed an issue where moving the caret to beyond the visible end of the textbox when editing the name of a favorite in the Favorites Bar would result in keyboard focus moving to the next favorite. And we also fixed an issue where enter might not work to navigate to a URL if you began typing in the address bar very shortly after opening a new tab.
Going forward from Build 14371, the 3D Display setting state will be preserved across build updates.
We fixed an issue resulting in MPEG-2 videos showing the wrong duration in the Movies and TV app.
We fixed an issue where "Scan options" text in Windows Defender would be clipped when high DPI (text scaling) was increased. We also fixed an issue where the offline scan event wasn't correctly formatted, and would show an exposed parameter (%1) in the Event Logs. We also fixed an issue resulting in the permissions dialog for a new extension possibly appearing under the Microsoft Edge favorites bar.
We fixed an issue where using the OneNote Web Clipper extension for Microsoft Edge on certain sites might result in an error saying "Please allow third party cookies in your browser".
We fixed an issue where the Action Center icon was clipped by the "Show Desktop" icon at 225% DPI. We also improved the resolution of the sound and network icons when using a non-standard DPI setting.
We added a small animation to Action Center for when notifications are deleted by the platform or dynamically repositioned, and generally improved Action Center reliability.
We fixed an issue resulting in the Clock and Calendar flyout possibly showing a very old appointment when looking at today's events.
We fixed an issue where certain keys in the Calculator app might stop working after switching between OCT and HEX mode. We also fixed an issue where hitting Enter in the calculator could result in the menu opening rather than calculating the current result.
We fixed an issue that could result in the VPN Settings page freezing after pressing Connect. We also fixed an issue where VPN might attempt to automatically connect over metered networks, despite "Allow VPN over metered connection" being turned off.
We fixed an issue where the icon for Settings was missing from the Background apps and Data usage settings pages. We also fixed an issue where content in the Windows Insider Program settings page might be truncated.
We fixed an issue where File Explorer would show two copies of any picture or screenshot taken on a phone while that phone was connected to the PC, despite only one file actually existing on the phone.
We fixed an issue where going between the All apps list and the tile grid of Start in Tablet mode could have a glitchy animation, or not have an animation at all.
We fixed an issue where you might see duplicate "The VPN connection needs your sign-in info." notifications saved in the Action Center, when only one needed to be displayed.
We fixed an issue resulting in certain PDFs failed to print.
We fixed an issue where a focus box was sometimes visible when launching the Start menu, resulting in type to search not working.
There is currently just one known issue with the new preview build:
Red button is getting pushed much faster than when Gabe did it.

i received for mobile as well :) //edit: missed it yesterday :)

Downloading the updates, good night see you 14371 tomorrow

I usually stay up till 3 in the morning for pc updates, I couldn't bear waking up to an error message and having to wipe the pc clean

After 10586 i had no worries on waking up with an error message

Getting closer... Any rumors on dates for offical launch?

I'm supposing it's next month, considering it's the anniversary update. Never miss an anniversary.

So...like...we still... Believe MS will hit the anniversary?

One known issue.. And imho mobile is vastly improved over what retail was. I just jumped on insider with my 950xl yesterday, and was blown away by the performance improvements.

There are quite a few issues that aren't listed in the 'known' section - after all, each build results in a dozen fixes that weren't mentioned in last weeks release. That said, it is getting very much closer and a number of bugs I have were fixed last week and it looks like today will fix at least one more (the Start menu focus thing). I think they will have it ready in time.

It's officially version 1607 so has to be released next month Posted via the Windows Central App for Android

lets hope that the anniversary update hits us on time, microsoft shouldnt screw us this time again. :3

Where is the fix for the issue where Candy crush and other king product are not adapting to display size and orientation. Where is the fix for missing toast and sound notification?????

It's top of the list of their priorities, clearly - as it should be and will be in the next update. Freemium, cr@ppy, games are far more important than a stable, cross platform OS!

it would be GREAT! if its hits PC and Mobile on July 29 exactly.

I think we can't expect RS Public Release for Mobile on 29/07/16 ..
As it depends on carriers too..

Not anymore. If it's not firmware, Microsoft will release on their schedule not the carrier.

Rs builds are pretty buggy at this point i doubt it will come on july 29

No they are not, how many show stopping bugs are left?? With every preview build the known issues have been getting fewer, it is almost daily driver quality imho! July 29 is realistic enough

I just installed the latest RS build (fast ring) on my Lumia 640, and it runs very well. It seems less buggy than the latest 10586 (TH) build actually.

They will probably do like the last time and be like oh insiders you have been running the official build...

I keep getting an error trying to run the update on my 14367.0 laptop.

I'm stuck on 14xx52 :( I hope this new build installs otherwise I will backup on my fathers portable HD and install clean. (still insider tho)

I'm not seeing this update and didn't get the last one either. Anyone else in UK got it yet ? Or is anyone else having problems getting it ?

Yeah, me neither. But I live in Brazil.

Where's all the "amazing new features" that Dona hinted at last week? The pc and mobile build keep getting better and smoother, but I wouldn't say that there's any eye popping new stuff. I love being an insider but, I have to admit it's like, ummm....

We are gonna have to let that go lol I think the week after she said that there were some developer announcements so maybe it was that. LOL.

The 950 XL now has a problem with WiFi network connection. I went to a grocery store, with open WiFi, came home and the phone showed no Wifi connection to my secure WiFi network. I had to reboot the phone to get the WiFi connected again.

Second build in a row that I have had the same problem, no internet connection. Connects to network, but no internet. Rest of computers, phones work no problem. Been on fast ring since beginning, this the first problem. Rolled back to 14366 again, everything works as before. No hardware changes to my Lenovo PC, using Belkin usb network adapter. Any ideas?

I had this problem with 14367. Took a couple of reboots of my PC and plugging my USB wifi adapter into different USB ports to get it to work. Guess I have that to look forward to again since the new build is currently downloading. Though mine wouldn't even get network at all. It would show it was connected with the no internet access icon, but I couldn't even log into my router from my PC.

Seems like they have no intentions of re-integrating the original start menu as an option (All apps view specifically, in tablet & desktop mode). I hate the Redstone Start Menu personall, and many people agree accoring to upvotes in the Feedback Hub --- but Microsoft hasn't made any more changes to it.

Since release of Windows 10, I'm just waiting for these bugfixes: - blurry live tiles with fullscreen start enabled and at 100% - I want a normal functioning auto-hide taskbar (damn, this **** is doing what it wants since windows 7...) - I think since Windows 7 (or 8), by switching something from fullscreen window to completely fullscreen .exe, or vice versa, the desktop appears shortly. Just test it with Chrome (F11) or VLC (double clicking on video). - if auto-hide taskbar is switched on, Cortana, Task-View and Notification Center all have a different hover behaviour than the old icons in taskbar. This results in multiple clicking on the icons to open them. - When I start my computer, the notification center icon shows, that quiet hours is on, though it's off in the notification center toggle. note: I am no Windows Insider. But I read the bugfixes every week. It may be that I didn't read carefully enough and some bugs may already be fixed.

The Feedback Hub is coming to production release users (if it isn't there already). So as soon as this is available please leave your feedback in there with screenshots if possible. :)

Still no prompt to update for me...I'm on 14367 from recently...

Still nothing...are people getting this version yet?

Actually, this is the first site that I saw someone with this problem too. Apparently everyone is installing normally.

I see nothing ! Tried clearing out download store, going to slow ring and back. Still no update, not even offerred it. Have had WIndows defender updates but nothing else.
Windows Central Newsletter
Get the best of Windows Central in in your inbox, every day!
Thank you for signing up to Windows Central. You will receive a verification email shortly.
There was a problem. Please refresh the page and try again.