Windows 10 for phone to support NFC payments similar to Apple Pay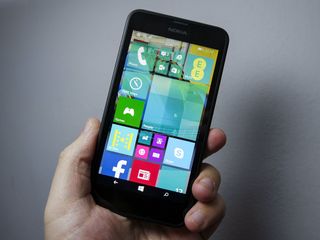 Microsoft wants owners of Windows 10 for phones to pay for goods and services similar to how Apple Pay works for the iPhone 6 and iPhone 6 Plus. It detailed those plans last week at a presentation at its WinHEC 2015 hardware conference in China.
You may remember that Softcard released NFC-based "Tap to Pay" apps for Windows Phone in November for Verizon and T-Mobile, and then a few months later announced those apps would be shut down on March 31, due to Google acquiring their technology for use in Google Wallet.
During WinHEC 2015 Microsoft revealed that Windows 10 for phones will support Host Card Emulation (HCE). HCE will allow any smartphone with Windows 10 and NFC hardware to transmit payments from the device to an NFC terminal designed to receive that money but without needing a special secure app like Softcard. It also won't require any secure SIMs from wireless carriers. The slide shows that VISA, MasterCard and American Express are supporting this feature.
HCI is already supported in Google's Android since Android 4.4.
Another slide shows that Windows 10 will also support "Tap to pair" for NFC hardware so it can pair with a Wi-Fi Direct device via Wi-Fi Protected Setup. It will also support tapping to a Miracast dongle, presumably so that the screen for a Windows 10 smartphone can be mirrored to a larger screen that has such a dongle installed.
It's possible that not every Windows 10 smartphone will have NFC support but those devices that do contain the hardware should be able to pay for things at the grocery store, restaurants or other locations that have an NFC payment solution. We should learn a lot more about Microsoft's plans for this part of Windows 10 in late April as part of its Build 2015 developer conference.
Source: Channel 9
They had the chance to jump the gun with the 920 but as always MS is slow to progress and last to implement. Posted via the Windows Phone Central App for Android

Exactly,sometimes you wonder how these guys think!

Want some cheese with that whine?

I drink tequila. Whine is to slow. Just like MS with Windows Phone Posted via the Windows Phone Central App for Android

Yea tequila will crash you on the floor and you have to reboot yourself again. Just like Android phone. Posted via the Windows Phone Central App for Windows Phone

Lame. I don't crash with cheap tequila. But I do get drunk faster and better. Lol nice try. This has nothing to do with Android but thanks for playing. Posted via the Windows Phone Central App for Android

I loved my 920, but my LG G2 has never once crashed and needed rebooted in the 2 months

Pull over for the siren Android User. To is a versatile preposition. A few of its many definitions are (1) toward, (2) reaching as far as, and (3) until.1 Too is an adverb meaning (1) additionally, (2) excessively, (3) very, or (4) extremely.2 Whenever you're in doubt about whether to useto or too, see if any of those synonyms of too (i.e., additionally, extremely, etc.) would work in its place. If none fits, then to is probably the word you're looking for.

>I drink tequila. Whine is to slow. Just like MS with Windows Phone You won the internet today, Seriously LOL

You're speculating that Microsoft didn't do anything at that time, but the truth is we don't really know the whole story behind this. Maybe they did try to implement something with it and the banks simply weren't ready for it. All we know is that there was no NFC payment feature back then, but we may be able to get something equivalent to Apple Pay when Windows 10 comes out. At the very least, Microsoft didn't wait a few years to make this happen so give them credit for not omitting this feature in Windows 10.

I actually find that most likely the case. They didn't have the security protection there even though the idea was sound and available.

Two points: First, when the 920 was released dispite having NFC technology is wasn't widely utilized like it is now. Sure it existed but its only really gotten popular within the past two years. Second, the 920 was pretty much all Nokia, so MSFT was pretty much testing the waters. Now that they are intrusively engaged in hardware manufacturing, things will speed up. The bottom line is they are building Windows 10 to be the epic release they've been claiming it to be, and I for one can't wait.

I'm honestly tired of hearing the words epic with Windows Phone. That wor has been floating for 3 years now. Bottom line is MS continues to find ways to stay behind the competition and produces features that will not win anyone over because they are never doing enough to stand out from the competition. Posted via the Windows Phone Central App for Android

I can see you're bucking for a career within Microsoft and hope that they can espy a scintilla of problem-solving & creativity within you during the Recruitment Interview.

It would take 2 years for that interview Posted via the Windows Phone Central App for Android

Microsoft just became and official manufacture of mobile phone in 2014. 2015 is the official release of Microsoft branded mobile phones. Remember before they were dependent on OEM's to create products now Microsoft creates there own products running there own OS built the way they want. We wont be saying they are slow by 2016. Give them credit they have been doing quite a bit since the creation of Surface and Windows Phone 7 & 8.

I remember when the Icon first came out, and my technical relatives (Apple-using of course) said that NFC was an unnecessary technology that had already been replaced by other wireless technologies. Fast forward a year, and now Apple fans will tell you that they are "glad Apple invented NFC so they could make Apple pay work".

Guys is not that easy, remember Microsoft is a patent troll. That's why I guess. Looking for ways to avoid patents fees.

Microsoft is not a Saint, but I think it is not a Paten Troll either: "a person or company who enforces patent rights against accused infringers in an attempt to collect licensing fees, but does not manufacture products or supply services based upon the patents in question.

The subject of patent trolls and other related topics are covered quite well in the 4-part video series: "Everything is a Remix". A great watch if you ever get the chance. Just search on the interwebs.

Microsoft at least patents their technologies. Apple will just sue you. They have a cross licensing agreement with Micrsosoft. So, those two stay out of each others way, but everyone else is fair game.

I totally agree. I still use and love my 920 everyday. Been using it for more than two years now. I only wonder if they have released 930 and 940 in 2013 and 2014 in all carriers at around Sep each year, we would have been more than the just meare 3% market share. What a missed opportunity.

As long as Apple keeps a lock on the non Droid market in the US nothing will change.

MS did try to implement NFC payments. It was built into the native Wallet app starting in Windows Phone 8. Unfortunately, the only standard for NFC payments at that time involved the "secure SIM" system which is controlled by the cellular carriers. The carriers blocked native wallet apps for both MS and Google because they wanted to force their own payment channel which was their shared company "Softcard". Anyway, MS (and Nokia) did try to implement NFC payments using the closest thing to a standard at the time. Apple doesn't care about standards so they made their own closed proprietary process. Apple has enough user base to force the industry to adopt their process. Windows Phone does not have enough user base to create their own process and expect the industry to support it. Fortunately, newer standards are coming along and it sounds like Windows 10 will support those.

Google had absolutely no problem building Google Wallet into the OS so that Carriers couldn't block it. That's excuses. As lock down as MS OS was that could had been changed in 8.1. I been using Google Wallet for two years no issues with carriers. Hmmm two years is the same age of the 920. Posted via the Windows Phone Central App for Android

Aitt the carriers did block Wallet in the US. that's why Google has bought softcard.

I see you never used Google Wallet. Carriers blocked and then Google blocked them from blocking Wallet. I been using both Wallet and Softcard because Google made it to where you can select with Wallet to use. This has been like this for a while now. Posted via the Windows Phone Central App for Android

Google can't "block them from blocking Wallet." The carrier owns the secure SIM and they have to authorize apps to use it. You clearly don't understand this technology very well at all. You are still using Softcard (which was owned by the carriers until recently) as part of the payment chain. The native wallet app didn't work without that part because the carriers blocked it to prevent competition with their Softcard business. I was doing the same thing on Windows Phone until Google bought Softcard and ended support for Windows Phone so your original argument that MS 'didn't do anything with NFC payments' makes no sense. The MS and Google native Wallet apps didn't need the Softcard app originally. They had all the required technology built in and just needed to access the secure SIM as a way of proving the devices identity. It worked fine until the carriers got gready and decided to block anything but their own wallet app named Softcard from accessing the secure SIM. MS directed users to use the Softcard app, Google modified their Wallet app to sit on top of softcard (which is kind of redundant and is still limited to the Softcard app's restrictions and payment channels). Google did this to fool people like you into thinking that their wallet app does something special even though it's really just another layer on top of the Softcard app. Google has now bought Softcard as a way to solve the problem. MS appears to be looking at just moving towards the more open standards that are finally coming along. Both MS and Google were early adopters of NFC payment technology and both had similar levels of success until recently.

Lol this was funny read. You do know that Google switched to HCE in 4.4 right making the need for secure sims obsolete. That was two years ago. Carriers were no longer able to block wallet. That's why when you had both Wallet and Softcard you had to select one or the other. SMH but I guess I wouldn't know using wallet for two years without softcard. Can you explain then how I was able to use Google wallet on my non carrier Sony without softcard and having a ATT secure sim? I'll wait. Posted via the Windows Phone Central App for Android

@aitt, your "two years" timeline does not add up. Here's why... 1) Android 4.4+ does support HCE, but it was released less than 1.5 years ago. 2) Visa, Mastercard, and Amex didn't begin supporting HCE until around this time last year. 3) The first North American bank to support HCE was in 12/2014 which was just a few months ago. Assuming you are in the US, I find it hard to believe that you have been making payments via HCE on your Android phone for two years considering that NONE of the infrastructure was in place 1.5 years ago and the last required part only became available about 4 months ago. Quite frankly I think you are full of crap.

Well yeah sorry I'm not precise to your standards and generalizing but thank you for acknowledgment of HCE and that it bypass secure sim. Something that WP just now getting to. 1.5 years now. And yes I have been using Wallet at Walgreens since 2013. I know that may be hard to believe. But regardless of what you want to argue. Wallet never needed Softcard, carriers block wallet, google changed that to "block" carriers from blocking Wallet by changing the structure. Google simply bought out softcard cause it was a waste for carriers. But whatever the case no wallet does not and never needed softcard. It may had needed secure sims but never softcard. Posted via the Windows Phone Central App for Android

You're still not making sense. SECURE SIM=SOFTCARD. There is no way around that. HCE looks to circumvent Secure SIMs entirely. If you need a Secure SIM, you are not using HCE, you are using Softcard. The SIM card is how the Carriers control access to NFC payments by making it only work with their approved app. Because HCE is software based right on your phone, you will not need a special SIM card or anything else to be able to use it. It will operate off of the native Microsoft or Google wallet app. What Cleavitt76 has been saying is right, Google simply laid their Google Wallet on a softcard backend to make it look like it was working natively. Although Android 4.4 did as you say support HCE, it wasn't being used because the infrastructure simply was not in place for it. Now that it is, Microsoft is taking advantage of it.

"And yes I have been using Wallet at Walgreens since 2013." Wow, Walgreens. I thought we were having a discussion about universal mobile payments via native Wallet functionality, but apparently we are talking about how much more advanced Android is in "Walgreens" payments. I sure hope that WP can catch up to Google's lead in the Walgreens payment industry. That way I can leave my credit cards behind and just start buying all my groceries, clothes, gas, dining, movies, and everything else at Walgreens with my phone. Google really has this Walgreens payment system figured out. Your whole argument makes so much more sense now. /s Keep moving those goal posts, Champ.

Were you using it anywhere else besides Walgreen? Google wallet never really caught on because it had difficulty getting the banks and merchants to adapt it. I thought the whole point of the softcard purchase was to help with that.

you are totally right...I had the htc one m7 using google wallet with HCE and the samsung galaxy s4 also used it and a host of other Android handsets. Wallet DID NOT have to use the Softcard app and if that was the case then how was I able to use the Wallet app on my Att Htc one m7 variant using T-Mo with Google Wallet tap n pay at Mc Donalds, Walgreens etc.?

They still had to switch to HCE.

google actually didn't need to buy softcard as they added HCE years back.... that got around the carrier block of google wallet. Buying softcard got them marketshare and a few patents/tech items.

They don't get it cause they never used ot Posted via the Windows Phone Central App for Android

aitt. you clearly dont understand how this tech works, or why MS are in the position they are in. Simply whining all over the thread like a baby. MS were actually out of the gate before Apple, but the carriers inhibted them. The NFC payments war has 3 sides. Software companies, Banks and Carriers. All desperately trying to line themselves up for a massive pay day. This is hurting consumers. Apple have created their own system, and even with their massive market and mindshare are struggling to crack this. I hope (like HTML standards) that this war ends soon, and we can all use this great tech, so no more need to carry a wallet separate to your phone (at least for money). Now stop the juenvile RodneyeJ style MS whining, its tedious to read.

You still need carrier buy in, not to mention retailer support. That's the uphill battle for MSFT when it comes to it's mobile platform. What does someone have to gain t support a mobile payment option from an OS that only has 3% of the world utilizing it, unlike Google who has 80%+ using some rendition of Andriod. It was a lot more complicated then you think, which is why other outlets are posting this news as interesting being as Windows 10 "tap to pay" wont require carrier buy in, but still needs retailer support. Having Visa, Master Card, and AMEX onboard are huge and again it reinforces MSFT being able to do what Nokia couldn't. The power of persuasion helps when you still own the majority of market share value that most of these financial institutions run on anyway. Windows phone by themselves is merely a blip on the radar, but Windows phone combined with Windows, and Xbox that is epic and MSFT knows it, which is why they're waiting to release a flag ship phone. If it is on par with the Surface Pro 3, which by then the Pro 4 will be out then things will slowly start to change here in the US. If T-Mobile and Sprint continue to make the profits they are it will force Verizon and ATT to consider the subsidies they offer their customers. Customers will eventially be paying closer to the retail value of the phones, and that could prove costly for Apple. We'll have to see, but what advantage would getting an iPhone 6 Plus get you that you wouldn't get with a Lumia 640 XL running windows 10?

There was no buy in http://developer.android.com/about/versions/kitkat.html#44-hce This is essentially what MS is doing. Two years later. Posted via the Windows Phone Central App for Android

Cleavitt Apple did not make the system they are using. The token they use was created by Visa . Apple created a front end for their devices to work with that system. It's basically a "white label" of the visa system http://usa.visa.com/clients-partners/technology-and-innovation/visa-digi...

I read that MS owns these patents: Specifically, PROVISIONING OF WIRELESS CONNECTIVITY FOR DEVICES USING NFC Provisioning (PROVISIONING) of the wireless connection regarding the apparatus which uses NFC Win 8 - NFC - Touchmark Icon Unless you are suggesting there are parameters outside of these patents for which Microsoft has no say with NFC, I would think MS can do NFC as it sees fit.

"MS is slow to progress" So are Apple and Google. Japanese cell phones have been doing this for about 15 years now. That said, I don't understand why anyone would ever use their phone to pay. Use a credit card: build up credit, earn cashback, have buyer protection and fraud protection, and, assuming you're responsible enough to pay off your balance in full each month, enjoy a one-month free loan to yourself.

You still need a credit card to pay with your phone...

If that's the case then my original point is even stronger: there is no reason to use a phone as a conduit for a credit card payment instead of just using the card itself.

My wife keeps losing her card. I cant wait for this.

In many cases of NFC payment you are still using a credit card account to pay and all the rewards would still apply. You are just emulating the physical credit card with a digital phone based transaction. I was using my Amex card for Windows Phone NFC payments until Softcard support ended and earning reward points.

Lol you should check out phone pay on how it works Posted via the Windows Phone Central App for Android

No thanks. I have no desire to use it so I have no desire to look up how it works.

Well than maybe you shouldn't speak on something you know nothing about. No? Posted via the Windows Phone Central App for Android

I know enough: there's no reason to use a phone to pay for something instead of just using the credit card itself.

It's actually supposed to be more secure. I forget exactly how, but there is supposed to be an added benefit to paying with NFC

It's much harder to fake compared to just a magnetic strip credit card. Technically, NFC is actually quite easy to intercept and fake, but the encrypted data and tokens that are being transmitted via NFC are not easy to reproduce and they can change periodiodically so even if the details are somehow intercepted they become useless before they can really be used. It depends on the payment system and how it's implemented, but pretty much anything is better than mag strips which can be read and recreated with a couple hundred dollars work of hardware. Another advantage to Wallet apps is that you don't have to carry a whole bunch of cards around. Credit cards, reward cards, etc are with you all the time if you have your phone. Not exactly a life changing thing for most people, but I would find it useful at times.

Credit cards over here use NFC anyway. The only advantage to the phone is convenience it's quicker to get out than your cards. That being said, it is also much easier for someone who finds your phone to go on a buying frenzy (although I imagine it'll work like paypass and will still require a PIN for over 100 dollar purchases).

Firstly how about convenience? A phone can carry a lot more cards in it that your typical wallet can, in addition to this most people always carry thier phone with them and are less likely to leave thier phone somewhere compared to a credit card or wallett. In addition to this the wallet can be used for other NFC enables devices and tokens such as public transport and so on. Or how about secuirty? Magnetic strips are probably the least secure payment method going around. In Australia we already have NFC built into the actual credit card itself with around 80+% of retailers already supporting NFC payment terminals. If I was to loose my phsyical credit card anyone could pick it up and start using it to make purchases of up to $100 in a single transaction and they do not require a PIN or any security checks. On the other hand if I loose my phone whoever picks it up will need to unlock the phone first which is protected with a 4 digit PIN code and then would need to launch the wallet app which is again protected by a different 4 digit PIN code.

They didn't have support of the carriers so that ability was not allowed. WP has had a wallet feature since WP 8. Some select European critters allowed the wallet feature but it wasn't many. What did you want them to do? This comment is another wine-tasting event.

Thanks for playing though Posted via the Windows Phone Central App for Android

"Jump the gun" means do something too soon. So...you're complimenting them for not doing it?

Yeah? They did have the chance to do something too soon. Lol geez yall funny. Posted via the Windows Phone Central App for Android

Week they did it in Europe, where there was Carrier support and bank support, neither of which was present in the US due to WinPhone's low market penetration. Is no accident that there king of the US market got its Google Wallet going first.

In fairness: The carriers were holding this one back. Microsoft was trying to play nice, they failed. Now Microsoft is using this as an opportunity to take matters into their own hands and bypass the carriers.

Dann Android user...WC should stop support of that app.

You seem to forget that they tried, along with Google, to implement it. You had carriers, banks, and merchant associations each trying to create their own payment schemes and they would implement anything Microsoft or Google were proposing. It seems that now that Apple started doing this, the others are getting out of the way. I don't get why all these companies seem to be afraid of Apple. Google has much larger market share, and they couldn't get these companies to play along. Apple just has to announce something and everyone jumps.

This comment is perfect to make all the WP owners who bashed Apple Pay when it came out saying that WP "had it first". Yes, my 920 DID have it first, but I couldn't use it anywhere in the US. No carrier blocking bs guys, because Apple released the iPhone 6 in September and Apple Pay became useful one month later. Meanwhile, WP8 owners have been waiting since 2012 for this simple feature! Thanks aitt. :)

I thought it was already in Wallet since WP8?

Me too, but it's just for payment SIM cards

I used mine with paypal at Dollar General on a Lumia 920.

Oh, awesome, didn't know u could do that

Yeah open it up and it will show you options.

Technically yes. But it required a secure app and secure SIM, both of which need to be provided via the carrier. Many carriers did indeed offer this, and it worked well. But alas, the US was held back because the carriers were extremely sluggish to roll out the necessary infrastructure, app, and secure element SIM cards. And now that Google has taken Softcard over, Windows Phone has been left in the dust. Hence why Microsoft is now taking matters into their own hands. They tried playing nice, it failed. But since they aren't competing against the carriers in the US anymore, I guess there isn't risk of Microsoft angering them.

Any SIM can do it, I bought my SIM from Straight talk on a ATT unlocked Lumia 920. You making it seem complicated, and it's not...it also works at Walgreens too.

Not any SIM, it has to have the secure element. So apparently your Straight Talk SIM came with a secure element, whether you knew it or not. And unlike the Big Four, Straight Talk didn't require their own proprietary app to do the job, they let the OS handle it. It's not complicated, you're right about that. That is, until the carriers get involved, which Microsoft is finally pulling and Apple and circumventing them entirely.

Same here, I never saw the big deal with Apple pay since WP8 had "wallet" and NFC. Didn't know there was a big difference.

Yes, HOST CARD EMULATION (HCE) not HCI :D

Lol, way to miss an opportunity MS. They had this feature day one and abandoned it.

Did they? Or did banks and carriers refuse to cooperate? The latter seems more likely given history.

Anyways, he was right. Microsoft had this DAY ONE on WP and it hasn't been implemented as well as Apple Pay, which came out in OCTOBER! Blame other companies and carriers for all the problems Microsoft is having, but at the end of the day, WP is not doing well. It's sad :(

Well now MS is using HCE directly with the big three credit card companies. So it will work with all NFC terminals. We won't need them to support Apple Pay or require secure SIMs like Soft Card. This is a big plus in my book, especially if it works with MS Band. No need to pull my wallet or credit cards out at all anymore.

They didn't miss an opportunity - they were, if anything, quite ahead of the game...but thanks to the a-hole carriers, they decided to quash the built in NFC opting for thier own Softcard - which we all see is not helping WP. If anything the carriers should be unlocking that feature now that they aren't owning thier own NFC app. My guess is Google made it very clear in the Softcard terms of sale that WP will not be allowed to use the built in NFC.

This is lame excuses. Google made Wallet work despite Carriers attempts to block it. As lock down as WP was they could had made their wallet work to. They just put it on the back burner and then came back after no one cares that this could had been something g of an advantage before Apple Pay came to light. I been using Google Wallet for two years now Posted via the Windows Phone Central App for Android

I don't know how well Google Wallet has worked out, being that they ending up buying SoftCard.

You have no idea. Google had been widely more accepted than Softcard. Posted via the Windows Phone Central App for Android

It obviously hadn't done as well as expected or else they wouldn't have needed to purchase Softcard. Although, they probably just did it because Softcard supported Windows!

Lol nice try though. Carriers was dumping softcard cause it failed. Why not buy it and absorb their tech. Better google buy than Apple or Samsung. Wallet was fine without it. Lol if MS was smart they should had bought cause we all know their wallet died. Posted via the Windows Phone Central App for Android

And yet I have never seen any signs about google wallet being accepted. Apple pay signs are everywhere since it launched. THe banks show case it on their websites. I don't believe google wallet was that widely accepted. Softcard obvious wasn't widely accepted either since they decided to discontinue it and sell the technology to google.

Correction, you have been using Softcard for two years now through Google Wallet and thinking that it's the same thing as using the native Google Wallet functionality to make payments. You have just been paying through Softcard with a different UI and you are still limited to whatever the Softcard payment channel supports. That is no different than when the Softcard app was available on Windows Phone.

Dude just stop Posted via the Windows Phone Central App for Android

ur talking a lot of shit on here man lol. I saw you comment on the recent article android central put up about softcard, and I KNOW you read all the comments about everyone complaining that google wallet was a fail. stop talking nonsense. it worked at walgreens, but try paying with it at Old Navy, or Sears? ha good luck. Same shit with the MS Wallet, it works at walgreens too. Or put your card on paypal and pay with that thru the MS Wallet. point is the carriers fucked everyone in the US over. Tmobile, Att, Verizon all used Softcard, why do you think Google Wallet was never on Spring phones? lol c'mon man do some research please -_-

Google Wallet used Host Card Emulation wiht AMEX only. That's part of the reason they bought out Soft Card to build their own payment processing like Apple Pay. Microsoft is using Host Card Emulation standards with Visa, Master Card, & Amex. So we'll have a wider choice. It will work directly between standard NFC terminals and the credit card company. No secure sim required or payment processors like Apple Pay or Softcard.

One wonders where the US's lame anti-trust laws are in this.

This looks to be a promising solution that isn't subject to the whims of carriers or app developers.

exactly my thought! I'm happy!

This is the best news! I was pretty worried both Android and iPhone would have pay with your phone and windows phone users would be left out to dry because of Google buying softcard. I think paying with your phone is going to become more and more common (at least here in the states) and to not have it could kill windows phone in a few years.

I thought it was already in Windows Phone 8?

Just for payment SIMs I think

Windows Phone had a wallet service that almost no one supported. The carriers messed everything up further by forcing their service Softcard formally ISIS and requireing secure SIMs to use that app. Now MS is not cutting out the middle men building Host Card Emulcation (HCE) into WP10. So HCE standards work directly with the credit card companies and banks. So the carriers can't screw it up. So all you will need to do is set up the service on your phone and you'll be able to use any NFC terminal that's active.

A lot of good news since last week ! :) Looking forward to Win 10 for phones

what to do so .. as i dont have now for my lumia 1520 simply wait for aroud 7 months to have it on my lumia1520

i thought i could do that with my 920s nfc which i got more than 2 yrs ago....can someone explain me whats new/different?

Typical for Microsoft, their solution required a special SIM, because that's what carriers wanted. None of said carriers then supported the feature and so it was still birth. If I were Microsoft, I'd have a doll for each carrier and be sticking pins in it every day. Doing away with them altogether would be so good.

There's a reason you're not microsoft

True. I don't think Microsoft should be in the doll business.

I want some cheese if you're giving it away. Good cheese is expensive these days.

To my knowledge, the hardware was there in the 920 but never actually utilized for tap to pay. Stores largely didn't have tap to pay terminals installed and MS never had the support of credit card companies to allow users to actual use NFC to pay. This is certainly welcome news. My question: Will retailers have to install special terminals to get this to work or will any terminal that accepts Apple pay and Google wallet also accept Windows Phone payments?

100% standard. Works just like both of those.

NFC Terminals are standarized. So unlike Apple Pay which is a service HCI will work with any NFC terminal.

Good move, no carrier support needed at all. The way it should be.

Well - this is the way everything should be. The carries ripped us off for the last 30 years. Time for them to realised that they just offer a simple service of mobile data transfer - nothing else!

Yes... This NFC payments WERE supported by windows phone wallet. BUT the carriers blocked it. MS then dropped it, but the carriers then dropped their blocking of the service. You guys (commenters) relay need to keep up with the story before badmouthing companies.

The carriers then went one step further in their mess of trying to stick their fingers into this process when they sold their mess of softcard to Google. MS is is just a little slow with the reimplementation. Which is understandable as negotiations with credit card companies must be made.