The Windows 10 SDK tools are now available for developers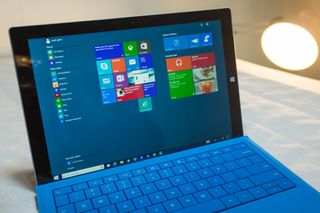 With today's launch of Windows 10, Microsoft is also opening up the operating system for app developers as well. The Window 10 SDK tools are now available for download, allowing developers to create apps that will work on the final non-preview version of the operating system.
Developers can choose to download a stand-alone SDK for Windows 10 that can work with a variety of other third-party software tools, or they can download a version that also includes the new Visual Studio 2015 tools from Microsoft. The company says:
Microsoft is also expected to hope its Dev Center later today to allow developers to upload their Windows 10 app submissions for new and existing apps.
Source: Microsoft (opens in new tab)
I was wondering why W10 wasnt launching with more new apps honestly. I forgot they hadnt released the SDK. Posted via the Windows Central App for Android

Satya reveals in an interview with the BBC today that the HoloLens Developer edition will be Q2 2016 (within an year) , and the consumer edition later. So we have a long wait. Hopefully they will sort out the awful FoV by then. http://www.bbc.co.uk/news/technology-33698290

Can you describe the "horrible FoV?" You obviously have had extensive hands-on, first-person experience with it and know what the state of the FoV is that you can go into an article and talk about something unrelated.

Developers, don't leave comments. Get to upgrading and updating! Hundreds of millions of new Windows 10 users will be waiting!

Don't worry, it will take at least an hour to download and install, one has to spend that time somewhere :)

We can comment - compiling can at times take a few minutes.

This is true.... Sorry :/

This is the link to SDK, not Visual Studio: https://dev.windows.com/en-US/downloads/windows-10-sdk If someone was developing on the Preview version he needs to install this first, or otherwise he will mess things up!

Can they work on VS2013 ultimate?

So as always Ms is playing hard to get. & and they wonder why developers aren't on board.

they can just download VS community which is free. Or any startups can get enterprise (and pretty much all their other software) for free

Does its emulators still requires only Hyper-V

If yes is there any standalone solution for hyper-v other than pro version

Why you don't get Community edition? I have also 2013 Professional, and truth to be told I don't miss much by using 2015 Community edition. And yes, no other platform doesn't offer anything better for free. For Apple you have to pay 100$ a year fee to use tools which aren't better than Community edition.

Uhm.... No. Apples $100 fee comes in once you want to submit to the store. You can hardware test for free, which is more than can be said of Microsoft's current dev policies/fees.

As far as I could see you can't download dev toolkit without paying, but OK, I might be wrong (but if you've paid for it it probably works forever until you want to submit to the store, which might be what you are saying, but it is totally different). Anyway, how's that 'more'? What exactly Apple toolkit (which if above is correct is not free) has that Community edition doesn't have?

The "more" is hardware testing. You can't hardware test with WP until after that $100 fee is paid. With Apple its available before the fee is paid

For Windows Store submission you don't have to pay anything. They made it free.

Wrong. Its been made free from Microsoft.

I'm updating now, interestingly it says that the emulators for Windows 10 Mobile are version '10.0.10240'!

Honestly this should have been out a couple of weeks ago. Alas, good things aren't rushed.

Are you sure the App I developed for Windows 8.1 would open in VS2015

Yes. The app I developed for Windows Phone 7.0 had been easily opened in VS 2015. And the app I developed for WP 8.0 has been easily ported to UWP VS2015. Yes, try and you will find it easy.
Windows Central Newsletter
Get the best of Windows Central in in your inbox, every day!
Thank you for signing up to Windows Central. You will receive a verification email shortly.
There was a problem. Please refresh the page and try again.