Windows 10 used by Virgin Atlantic to show what it's like to be on an upper-class flight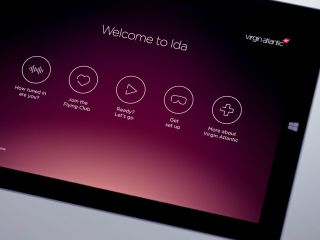 Windows 10 is being used by the airline Virgin Atlantic in a new and interesting way. The company has created an app, in collaboration with Microsoft, that offers business customers a way to see what it is like to take a flight in upper-class on one of Virgin Atlantic's planes.
Microsoft says:
Microsoft and Virgin Airways state that the universal Windows 10 app platform offers them benefits in creating apps like Ida:
The Virgin Atlantic sales team plans to show Ida at trade shows and it may also be placed in high-traffic business areas such as the lobby of the Bank of America building in Manhattan.
Source: Microsoft
Nice just when I thought it couldn't be any worse to fly in steerage now I get the full experience of 1st class for free lol. One day I'll fly with the rich... One day!

Good and luck and if you do, please do NOT try to talk to me, I am not interested. ;-P ;-P

I want to be in Sir Richards club. Miss such perks, but not paying out of pocket.

You want to be in the mile high club with Sir Richard?

Sir Richard is quite Devine

Heh, not quite, should have seen that coming. Nothing more than a bromance.

Awesome, are their Windows 10 dreams coming true or what?! =P

I feel like Europe "gets it" much more than north America when it comes to windows 10.

Yep, pretty much. Things like accepting and losing technology features are a lot diffrent here, then in USA.

Europe is always acknowledges which is better. Not like North America... Always sticking with Apple

In the video they seem to have the Lumia 950 inside of some virtual reality dongle. Something like Google Cardboard but plastic. Interesting...

Yes, I think everyone missing that was the most interesting part of the video. A VR app using one of the new 950 devices. Very curious to hear more about that headset option.

Correction: It is a 1st class flight, not an upper class flight. If you have the money, they'll let you on whatever class you are.

Actually Virgin calls it Upper-Class
http://www.virgin-atlantic.com/us/en/the-virgin-experience/upperclass.html

Class society. I wonder if Richard is allowed onboard considering his background?

Soooo basically a section for the blue bloods :P.

They should release the app publicly so everyone gets a taste of the experience and wants to fly Virgin.

The irony of showing off a windows 10 experience inside of the Bank of America building.

WC - please find out more about the VR headset using 950 phone in this video...

I remember reading Tom Warren's tweet from a few weeks ago telling how Virgin Atlantic's system was down and they were using Linux.
Windows Central Newsletter
Get the best of Windows Central in in your inbox, every day!
Thank you for signing up to Windows Central. You will receive a verification email shortly.
There was a problem. Please refresh the page and try again.