The Windows 10 wallpaper comes to life in Microsoft's new music video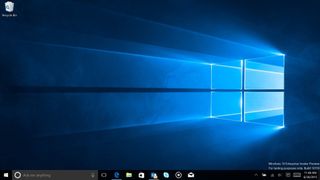 Microsoft's promotion of the Windows 10 launch on July 29 continues with a new music video that uses the cool-looking default wallpaper of the OS as its centerpiece.
The actual wallpaper was created by its design director Bradley G Munkowitz, also known as "GMUNK", using lasers, smoke machines and more. The result is one of the coolest looking desktop background we have seen in a while. Microsoft decided to take videos of how the wallpaper was created and then set it to music from Seattle-based electronic music duo Odesza.
What does this have to do with Windows 10's features and upgrades? Well, nothing really. It's just a cool video that's made to promote the OS. so just watch and enjoy.
Source: Windows (YouTube)
This is wallpaper on my mobile :)

This is my wallpaper on my Lumia 1520, my Surface Pro 3, and both of my desktops, and it's also my Avatar. Oh, did I tell you I like it? LOL

Its the wallpaper on my 1520 on 10 as well :) I think this video should play during the install or initial set up :)

How do you change that Windows 10 wallpaper login screen background? Anyone?

Actually you can. I found a solution already. nirmaltv.com/2015/07/20/how-to-change-the-windows-10-login-screen-background

Thanks! It's a nice wallpaper or lock screen, but it doesn't really fit on the login screen for me... :/

Yes I have been working on Windows 10 Server Preview and you should be able to change it under Group Policies and through the User Account Images

There's a tool created by the good folks over at MDL which allows you to change the background.

This wall paper is really cool

It would be cool to have live backgrounds like that

Yes, animated desktop wallpaper would be nice!

Lol @ One of the coolest looking desktop background we've seen in a while.

This should be a screensaver

+535 (most unusable phone ever)

yes a screensaver or even the desktop background though it might eat up battery life

It should be a boot screen.

Definitely should be an included screensaver!

IMHO the wallpaper is just horrible - like a throw back to the 90s and in a jarring contrast to the Modern design language. Luckily I can change it as the first thing I do on W10. :)

How about showing us the wallpaper that isn't a jarring contrast to modern design language? Anyone can be a critic. Let's see what you got.

I am not a designer. MS on the other hand has many. I would suggest though starting from some of those included in Windows 8. Posted via the Windows Central App for Android

Yep. The Windows 10 "hero image" is atrocious. It belongs in a 1980s Tron movie and completely clashes with modern design principles. It's mind boggling that Microsoft chose it. I too will be changing it the second Windows 10 boots up for the first time. Unfortunatley, though, it'll be a terrible first impression for the rest of the users out there, many of who don't even know how to change their wallpaper.

Lol look at you, who thinks that most users will agree with your tastes... Hilarious

Lol look at you, who thinks that they won't....Hilarious.

Another awesome ad. If msft keeps this up they might get some attention!

Exactly, and the music is great. I really also liked the fact that the same music has been used in adverts of Lumia 640 and 540..

I can use it to be my rington LOL

I wonder if there would be an option someday to have a video clip as a wallpaper? Just asking cause I'll want to watch this video everytime my laptop starts up

Yes, I think it's called Dreamscapes. ​ ​

@Feralboy They are called Dreamscenes, but good try.

I think when you log in, the darker version of the Hero image is supposed to give the impression of brightening.

Now I can sing this one :
"this video gonna bang you like a Mo**** F***er" (voohoo !)

Live wallpaper pleaseeee Posted via the Windows Central App.

Just for those who are wondering: the song is "Say My Name" by Odesza. Listen to the full song here: https://www.youtube.com/watch?v=QMssNXBCCl0

Rather it in the Win Video.

This video makes me miss the living wallpaper we had in windows vista. I wish I could have that wallpaper as video on an endless loop as my desktop with the smoke and lasers. I've never been a fan of the dead, icon driven desktop. That's why I love windows 8.1. The new desktop doesn't really feel like much of an update. I was just lamenting yesterday how it would be nice if Microsoft took the arrow launcher their working on for Android and applied out to the desktop PC windows for when I'm not in tablet mode. It'd be really nice if they brought back the living desktop and applied arrow to the desktop to make it really pop.

Now I need this as a Dream Scene for my Win Vista Machine.

Wow great work by these people. those laser effects look really nice. knowing this stuff wasn't made by a computer makes it feel awesome in my heart.

They should use a snipet of this as an animation for the "Welcome to Windows 10" screen at the start of the installation. Just like how Windows XP install was.

Can see this on loop at MS stores...
Windows Central Newsletter
Thank you for signing up to Windows Central. You will receive a verification email shortly.
There was a problem. Please refresh the page and try again.