Windows 10 won't include support for syncing Start menu layouts or app installs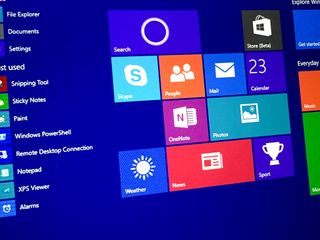 Microsoft has confirmed that it will remove two sync features from Windows 10 that are currently included in Windows 8 and 8.1. That means Windows 10 users who own more than one device that use one Microsoft account will have to do some things manually that were done automatically in Windows 8/8.1.
In Microsoft's current PC operating system, users can sync up their Start menu layout across PCs, tablets and notebooks. They can also install an app from the Windows Store and have it appear on other devices with the same Microsoft account. However, WinSuperSite has confirmed, via a Microsoft spokesperson, that both sync features will be missing from Windows 10:
It's likely that only a few Windows 8 and 8.1 users also used the app install sync feature as well, but with the launch of truly universal apps for Windows 10, it's a shame that this helpful addition won't be a part of the OS.
Source: WinSuperSite
I love this Win8 feature. Would be nice to just have it off by default. Then you could sync the devices/systems you choose.

+1 make it an option that is off by default on any new device and choose what other device to sync with

If they don't notice people still use phones with one hand, why should we think they would notice that anyone still wants the option to have their computer layouts sync?

Good point. I just wonder who were these so called people who didn't like this feature? I love this feature. Set it once and it is the same on all my devices. And I use a laptop/SP3/and an all in one Desktop. No matter which device I use they are the same.

I agree. I would like a Phone, Tablet, and PC setup that I could build and save, then apply that setup to devices. Of course, I am one of the people that will hit the 10 device limit too. I carry two phones (work and private), have a work Surface, a home Dell Laptop, and 8" tablet for travel, two Xbox One's, and I buy new devices every year. Even if you just have a phone, Surface and Xbox, but replace them every two years over the 10 year span of Windows 10 support, that would be 15 unique devices over ten years. That's if you don't break one, and need a replacement. Microsoft tends to take great momentum, and then make dumb (user limiting) choices (like tethered Xbox) and makes everyone run to other platforms in frustration. I should be used to it by now, but it still surprises me.

This limit concerns only the number of devices on which you may have installed—simultaneously—any single app. It doesn't mean that you won't be able to use more devices! Just that, when you reach the limit, you'll have to desinstall a specific app on one device in order to install that very same app on a new device. IMO it will work just like Office 365.

personally, I did not like it

i dont like that feature. I dont want my device look same everywhere..i do want sync files, music/videos and photos. i do like option though.

It is an option in WIndows 8, not sure why they are not including it as an option in Windows 10. I can do without the layout sync, but I do like the app sync. I don't necessarily want it to install on every device, but it would be nice to have it in the list of apps. I guess it must be in the App Store under "My Apps" I guess. Might not be a huge deal. I hope you can at least back up the layouts so you can easily restore it. It does take time to set them up. Come to think of it, with the new Start Menu, it makes more sense to have the syncing.

Another stupid move by Microsoft. Apple will 're-invent' this feature soon and Microsoft will copy them like always.

To be fair, Apple already do this with their mobile devices. Unlike MS thou, their mobile and computing OS are not unified so I don't expect them to ever have this feature.

Yes, on win10, you can go to the store and see apps you purchased on any device in "Library."

I agree. I don't understand why they didn't just include an off by default toggle.

I love this too, and I never notice that it will force you to using the same layout, I been using different layouts in my surface and my desktop, never have a problem, app install in synced, app auto install back after restore, every thing was good, the back up seems to work device to device, not the whole account as one

Why can't they make it optional? Why do they have to remove it? Feels dumb

I agree. Should have an off/on toggle. Feedback!!

Agree, they should just leave the option and turned off by default or every new PC or account setup on the PC, ask user if he/she wants to sync app installs and Start layout. I really don't get why they have to remove it as if it was a sin.

+1 - Its one of the best 8.1 features.

Their decision may be based on future new capabilities we just aren't aware of yet!

Agreed. So much for the Continuum vision eh?

Fucking Microsoft. Two steps forward, three steps back. First they hobble OneDrive, now this bullshit. Fuck Windows 10. I'm going back to 8.1 permanently.

I agree. Every OS "upgrade" they throw out comes with comprimises. Windows Phone 8.1 added new features but killed others. Windows 10 is adding new features but killing others. It's mind-boggling to me. I was excited about Windows 10, but now only a week away, I am considering not upgrading. The placeholder thing in OneDrive was already bad enough, but now this (and all the other things they took away from Windows 8) is making it seem like it's better to stay on Windows 8.1, which is, quite frankly, the best operating system I've ever used (so why stop using it?).

The fact that OneDrive just keeps getting worse and worse is really astonishing, isn't it? First we had Mesh, the granddaddy of OneDrive that allowed convenient remote desktop, for free! Then they took that away and gave us SkyDrive, which was nicer than Mesh in some ways but took away the RD component. But okay, at least you have remote file fetch. Then along comes W8 and remote file fetch is gone, too. But okay, we have placeholders for files, which is (sort of) nice (if you have a low-storage PC). Then they take that away, too. Now we're left with arguably (actually, it's hard to argue it) worst cloud drive in the industry. MS, just make things better. And only better.

The problem is that they choose to rewrite the whole OS from scratch every 2-3 years. Then they set a totally unrealistic release date. And therfore they have to skip features that were already there in previous releases. And half a year later they release a GDR update that includes all originally planned features.

Agreed. I was so excited for windows 10 when it first started coming out. Now, not so much. OneDrive that worked smooth as could be for me now borked with the loss of placeholders, The mess of Xbox Music and Video, the loss of Windows Media Center (which my entire home media is based on), and now no more syncing of my start screens. You could have just made it a toggle LIKE IT IS ON WINDOWS 8.1 NOW and made everyone happy. Is Microsoft that worried about losing buisness users that they are just saying to hell with anything for the consumer?

I agree it became a pain in the ass when it kept putting my Surface' more touch centric apps on my desktop start screen

I'm not a developer, so just asking... is it entirely impossible for a developer to make a Universal App that would make it possible to sync devices screens and select which devices to sync? If it IS possible, wouldn't this be the perfect example of the potential of Universal App development? 6sync anyone? Someone buzz Rudy!
...by the way, if it is NOT at all possible, I'll just crawl back under my non-technical rock ;)

Does anyone consider the time and effort that goes into a feature that barely anyone actually uses (even if this entire comment section is full of idiots whining about it)? It hardly ever makes sense to sync your phone start screen or app installs with your PC with your tablet, they're entirely different devices with entirely different usages. If you do use the exact same setup across devices/PCs, it takes you (the minority) 10 seconds to set it up that way instead of a team of engineers considering every possible current and future scenario, testing every use case, keeping APIs and documentation up to date, etc., and completely wasting a chunk of time that could be spent fixing bugs or on a useful feature people care about. Oh and I guess this means Win10 is losing/lost everything that made it good and they don't listen to feedback. How exhausting...

But why have they removed syncing of app installs, when it was already available in 8.1? Think about it, this decision does NOT make sense at all. Now I'm going to have to manually install every app that I have used on other devices. -_- STUPID MS

If your device is a PC/tablet/phone it wouldn't make sense for them to assume what apps you want installed. And once you have apps installed e.g. on your phone, you never need to do it again. Versus the complication of what to do if an app isn't supported on your platform/device, or if there isn't enough space on the current device, or if you remove an app on one device and you still want it on another (but you want the rest of your apps to sync)... It honestly makes no sense at all to keep it really. And I guarantee the work required to support the feature and solve those problems (especially when their data shows them that nobody uses it) is more than it'll take you to download your apps on a new device.

But the syncing of app installs does not mean those apps will be installed automatically. They still need to be tapped on to start the installation, so I don't see why this is so complicated to do. Honestly, this removal is almost anticlimactic and counterintuitive to me.

I hated all the "empty" tiles and app list entries littering the start screen when it did the app sync. Now I just to in to the store and just multiselect everything I want and install all. To me, this second solution seems much easier overall, but it would need some level of easy discoverability (which admittedly the app sync provided)

I saw this as a potential event when W10 has the Start Menu and tablet Start Screen, add to that the current 8 and 8.1 as well as RT and the obvious choice would be to disable this part. I had my 8.1 SP3 and Surface 2 RT synced and it caused issues with the layout - when I fixed it on my SP3 the way I liked it came out differently on the Surface 2. With WP 10 and numerous sized devices with different screen sizes it would be silly.

I'm not talking about the start screen layout! I'm disappointed at the removal of the app install sync option

Yes you were, sorry, I was following on from the original rte101 comment which included the Menu sync. App sync I think is different, say I download Netflix to one device and it installs to all devices, then some will want this to happen, some of the time. I would not want apps I install on my 930 to automatically install on my SP3 and vice versa. The syncing of Email and Office I need and apps like Money and Xbox Music is essential too. These they have kept and, imho, are more important.

App installs are not automatic! That's why the removal of this option does not make sense.

Mr Genius, it was an OPTION you could turn off in settings, so if you didnt want to sync those settings you didnt have to. And if you think it takes 10 seconds to recreate a start screen layout then I have to wonder who the idiot is.......

Well, regardless, the option turned out to be one very few people use (based on collected data), and it actually takes resources to keep that option around, especially as windows changes and grows, that would otherwise be better spent on better things. And no, I don't usually make the entire start screen in 10 seconds, I gradually pin things that I find I use the most on each device, which tend to differ wildly across every device I use, no syncing required.

When you say "collected data", you mean collected data from those who opted in. Because you had to opt in for that particular metric. Anyway, I don't buy it. It's a typical Microsoft move of having something truly useful and removing it later.

It totally makes sense to sync desktop and tablet settings though. Windows currently only stuns background images to phones, only if you want it. But having your tablet and desktop set up the same is a huge continuity feature, and really useful. Even my wife, who is not a tech nerd, loves that feature.

You know that you have won the arguement when the opposition comes out calling names. Come on man, just because you dont like it does not mean lots of other people dont find it useful. How would you like it if they took away a feature that you liked and everyone called you an "idiot" because you liked to use it?

This feature was one of the things that I showed whenever I spoke to my mac/linux friends telling them about One Windows to rule them all... This are bad news for me :(

Isn't this what was pushed as a feature when the concept of ONE WINDOWS across all your devices was first announced? Isn't that part of the big picture? When you open Windows on any device it looks the same? Hmmmm

The experience is the same, doesn't mean you use every device the same way. You might use many of the same apps across devices, but there's no reason that they'd all be exactly the same. Nor would you want every start screen be the same across screen sizes, platforms, and devices. E.g. I like messaging, phone, email type activities to be front and center on my phone. On my desktops, heavier duty apps are pinned, and on my tablet, content consumption apps are pinned. I use universal apps synced across devices often, but the apps installed and start screens on each device are by no means the same, and I can't imagine it would ever be for most people.

It can't look the same on W10 Start Menu, tablet mode Start Screen, Surface, Surface Pro and WP, as well as the numerous different sized screens to appear. There is not the same screen real estate on all devices so they can't look the same.

Oh I know! Why don't they support syncing with iPhone? We know MS likes that.

Same here. More stupidity from Microsoft. Should've a switch just like in Windows 8.1 with default to set to Do not sync start menu.

At least we still have Media Center..........wait, what?

For real... Just have it disabled by default, let us enable if we please. I personally love this feature. We'll still have how Start Screen layouts preserved via back ups, correct?

MS is like: "we don't want to implement it, so naturally you should not want it"

Actually this is good that they are removing it since that was one of the reasons I did not upgrade Win7 Pro to Win8 Pro. I definitely don't want my start menu and live tile placement being the same on laptop, tablet, and Windows Phone

+1 this is exactly what I wanted to suggest.

I'm a little confused by decisions like this when I use it and folks I know like the feature as well. Where are these masses of users that complain about or don't use the features they remove? And perhaps they're reading their telemetry wrong, if a feature is off by default or it's operation is confusing, that doesn't mean people don't want it. I think many of the new windows 8 features were just horribly communicated to the general public. They should have left this available as a feature needing to be turned on.

Microsoft moves backwards, again!

Strange decision. Microsoft should at least make this an option.

Exactly, not remove it entirely.

Def agree, I think the should just be async button and you choose what gets synched, simple as that

We need a feedback to bring this back!

Yes, makes absolutely no sense. :/

This is such a pot-headed decision

Agree put an option and let users choose it

Seriously. I'm so over Windows 10.

It's already an option today with Windows 8.1. That's what makes it more strange to me.

You can vote at uservoice to restores this option: https://windows.uservoice.com/forums/265757-windows-feature-suggestions/...

Why remove the feature? I found it beneficial moving between laptop and tablet. Just include an option not to sync if you don't want to use it.

That features was A CHOICE. It was totally possible to disable it. Why bother removing it?

Agreed. I'd disable it for my desktop, but for my laptop/tablet is was a nice feature to have them always mirror one another.

It probably wasn't used enough to justify the extra development required to get it working across all devices. I know I always turned it off. I found it to be pretty annoying. I don't have a need for two devices that have the exact same usage scenarios in terms of quickly accessing apps. There's some overlap but I have two different devices for a reason.

It was not compulsory in W8, so why make it compulsory NOT to use it in W10? Where many used this most was in backing up settings for the same PC rather than syncing. I notice it's gone from there too. I also notice no comment from MS on that point. If their reasons were accurate how do they apply to restoring backed up settings to a single PC?
Sounds like MS are telling porkies to invent an 'acceptable' explanation for their forgetting to add this function after the fact. Smells like PR logic to me.

Yes, make an option, hopefully we can still request the option in user voice

I just wanna know when the Edge desktop, and mobile, browsers will finally sync data together...

With this news, do you really think there's a chance of that happening?

Oh that, but yeah with this news it feels Microsoft are willing not to include this feature...
Man, I really don't get it. It just make so much sense to have sync Edge between all devices. I don't know now.

Edge wont even import my favorites from IE since I moved the default folder location. I searched to find where I could just copy link files to for Edge and sadly that doesnt work either. Oh well

This isn't there already? OMG.

windows 10 mobile is not officially out! They will probably add it by then.

I really would have expected this to be Included especially syncing with windows phone and use the restructuring that is also used between startmenue and startscreen mode to display the stuff on the phone.

More and more, features sure being stripped out that were expected to carry over to the new OS. And it seems, it's the better and unique features that made the OS great.

It really feels we get new and they remove more. I really don't get their reason at all! Really, its a shame they do this (and this isn't a first time).

The key here is options. Allow the user to at least have the option to either want to carry over the Start Screen layout and apps or not. This whole "With Windows 8.1 and initial Windows 10 feedback we found that customers typically want to personalize the Start layout to match the device they are using" thing sounds like more than an excuse for whatever reason not to provide these options than a legitimate reason IMO.

THIS! Don't remove features just because few people use it on their telemetry data. Those data don't represent actual sentiment of users.

that's dumb! there should be an option!

I believe this should be an option at the very least. Let the user decide.

Will these two features be removed from Backup as well? :-O

Syncing apps is a necessary feature..

Like doing my own layout but would be nice to sync apps installed.

I won't be using The start menu sync. Because i won't be using the exact layout on a tablet. App sync I don't get though.

Please make this an option! Don't remove it completely

People used in less in W8 because of app gap. If you had an arm surface and win8 desktop, syncing start hindered on the apps you had. Less app gap, the more likely start syncing is useful.

You always had the option not to. Removing it completely makes no sense.

Still it doesn't make sense to remove it entirely. Just because few people use the feature, it doesn't mean its useless. It's completely useful! At least for those who want to simply their lives.

In Short Every Great Feature in Windows 8 is Gone... Seriously, getting tired of this. I am starting to feel like the Nokia Lumia 800 users.

Me too. This is really a bad news. It's like they're trolling us. This is the reason why many people still don't like Microsoft. :(

This is a good thing as I like to configure and have different apps on my PC vs, my Surface 3.

How is it a good thing? In 8.1 it is a Choice. Toggle on if you wasn't these to sync, toggle off if you don't. How is removing that choice good?

Does anything sync anymore? I still haven't had any success with Edge syncing the Favorites or Reading Lists across Windows 10 devices.

How's the further Windows phone update available?

Option is there using app

What?! Who voted for this nonsense? At least keep it optional instead of completely removing it! I use those features dammit!

Looks like there is a Trojan with the Windows Team.

I'm surprised that any user would provide feedback that removed optional features

可能微软应该加一个开关,让用户决定到底同不同步吧?
Maybe Microsoft should add a switch with which users can decide to sync the start screen or not.

Yes, a bit like the one already in Windows 8......

Like most of those good Peepz would say "MAKE IT AN OPTION!!!"

The decision making in Microsoft is just awful.

I use that feature between my Desktop and Tablet. I love that feature. It's sad that it's going to be removed.

MS should remove the whole OS kernel. Perhaps many users don't want that big thing eating disk space

Yeah, people don't use and know the kernel according to their data and feedback. They should just remove it. It's bloated to the system.

how about make it an option, i preferred multiple devices to sync up.

Thank god! The most annoying feature ever!!!

You do know that it was optional, right?

It's an option. Seriously its less annoying to switch off the feature than manually doing stuff.

One more shit and Crap. What's the use of cloud then? Windows 10 was perfect for these things in the early video that they showed

I thought that "upgrade" implies to keep all the good things to make them better

Microsft: "Lets make Windows 10 'ready' removing everything cool from the Windows 8"... Keep going...

Ahh... like swipe charms? Swipe fast app switching? Yeah I'm not installing Windows 10 on my SP3. It became a brick (useless productivity) when I ran the preview. If I'm ever forced to use W10 on a tablet in it's current useless form for a new device, then it's to another OS I'll go.

Bad move, need to at least have a choice

lmao what the hell? who makes these decisions? This is unbelievable. You talk about having 1 core OS across all devices and expect users to have same experience across their Mobile, PC, Tablets and then you pull this? I mean what in the freaking world. I can't....I just cant...

Are start screen setups backed up then? Noticed they are not so far...

It makes sense, their reasoning about the device type. However, having it as an off by default option should be there.

It makes no sense, one of the best things was logging into a new device and watching as your start screen and apps from your previous device populated right in front of you. How does removing this make any sense at all?

It doesn't make sense at all. There is a switch to turn this off for those who don't want. They can just ask user at first setup if they want to sync those stuff from other devices.
Ot was of the best things in Windows, and they just blew it.

I think it's a good decision. I have used sync. At some point I made a choice to change mouse pointer setting on one device, surface pro 3.
When I used my desktop mouse pointer setting was now on desktop and the setting didn't work for desktop.

But there was a setting for that to turn off. I also don't sync few things between my devices but I still use most of it between my laptop and desktop. It doesn't make sense removing the feature completely just for the sake of other people don't use it.

So much for the mobility of experience...

Removing features in panic just to get windows 10 out to the masses. More features will disappear during last stage, I think cause they wont be ready in time. Probably first and second update will be huge in terms of features.

Well I think this decision is really intentional unfortunately. I hope they will reverse this decision and bring it back through updates.

The closer we are to launch, the more apparent that Windows 10 is not finished, and will be more fully realised come October. They're rushing it out for back-to-school.

I sure hope you are right. I'm not even looking at windows 10 for at least 6 months.

I agree we should have the option to choose what suits us best.

https://windows.uservoice.com/forums/265757-windows-feature-suggestions/filters/my_feedback

I heard this wasn't working in current versions of Windows 10? (Could be wrong bc I'm not using it). So this is probably just their excuse because they can't figure out how to fix it in time... Haha. So pathetic.

This feature is missing because they simply didn't have the time. Hopefully it make a return.

I use it between to tablets was a great feature damn microsoft....

Does this mean all syncs have stopped like lock screens and passwords?

It's likely that only a few Windows 8 and 8.1 users also used the app install sync feature

Really? Wasnt this one of the big selling points of Windows 8? Why not just leave the option? What a load of bs.

These features are GREAT. Removing them is a mistake, especially when they are already OPTIONAL. I created a uservoice suggestion to keep the feature. Add your vote if you think they should keep the syncing features. https://windows.uservoice.com/forums/265757-windows-feature-suggestions/?query=sync20menus20various2010%20devices

I'm not a developer, so if this is fundamentally impossible just let me know... but could a clever developer create an app that syncs your screens and controls which devices do and do not sync? If it is technically possible with available tools, a clever developer could make some money if they are the first to release it.
***Someone call Rudy and tell him we need 6sync ;)

Windows 8.1 is superior to Windows 10 in every way that matters. This is yet another reason to stick with 8.1.

App sync, yes, because your list of apps is accessible. Start screen sync, no because it's a function of the OS and devs don't have that kind of low level access.

Gee wiz, I can do that is an interesting concept.
Doesn't work all that well on implementation.
Android is a mess because of this.

Hey I had requested for this feature via the Windows Feedback app on W10. And ..... I've got the reply, indirectly!

Who let the kids out of school without supervision?

I get that not many people ever used this feature, i know i certainly never did. But it seems like it wouldnt hurt to keep the option there.

Yeah, they should just leave the option there since its certainly useful. I don't get why removing it completely is good for everybody.

Wait, what!? Removing syncing across device's... How do they expect one windows ecosystem to work without any basic syncing? Damn you numpties Lol....what a ridiculous decision. At least make it opt-out / in during the OOBE Wizard.

'basic syncing' as you had stated, is staying. It's the syncing of the start menu/screen and of what apps are installed across multiple devices that's changing. If you manually install the app on multiple devices, and it takes advantage of settings syncing, it will still sync. This feature will not go away (at least I hope it doesn't).