Windows 10 Xbox app gets 1080p streaming, notifications and more in August update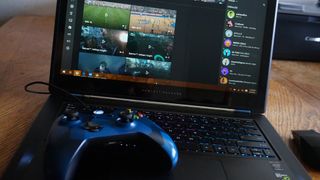 Microsoft quietly added official support for streaming Xbox One games to Windows 10 in 1080p and 60 FPS earlier today. Now, Microsoft has confirmed that feature is being added to the official Xbox app in Windows 10, along with many more new features in the August update.
Here's what Windows 10 users with Xbox One console can expect from the new Xbox app update:
1080p/60fps Game Streaming – You can now stream games from your Xbox One to Windows 10 devices in high-res HD quality at 1080p/60fps. The new streaming capability works best for gamers who have home networks with adequate bandwidth. In the Xbox app on Windows 10, go to Settings > Game Streaming and set the video encoding level to Very High, which will then stream games from your Xbox One to your Windows 10 PC at 1080p and 60fps (frames per second).
Right Click – You can now right-click on one of your friends and select Send Message or Invite to Party to more quickly connect with your friends.
Notifications – Starting today, you can enable or disable notifications for when you are invited to a party or a multiplayer game via Settings > General > Party & Games Invitations.
Recently Played – Now you will see an animated display alternately showing you how many friends have played each game along with the four most recent players. The display will then switch to show a second tile with your last played date, Gamerscore and Achievements percentage complete. If you click on the game, it will take you to the Game Hub, where you can see a list of all of your friends who have played the game sorted by most recently played along with their online status.
Compare Achievements with a Friend – You can now compare your achievement status with one of your friends who has played the game. From a Game Hub page, select Achievements > Compare at the top right above the list of all of the achievements.
My Games – We updated My Games to support a grid view with a jump list, where your games are now displayed in a grid sorted alphabetically. If you click on a letter, you can collapse the list and then select a specific letter of the alphabet to more quickly find a game. The list of games that are automatically discovered has been updated as well.
Add Games – The ability to manually add games to your collection that have a link in the Start Menu by selecting My Games > Add a game from your PC has been updated with a help link to help you add games to your collection.
When the app update becomes available in the Windows Store, it should have the version number of 8.8.15003.00000 or higher.
Source: Xbox Wire (opens in new tab)
Still in preview. This is the promised monthly update and as such is only directed at the desktop environment. When Windows 10 Mobile is a consumer thing, no doubts the phone app will also get monthly updates.

Loving this app more and more and more especially when I start seeing features I cried and posted in forums finally available to use. Great job team Xbox.

Take note Groove team in how to make a great experience releasing new features for your app in a good time frame...

Groove music is really very buggy. No new features! At least an equalizer and force song refresher would be appreciated!

Microsoft just needs to buy the Perfect Music app and call it Goove Music and the problem is solved.

They also need to get ride of that stupid name Groove.

You should get rid of that stupid name "Tyler". Get it how ridiculous your complaint is? Names are subjective. Personally I find Groove fine as a name.

I've said this before and I'll say it again. I don't think most care what it's called as long as they provide us with a good working app. While Groove music is better than Xbox Music app, it's still unpolished and missing some features.

I wish they'd increase the maximum recording time from 2 hours. The Game DVR works really well, but why can't it just record until there's no more space on the drive?

That would be one boring film. Please don't share that little ditty with me on Facebook. Hmm kay? Thanks.

It would be nice if they would allow older graphics cards to record again. In an older build, my 6000 series AMD had no problems recording clips with the Game DVR, but then MS changed and limited it to 7000 and newer. Same with Nvidea, a friend could record before with his dual 500 gtx cards, but now is left out, even though his two cards perform better than most newer cards.

Have you tried this http://raptr.com/amd

Can't even sign in on 8.8.15 on mobile :/

How? The last Xbox app for Mobile is 7.7

Check for app updates in store

Thanks! Store also updated.

Any idea how much bad width is required to achieve that?

How is this experience so far guys? I have a ps4 and wish sony would make a way to do this on windows but I don't see that happening anytime soon

What they need to do is bring it in line with some of the features of SmartGlass (like being able to browse the Xbox One Store and purchase Xbox One games from the app, and viewing OneGuide even when the app isn't connected to the console), and they also need to filter out non-Xbox games from the linked Windows 10 Store. I'd also like for the activity feed to be a bit smaller (the giant pictures they have there now are a tad too big), and they really need to add mouse and touch support while streaming from Xbox One (not necessarily for games, but for controlling the UI).

Was using this yesterday. It's amazing as my wife would like to use the TV and I'd like to play. Hop on my desktop, connect up to my xbox... b00m playing on my xbox. I will say though, having to have the XBox on and *Signed in* to the account you're using is annoying. Had to go into the living room, turn on, sign in, then switch it back for my wife to watch tv. Certainly they can lift this requirement. Hell, I can turn it on... lemme sign into it too.

The problems of hdcp(hdmi)

I'm guessing you are aware of the auto sign-in feature, just don't want to use it (I can understand if there are multiple users in the house)

Now just give me mouse and keyboard support and I will love you long time :)
Windows Central Newsletter
Thank you for signing up to Windows Central. You will receive a verification email shortly.
There was a problem. Please refresh the page and try again.